True love can be recognized without sight or sound, but you simply must come see and hear the Maryland Ensemble Theatre's Fun Company production of Cinderella to experience one of the loveliest non-Disney retellings of the classic fairytale. Adapted by Theatricks Music and Meryl Cullom and Directed by Julie Herber with Musical Direction by Jennie Huntoon, this charming performance is spellbinding with its magical characters, dazzling with its vivacious costumes, and a delightful afternoon for audiences of all ages wishing to enjoy a story upon the stage!
Regal grandeur arrives in the form of checkboard floor and elegant columns compliments of Set Designer Rachel Grant Smith. This serves appropriately as a dual set— inside the home of Cinderella and the Prince's Palace for the ball— and suits both equally well. Smith keeps the design work simple yet tasteful, letting the imaginations of the audience fill in the details. Properties Designer Emily Raines adds to the charm of the set with sparse yet perfect furnishings when required. Topping off the aesthetic design trio, Lighting Designer Giovanni Kavota focuses on the emotional appearance of characters and songs, highlighting touching solos or moments of transition and change with tightly focused spots and intriguing mystical colors.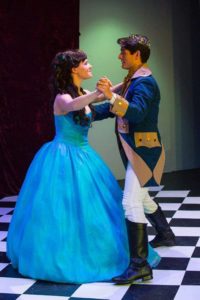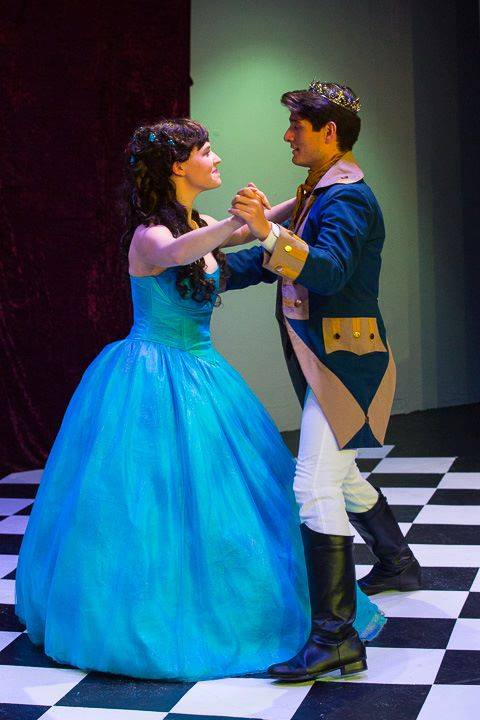 The royal decadence of the show arrives by way of golden carriage Costume Designer Cody Gilliam. Putting the mark of chimerical wonder on the production, Gilliam spares no detail when it comes to outfitting the characters in true storybook fashion. The hideodeous and yet simultaneously gorgeous gowns in electroshock bubble gum pink and livewire zapping lavender saved for the Step Sisters could easily capture the attention of everyone in the audience for the entire show. Step Mamma is given a much more reserved color palette, something that entreats the senses to her reserved and haughty aristocracy, channeled through olivine and emerald shades. Gilliam gilds the lily with Cinderella's ball gown, a true shimmering delight that is perfect for any precious princess.
Director Julie Herber and Musical Director Jennie Huntoon keep the pace rolling along with a magical energy that engages young audience members from the moment we first encounter Cinderella through to the Happily-Ever-After ending of the show. Herber encourages vivacious characterizations from all of the performers, and Huntoon keeps them sounding blissfully alive when they sing their various vocal selections. All around there is a little zap of enchantment or a little zing of whimsy that tickles the fancy of everyone watching the performance.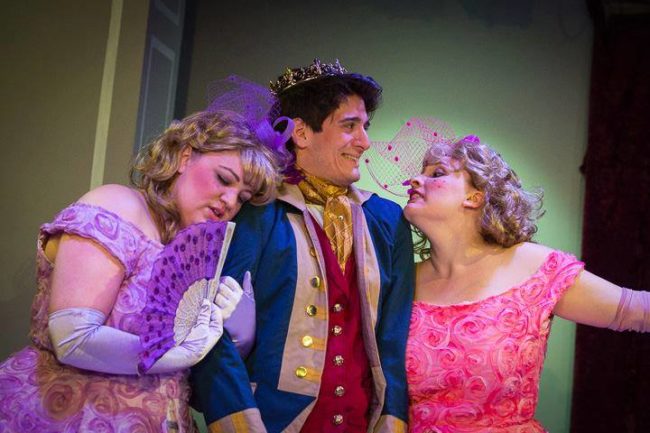 Lord Roland (Thomas Scholtes) has a particularly peculiar yet pricelessly hilarious affectation to his delivery of speech, particularly when it comes to his "R's" and this just sends the audience tittering with laughter every time he has to make a rrroyal rrrecital. Scholtes has a lovely voice that complements Prince Champion (Daniel Valentìn-Morales) quite resplendently when the pair do "This Little Shoe." Valentìn-Morales is every bit as charming as one would expect a prince to be, particularly when it comes to his vivid facial expressions regarding the Step-Family. Watch carefully to see the tact and restraint displayed in trying to disguise his disgust at their putrid behavior. Valentìn-Morales has a lovely voice when singing "Now I Know What Life is For", a duet with the title character and it's obvious how very much in love the prince is with Cinderella without even knowing her name.
Haughty, heinous, and downright hilarious, The Stepmother (Laura Stark) is a great zap of comic relief to the adults in the audience. With little innuendos that are just over the little ones' heads (but not in a way that is crass or crude) Stark's number "What's a Mother to Do" is the epitome of a jazzy lounge blues. Pumping all of her smoky sensuality into this lounge-lizard moment, Stark finds her niche and runs away with it. The hilarity ensues when it comes to dealing with her two daughters, who are the epitome of irritating, annoying, and downright irksome.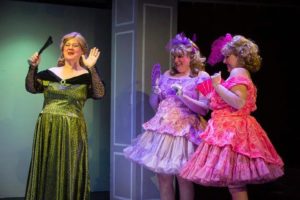 Shrillvia (Caitlyn Joy) and Trillvia (Amanda Spellman) live up to their revolting names, sounding atrocious as they shriek and shout at one another. Joy and Spellman are comic gold in the production and overflow their heightened levels of camp like Vesuvius raining down upon Pompeii. Trying to outdo one another throughout the performance both Joy and Spellman are a hoot; they serve as a madcap incarnation of every revolting Step-Sister incarnation in Cinderella's lengthy history. "He'll Pick Me" is the most uproarious number in the piece, a dueling duet between Joy and Spellman where they go to down trying to kill each other over they think the Prince will choose.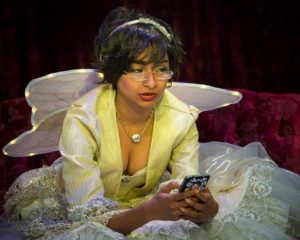 Outshining them both in her dipsy-doodle and accidentally haphazardly nature, The Fairy Godmother (Surasree Das) is a scream in this performance. A complete and utter trip, Das is a glittery pop of life that tumbles wildly into the scene and makes magic happen with her quirky personality and stunning voice. The cute and spunky personality disguises a striking operatic sound, which Das delivers in "It's Magic," a solo that gets Cinderella ready for the ball. Zany, zesty, and brilliant of vocal talent, Das is a dreamy delight that alights to the production as the enchanted hero of the tale.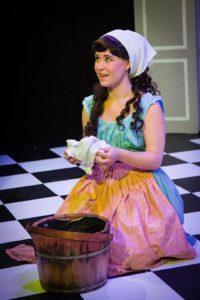 As for the poor little cinder girl, Cinderella (Shelly Hierstetter) is the stuff of fairytales. Not dopey or gooey-eyed like most storybook princesses, Hierstetter holds her own against her cruel and ill-affectionate Stepmother while maintaining the demure tact of a proper young lady. Her singing voice is both delicate and impassioned and this rings through most truly in "Just One Wish." Winsome, wholesome, and wonderful, Hierstetter is as radiant and remarkable as the tale itself.
You must catch this charming little tale before midnight tolls and all the magic dissolves in a burst of shimmery fairy dust! Cinderella is sweet and wonderful and unique in its own right, a magical journey for everyone to experience.
Running Time: Approximately 60 minutes no intermission
Cinderella plays through May 15, 2016 at the Maryland Ensemble Theatre's The Fun Company in their Stage2 Performance Space in the Historic FSK Hotel building— 31 W. Patrick street in downtown historic Frederick, MD. For tickets call the box office at (301) 694-4744 or purchase them online.