"Giving the nation a new syncopation, the people called it Ragtime!" Ragtime at Memorial Players in Baltimore is an outstanding production that takes the audience on a journey of diversity, racial tensions, and an inspiring yet tragic love story. The book, written by Terrance McNally (Music by Stephen Flaherty, and Lyrics by Lynn Ahrens) is based on the 1975 novel by E. L. Doctorow.  Ragtime tells the story of three socially disparate groups set in New York during the early 20th century: African Americans, white upper-class suburbanites, and Eastern European immigrants.  The three groups, hosting a well-rounded and fully fleshed cast of characters, intertwine with each other shedding light on the racial tensions, class separation, and troubles they face.  The story is timeless in the fact that so many of the themes can be easily applied to our here and now, and have been seen throughout history.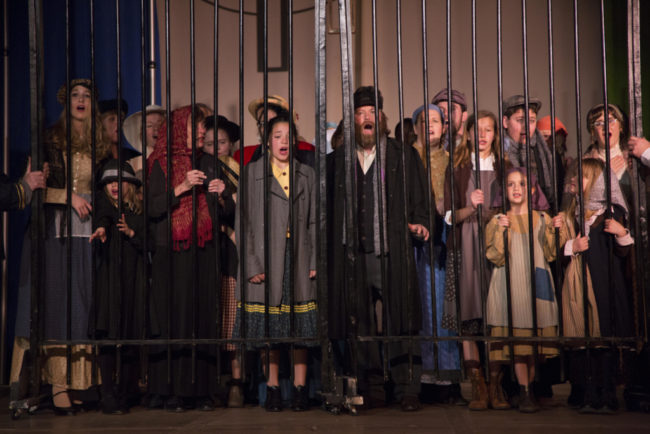 Holding the reins in this production is Director Bill Kamberger, who skillfully glides us through this compelling and passionate story that leaves us wanting more.  Kamberger and Vocal Director Gregory Satorie-Robinson both have a well-honed knack for bringing together an incredibly talented cast of first-rate actors and singers who fit their roles to a T, from the ensemble to principle characters.
The large pit orchestra, conducted by Tim Viets, sounds like you quite literally stepped into a symphony hall.  They are simply amazing, and fill the entire space with a rich, vibrant, and beautiful sound that adds immeasurably to the intense emotions of the songs.  However, the only downside to a large pit is that if the sound between the actors on stage is not balanced between them, it can easily overwhelm the actors – in this production, the balance between the pit and actors was often lost to the detriment of the actors, causing the audience to lose vocal parts and lines; especially the actors who were not wearing body mics.  The church space is historic, dating back to 1865, so the issues could very well be related to designing sound in the space itself.
Although Ragtime is not a dance heavy show, Timoth Copney does a splendid job of incorporating movement, dance or "blockography" into this production.  From the uproariously hysterical number "What a Game" to the saucy and sassy "Gettin' Ready Rag," he reels you in and you know it's gonna be a hoot! Costumers Beth Ratrie and Rosslyn Kooser do a fabulous job coordinating the historically accurate pieces, which were donated and provided from many local theatre sources.  They add a significant layer of texture to the characters, and every person on stage looks like they leapt right out of a book.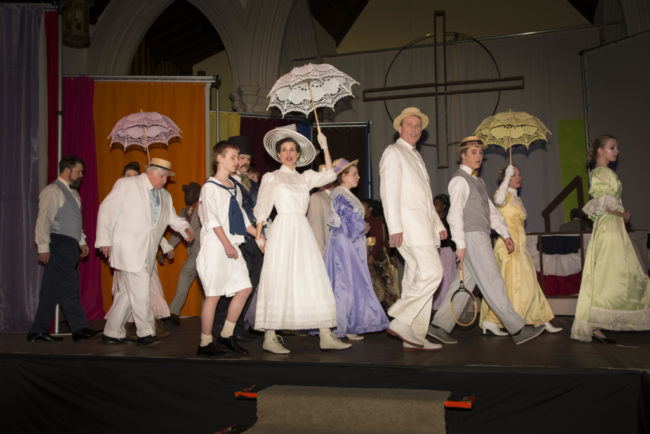 Ginny Samford Hornbeck is a true vision as Mother.  She has a beautifully toned voice that was an absolute joy to listen to. Watching her go from a fragile, protected housewife in New Rochelle to a strong-willed woman was simply captivating.  She portrays the arc of the character's emotions wonderfully, and her rendition of "Back to Before" shows us what an outstanding performer she is.
Younger Brother, played by Charlie Roberts, is wonderful in his role.  His transformation from a petulant, naïve young man enamored with a Vaudeville tart to a political activist is mesmerizing to watch.  Not only can this young man act, he has a fabulous voice that is well-suited to his character.
Stephen Deininger as Tateh, the immigrant who comes to America with his daughter to forge a better life, soars in this role. He embodies the character with such conviction and passion that his performance is truly magical.  He is fully committed to his character, and his transformation from a poor immigrant to a successful business man is sublime.  His poignant and playful rendition of "Gliding" shows us how skillful and versatile of an actor Deininger is.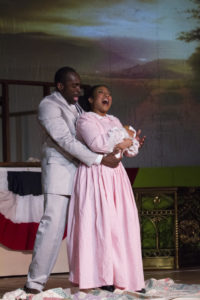 Samantha Deininger portrays Sarah, the love interest of Coalhouse Walker Jr., and is absolute perfection.  Her vocal prowess is incomparable, and her connection and chemistry with Coalhouse Walker Jr. (Corey Dunning) is so intense that you can actually feel the fire that burns between them – especially in songs such as "Wheels of a Dream" and "Sarah Brown Eyes."  Their duets together are breathtaking.  Classically trained, Samantha brings down the house with a flawless rendition of "Your Daddy's Son" with such raw and pristine emotion that there was not a dry eye in the audience when she was finished.  If ever there was a role this girl is meant to play, this is the one, and you would be remiss to miss it!
Corey Dunning as Coalhouse is nothing short of brilliant.  From his acting to his gorgeous baritone voice, he nails his role and does it with such charm, finesse, and calm demeanor that once he enters the stage you are rooting for him 150%.  His stirring and riveting song "Let Them Hear You" at the end of the show will make you want to stand beside him in his fight for equality and justice.  A wonderful actor and gifted singer, I hope to see Dunning grace the stage in the future.
Stand out performances include: Jeff Tegeler, who plays the adorably charming Harry Houdini; Booker T. Washington, played by Jesse Milan, Jr, who has a lovely singing voice and portrays the character with refined class; Kendra Keiser as the anarchist Emma Goldman was a spitfire with chutzpah, sass and has extraordinarily strong, clear, and beautiful vocal chops. Renata Hammond, as Sarah's friend, closed out the first act of the show with some full-bodied gospel vocals that brought folks to their feet. Hammond excels vocally and is an outstanding performer. Last but not least, our youngest actors Stuart Deininger (Edgar) and Kenna Mitchell (Little Girl) were equally wonderful in their roles and charmed the audience.
This production deserves a standing ovation, and on the night this reviewer attended, it got one.  Do not miss your opportunity to witness this stellar show!
Running Time: 3 hours and 15 minutes with one intermission
Ragtime plays through April 24, 2016 at Memorial Players housed in the Memorial Episcopal Church— 1407 Bolton Street in the Bolton Hill neighborhood of Baltimore, MD. This is a free performance for all who wish to attend and audiences are seated on a first come, first seated basis.