Not just a scared little guppy— this fish has heelies! It's time to settle into Part 2 of the "Part of Your World" interview series and meet Judah Latshaw, age nine, who is currently playing Flounder in the Milburn Stone Theatre production of The Little Mermaid. Precocious, spunky, and full of spirit, this is one young performer who is super excited about the chance to get to play on the big stage.
Thanks for sitting down with us, Judah. Can you tell us your full name and who you're playing in the show?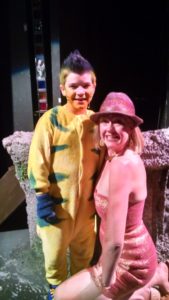 Judah Latshaw: My name is Judah Latshaw. I play Flounder.
Have you done theatre a lot before?
Judah: Yes. I did Les Mis at this theatre. I just played ensemble. That was my first show. I did church plays before so I guess I was kind of experienced? But with church plays, you know you would audition and get the part, but you were already pretty much a part of the show. The people who showed up got to be in the show. I was Snoopy there. I had to memorize a lot of stage directions for stuff like that so I had a lot of experience with knowing how to take stage directions and stuff like that. So that was easy. My second show was Into the Woods Jr. here. Actually that was at Elkton Station but that's still connected to here. I was the narrator.
So now you're playing Flounder here in The Little Mermaid. Tell me what you like about playing Flounder.
Judah: I like him because he kind of matches my personality. Like I don't have to be a whole different character. My sister is always saying "don't be like a baby" but that's the character. I get to be a little scared fish.
And I heard you get to ride around on a pair of heelies, is that right?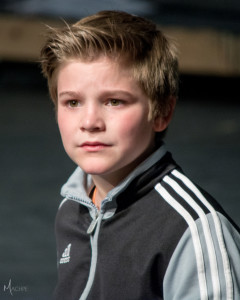 Judah: Yes! It's so fun. It took me so long to get it right. I practiced probably over 24 hours doing it. It was VERY hard. And my sisters, who are a lot older than me, when Heelies came out they used them. And my sisters are like "Haha you can't get this!" They keep saying it's so easy. It isn't as easy as it looks! And they say "I used to be a Heelies star." And I'm like "okay, whatever, you're always right." Sheesh. Older sisters.
Are you having fun working with Karalyn Joseph, who plays Ariel?
Judah: Oh yeah we're having lots of fun. Actually I worked with her before. She played in Les Mis with me. And she was in Into the Woods Jr. she was Cinderella. And my sister is actually really good friends with her so she's like slept over at my house before. I actually know her from stuff outside of the theatre.
What's your favorite song in the show?
Judah: "She's in Love." I get a big solo in that.
Is having a big solo fun for you?
Judah: Yeah. I love singing. Singing— my whole entire family loves to sing. Like my whole extended family loves to sing. We all can sing. It's really fun because we'll do caroling and people will ask us "Are you an A Capella group?" And we say "Nope. We're just cousins." Like literally we were in California and they asked us that.
You've seen The Little Mermaid movie right?
Judah: Oh yeah. And it's very different. There's a lot of little different things and some things are the same but I feel like always plays and movies are different. Like Les Mis was not at all the same as the movie. Like you will have a backdrop or something like that but you can't be under the water like they do in the movie. Because how would you breathe?
Do you get to do a lot of dancing in this show?
Judah: Yes! I'm actually in a number, "Positoovity" and someone dropped out, but I'm still in the number, but I'm very happy because that number is all tap dancing and I don't have any clue how to tap dance. You have to have a partner in that number but my partner dropped out so it's really cool because now I don't have to tap dance! Because I was like "how do I tap dance in these?" I mean I think I have to tap dance in my Heelies, I don't know. I don't own tap dance shoes. I don't even know what they're called!
What would you say has been the most challenging part of this show for you?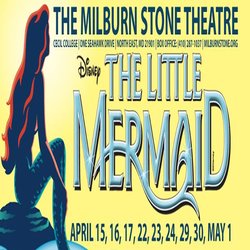 Judah: Probably getting to know all my lines and stage directions and stuff like that. I am not the most free person ever. I do other things. I do sports and stuff like that so I don't have that much free time. So sometimes it's hard because I just don't have free time. Sometimes it's hard because I can't really study my lines at rehearsal because I'm usually on stage a lot. I have to find five minutes of my spare time and that's really hard!
What's been the most fun part about the show so far?
Judah: Probably getting to know the people. And getting to act. I just love acting.
Is The Little Mermaid one of your favorite fairytale stories?
Judah: Yeah. I really like it because I want to be a marine biologist when I get older. I know it's a fairytale but it's kind of cool that it connects in that way.
Why do you want people to come and see you in the show?
Judah: I want to show people that I'm not just like a little kid that can only sing a little bit or act a little bit. I want to be a strong lead who can actually sing. I want people to say "Wow. He stole the show." Or something like that. I want to prove that I'm actually good. And this show has just been really fun.
The Little Mermaid opens on April 15 and plays through May 1, 2016 at The Milburn Stone Theatre— 1 Seahawk Drive in North East, MD. For tickets call the box office at 410-287-1037 or purchase them online.
To read Part 1 of the "Part of Your World" interview series— featuring Prince Eric and Grimsby, click here.