The 12th Annual Variations Project has arrived in Baltimore for the 2016 calendar year. Under the care of Rapid Lemon Productions, this year's theme— as chosen by last year's audiences— is Variations on Blame. To help spread the word and encourage local artists of Baltimore to become involved with the project, TheatreBloom sits down for an exclusive interview with the Founder of Rapid Lemon Productions to discuss the project and ways for people to get involved.
If you could refresh the minds of our readers on who you are and what you've been up to as of late that would be a great start!
Max Garner: I'm Max Garner and I'm the Managing Director of Rapid Lemon Productions. We are the steward, the custodian of The Variations Project in Baltimore. The Variations Project is the region's original 10-minute play festival. It started in 2005 when Run of the Mill Theater made a collection of plays called Variations on Desire. The production was so great that it netted several "best of"s. We moved it to Theatre Project for 2006, and City Paper named Variations on Fear the Best Production that year. Run of the Mill produced it until 2011, Arena Players did it for a few years after that, and Rapid Lemon Productions has it now. Continuing the tradition of having an audience chosen theme every year the 2016 theme is Blame.
How did that come about?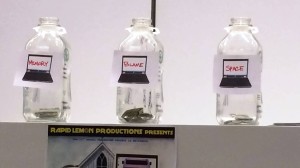 Max: The theme is chosen by the audience members who attend the production, they vote by donating money. We have three glass milk bottles in the box office area and each is labeled with a finalist theme idea. Last year they were Space, Blame, and something else I don't remember. When we spoke last year I thought Space was going to win. Variations on Space would have been interesting because it has so many different interpretations, I think I was actually rooting for it. But the audiences have spoken. The folks who came out to see Variations on Family last year voted with their pocketbooks and Variations on Blame is our project this year. Audiences at UB who come to see Variations on Blame in September will vote to choose the theme for 2017.
Are there any front runners for the three finalist words for the 2017 selection?
Max: Those we usually figure out the day of. It's one of those opening-night nervous habits that we have where everything is almost ready to go but we still have an hour before curtain. We come up with the finalist themes on the fly then and there.
Blame is the 11th production of Variations or the 12th? And where did it start?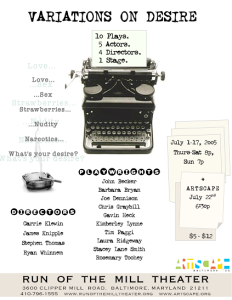 Max: Blame is the 12th. We started back in 2005 with Variations on Desire. Then we did Fear, Justice, Power, Hope, Beauty, Chaos, Time, Secrets, Flight, Family, and now Blame. Can you tell I've been with it for many years? This was actually the brainchild of Jim Knipple who started Run of the Mill Theater. Run of the Mill began to wane when Jim moved away to go to grad school. David Mitchell, who runs Motor House now, was left in charge and eventually the company was basically David and myself. With David in the lead we had kept Variations going and of course did a bunch of other projects, but the attrition, it stopped being productive trying to fight that. We were lucky to keep Variations going through some different avenues, but I'm very happy to have it now.
Where is Variations on Blame being produced this year? I know Rapid Lemon is nomadic and doesn't have a permanent resident space.
Max: Rapid Lemon is an independent company and we'll use whatever stage that fits us. As I may have hinted at before, we're producing this in cooperation with Spotlight UB, which is the performing arts arm of University of Baltimore. Kimberley Lynne heads that up and she's doing a fantastic job working with us. She's been a playwright in Variations many times in the past and I think she might have even directed during the first year, I'm not sure. The Wright Theatre, which is where we'll be performing, I've seen staged readings there and it's a wonderful space. Now it has some limitations technically, but it works wonderfully for what we're looking for. Kimberley and I both felt it was very natural to be bringing Variations to that stage. I'm very excited to be working with her and to be working in that space.
Tell us about this launch party we've been hearing so much about.
Max: Ah yes, the Variations Party, which happens every year. It's really the kick-off that gets the project going. Unlike the newer ten-minute play festivals, which have become popular in the last decade in this area because of Variations to be frank about it, we're not just putting out a call for submissions that asks playwrights to pull something out of a drawer that fits a theme and send it in to us. This is a commissioning process that playwrights who have expressed interest in the past don't always seem to grasp. We want playwrights to come to the party. The party is where we generate source material that's used for the plays, much in the same kind of way— but also not— that they do with those 48-hour film festivals. To prevent people from cheating the process and submitting something that they already made before the festival organizers at the last second will assign a prop or something, "here's a jar of Marshmallow Fluff, you have to have it in your film." That way they know that it was made in 48-hours specifically for that festival. Now, we're not like that, but we do want people engaged and talking about things and using our video room and graffiti wall—
Graffiti wall?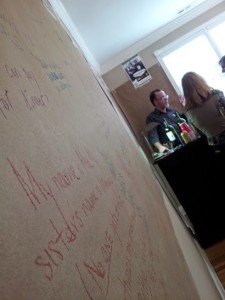 Max: Yes. We have a graffiti wall. We cover a couple of walls with craft paper and we have boxes of crayons. All of this material gets generated at this party. Last year for Variations on Family we had a wheel of fortune with six or eight segments and each segment had a family member on it. You had to sit down in front of the video camera, in disguise if you wanted, and whatever the spinner landed on— child, uncle, brother, whatever— you had to tell a personal story. It's really unique. What we'll be doing for blame I'm not sure but the wheel will be making a return. We want people to attend this event. There will be people who can't attend the party who want to participate, so what we always do is take the source material in the form of the video files themselves and still photos of the graffiti wall and other parts of the party and post them up on a share drive. That way people who want to see the material and get inspired to write plays about blame but can't actually make the party can still be an active part of the process.
What are the pertinent details about this party?
Max: The party is 7:00pm on Saturday April 9, 2016. It's at my house, so I'm not really going to put my address out here for the entire internet to read…but you can obtain the exact address of the party, if you are so interested, by sending us an email to VariationsProject@gmail.com and my house is in Baltimore City. In terms of rules and who is eligible to participate, we'd like to restrict it to folks who are currently residing in the DMV area, who are basically "local" and can attend the events. We got over 90 submissions last year, and some from places as far away as New Zealand. We clearly were not clear enough about "must be local" for last year's guidelines.
I really shouldn't have to say this but in order to be eligible for submission, the play has to be a world premiere. Something that's never been produced before, not even a staged reading, it has to be brand new. This project is about development too. This isn't about getting a whole big pile of scripts, people locking themselves away in a room, and choosing the best nine or ten and then saying "we're going to produce these, everybody else thank you very much try again next year."
Alright, so now that we know it's for locals and we know about the big party, what happens next?
Max: Let me tell you about the timeline. The process goes like this. We usually give about six weeks between the stimuli party and the deadline for submissions. This year that happens to be Friday the 13th— dun-dun-daaaaah! Friday the 13th of May. At 11:59pm the scripts have to be emailed to us— VariationsProject@gmail.com –attached as either a .doc or .pdf, no more than two more submissions per author, and it has to be new. And we want you to be local because after we look at all the submissions for a couple of weeks, we're going to spend the entire month of June developing them.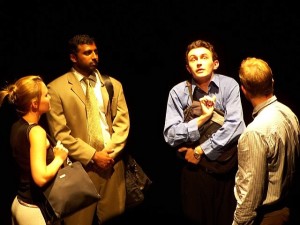 That means— we're going to be bringing in actors, many of whom are company members of Rapid Lemon that work with us frequently, but also some new folks and we'll have them do cold readings of the submissions. And depending on how many submissions we have, ideally we'd like to do cold readings of all of them. We'll do those throughout June, with dates to be publicized soon. We want the playwrights to be able to attend as we cold-read every piece, because this will allow for some talkbacks and some Q&A with very constructive criticism.
We want the playwrights to attend, to hear questions about their work, to hear their own work out loud. I've done a little playwriting and when I hear my piece out loud for the first time I have more notes to myself and more things surprise me than any notes anyone else could ever give me. We have expectations in our heads as to what our work is going to sound like. It's an amazing experience to hear your work being read aloud by others. So we'll cold read them, and then for many of the works we'll send the writers away to tweak and they'll come back and we'll read them again. That's why we have an entire month for development.
June 30, 2016 we're going to announce the plays that will be produced as Variations on Blame. For logistical reasons, reasons of time and aesthetics, we're probably looking at producing about eight plays. Now eight is a number we have produced many times over the years. We've done as few as six and as many as twelve. Eight is the perfect medium. Through the years we've made some changes with how we do things both artistically and logistically with Variations. I think we've done a very good job of understanding what things really work and subsequently leaving those things alone. We used to have multiple directors and multiple groups of actors. We stopped that. Now we have one ensemble cast where good actors have an excellent opportunity to really stretch and play many, many different kinds of roles.
That must make the rehearsal and overall coordination process somewhat easier.
Max: Yes. And it makes it a lot more fun. People get to play different ages, races, genders. It also brings a sense of unity to the production, everything tied together by the theme, by one core ensemble of actors.  This was something we tried last year for the first time, it worked really well, so we're doing it again this year. We'll end up with a core of about eight ensemble actors, an incredible team of designers—
Will you be one of the designers, Max?
Max: I hope not. Probably not. I didn't do it last year. I had plenty on my plate without being a designer. I've got the business angle of everything and the logistical side of things. My job is to keep all of that business out of the way, my job is to keep the creative people insulated from all of that so that they don't have to think about it and can focus on the artistic development process. Our posters are all designed, floating around and advertising. Meredith Barr did a fantastic design. I asked her for something Saul Bass-ish. I love his work. The two images that jump out at me from that movie Man With the Golden Arm are Frank Sinatra and Saul Bass' poster. The work he's done is iconic. It's very recognizable and you know it when you see it.
What is it about Variations on Blame that has you particularly excited this year?
Max: Presidential election years have always been kind to us. We did Variations on Hope in 2009. I kind of wish we'd done it in 2008. The graphic design that year, I sort of ripped off the tan-blue-red iconic Obama logo thing. This year the theme is Blame. What better time to be talking about blame in Maryland than right before the Republican primary? We have someone who has a halfway decent chance of becoming our next president whose entire platform is based on blame. There will be a lot to talk about. In presidential election years there always is.
Do you think that you'll get a lot of politically slanted submissions this time around?
Max: I hope so. I really hope so. I hope somebody writes a play with Trump as a character and calls him Trump. We don't need to pussyfoot around things. I'd also love it if somebody made fun of Bernie or Hillary. I'm equal opportunity in that regard. It's a scary time, in all seriousness, and people want to write about it. People are also going to want to escape it and deal with some other things and that's great too. Outside of the realm of socio-political, plays are very often personal. So there are personal stories that people may already be thinking about. After some seedlings from the party sort of gestate in, we'll help people fill those ideas out. Things will develop out of that that won't really have anything to do with the here and now but will still be compelling and entertaining.
What would you say to people who are looking to get on board with this project?
Max: Come to the party! Drop us an email. Check us out on Facebook. Go to our website.
Do writers need to have previous playwriting experience?
Max: Thank you for asking that! No. The Variations Project started out as a summer thing and summer theater in Baltimore has always been about folks trying new things. I decided in my mid-40's that I wanted to write plays. And with the Variations Project I felt really comfortable and safe writing these really bad things and submitting them. Sure enough it took my third year in a row of trying before I had a piece selected but oh my gosh was it life changing! The project is for designers who have never designed before, actors who have never acted before, writers who have never written before. We've refined some things down to a pretty tight group but we're always on the lookout for actors, designers, and crew.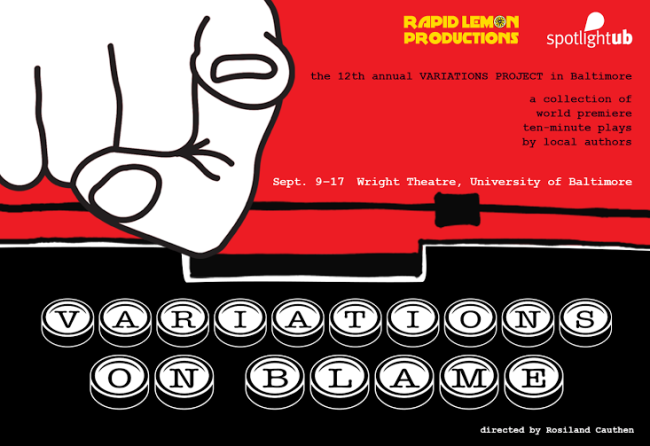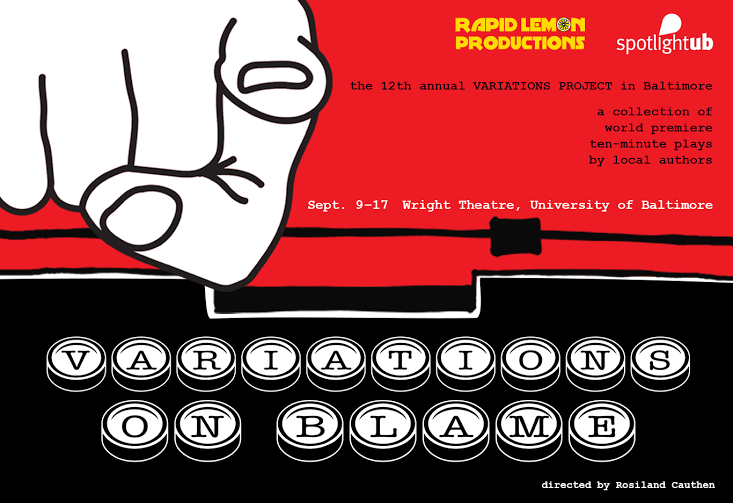 And we definitely want first time writers. In the past we've had a first-time author who was 71 years old. And last year we had a first time author who was 17. We've also had members of the Dramatists Guild who have had many of their other things produced. It's a fantastic opportunity for all of these people to work together and learn from each other. The seasoned vets learn just as much from being around fresh blood. Those of us who have done theatre in the same geography for a long time, we all know each other and have all worked with each other and we all get a little bored sometimes. It's exciting when new people come in so we really want to encourage that.
What do you think will be the big take away for people who come and involve themselves with the project?
Max: We had a really important job which was to take a concept that had already been established in things like The Humana Festival— the ten-minute play— and really make it into a thing that people recognized and understood and knew what to do with. We're proud to keep that up and keep doing it. Folks are a little bit more familiar with the format now, so we don't get as many questions of "which night is your play going to be on?" It's wonderful to hear so many different voices in one collage. Collage is a really good word for it, I have to use that more. Audiences love it. The critics like it. And it's done well.
Why should people want to support the Variations Project whether it be through participating or attending the events and showings?
Max: Oh, because theater is cool! Theater is what smart, sexy people do. This is smart, cool, sexy, theater.
IMPORTANT DATES
Saturday April 9, 2016— Variations Party! (email Max for details)
Friday May 13, 2016— Deadline for play submissions to the 12th Annual Variations Project
June 30, 2016— Final selections for Variations on Blame will be announced!
Variations on Blame runs September 9th through the 17th 2016 in the Wright Theatre at the University of Baltimore Student Center— 21 W. Mount Royal Avenue in Baltimore, MD.  
The Variations Party is happening on Saturday April 9, 2016! Email VariationsProject@gmail.com for more information. All who are interested are welcome to attend the party.