We'll admit that in the past she's been a nasty…they weren't kidding when they called her, well, a witch. We're talking about Ursula, of course, and not the delightful Nance Weber who is playing the nasty villain in Milburn Stone Theatre's production of The Little Mermaid. In the fourth installment of the "Part of Your World" interview series, we've sat down with Nance to find out what it's like to take on such an iconic villain.
If you would give us a quick introduction, we'll get under the sea with you about this role!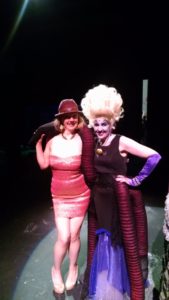 Nance Weber: My name is Nance Weber and I'm playing Ursula in this production. My last production here was Company where I played Joanne. That was played in rep with Merrily We Roll Along, I played K.T. Other shows I've done here include Young Frankenstein, I was Frau Blücher, and in The Addams Family I was Grandma.
What was the draw to want to be a part of The Little Mermaid?
Nance: Oh my gosh, well, I love playing villains. I'm drawn to characters like that, especially crazy, wild, out-of-this-world characters. Ursula has always been on my bucket list, so I thought, "oh this is great, what an opportunity!"
Is Ursula on heelies?
Nance: No. Thank you, God! Are you kidding me? NO! Now, my two sea snakes— wait— they're not snakes, they're eels— my two eels— my minions, yes, my two minions are on heelies. And that's great because it means I'm not. I think my dress and everything around me in that dress is just a little too big. It's actually pretty sexy at the top and then it flutes out into tentacles. Plus, I'm an octopus and they move differently. So, no I am not in heelies. I spend a lot of time up on my little lair, so I don't really move around a whole lot either. So there's no reason for me to be on heelies.
So Ursula is not on heelies. Does she do any dancing?
Nance: She does a little bit of moving. Not sure I'd call it dancing. She does a little Blockography as I like to call it, which is good because I am not a dancer. I am a mover. I mean I can do it— the dancing— sort of. But I'm one of those people who has to videotape it, then I take it home and watch it over and over so I can copy it until I get it right. Bambi (Director Bambi Johnson) is an awesome choreographer and she knows what I can do and she knows what my limits are, so she gives me what I can do and I'm fine with that.
Talk to us a little bit about the musical number Ursula gets to sing.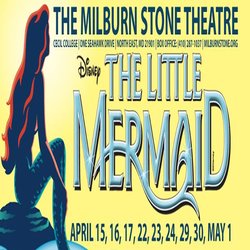 Nance: Well, she doesn't get to sing "I Want the Good Times Back", which is the best song ever. It was in the original Broadway musical, I'm not sure where it went but they've replaced it with a song called "Daddy's Little Angel." That song is okay. It's not great. There's not a whole lot you can do with it. But it tells the story of why she's the way she is. This song is basically, "how do we tell the story of Ursula and not use that great other song that we took out after Broadway?" I think that song might have been specifically written for Sherie Rene Scott or something like that, but it is what it is. Now I do get to sing other songs, well, actually just two. I sing that one and of course, "Poor, Unfortunate Souls." And of course everyone knows that one from the movie.
Which one do you prefer?
Nance: Oh, gee. Let me see…yeah, I love "Poor, Unfortunate Souls." It's so much fun. I love that it takes a break from the singing in the middle of the song and Ariel and I have an exchange. We have a talk and I tell her about turning her into a human. Then it bounces right back into the song. I love it when songs do that because it gives you more time to really bring your character to the song.
What has been your favorite part about this whole process so far?
Nance: Oh gosh, I don't know! You know, it's been so well spread out, the rehearsal process, that we're able to explore and try new things with each new rehearsal. It's not all packed together and crammed in so that we have to feel like we have to get everything right in every rehearsal. I really love exploring new things and different options or different ways to say a line. Having this rehearsal process set up this way has really given me that opportunity.
Is there a moment in the show that you think really makes the show for you?
Nance: Gosh! The whole show is really magical. I really just love the whole show. Every single person is really good. I'm really still seeing it all come together and that is so cool. I've never seen the stage play so it's really cool for me to watch it all come together while being a part of it.
What would you say has been the most challenging part of this for you?
Nance: Probably creating my own Ursula. People have the movie Ursula, and then people have the Sherie Rene Scott Ursula, which of course I looked at on YouTube because I wanted to see what she'd done with it. I don't want to do Sherie Rene Scott and I don't want to do Pat Carroll, I want to create my own Ursula. And that has been a challenge because I find myself drifting one way or another. And I have to say to myself, "No. That's not happening that way because Sherie did it like that or it was like that in the movie." I have to ask "where is this coming from inside of Ursula? Why is she reacting this way?" and develop her from there, but it's been hard.
Where are you drawing your Ursula inspiration from?
Nance: A lot of the story, her background story that tells us why she did what she did. We all have these hurts and wounds from our past and when you can recall those things and bring those up it can really help. I use a lot of that recall for the way that I channel her and I think it really helps.
Is The Little Mermaid one of your favorite fairytales?
Nance: It is. And just yesterday I read the Hans Christian Andersen version. And oh my gosh! I was shocked! It's a really macabre story with a very dark ending. I was thinking, "Oh, I can read this to kids at rehearsal—" No. No I cannot. She cuts off her tongue— the witch cuts off the little mermaid's tongue! That's terrible! And the ending— and the angels of the sky— ooh, wow. It was dark. I like this happy Disneyfied version so much better.
What has being a part of this process taught you about yourself?
Nance: Probably that I don't need to push so much with a lot of the stuff that I'm doing. I go up on stage a lot of the time thinking, "I have to make this big, I have to make this loud, I have to be this in-their-face villain." And I really don't. I'm coming to learn that the internal treachery is right there and it doesn't need to be pushed. The words give it what it needs. Just saying the words simply and easily and using the way that they're written gives it what it needs. It gives it that energy that it needs. If I get myself out of my own way, it works fine, but when I get up in my head and try to "be" this big villain? It just falls flat.
Why should people come and see The Little Mermaid here at Milburn Stone Theatre?
Nance: Oh because I think they'll see it like they've never seen it before. They are working hard in the technical sense— the lighting is going to be fabulous. The costumes are fabulous. The show moves along so well. This show is going to be so well prepared and it's not going to be a panicked production. It's going to be a happy fantastic show. Everyone is happy, relaxed, and ready to take the next step. I think people are really going to love this production.   


The Little Mermaid opens on April 15 and plays through May 1, 2016 at The Milburn Stone Theatre— 1 Seahawk Drive in North East, MD. For tickets call the box office at 410-287-1037 or purchase them online.
To read Part 1 of the "Part of Your World" interview series— featuring Prince Eric and Grimsby, click here.
To read Part 2 of the "Part of Your World" interview series— featuring Flounder, click here.
To read Part 3 of the "Part of Your World" interview series— featuring Sebastian, click here.