Look at this stuff! Isn't it neat! Wouldn't you think these interviews are complete? Well, you will once you read them, naturally. Join TheatreBloom in an exclusive 5-part series that delves "under the sea" at Milburn Stone Theatre to meet some of performers of their upcoming production of Disney's The Little Mermaid. Kicking off the "Part of Your World" series, we get underway with Zach Rogers and Carl Pariso, playing Grimsby and Prince Eric respectively.
Greetings to you both and thank you for joining us here for this interview. If you could introduce yourselves and give our readers a little working background of who you are, we'll be off to a great start!
Zach Rogers: I'm Zach Rogers, I play Grimsby in The Little Mermaid. Previously I have been in Urinetown as Officer Lockstock, that was at University of Delaware. I've also played Bingley in Pride & Prejudice as well as Angelo in Measure for Measure. I've done mostly non-musical theatre leading up to this, actually.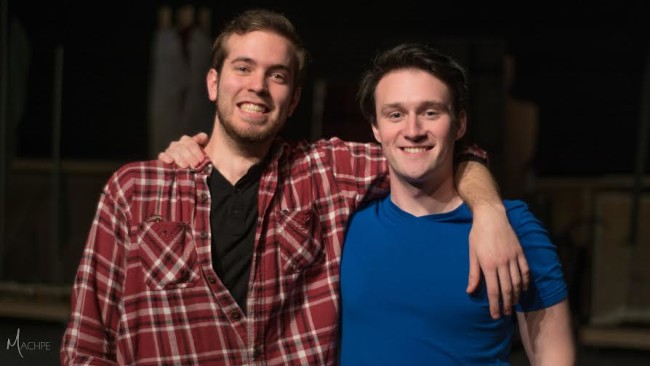 Carl Pariso: My name is Carl Pariso and I'll be playing Prince Eric in The Little Mermaid. I played Bobby Strong in that same production of Urinetown that Zach was in. I played Jamie in The Last Five Years, and Matt in The Fantasticks, which Zach actually directed. I played Boo Radley in To Kill a Mockingbird most recently. Most of those were at U Delaware. I'm from New Jersey but I went to school in Delaware.
I see I have two Delaware boys on my hands here. How did you guys end up at Milburn Stone?
Zach: I was looking up local theatres and found this one. So I came and saw a few shows here and I actually thought they were really good so I decided to come and audition.
Carl: Yeah, same. We're roommates, so we kind of discover things together.
You guys are friends and roommates and now you're playing characters that take this journey together. What's that like for you guys?
Zach: It's pretty fun, especially now that we're in these more comedic roles. Every time we're on stage we're on stage together. So we get to practice a lot at home to make it better.
Carl: When we did Urinetown together our characters weren't really reacting together? Maybe once or twice and always very, very briefly up until the scene where Bobby dies. But with this show almost every single time I'm on stage he's on stage. It's kind of cool to get to do that and act together.
Zach, are you older seeing as your character is the elder of the two and Prince Eric is in Grimsby's charge?
Zach: Nope. He's older.
Carl: Yeah, I'm older. It's funny because it's a bit of a reversal there from real life.
Zach, this is not your first musical because you did mention Urinetown, it sounds like you don't really do musicals?
Zach: I don't. I've always done straight plays. Urinetown was my first musical. Then I directed a musical, The Fantasticks, which Carl mentioned he was in. I think I caught the musical theatre bug. Because I just did Assassins over at Elkton Station (Milburn Stone Theatre's second stage) and now here I am doing this one.
What has being a part of The Little Mermaid been like for you guys? What have been the challenges in creating characters that are so well recognized while still making them your own?
Carl: I think for Prince Eric I find it challenging because he really only has a few snapshots throughout the whole musical. I mean obviously he's an important character, but he's not like Ariel who is on stage for pretty much the whole show. So that's a real challenge because he only gets a few moments to show his love for her, and his impossible love. It's kind of hard to do that in just one or two songs. It's a good challenge to find that chemistry and bring it all together in that limited amount of time. He's a good character and a lot of fun. I love singing his stuff. He's a great role to play. Now he has a much bigger part in the musical than he does in the movie, which is great. It's really lovely to see how they've added more love scenes and "together" scenes for him and her in the stage show than they had in the movie. It's really great.

Zach: Honestly? I've had so much fun. I love being in a comedic role because I don't usually get to do it. Here I get to try and tweak this character that's 80 years old and I'm this 22-year-old guy trying to do it. I get to try out all kinds of stuff to see what works and what doesn't. Obviously because this cast is so diverse in age I get to see how it's going to play with audience members of all ages. It's really helping me work some of these funnier quirks into my character.
Now, Zach, Grimsby gets seasick. Have you ever gotten seasick?
Zach: Me? Actually, I have gotten seasick. Quite a few times. So I'm just channeling that while I'm up there. That line from the beginning "Me, I'm about to heave ho?" that's my favorite.
Carl: He practices it all the time at the apartment to get his voice right.
What would you say has been the biggest challenge you've encountered with this show thus far?
Carl: For me, it's about making the character come to life for the little kids. They've obviously seen the movie and they obviously have their own vision of it coming into it. So it's about trying to be as close to those characters as possible while also giving it your own flavor and trying to create something new. That's the biggest challenge, trying to determine what of these pre-constructed characters to keep and what to change and make new. Some things have changed from the movie to the stage musical so then that's a factor too. But it's a huge thing knowing what to change and what to keep.
Zach: I think my biggest challenge has definitely just been finding the character. The voice is hard, the mannerisms are very hard to try and work all together. He's very old. And also, all the shows I've done over the last four years are college-humor. Those jokes are a little more mature. So this is a real challenge in trying to figure out how to have this comedic role while making it very family friendly.
What of yourselves are you bringing to these characters? What are they bringing to you?
Zach: Man, that's a good one.
Carl:  Yeah, that's a really great question. Hard question.
Zach: I think for me, what I'm bringing? Okay, so I am a very goofy person. I'm always on the side just kind of talking to myself, making comments to myself about everything that's going on that I think is funny. I like to be off on the side with my Grimsby having mini heart attacks about what's happening. That's kind of like me. Or what I'll be in 80 years. My Grimsby is sort of how I picture myself in my old age.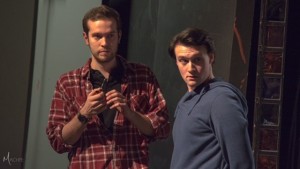 Carl: I guess that Prince Eric doesn't really want to be a prince. He wants to be a sailor. Obviously not everyone experiences that exact thing. But everyone does experience something like that where they're brought up a certain way and their parents want them to do a certain thing or be a certain way, they want them to be a doctor or a lawyer or whatever. And with me that's it. I just want to act and do this and I think it's really interesting to play that struggle out on stage because it's obviously me. Everyone has that in their life where they're pressured to do one thing when they really just want to do what it is they want to do.
What's your favorite moment of the show?
Zach: For me that would have to be The Contest. That's my favorite scene because I get to run the show. Normally I'm with him and I'm too busy being worried about taking care of him. But this is the one moment where I just run the thing and go all out.
Carl: I think for me it's "One Step Closer" which is a song that they added for the stage musical version. It's a song where Prince Eric and Ariel dance, actually where they dance together for the first time. I like it because I'm not much of a dancer and I'm learning a lot of new moves. It's kind of great to be new to that and it's a lot of fun.
Is that also your favorite song to sing, Carl?
Carl: Ha. No. That song is also kind of hard to sing. Don't get me wrong, I love the song, but it's hard to sing because of the long dance break. I think my favorite song to sing would be "Her Voice" which happens in the first act and is another song that was added for the stage musical. Actually, I think all of Eric's songs were added for the musical. I don't think Prince Eric has any songs in the movie. He's a very minor character in the movie. But "Her Voice" is a great song to sing. He's trying to find Ariel, without knowing it's Ariel that he's trying to find, and it's just a really pretty song and I love singing it.
Is The Little Mermaid one of your favorite fairytale stories?
Carl: It was. I watched it a lot as a kid. That one and Hercules were the two Disney movies that I watched the most growing up. I love all of them.
Zach: I love The Little Mermaid. And I love The Lion King.
What has being a part of this production taught you guys about yourselves?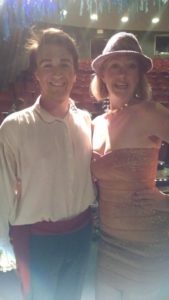 Zach: I think this is the most diverse role I've played yet. It's showing me that I do have the capability to do things but that it takes a lot of work to get them done. It's a lot of work to really develop this type of character and make it work and have him not be anything like who I am.
Carl: I think I've practiced for this show more than any other show I've ever done, at least singing-wise. A lot of my other shows were very vocally demanding, but I've worked hardest on this one. Prince Eric is a deceptively hard role to sing. I'm not even really quite sure why. But I think that's been a real learning process for me because it's showing me how much work it really takes in order for me to sing it right.
Why should people come to Milburn Stone Theatre to see The Little Mermaid?
Carl: Everyone has been working so hard. Everyone is so good at their roles.
Zach: These are hard characters.
Carl: Yeah, these are really hard characters, like Sebastian and Scuttle. They're also funny and have to work really hard to make them work. We've only had a few of these big group rehearsals but everyone gets along really well and I think that shows on stage.
Zach: The choreography is amazing.
Carl: Yeah Bambi (Choreographer and Director Bambi Johnson) is amazing.
Zach: To keep all of these little kids focused on the stage the entire time is really something.
Carl: It's a really good show. Come see the show!
The Little Mermaid opens on April 15 and plays through May 1, 2016 at The Milburn Stone Theatre— 1 Seahawk Drive in North East, MD. For tickets call the box office at 410-287-1037 or purchase them online.