When Triton's free-spirited daughter Ariel needs constant supervision, Sebastian is just the crab to keep an eye on her! Exploring the world under the sea in Part 3 of the "Part of Your World" interview series, TheatreBloom sits down with Eyvo to discuss playing the comic crustacean and all it entails.
Thanks for giving us a minute of your time, Eyvo! If you want to tell us who you're playing in the show and what of your work the readers might recognize, we'll get going.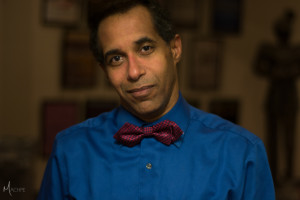 Eyvo: Okay, so I'm Eyvo and I play Sebastian. The last show that I did here was Company, actually. Not really my favorite show, but it was fun. I've done other shows that are more "my kind of show" because I'm a little more of a comedy guy. Company is funny, but in a very different sort of way. Actually they had someone drop out of that show and needed someone to fill in, so that's how I ended up as a part of that one. I've done Donkey in Shrek and Hysterium in Forum, you know, Turk in Tarzan, those sorts of funny roles.
What was the draw to want to be a part of The Little Mermaid?
Eyvo: Oh my God, it's a classic! It's always been on my bucket list. It's right up there with Donkey and Turk. It's Disney, so that's a no-brainer. Sebastian obviously is a little bit of comic relief. He suits me well. He's in my wheelhouse.
Are you having fun with playing him?
Eyvo: Oh yeah.
What of Eyvo are you bringing to Sebastian? What is Sebastian bringing to you?
Eyvo: Oh, good question. Very good question. I think what I'm bringing to Sebastian is probably my high energy. Sometimes I'm a little too high energy, but I think I'm really bringing that energy and my comic timing. So what has Sebastian brought to me? Hmm. I do think one of the other things Sebastian and Eyvo have in common is that I'm a very crabby person at times too. Oh! And we're both a little high-strung. It's just so much fun to play him.
Does your Sebastian have an accent and where are you drawing your inspiration from?
Eyvo: Ah, yes. Sebastian does have an accent. I have to say, I thought going in that the easiest part about him was going to be doing the Jamaican accent. But actually it's not so easy. No. It's actually hard. For me it seems to be quite difficult. I'm working on that and hopefully I'll have it down pat by the time opening gets here. That's actually probably the most difficult part of the performance that I have, trying to pin down the accent.
Well you have a lot of options and inspirations to choose from.
Eyvo: Right, exactly. There's the movie, the Broadway show, the Jamaican accent sound in general. Ultimately it's going to be Jamaican-Eyvo on my own. Jamaican-me-Eyvo. I like that. We'll go with that. Because when I started? It sounded like a cross between Jamaican and British and Chinese and it was just all rolled up and all over the place. But I think I've gotten better, it sounds much more Jamaican and just Jamaican, slowly but surely. I think it may still have a little bit of French-Jamaican in there, like creole. I blame trying to avoid the soup pot.
Now Sebastian dances? And you have a dance background?
Eyvo: Sebastian does dance. And I do have a dance background. Musical theatre is where I started but I've done a lot of work with ballet and jazz, modern jazz and contemporary, all forms of dance, really. I do try a little bit of tap in this show. I am the worst tapper in the world. I know you want to look at me and say "Oh, Sammy Davis, he must be an awesome tapper." But I am not. I am the worst tapper. Let's not talk about how bad my tapping is.
But there are times in Under the Sea where Sebastian dances, there's actually a whole dance break. But there's also a note right after that dance break that I have to hit. So I tend to bow out a little early from the dancing so that I can breathe and hit the note. So dancing. Yes. I dance.
Are you on heelies?
Eyvo: Oh no. No heelies. Bambi actually wanted me on heelies. And I said, "No. I can't. Nope." I actually do own a pair, in fact Flotsam— or Jetsam— one of them is using my pair of heelies for the show. Sebastian does not float. So Sebastian does not heelie. He has a completely different style of movement. Actually, that's another difficult thing for me. I'm still trying to get the crab movement down. We'll see what happens.
What's your favorite part of the show?
Eyvo: What's my favorite part of the show? Well, it's a little difficult to say right now because it's still coming together. We've only had two full runs of the first act, we're still pretty early out. I'll let you know once we open.
How many songs does Sebastian sing?
Eyvo: I have two numbers where I'm the soloist, and then I'm a part of the quartet thing. I think Under the Sea is my favorite. I get to be myself in that number, I get to be all over the place. I like Kiss the Girl too, it's a nice song. The ensemble is giving me some backup in that song there.
Is The Little Mermaid one of your favorite fairytale stories?
Eyvo: It is. How can it not be? Why do I like it? Well it's Disney. I mean come on, I am a Disney fanatic. My phone— you name it— if it's mine its Disney. We have a Disney room in our house. Disney everywhere. Disney everything. I am a Disney fan.
What has it been like working with this cast?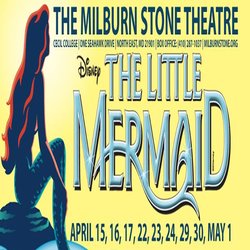 Eyvo: It's pretty awesome. It's a huge cast. There are a lot of new faces. There are a lot of youngsters so I have to watch what I say. That's a challenging part for me. I have a mouth. And sometimes to be comedic you have to be a little mouthy. So that's challenging, personally for me, but they're all good people. And everyone involved is very passionate about the show. The leads are amazing. Little Flounder is precocious and adorable. Everyone is wonderful.
What would you say being a part of this production has taught you about yourself?
Eyvo: I think that— and this is pretty much true of every show that I do— it teaches me that I'm someone who gives it my all. I go at every show with 100%, I'm a very passionate performer. I'm always rehearsing. Anytime I'm in the car I'm singing the songs or going over my lines. I'm always bugging Bambi, "please go over the lines with me." I just want to get it right so when tech week comes and when opening night comes I'm not a mess. I don't want to be thinking about what comes next, I just want it all to come naturally. And it's not as easy as it used to be, the older I get it's become a little more difficult to remember lines and remember blocking and dance steps, etc. This happens with age but it beats the alternative so I'll stick with the forgetfulness most definitely. I just want it to be the best it can be when I'm out on stage, so I make sure I'm always giving it everything I've got.
Why should people come see The Little Mermaid?
Eyvo: Bambi, being the Director and Choreographer, she just has an amazing vision. She's one of the most passionate people in the theatre world that I know. She will make this show come to life. And she will make it seem like we are under the sea. Come see us be amazing under the sea.
The Little Mermaid opens on April 15 and plays through May 1, 2016 at The Milburn Stone Theatre— 1 Seahawk Drive in North East, MD. For tickets call the box office at 410-287-1037 or purchase them online.
To read Part 1 of the "Part of Your World" interview series— featuring Prince Eric and Grimsby, click here.
To read Part 2 of the "Part of Your World" interview series— featuring Flounder, click here.