It's alive! And rising up from the creative minds of Maryland Ensemble Theatre! Frankenstein, newly adapted for the stage as a part of the 2015/2016 season, the Mary Shelley classic finds its footing in an innovative new approach this autumn. In a TheatreBloom exclusive interview, we sit down with Director Julie Herber to discuss the good doctor and his creature, learning and discover just who the monster is.
If you'd give us a brief introduction of who you are and what of your work the readers might recognize, that would be great.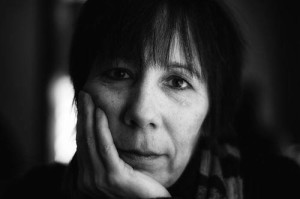 Julie Herber: I'm Julie Herber and I'm one of the Associate Artistic Directors of Maryland Ensemble Theatre. I also run the Family Theatre branch at MET, the Fun Company, so I wear a couple of different hats. Audiences may remember that I directed The Elephant Man on the mainstage last year. What other shows have I directed? A Clockwork Orange, our original adaptation of Antigone and Urinetown. The last time I was on the stage was The Revelation of Bobby Pritchard at Baltimore Theatre Project and Good People at MET back in the spring. Most of my work is done here at MET. Frederick keeps me busy but I try to branch out a little bit when I have time.
You're currently directing a new stage adaptation of Frankenstein. Tell us about how that wandered its way into your very busy schedule.
Julie: We like to try, while selecting our season at MET, to fill a couple different categories. We always like to find something fun for the Halloween season. After throwing around a couple of titles the idea of this story and being able to use an ensemble to adapt it and tell it struck me and Tad (Artistic Director Tad Janes) about the same time and we both said, "What about Frankenstein?" We both liked the idea of trying to adapt it as opposed to trying to find a version of it that we liked.
Have you written the adaptation or has this been a collaborative effort?
Julie: It started as a collaborative effort. Every time we devise a piece it's a little bit different depending on the piece and what it requires. When the ensemble started workshopping the piece we just explored the text of the novel and the ideas and the themes. We started out with people bringing in different scenes and just tried to put something together. But the text is so massive that that was a little bit counterproductive. So then one of our ensemble members, Matt Lee, took the reins and put down some text that followed the exercises we were doing, the movement that we were creating with the piece. That really seemed to work and it fit with what we were doing, so we said "Yes. Matt, keep bringing in those pages!" From those pages, the cast has edited/expanded/altered to fit our needs and the needs of the piece.
How many people are involved in the performance?
Julie: Eight of our MET Company Members. I didn't know when we started it how it was going to turn out. I think I had said to you originally that some of the performers might be taking on the same character. I think I had thought that several people playing would end up playing both Victor and the Creature at any given time. It didn't really work out that way as we began molding the show. Matt Lee is playing Victor and Jack Evans assumes the role of the creature throughout. The ensemble plays facets of each of those characters, their inner monologues, their thoughts, as well as the surrounding characters in the story. We are really exploring how Victor and the Creature blur the lines of which is which and who is who in regards to who fills what role of creator and creation. They parallel what they're going through and what they're trying to discover.
What are some unique things that we will be seeing in the MET adaptation that you may not be seeing elsewhere?
Julie: You definitely will not be seeing a green monster with bolts coming out of his neck. The creature has a bit more human qualities because he's made up of different parts of man and mankind. He is distorted. There is a lot left out of the story because we've really compressed it and compacted it in order to focus on the creature and Victor. It's very abstract in terms of storytelling style. This might surprise and perhaps might confuse the audience until they get used to what we're doing with it.
What has it been like working with your creative designers?
Julie: I have an awesome team. Cecelia Lee is our genius set designer. Stephanie Hyder is creating amazing costumes. And Steve Younkins and Paul Shillinger are creating the vast visual and aural world with sound and light design.  The thing that I love about our design team is that most of them are able to come in during the rehearsal process and watch what we're creating. They see what we're going for, they see the experimentation that we're doing, and they come back with these great ideas that enhance what we're doing. They get a chance to see what they need to adjust and what they can bring into it from their design elements that can add to our storytelling. They're fantastic.
As a director, what has been your approach to making this ensemble adaptation get your main points of the story across clearly to your audience?
Julie: That's one of the challenges of creating an original piece. You don't know what you have until the very end of the process.That's the question that's in my mind right now….are they going to get it?  Now that we have a structure in place, I will be able to see what is and isn't coming across. Right now each moment that we're working on is really cool and exciting but because of the process, I haven't been able to see it together as a whole. That is both the excitement and the fear of the devising process. I am looking forward to seeing how it comes across to an audience and if what we're doing is clearly communicated.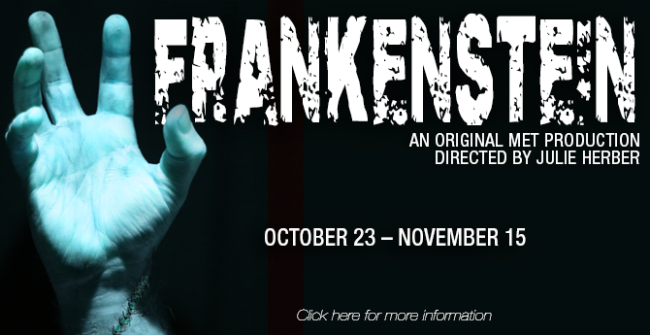 What is it about Mary Shelley's Frankenstein that speaks to you?
Julie: I really like the struggle that Victor goes through. As we were researching it, and creating and pulling text a lot of the ensemble were really annoyed with Victor because of his— I think I want to call it his immaturity. His immaturity and his God-like complex. He doesn't take responsibility for what he did. In our version, I think Victor does grapple with taking that responsibility a little bit more. I feel for him. I feel for the torment he's going through. The torment that the creature is going through is just as compelling to me. I feel for him; that need and desire that he has to have a connection to someone and to feel like he belongs somewhere, like he's accepted, that's just as strong for me as Victor's struggle. Those two components of those two characters are very intriguing and exciting to explore.
I tend to gravitate towards pieces that I can be visual with. I like to tell stories through movement. This story has so many possibilities for movement because of the creation, because of the discovery, because of the fear each character experiences, all the angst. There are so many possibilities for kinetic bursts.
You did mention, perhaps ironically, the fear of creating as a big challenge for this project. Would you say that is your biggest challenge?
Julie: I think it is. Trying to make sure the story comes through is really a fine line to walk. We've said from the beginning that we really want to honor Mary Shelley's work. I think that's what people are expecting, they want to come and see that story, at the very least they want to come and see the creature that's created. I want to respect that expectation. It's challenging to be able to approach it in an abstract way and still fulfill a need of the audience.
What is it that you are hoping that the audience will take away from this experience?
Julie: I'm hoping that the audience will take away an exciting night at the theatre that wakes them up a little bit. I hope they feel something. It's a different theatrical experience for them, I want them to come in and be surprised.
Do you have an overarching theme or main point that you are trying to communicate with this adaptation?
Julie: There is a question that both the creature and Victor keep asking. It's the recurring phrase of "Who am I?" I think this reoccurring theme is that sense of knowing who you are and then accepting or not accepting who you are. The big question that floats over the whole thing is who is really the monster? That question is there, you can't ignore it.
What would you say working on this project has taught you about yourself as a director?
Julie: I'm not sure that I would really say taught me but rather reassured me and made me feel confident in trusting the people that I'm working with. It's such a collaborative effort. Sometimes I'll ask them to do things and they look at me like I have clearly lost my mind, but then they do it. They trust me. They make fun of me all the time— there's this SNL sketch with a Bob Fosse type choreographer and he makes noises all the time— well I do that. I'll make these bizarre sound effects with the movement and say "I want it to go sh-bwa-blah-shw-boom. You know what I mean?" And at first they looked at me like I was crazy. But now they know what I mean. They speak my language. I'll give them a descriptive word— "this part here is oozing". That's kind of how I direct. It's been reassuring to learn that I am able to trust them to understand me. And they trust me to explore. That can be very intimidating for a director. I have their performances in my hand and they're trusting me to make it work.
Is there a moment in the show that speaks to you as the core of the show?
Julie: Again it's hard to say because I haven't seen the thing as a whole. The way we work through it there are just so many things that are making me "that was cool" or "that was creepy." There have been several moments and I'm excited to see when they will pop up throughout the show once it's on its feet.
Why should people come out to Maryland Ensemble Theatre to see this adaptation of Frankenstein?
Julie: It's the perfect time of year for it. It's a great way to celebrate the fall and Halloween season. I'm hoping that it brings some innovation to our audiences that they might not be used to seeing. I think it's absolutely exciting to go from a show that's as farcical as One Man, Two Guvnors, and then come back to see something that's in a totally different realm. To be able to offer our audiences so many different styles and theatrical experiences is really something amazing. I love the cast. I'm pushing some of them to do things that are out of their comfort zone, I love the ability to stretch and challenge not only my performers but our audiences too.
Frankenstein plays through November 15, 2015 on the Main Stage of the Maryland Ensemble Theatre in the Historic FSK Hotel building— 31 W. Patrick street in downtown historic Frederick, MD. For tickets call the box office at (301) 694-4744 or purchase them online.