A breaking or violation of trust of confidence; once a betrayal occurs can life ever be the same? Fells Point Corner Theatre continues its 2015/2016 with a riveting production of Harold Pinter's Betrayal, directed by the newly appointed president of the board, Andrew Porter. In a TheatreBloom exclusive interview we sit down with Andrew and discuss his intention behind the show.
If you could give us an introduction we'll get things underway.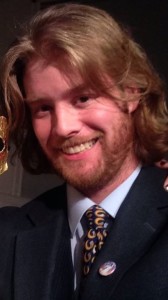 Andrew Porter: I'm Andrew Porter. Let's see, who am I? I'm a graduate of UMBC, class of 2011. Since graduating from UMBC with a degree in theatre, I've moved myself into the Fells Point area and set up a home at the Fells Point Corner Theatre. The first show I did with them was their second 10×10 Play Festival. I'm really excited to say we'll be bringing that festival back this year. People might recognize me from that as the guy running around the stage in red underwear in a play called Hot Frog. Or as the guy who killed his brother in the Peter Davis play, Bring a Shovel. I've also done a lot of work with Glass Mind Theatre Company. A couple years ago I did a lot of sound design for them, Adapting Cinderella, Antigone, A House a Home, and The All-American Genderfuck Cabaret. They actually gave me my first opportunity on stage post-college with a piece they were doing called Underneath the Moon written by local talent, Sarah Gorman.
Since then, people have probably seen me on stage at FPCT. Last season I was in Public Affairs, that was our season opener. I am also often recognized for my small role in Superior Donuts as the skinhead, muscle guy. I directed here two years ago, Durang Durang. That was my first full-length here at Fells Point. Two weeks ago I was elected as President of the Board, and it really, truly means a lot to me. It's really been an excellent experience. We have a lot of people who are interested in supporting this lovely theatre of ours as it continues to grow and move into the 21st century. We're going to keep theatre alive and accessible here in the community. We do all sorts of stuff from the new, fresh, and contemporary to the revitalization of the classics, which I'm doing here with Betrayal.
What was it that made you want to direct Betrayal?
Andrew: I've been dreaming of doing it since college. This was the first show that I was forced to think about from the lens of a director. I worked just the first scene in a directing class that I took with Eve Muson while at UMBC. I just absolutely loved the structure of the piece and the dialogue. At that point in time I wasn't in a world where I had "of-age" people where I could have cast it properly, and I've always wanted to take another shot at it. So here I am taking another shot at it.
What do you think is going to draw the interest for people to come see this Pinter play?
Andrew: People that know Pinter as a household name and a stereotype; I'm going to hopefully connect with those people. From a marketing standpoint, for those that don't know Pinter, just the title of the piece: it's pretty provocative. There is nothing in this piece that feels dated by any means. We have very real, flawed people who like many of us get into very, very serious long-lasting friendships and relationships. Then we find ourselves looking back on those memories from a slightly different point of view than we had when we were going through those moments in time. That's when we will find a connection to this piece. What about nostalgia is good? What about nostalgia is dangerous? Can we really trust our memories and do those memories really get shifted or molded to serve our own purposes of how we want to remember them as opposed to how they actually happened?
What are you doing to bring yourself as a director to this piece?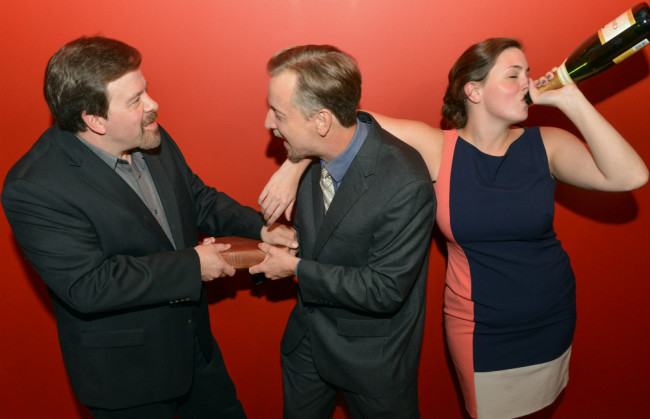 Andrew: For me, tapping into the un-obvious? Is that a word? The less obvious, the not obvious sympathies of characters who we are quick to judge.  Jerry, the backstabbing friend, Emma the cheating wife and Robert the cuckold husband. It's very easy to see where anger comes from, where jealousy comes from, where frustration comes from. But I'm very interested in the losses on a more personal level and the friendships. Hopefully what you're going to see is me keeping the focus on the script. I tried to do as little as I possibly could to keep from over-designing the show and just let the script speak for itself. I'm interested in the space serving, primarily, functionally so that we're less focused on the details of the space that they're in and more focused on the action.
Are you keeping the show in its original setting?
Andrew: What we decided with that is that it's going to be in more of a contemporary world, but in this non-specific recent past. I didn't want to bring in any trends that were easily recognizable as one decade or another. But it's important that it doesn't feel like it's today. You're not going to see any technology or anything like that. I think quite possibly the details of this story would have unfolded very differently in the world of smart phones and social media. You'd know instantly that your wife was cheating instead of them being able to sneak around for seven years. It would have been over in seven weeks. There is something that is lost in the super-modern world in regards to the subtleties of conversation. That's on full display in this show. What I'm hoping to do with the setting is create a very refined and polished simple look to it. It's very ambiguous but contemporary.
Are there other design elements that you're using to help articulate your vision for the show?
Andrew: Transition music and transition projections. One thing that you get if you read the actual script but you won't get, or you may not get at most performances is the actual time lapse that it progresses backwards. As hard as we're going to try to work in these concepts with our costumes and our makeup, in order to help the audience follow the story and help them understand that it unfolds backwards, we'll have a projection that says something like "three years earlier."
You mentioned this was a three-hander? Who do you have in your show?
Andrew: Yes. With a fourth cameo performer. We have Thom Eric Sinn and he is my Jerry. He's great, he's so great. The first time I think I saw Thom was in a Pumpkin Theatre production of Snow White, I loved his dwarf character, and then I saw him in Cohesion Theatre Company's 13 Dead Husbands. Then we have Gareth Kelly, who I had just met through the audition process. He was a known quantity eight or nine years ago before he got into the family thing. Now he's ready to jump back into the game. Then we have Miss Ryan Gunning, who's playing Emma. Last year she played the sister in Rabbit Hole at Vagabond Players.
There was actually a little bit of a casting hiccup. We originally had another actress cast in the role and she had to drop for unfortunate personal reasons, and of course we were sad to lose her. Ryan stepped up to the plate a week ago and she has been knocking my socks off. She is doing a fantastic job and giving these guys a run for their money. Almost forgot the cameo. Tony Calevito plays the scene where we needed an Italian waiter. What I had found my research in this scene is that the character of the Italian waiter is culturally very ubiquitous in Europe. I imagine it's the same as our stereotype of the taxi cab driver, immediately recognizable that that is the shtick that's going on. I immediately thought of Tony for that older, charming, and fun-loving, possibly irritatingly so, Italian waiter.
Do you have a part of the show that really speaks to you or defines the show for you?
Andrew: Every week that changes for me. Let me say that this week scene five is it. We've been looking at that quite often. This is the scene where the affair is exposed. What's become really gripping about this scene is that it's basically an entire monologue delivered by Robert with little tidbits from Emma here and there. It's very much peppered with dark nostalgia that becomes a little bit of a grilling tool. And you find yourself waiting with anticipation to see whether he's going to say "I know you're having an affair" or if she's going to admit it. The tension just keeps building over who is going to crack first.
What does the word betrayal mean to you?
Andrew: It's about exposing your willingness to be dishonest. I think when someone says they've been betrayed what they're really getting at is that they have had the veil pulled out from over their eyes and they're seeing somebody for who they truly are when they previously thought they could place their trust in them. For me, betrayal becomes even bigger than a lie because something about a betrayal forces you to go back and examine in a very insecure way everything that has happened. Now that this betrayal has taken place you look at everything differently.
What has working on this project taught you about yourself as a director? And about yourself as a person?
Andrew: As a director I have learned that I take certain design elements for granted. I need to force myself to have more specificity earlier on in the planning process of some of the design elements. I can be very tunnel-visioned and this case I was very tunnel-visioned on the script, attempting to set up something that could just support the script. There were certain design elements that are now big players in finishing this production to get it on its feet. Next time around I will be looking at those elements much more seriously, earlier on.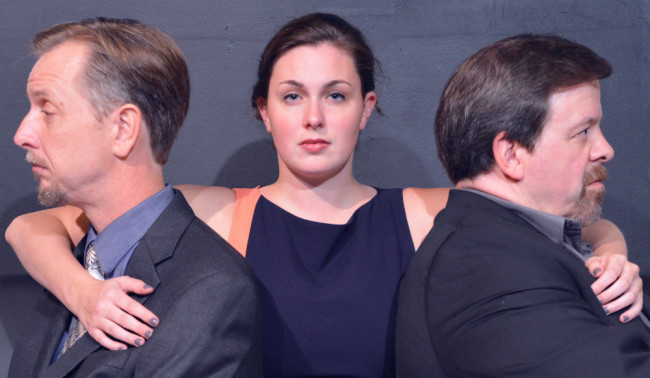 As a person it's taught me that I'm really fucked up. I can derive a lot of humor and pleasure from watching people squirm. It's fascinating to see people trying to manipulate each other and gauging how successful they are at it. I find myself laughing a lot at things I hope the audience doesn't laugh at. It's this maniacal vein of "god it's so ugly it's good!" I find myself fascinated with the ugly side of people and the redeeming qualities that make that ugliness forgivable.
What is it that you are hoping people will take away from coming to see Betrayal?
Andrew: If there's one thing I hope they take away from this it's that…hmm. So many things I could say but I need to be articulate here. One thing that is a tangible or digestible takeaway from this piece is that people can slip away from you if you're too caught up in the image that you wish to portray as opposed to what you guys actually are. I think that's one thing that we see with both of the relationships, actually all three of them, between Emma and Robert, Emma and Jerry, and Robert and Jerry. We see these people that are consumed by image. What they end up doing is losing each other because of it. They put themselves in the position where it was easy for them to think that they had everything the way that they wanted it that they had all their ducks in a row. Because they were all living on the surface and they never gave each other room to modify that image and truly grow into who they wanted to be.
I see Jerry fighting so hard to have the perfect wife with the perfect children and the perfect house. He has what we wants to appear to be this storybook lifestyle. I see Robert working so hard on having power in the industry of being a publisher. I see Emma working really hard to find love but retain her independence. We see that none of them really ended up getting what they wanted I'm wondering if people will leave the show with a little bit more attention and awareness so that if they see any of this superficiality and surface behavior in themselves they can hopefully see what kind of trouble it got the characters into and seek out a way to get out from underneath of it.
Anything else you'd like to say about the project?
Andrew: My personal goal that I've tried to live up to since I've graduated is that every year I push myself to do something bigger than I did the year before. To that point I do believe that this project is my biggest to date. For me, one person that stands out in particular is Anne Shoemaker. She is my stage manager and my partner in crime. She has had some wonderful ideas and has contributed a lot to this collaborative process.
Oh! And I had a lot of fun making a teaser video for this. It's a real cool little teaser. I'm very fascinated as we push forward into the future of theatre because I think people still need the screen experience whether it's before the show or even— I'm hoping down the road to bring screens into the shows— but I love the idea of people tuning into a website or Facebook and taking a look at a quick teaser video. It whets their salivary glands a little bit and I'm hoping to make that a hallmark of my productions.
Why should people come see Betrayal at Fells Point Corner Theatre?
Andrew: Well it's 90 minutes, at least that's the goal. No intermission. It's going to be a whirlwind from top to bottom. There's going to be a lot of discussion. You're really going to want to sink your teeth into what's going on. The structure of this piece is in reverse. The last chronological moment in time of these characters is what we see in the first scene. Then we follow them back through time so that what we see as the ending scene is where it all got started. There's a lot of puzzle-solving. Once you get to the end you have to go back to the beginning in your mind and fill in all these blanks and reopen up the world of the play in your mind. I think there is a lot of this show that will stick in your mind once you leave, and for me that's good theatre.
Betrayal plays through November 8, 2015 on the Sokal Stage at the Fells Point Corner Theatre— 251 S. Ann Street in historic Fells Point of Baltimore, MD. Tickets can be purchased at the door or in advance online.