Baltimore is full of theatre shows; some comedies, some with duels, but I prefer a company that produces flashy jewels! A show on your stage might be quite continental— but "in concerts" are your new best friend! At least, they are for The Heritage Players this winter. On their third annual "musical in concert" The Heritage Players breathes new life into a golden oldie— Gentlemen Prefer Blondes. Directed and Choreographed by Tommy Malek (with Lori Struss-Weatherly), with Musical Direction by Rachel Sandler, and 33-piece orchestra conduction by David Zajic, this gay romp down memory lane gives you all the glamor, glitz, and pizzazz of the Golden-Era of The Great White Way.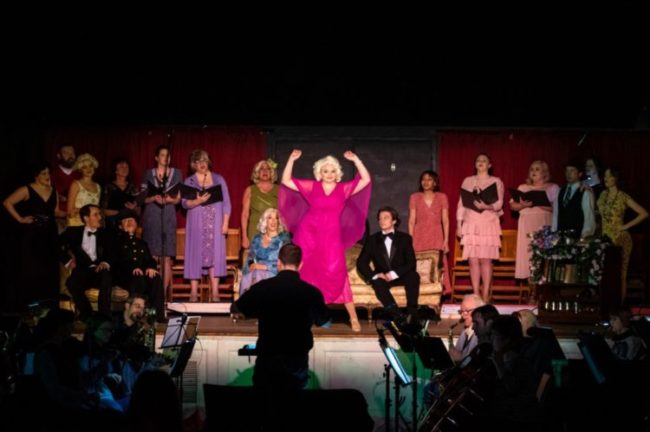 Because the show is not just set in but from a different century, there are some allowances to be had; the most difficult is the extensive musical interludes that happen between songs and scenes. While David Zajic and his phenomenal and professional 33-piece orchestra sound simply divine (you try and find a more professional and fluid sounding orchestra in community theatre; you won't), because this production is an "in concert" rendering of the stage musical, it leaves the audience with great gaping gaps of nothing but music (the stage is in dimmed-semi-blackout with no action on it.) Whether this would have elaborate scene changes or intricately choreographed dance routines, or people-moving scenes, in a full-scale production is unclear, but because a large portion of the "in-concert" series focus is the stellar orchestra, these musical interludes cannot be trimmed away or omitted. It simply creates the challenge that most modern audiences aren't prepared for: lengthy sit-stills without visual stimuli. The overall pacing of the show, despite the poor division of Anita Loos and Joseph Fields' book, is smooth.
David Zajic brilliantly commands the orchestra creating resplendent sounds with great consistency all throughout the production. The strings just sing, gently gliding and glistening through the overture; its astonishing, symphonic even. Featuring 15 strings (Natalia Vladimirova as concertmaster with Madeline Brumback, Matthew Carroll, Deborah Chen, Keith Conlon, Teddy Hersey, Paul Li, Andrew Nixon, Jen Retterer, Shari Rolnick, Austin Savage, Jason Schuyler, David Vinson, Katey Willman, and Naomi Chang Zajic), eight woodwinds (Ira Berman, David Dimmock, Mary Haaser, Steve Haaser, Mari Hill, Katie Marcotte, Andrew Nixon, and Carol Pardoe), seven brass (David Crisler, Adam Greenstein, Roy Leierzapf, Pam Mesite, Zachary Nelson, Carl Reynolds, and Randy Whittenberger), two pianists (Matthew Dohm and Lattie Reddoch), and one percussionist (Billy Georg) the orchestra is truly a glittering gem in this crowning achievement for The Heritage Players. They keep perfect time, have a robust, Golden-Era quality sound, and are truly delightful, adding intrinsic sonic value to the theatrical experience.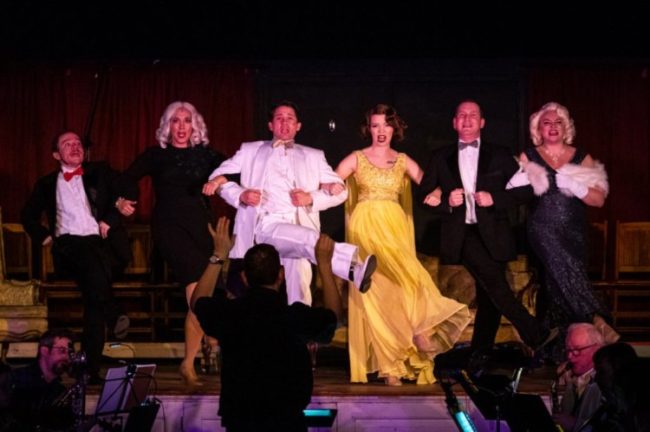 Because the performance is an in-concert production, there is a light scenic dressing, and fabulously appropriate wigs and costumes (assorted, gathered, maintained, and coordinated by Tommy Malek) which tie the show's era together for the audience's visual enjoyment. Light Board Operator Damien Gibbons has sublime mood lighting when and where appropriate and laser precision for his follow-spot operator, which really focuses sharply on those solo performance moments. Sound balance has never sounded cleaner and more consistent at a Heritage Players' show than it does with Alex Porter at the Sound Board with Stuart Kazanow backing him on Sound Design. The production qualities, despite the "in-concert" feature of the show, are top-notch. There are even 1920's inspired boat-deck chairs for the ensemble when they sit and stand on stage singing their parts.
Choreography in the show is sparse, due to the in-concert nature, but the dance-scene to catch the eye comes during "Mamie Is Mimi" (a smooth, smoky jazzy lounge number performed with classic jazz standard sound by Triana McCorkle.) Choreographer Lori Struss-Weatherly puts six performers (Robyn Bloom, Kirsti Dixon, Triana McCorkle, Abby McDonough, Marcie Prince, and Lauren Romano) in matching white bugle-bead flapper dressers and lets them showcase Folles' style tap routines, kick-numbers, and zingy moves that really elevate the feel of "The Folles" in this show. Kirsti Dixon even gets to solo right after the dance sequence, performing "Coquette" with this delightful sound. The number itself sounds like something out of Gigi while Dixon's voice is like a more pleasant Edith Piaf with a much higher range.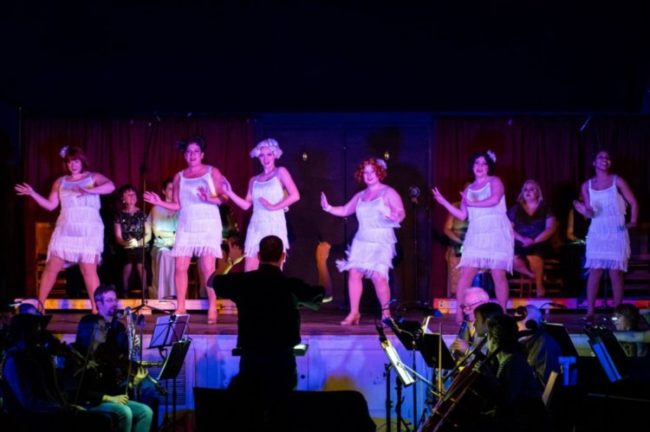 Musical Director Rachel Sandler and Director Tommy Malek work together with a bonded sense of productivity to achieve the spectacular performances and strong, stirring sounds from these dated, albeit lovely, musical numbers. "Park Scene" and "Pas De Deux" sound like choral exercises in French but Sandler makes them glorious choral exercises even though they feel somewhat superfluous to the overall performance. The group sound from the ensemble (Adam Abruzzo, Jamie Barrios, Linda Berman, Stephanie Gertler, Rebecca Hanauer, Triana McCorkle, Abby McDonough, Sharon Miller, Kate Plough, Marcie Prince, Scott Sanders, Aaron Sorak) is robust, heartily filling out the big numbers like the aforementioned French choral exercises and the Act I & Act II finales.
The show is chalk full of zany characters that border on caricatures, not the least of which is Lady Beekman (Robyn Bloom.) Fighting for the title of most over-the-top, Bloom gives one of her best performances to date in this role, overly affecting her insanely posh English accent, putting on haughty airs that make the character undeniably hysterical. And when she goes at poor Lady Spofford (Beth Cohen, who holds her own against queen of comedic character women, Bloom), you'll bust a gut with laughing. Of course, Bloom's fabulous Lady Beekman is just the tip of the proverbial iceberg when it comes to comedic crack-ups, and hilarious hijinks happening in the supporting/cameo character department.
Adam Abruzzo, who doubles up as the exasperated Pierre, the ship's steward, and later as Robbear, the French Magistrate, is just too much for words. Your stomach will ache from all the laughing once Abruzzo abruptly busts in flamboyantly waving his outrageous French accent all over the stage in the role of Robbear. (He's surprisingly mild and just quirky enough as the ship's steward, but the focus is 100% on Robbear! And we're not even getting started on his son, Louis…played by the incomparable Matt Wetzel…or we'll be here all night!) Abruzzo has stiff competition for ringleader of the loony-toons in this production, but he holds his own against classic comic hams like Rick Robertson and Matt Wetzel, seasoned clowns of Charm City.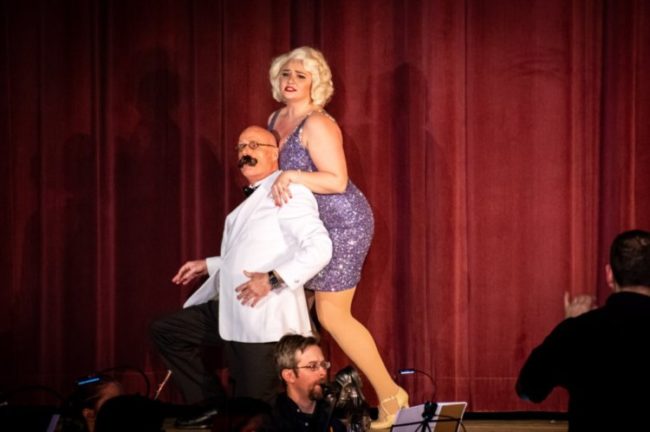 Between the handlebar mustache that's been curled up to hilarious rounds and his overly affected accent, Rick Robertson, as the odd-sod Sir Beekman, is another divine choice for comic character man in this production. The willynilly shenanigans with all the girls are delightfully laughable and his aged mannerisms— especially failed physicalities like attempting to do Folles dance practice on the ship deck— just fill the house with uproarious giggles. But when he takes to his only musical number— "It's Delightful Down in Chile", a nonsensical duet with Lorelei Lee— he layers his vocal prowess over comedic timing and delivers a knockout of comic moments.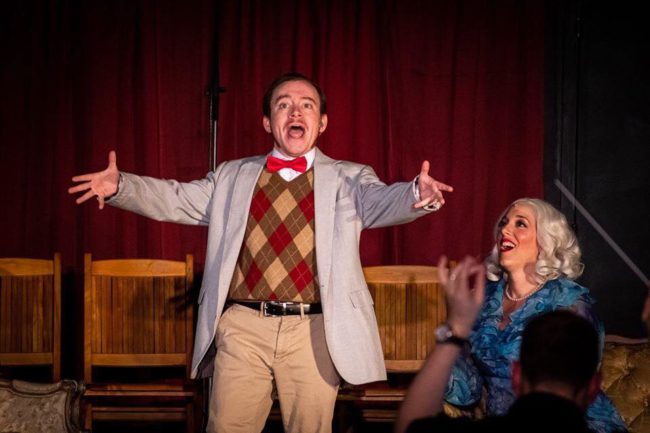 So full of pep that he's overflowing, and overflowing, and overflowing, Matt Wetzel, as Zipper King Josephus Gage, is a screaming riot that blazes a comedic conflagration so bright you'll see him burning his comedic brains out from miles away. He gets one number— one— "I'm Atingle I'm Aglow" (and seriously? It's about stuffing ruffage down one's gullet to be giddy with natural endorphins…)— and it becomes the most memorably nonsense of the production, and that is saying something given the amount of stiff (upper-lipped, even!) competition provided by Abruzzo, Bloom, Cohen, and Robertson in this show. In addition to having a vocal belt that would blow the roof off of any luxury liner, Wetzel digs deep into the comedic gold that is the ridiculous character of Josephus Gage and just unzips delectable laugh after laugh. Even his one-line walk-across zinger is a scream of comedy. (And again- we're not even going to discuss Louis the cop- there aren't enough synonyms for funny to do that!)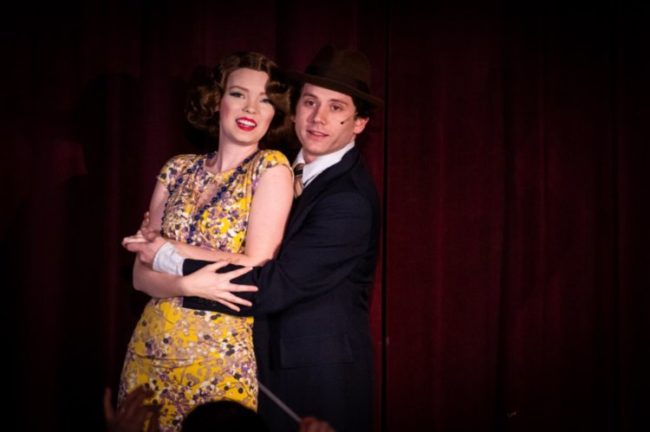 Dopey with hope like some gooey eyed ingenue, Justin Moe has the voice of the show's era, has that awkward, earnest sweetness of any lil crooner in love circa 1920-something, and really puts that old-fashioned charm of "Big Broadway" into his singing numbers as Henry Spofford. The Henry character is Broadway's prequel to Mr. Cellophane incarnate; he's sweet, simple, and you hardly know he's there. (Again, fault the librettists: Anita Loos & Joseph Fields.) But Moe has an uncanny honesty about the way sings, it just lights up the stage during "Just a Kiss Apart" and again during "Sunshine" and "You Say You Care." (You almost lose his main plotline entirely because his half of it ends up taking such a backseat during the second act…it's almost like Loos & Fields were too drunk to tie up all their lose ends right until the very end.) Moe is adorable and sweet in the role of Henry.
With an au natural vocal twinkle that just smacks of the times, Jeremy Goldman slips into the skin of Gus Esmond Jr. like a perfectly tailored suit from Boué Soeurs. "Bye Bye Baby" gives the audience just a little taste of the vocal talents Goldman has to offer; the real enjoyment of his character comes into play at the end of Act I when Mr. Esmond arrives to discover chaos and calamity. Goldman's facial expressions are practically apoplectic. And when he squares off with The Zipper King (the rowdy and unstoppable Matt Wetzel) at the top of Act II, the fun and games just keep going. Goldman's voice blends beautifully into the odd musical sextet, "Homesick Blues" and overall he's just a lovely addition to the cast.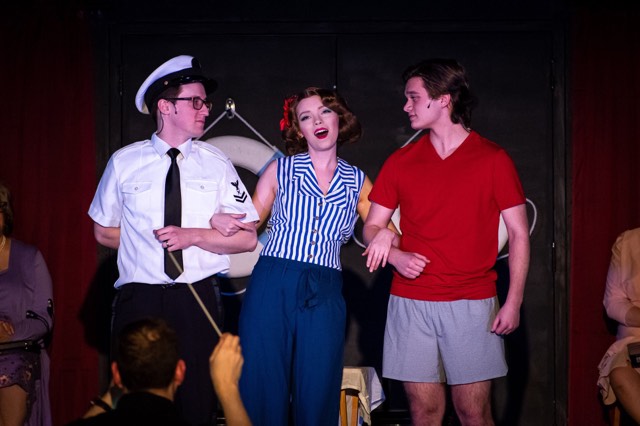 Living her most glamorous life, Heather Moe's Dorothy Shaw is practically a 1920's pinup model incarnate. She's mastered the look; her makeup is on point, every single dress and high-waisted jumper pant is flawlessly affixed to her figure, one almost wonders if she's a secret time traveler. And what a sensational voice that really understands the syncopated rhythm and jagged jazzy feel of "Keeping Cool with Coolidge." (This number is basically a dog's dinner when it comes to making any sense or even fitting into the show, which is a true shame because it's a stellar vocal showcase for Moe's talents.) Her patois and cadence screams the era, her cheeky delivery and zippy quips are perfectly delivered. "It's High Time" sets the bar of vocal expectations mighty high at the top of the show, and she delivers consistently throughout, especially when it comes to her really fun number, "I Love What I'm Doing."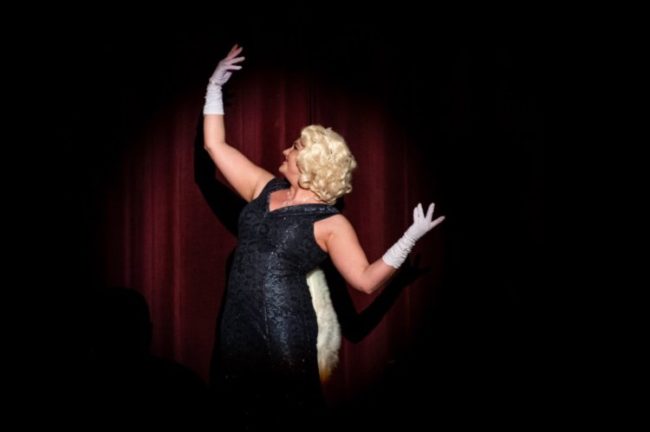 Romance is divine and I'm not one to knock it— but Maddie Bohrer is this show's best friend! Roll over, Marilyn, Maddie Bohrer is sassy, classy, sexy, and living it up as Lorelei Lee. She sashays her way through "Diamonds Are a Girl's Best Friend" (and its multiple callback reprises) giving the audience everything they could dream of out of this number. Bohrer is in demand when she sauces out the title number, "Gentlemen Prefer Blondes" and she doesn't hold back when shimmying down through her duet, "It's Delightful Down in Chile", spun and sung opposite Rick Robertson's Sir Beekman. A sizzling vocal firecracker with pluck and panache that matches the exuberant energy of Heather Moe's Dorothy, Bohrer is all the rage, and is living proof to why Gentlemen Prefer Blondes.
It may be a concert show but you're definitely getting your money's worth when it comes to Gentlemen Prefer Blondes at The Heritage Players. Get on over to see this sparkling gem, because after all, <theatrical> diamonds are everybody's best friend!
Running Time: 2 hours and 30 minutes with one intermission
Gentlemen Prefer Blondes plays through March 1, 2020 as a part of the annual In-Concert Musical Theatre production with The Heritage Players in the Thomas Rice Auditorium of the Spring Grove Hospital Campus— 55 Wade Avenue in Catonsville, MD. Tickets can be purchased at the door or in advance online.