Too twisted for colored TV, Showcase On Main is bringing everyone's favorite beauty-shop-gossip-fest to their stages this February. That's right, come on out to Elkton, MD and take a whack at— Steel Magnolias, Directed by Lee Lewis. With just six people in the cast, and the cozy intimate setting of SoM's playing space, it's a narrative experience filled with heart, soul, and everybody's favorite emotion— laughter though tears. There are some powerful performances and some unique twists that make the show specific to Showcase On Main; all told, it's a fine night out and a solid way to experience the iconic screen-gem on stage.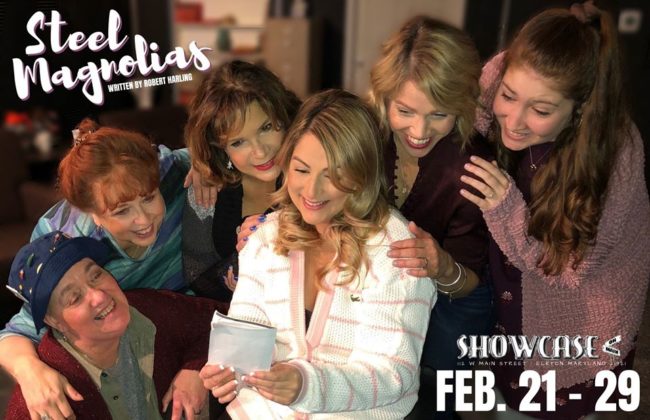 The scenery is simple though not without its finery; the beauty shop curtains cover the back room, there's wooden wall paneling to give it that touch of Louisiana parish life, even the beauty-capes have those enormous vogue faces on them so that you get that 80's flavor throughout. Director Lee Lewis masterfully designed and constructed the set, the cast was responsible for assisting with decorations and their costumes, and it must be said that the little attention to detail (like the wide array of pinks in the manicure station) are noteworthy and endearing. If you're' going to perform in an intimate space, everything on stage matters and has the potential to catch the audience's eye.
Steel Magnolias presents several challenges as a stage show, not only because of the iconic movie, which sets the bar high with the all-star cast it features, but because Robert Harling's book is poorly glued together. There are intensely elongated gaps between the scenes, which Lewis has filled with catchy music of the times (or Dolly Parton tunes), that cannot be helped because of how Harling has written character entrances, exits, and costume changes. These particular challenges aside, Lewis' cast does have a few hiccups with their in-scene pacing as they settle into the work, but ultimately deliver the emotional gravitas of the piece, as well as the humors, in good taste. The other issue, despite the intimacy of the venue, is that some of the performers some of the time forget that they're on a stage and not a film studio set; whispers are actually whispered, intimate moments are delivered with sonic sensitivity and this becomes somewhat of an issue (even from the front row!) The bombastic moments and the laugh out loud moments are delivered at peak decibel, but the cast needs to amp up their natural vocal projection with more consistency throughout the performance.
Outfitted in the most adorable, and season-changing, fuzzy legwarmers, Annelle (Christy Wyatt) is the fresh face in Truvy's Beauty Shop, though Wyatt is anything but green in her stage experience. Giving a humorously terrified series of bodily and facial responses to all of Drum Eatenton's gun shenanigans (only ever heard as a sound effect cued by Lewis from the Ops Board), Wyatt endears the audience to the newcomer character straight away. Her accent is more subtle than the overly pronounced sounds that arise from characters like Truvy and Shelby, but this settles into the "out of town/stranger" nature of the Annelle character. Wyatt gets fully in the spirit of decorating the beauty shop during the second scene with all sorts of little Christmas trinket; she even wraps holly garlands all around one of the pump-up beauty chairs! Wyatt channels her own version of Annelle into this performance, which is both unique and charming.
Sassy, classy, and the epitome of a young, albeit gossipy, refined southern young 'modern-adjacent' belle, JoAnna DiPaola is the perfect Shelby Eatenton, soon to be Latcherie. Her makeup is on-point, her sense of style (which is tastefully touched in pink, not awash in Pepto Bismol) fits her figure with elegance, and her supreme verbal control over how snappy and snippy she gets with her sugar-coated insults is priceless. DiPaola snipes and barbs beautifully with M'Lynn; the mother-daughter relationship is palpable and present between them. Her southern accent and overall delivery is pristinely manicured and well executed. Passionate about pink, vibrant and vivacious all round, its easy to say that DiPaola is the perfect pick for lil miss Shelby.
Despite her tender whispers which do at times make Truvy difficult to hear, Rebekah Latshaw is a superb Truvy. The patois and cadence of her textual delivery is a xerox of Dolly Parton from the original film. But Latshaw also brings her own unique sparkle to the role, by way of sweet smiles, skimpy leather mini skirts at Christmas, and an overall bubbling delight of honesty, particularly when it comes to those moments of truth shared between her and Shelby, her and Annelle, and her and M'Lynn. Dolly Parton puts out enormous expectations for the role of Truvy, but Latshaw does her own thing, even if her vocal model is very similar. Nobody cries alone in Truvy's beauty shop, and there's no such thing as natural beauty; the two principals that Latshaw embraces in her portrayal of Truvy.
Comic relief arrives in the form of Ouiser Boudreaux (Deb McGuire) and her counterpart Clairee Belcher (Janise Whelan). While Whelan delivers a carefree and laid back version of Clairee (with shiny grey chunk-pumps that aren't too cha-cha for anything except this show…but I think there's a hidden joke in there somewhere considering the lovely styles Whelan features on Clairee all throughout the rest of the production), McGuire sticks to a more textbook bombastic presentation of Ouiser. She look the part, barks the part, and even gets clever when it comes to showing up in a Grinch t-shirt for the Christmas scene. There's a few pregnant pauses between some of their exchanges, Whelan and McGuire, and its difficult to tell if these are intentional or up-lines; either way where the characterization counts, they're both aces, particularly when it comes to switch gears from picking on each other to deep bonded concern for Shelby or M'Lynn. Their final engagement together in the ending scene is hilarious, though a bit shrieky on McGuire's part, and will have the audience rolling in stitches with Truvy's favorite emotion, laughter through tears.
Carrying the emotional cornerstone of Steel Magnolias on her shoulders, Melanie Bishop's M'Lynn gives Sally Field a run for her money. (It doesn't hurt that Bishop has a striking resemblance to Sally Field from her Steel Magnolia screen days!) A production of Steel Magnolias can be flawless perfection or a true dumpster fire and can be burned to the ground or saved entirely by the way the M'Lynn character delivers the never-ending final scene. This production is strong and solid; so too is Bishop's emotional roller coaster. You feel the build early on with all of the intensely animated facial responses that Bishop's M'Lynn cultivates from the opening, and with great consistency through the other scenes. So when she starts on her emotional tirade, you feel it full force. Bishop delivers a commanding emotional presence during that tempestuous maelstrom of a monologue, which draws all those precious moments of both humor and somberness together in one cumulative experience. Her back and forth with Shelby in the earlier scenes informs and fuels this passion-riddled monologue that drives home the emotional catharsis of the show.
Don't miss your chance for a feel-good cry and a feel-good laugh and well-tested story that just touches the emotions in all the right ways. It's the best entertainment on a Friday or Saturday night out in Elkton, support the incredible efforts happening at Showcase on Main; Steel Magnolias will warm you up this chilly February season.
Running Time: Approximately 2 hours and 25 minutes with one intermission
Steel Magnolias plays through February 29, 2020 at Showcase On Main— 112 W. Main Street in Elkton, MD. Tickets are available at the door or in advance online.
Ouiser Boudreaux