I've got this feeling— that nothing's holding them down; they're hitting the ceiling— they're tearing up the east side of town— with their production of Footloose! Footloose! They're kicking off their weekday blues! With the hottest production of the dated 80's classic this side of Charm City, The St. Demetrios' Suburban Players are giving audiences all over Carney, Parkville, and Baltimore a thrilling joyride through Bomont! They're cutting Footloose! And you won't want to miss it!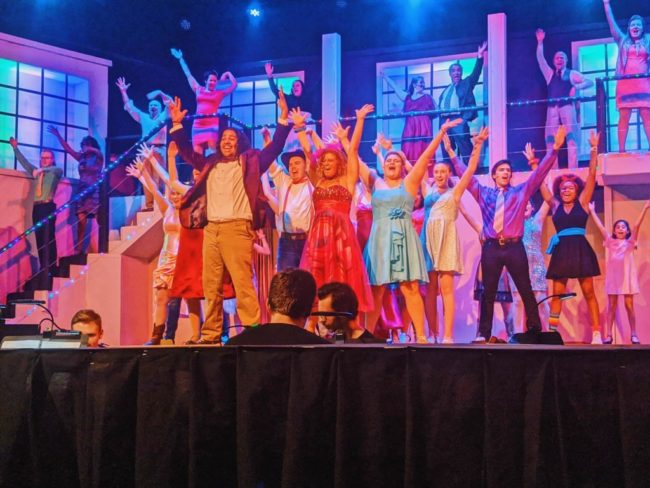 Masters of form, function, and striking spectacle, Set Designers Pete Beleos and George Thomakos create a multi-tiered set that both serves the purpose and really utilizes the play space inside of the Hermes Rafailides Center. It gives the performers plenty of space to spread out (which is perfect for the intensely energetic, 80's flavored choreography by way of Amie Bell) and also creates the believable illusion that Reverend Moore's house has an upstairs, as well as a hallway connecting its two main, visible rooms. The large windows, built into the second tier of Beleos and Thomakos' set are the perfect vehicles for Beleos' illumination tactics (he's also the show's lighting designer, alongside Angelos Kokkinakos.) With lighting piped in behind each of these windows, when the wild and crazy flashy colors pop all over the stage during bigger group numbers, they enhance the party vibe rather than detract from the choreographic action on stage. Beleos and Kokkinakos get creative with their gobos and moving spotlights as well; of particular praise is the way they create the "graffiti" atop the train trestle.
While we're living our best 80's life, there's a major shout out owed to Costume Coordinator Kim Cincotta, who gets that 80's feeling (without going too deep into the stereotypes and clichés of the time) just right on the numerous members of the cast. It's the 80's but most of the adults are still church-going, God-fearing citizens of Bomont, and the kids, though hip in their own right, have to toe the line of those reigning adults. The production does not lack the 80's aesthetic, however, and Cincotta deserves kudos for finding the balance therein.
Directed by Lauren Spencer-Harris with Musical Direction by Steven Soltow, and Choreography by Amie Bell, this production of Footloose really focuses on the narrative beauty of the production. Spencer-Harris has selected a fine bunch of talented individuals to play leads, supporting roles, cameos, and even fill out the ensemble. It's rare that such a large production has such consistent talent all throughout the casting— from the principals down through the children's ensemble— and Spencer-Harris should be commended for her work there. There are deep emotional moments, particularly between Rev Moore and Ren that just turn the story on its ear and tug at the heartstrings; Spencer-Harris has done a wonderful job of highlighting these instances, really letting the audience feel the joy and growth of these characters. Musically, Steven Soltow has brought together a powerful and well-balanced sound with great consistency throughout the production; its practically unheard of for how well-balanced and volume-controlled the exposed live pit is in this production. And Amie Bell's choreography is spot on with the era. Bell keeps the ensemble bouncing with a series of moves that befits the talent on the stage and also rhythmically matches the music of the show.
Scenic Artists Monica Makrodimitris and Aphrodite Georgelakos (joined by "The Palikaria" set painters— Dino Economakis, Babe Kosmos, Ted Kostopoulos, George Lambros, Pete Sorvalis, Gus Stamatopoulos, Lambros Venetos) get a great deal of credit for the lovely scenery— especially the sign for The Burger Blast— but the real scene-stealing element of "The Burger Blast" is Betty Blast (Eleni Densmore), who wheels in on in-line skates, a rolling walker, and the most radical spiked skater's helmet in the history of skater's helmet. Densmore is a cameo feature but earns her thunderous applause from the second she roles through that scene.
Where there's a girl and a boy and a love story, there's usually another boy and his goonies trying to complicate that potential love story. Footloose is no exception to that formula and here it's Lyle (Michael Floyd) and Travis (Michael Holmes), the dunderheaded ne'er-do-well cronies of Chuck Cranston (Josh Schoff.) With grody attitudes, and rather revolting characteristics, this trio of baddies fills out their roles well (everybody loves to hate the bad guys!) in this production. Schoff, in particular, gets to flex— both his muscles and his voice— during "The Girl Gets Around", which gives the audience a sense of the musical feeling of the show early on.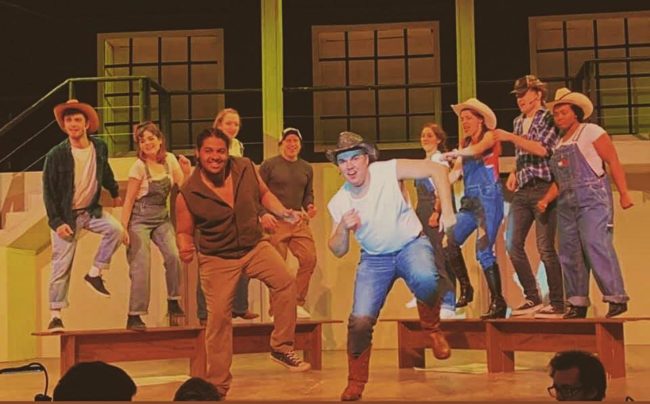 A true gritty country bumpkin, that Willard Hewitt (Jordan Baumiller) is just too hilarious for words. Living up the local yokel characteristics of your "turnip-truck" bumpkin, Baumiller gets the accent right, gets the vocal affectation right, shoot— he even gets the slightly bow-legged walk right. Smart with his comic timing and delivery, particularly when it comes to some of the sillier things that come flying out of the Willard character's mouth, Baumiller is quite the presence on stage. And when he gets to singing, "Mamma Says", the audience just goes wild for his charm, his funny song, and his fancy footwork (which he deliberately fails at earlier in the cowboy hillbilly bar.)
Wendy Jo (Katie Pendergast) and Urleen (Jamie White) rock their 80's fashion threads hard and their backup vocals even harder. Pendergast and White are the perfect two-third of the trio of backup singers that support iconic numbers like "Somebody's Eyes" and both have incredible personality quirks that they bring to Wendy Jo and Urlene respectively. Bringing in the third section of that dynamite trio is Mia Coulbourne as Rusty. With an accent that could spit nails, and all the energy of a Texas-two-step hopped up on pixie sticks and pop rocks, Coulbourne is a true triple threat with her stellar singing, dynamic dancing, and awesome acting. While you get a taste of Coulbourne's voice (she secretly opens the titular number while they're all still in Chicago) early on, you don't really get to experience her true vocal prowess and belting capabilities until "Let's Hear It For the Boy" where some of her vocal sustains defy musical gravity.
The more somber and sobering side of wild and crazy (not that Rusty, Urlene, and Wendy Jo are crazy…) is Vi Moore (Tammy Oppel), the wife of the good Reverend. While her stage time is limited by the libretto, Oppel brings something simple and focused to the role. A wee bit vocally inconsistent with her pitch during "Can You Find It In Your Heart", Oppel delivers the emotional gravity of that number sublimely. There is no denying her clear and concise maternal instincts on stage, and when she adds to the trio of "Learning to Be Silent" (a number shared with Ethel McCormack— Caitlyn Soltow— and Ariel Moore— Marina Yiannoris) there is something tragically beautiful that resonates through her character in this scene.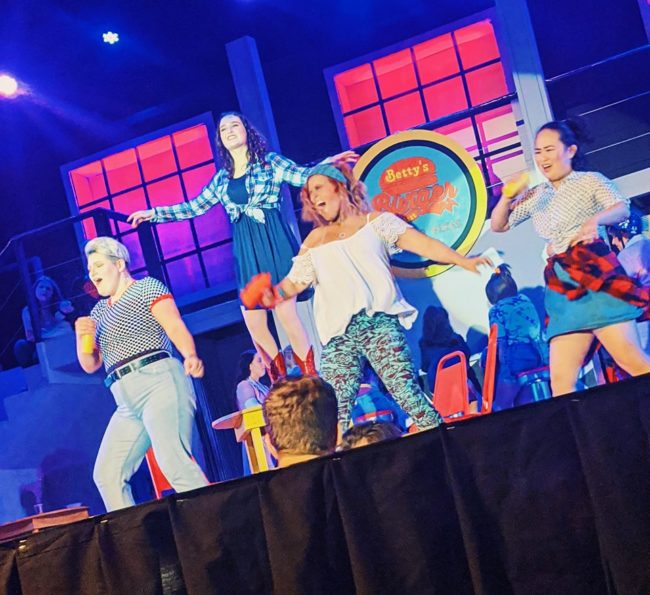 With powerful vocal chops and a stage presence that holds her own in a sea of talent, Marina Yiannoris as the leading female love interest— Ariel Moore— packs quite the punch. At first her 'cold-shoulder' technique with Ren is amusing but as their stories wend their way around, Yiannoris delivers the growth of the Ariel-Ren character arc that the audience eagerly anticipates. A vocal powerhouse, her rendition of "Holding Out For a Hero" (again backed by the terrific trio of Rusty, Urlene, and Wendy Jo), is stunning and basically blows the roof off of the church. When she duets with Ren for "Almost Paradise" the audience is treated to a softer vocal side of Yiannoris' talents; showcasing her well-rounded wheelhouse.
Surprisingly captivating in the role of Reverend Shaw Moore, Perry Alexion brings a delightful depth to the character. In a role that could easily be written off as an antagonistic bad guy, Alexion finds the nuances of the character that makes him exist as a real human being, which makes the change of heart near the end of the production truly astonishing and heartwarming. Alexion is also gifted with an operatic-sounding voice, which carries well for "Heaven Help Me" and "Can You Find It In Your Heart." There is a severity and a gravity that Alexion unearths in the Rev. Shaw Moore character and he deserves the highest of praises for really bringing that severity and gravity in balance with the character's humanity to the forefront of his portrayal.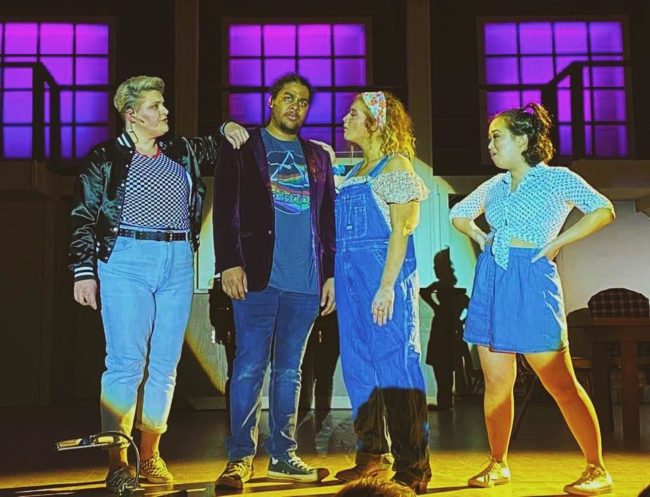 The Suburban Players were holding out for a hero— and they found it in Eric Bray Jr. tackling the demanding role of Ren McCormack. As the catalyst behind the movement of the show, Bray dives in headlong, unapologetic and unafraid to really shake up the dust of sleepy old Bomont with his groovy Chicago ways. There's heart and soul in Bray's portrayal and he's got an impressive set of vocal chops to boot. There's a calm confidence about his character creation and a vocal sincerity that makes numbers like "Almost Paradise" resonate with truth and clarity; Bray brings this same truth and clarity to those honest little moments shared with Ariel atop the train trestle. "Dancing Is Not a Crime" may be 60-seconds of patter but Bray has flawless articulation during that patter; his words are crisp and clear. A real leader of the pack when it comes to the cause of dancing, Bray encourages all the kids of Bomont to live up to the show's title and just cut— footloose!
Please, Louise— and everybody else— get up off of your knees— and Jack (and everybody else) get back— see this show before they wrap! It's a great energetic night of entertainment (and the food is a mouth-watering bonus beyond compare) and you'll be sorry if you miss out on your chance to cut— Footloose!
Running Time: Approximately 2 hours and 35 minutes with one intermission
Footloose plays through February 23, 2020 with the Suburban Players housed at the Saint Demetrios Greek Orthodox Church in the Hermes Rafailides Center— 2504 Cub Hill Road in Carney, MD. For tickets please call (443) 390-2981 or email Suburbanplayers2504@gmail.com Reservations are strongly encouraged as there is unlikely to be walk-up seating.