Not all those who wander are lost; time has tested such a proverb, but what if those who are lost don't know they are wandering? Wandering from their faith, wandering from their lives, wandering from themselves, life is short and full of illusions, so who really understands whether or not they are happy? An evocative and poignant new drama by Anna Ziegler wanders through these notions, exploring the paths our lives take when we are lost and wandering. The Wanderers, now appearing on stage at Theater J under the direction of Amber McGinnis, traverses the labyrinth of modern love through the focal lens of three couples. The trials and tribulations are filled with heartache and deep, moving human experiences; an arranged marriage between two Satmar Hasidic Jews, two high-profile celebrities inveigled dangerously in a flirtation despite being married to other people, and a struggling marriage between two modern people who broke from their faith draws the audience into this well-paced reality of love in the present day.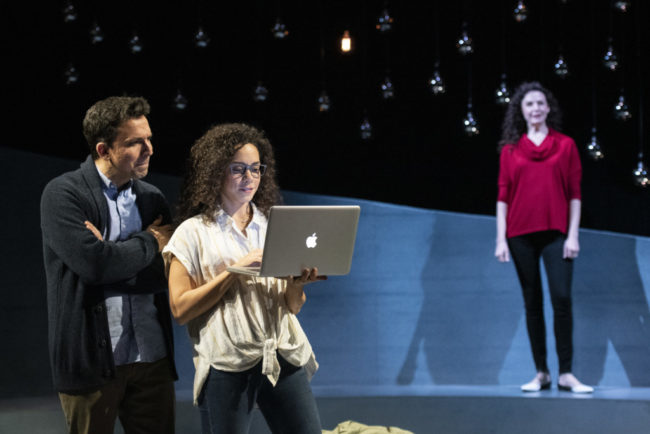 Anna Ziegler's writing is compelling, engaging even, though the larger plot twist— which to be fair appeared to take most of the audience by surprise— feels somewhat overdone. If Ziegler's biggest failure in this work of deeply intriguing emotional turmoil is that it suffers from an overused plot twist, then she's well ahead of the game. There are a great many places where the meandering narratives of the three couples could go wildly off the rails, but Ziegler keeps them intricately woven together, whilst simultaneously keeping them separate and yet relatable to one another as well as making them intrinsically valuable to the conclusion of these three separate-but-together narratives. Her work is touching and feels, at its core, truthful but not in an overly harsh or saccharine way. Ziegler creates believable, relatable, characters, who although at times may not be likeable, feel like realistic individuals that we can identify with or maybe that we know in our own lives.
Ziegler focuses her narrative around Schmuli and Esther, a Satmar Hasidic Jewish couple who are starting their lives together in the vehicle of arranged marriage. There is also Sophie and Abe, a younger married couple not without their struggles, whose marriage was not arranged but whose lives mirror in many facets the struggles of Schmuli and Esther. Julia and Abe are a third component of the work, which speaks for itself once the play gets underway; all five characters have sturdy functions in the plot while also existing in their own right as realistic humans. Ziegler manages to capture the essence of these struggles, these wandering lives, in her work in a satisfying, albeit heartbreaking, fashion, which in the smart eyes and hands of director Amber McGinnis, moves with fluid ease from opening to close.
Scenery is left mostly to the imagination; it's the people that matter in this production, the characters and their narratives. But that is not to say that Scenic Designer Andrew R. Cohen and Lighting Designer Laura J. Eckelman have left their posts unattended. Cohen's simplistic gray round construct allows for the versatility the script calls for as well as the ease of transition from moment to moment. Eckelman has strung dozens of teardrop lanterns across the back of the play space. Their lighting patterns and configurations change from scene to scene, depending upon which stage of life the characters have entered; Eckelman's use of these teardrop lanterns appears to loosely correlate with the intimacy and lack thereof shared between the three couples on the stage.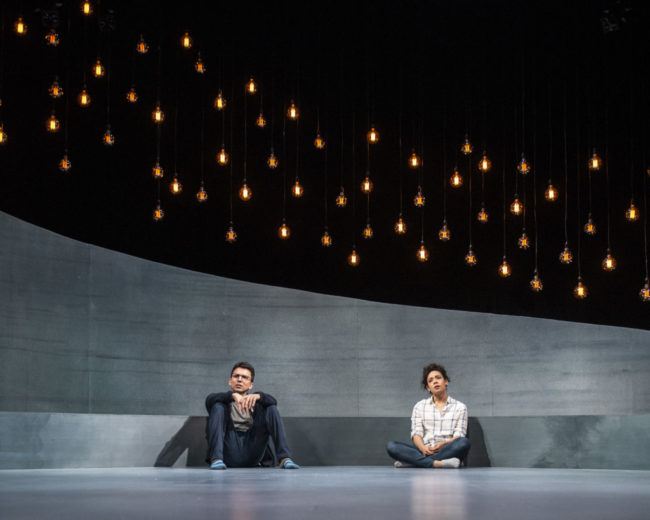 The beauty of Amber McGinnis' direction, in addition to her ability to keep the overall pacing swift and natural, is her spatial awareness. In the beginning of the play, those couples with tremendous gaps in their emotional intimacy have closer physical staging than those whose intimacy feels quite close despite the physical distance between characters being rather vast. This shifts and changes rapidly and frequently throughout the production; McGinnis sets the characters in motion, quite literally wandering through their own relationship issues, meandering through their intimacy issues simply by how close or how far apart she seats them from one another during certain scenes. It's a fascinating layer added to an already intriguing text.
Tessa Klein takes up the role of Julia, a famed film actress whose passing interest in Abe, the novelist, sparks up an unexpected connection between the pair. Klein's role overall is understated and serves to showcase bigger issues in Abe's marriage, without blatantly forcing the idea of actual infidelity on the audience. Though the way Klein portrays Julia gives the unsettling notion that an emotional affair— perhaps even a digital one— can be far more detrimental and destructive than a physical one. Her scenes are almost exclusively acted opposite of Abe (Alexander Strain), whose polarity is striking by comparison.
Strain, whose mercurial confession of climactic proportions and cathartic release arrives very late in the performance, delivers a congenial and quirky character in Abe. His performance, peppered with little zingers and awkward moments, feels genuine from the very first encounter the audience has with him. When all is revealed at the show's near-conclusion, Strain is so emotionally wound-up in the character's experience that despite his irrational responses, the audience goes along with him. The interactions with Julia and with Sophie couldn't be more opposite and yet feel as if they could be interchangeable because of how fluidly he delivers both of these exchanges.
Sophie (Kathryn Tkel) is a burbling plateau of frustration. At first, it feels as if Ziegler hasn't fully fleshed out the character of Sophie, or that Tkel is just playing the surface of her irritations and frustrations. But as the play gains momentum, little by little, so too does Tkel in her representation of Sophie. By the show's ending, Tkel has explored a strikingly steep character arc, that shoots up at a 90° angle quite suddenly, and delivers a strong justice for Sophie. There are moments when Sophie's furies are so present they're palpable in the air thanks to Tkel's stage presence.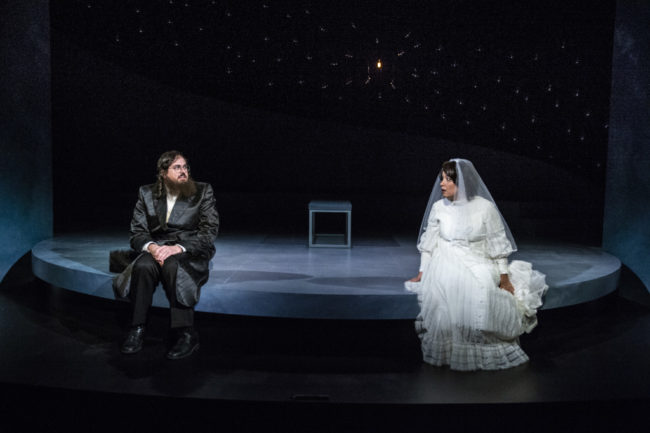 Schmuli (Jamie Smithson) and Esther (Dina Thomas) are the more diversified story path in this production; they start out one place, end another, and wander all about throughout. Both Smithson and Thomas (with assistance from Dialect Coach Nancy Krebs) achieve the Satmar Hasidic Jewish patois and cadence when it comes to their speech patterns and both deliver the initial awkwardness of their characters divinely. It's hard to discuss their portrayals of these characters as individuals because so many of their moments occur together or in response to one another. (And while the dominant and popular trend in modern theatre is presently "monologue-heavy narrative", most of the solo speeches fall to the character of Abe.) Smithson and Thomas play together like oil and water; beautiful when shaken together like an emulsified dressing at the beginning; repelling and separating as they come into their own; it's a stunning experience to watch.
Wander to Theater J for The Wanderers, it is an engaging and evocative experience that does the heart, mind, and soul some good to experience, reminding us all of the brevity of life and how things can change quite quickly in matters of the heart.
Running Time: Approximately 1 hour and 45 minutes with no intermission
The Wanderers plays through March 15, 2020 on The Trish Vradenburg Stage in the Aaron & Cecile Goldman Theater in the Morris Cafritz Center for the Arts in the Edlavitch DC Jewish Community Center— 1529 16th Street NW in Washington, DC. Tickets are available for purchase by calling the box office at 202-777-3210 or by purchasing them online.