They're being pulled in a new direction! Quite literally in all senses imaginable too! Baltimore Theatre Collective, formerly known as The Purple Light Theatre Company, has progressed into its next phase of life, now under the auspices of Baltimore Theatre Collective. And just as their first major cabaret was attempting to get underway, a snag in their original performance venue pulled them right over to Genesis Arts, a dance studio in Columbia's Red Branch corridor. The cabaret, a two-night fundraiser-style event, is set to feature post-Halloween style tunes.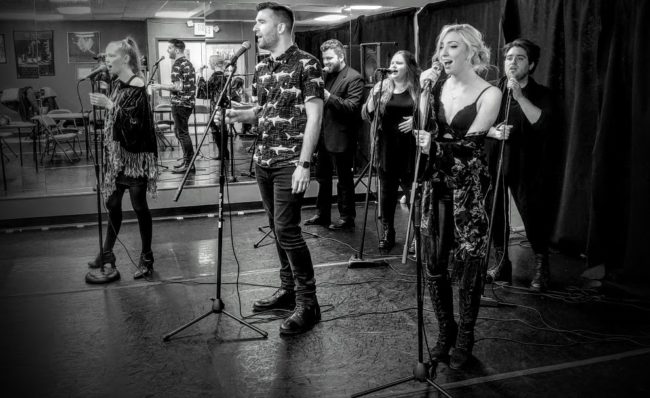 Artistic Director Tommy Malek and Managing Director Rachel Sandler had both expressed an interest in Halloween, stating that for them and many others it is a holiday that they thoroughly love and enjoy, but unlike Christmas, which seems to get a three to six month season, it's just one night. In an effort to prolong the spooky sensations that accompany the joyously macabre holiday, they organized Creepy Kooky Cabaret featuring six area performers (with Malek included on the performance bill, as well as Sandler conducting a three-person pit and playing keys) to let the Halloween spirit blaze past October 31; hell, they're practically letting it run amuck. Amuck! Amuck! Amuck!
Gathering up the belttress talents of Lindsey Litka, Caitlin Grant, Heather Moe, and the stunning sounds of Jim Baxter, Zach Husak, and Tommy Malek himself, the soiree of six take turns at the mic, performing numbers throughout the evening that spark incendiary delight in the Halloween vein. There's an entire sequence from Rocky Horror Show, expertly streamlined together by Sandler and her pit (Jason Wilson on bass, Nate Royer on drums, Diego Retana on guitar, Rachel Sandler on keys), which features each of the performers rotating in and out of the hallmark roles of that show, all culminating in one big cabaret finale. It'll make you shiver with antici— PATION!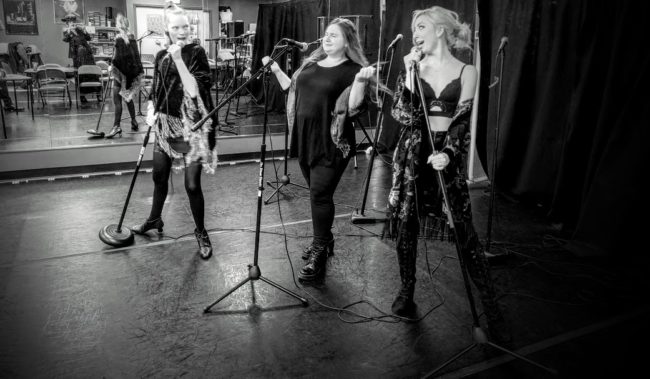 The evening's entertainment features all sorts of iconic spooky songs, "I Put a Spell on You" from Hocus Pocus being an immediate obvious choice. Caitlin Grant, backed by Heather Moe and Lindsey Litka, tackle those Sanderson Sisters sublimely. Litka steps out of her casting wheelhouse and into the role of Audrey II during a duet between her and Zach Husak, where she belts out a deep and darkly satisfying sound for "Git It" (otherwise known as "Feed Me") opposite Husak's nerdy and nervous impersonation of Seymour a la Little Shop of Horrors. (Fun Fact: Litka played Audrey I in Purple Light Theatre Company's Little Shop of Horrors in 2017.) Tommy Malek will be getting his diva du jour on in this cabaret as well, channeling one of his dominate spirit animals, Disney's Ursula, into his performance of "Poor Unfortunate Souls." Jim Baxter, who will be featured in a duet with Malek from Young Frankenstein among other songs, lends his rich sounds to the cabaret in equal parts, while Heather Moe brings some of the spookier numbers from Beetlejuice to life. There are as many group features and blended performance as there are solos, creating a smoothly balanced line-up for the evening.
While Baltimore Theatre Collective's name may be new, their principals and core organizational beliefs are the same tried and true properties upon which Malek founded Purple Light Theatre Company some six years ago. Attending the final rustle-up and rehearsal of the Creepy Kooky Cabaret, which was an impressive feat in and of itself as the production was forced into scrambling for a new venue just the day before and had hardly even been in the space when I arrived, I spoke with all six performers and Musical Director Rachel Sandler for their impression on the experience with the cabaret and the future potential of the company.
I asked each of them how they ended up involved with the Kooky Cabaret, what they were performing in the cabaret, why they thought Baltimore Theatre Collective was a place they wanted to work and what shows they hoped BTC might produce in the future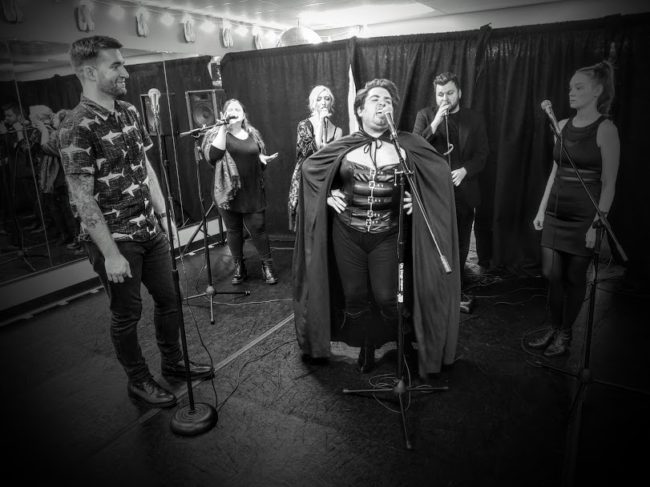 Jim Baxter: I got involved with the Kooky Cabaret because Rachel (Musical Director Rachel Sandler) asked me to audition for it because they were missing a person. I'm singing "Witchy Woman" by The Eagles, I'm the other half of "Together Again" from Young Frankenstein, where I'm Frankenstein and Tommy (Artistic Director Tommy Malek) is Igor, and I do a bunch of the group numbers. Baltimore Theatre Collective just has the coolest choices of music. They give you the freedom to do the songs you want to do, not the songs that you're forced to do because they're in the same show. And I'd love to see them produce Beetlejuice. The rights are not yet available, but oh God, Beetlejuice, as soon as it's available. Or The Last Five Years, really there are so many, but mostly Beetlejuice.
Zach Husak: I got involved with BTC because I'm friends with Rachel, I'm actually a voice student of hers, and she said "we're looking for a third guy to do a show, do you want to do this cabaret with us?" And I said, "hell yeah, I want to do it!" I'm singing Seymour's part in "Feed Me" ("Git It") from Little Shop of Horrors and I'm singing a couple of songs from Beetlejuice. The thing that makes me want to be a part of Baltimore Theatre Collective is— honestly? It's the Artistic Team's tenacity with overcoming hurdles that come up in their creative process. Like recently they just lost the venue for this very cabaret and they found another space within a day. I also love how passionate they are about the songs they choice and the material they do. I really dig the musical Violet, I really like it and would love for them to do it.
Tommy Malek: So I'm the Artistic Director of Baltimore Theatre Collective and I got involved with the cabaret because I had to be involved with the cabaret. No, just kidding, because I love it. I love all the people working on it, it's going to be a really great show. I'm singing "Poor Unfortunate Souls" and "Sweet Transvestite." Because those are my spirit animals, Ursula and Frank-N-Furter. I'm also singing "Together Again" with Jim, I'm doing Igor. I think that's all the solo stuff and I sing backup for other stuff. BTC is a company set apart from other companies because we have very strong performers and we just want to showcase the strongest performers we can together in a group. That's what we're looking to do this whole season. I wanna see BTC do Falsettos. Oh wait. We're already doing that. It's coming up this season, shameless plug. What do I like that's small and sexy? Oh that's me! We should do Me: The Musical. Seriously, but I haven't thought about this because I've done all my dream shows… ooh! I definitely want to do Rent. And I want to do it in a very "Tommy Malek" way, which is a very different way from how it's traditionally done. I want to do more rock musicals. I think that we have a lot of great contacts for musicians and we want to use them. They are showcased here in this show too! So come and see it!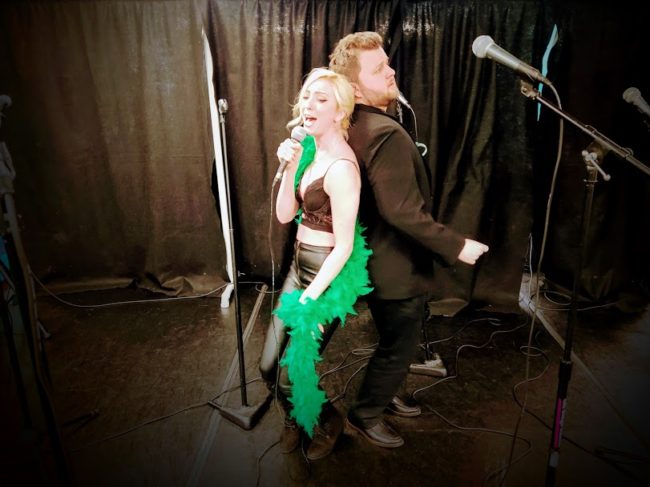 Lindsey Litka: I'm singing "Sexy" from Mean Girls, I'm singing "Feed Me" as Audrey II from Little Shop, I'm also part of the trio of "I Put a Spell on You" and I'm doing "Superstition" by Stevie Wonder. I got involved <with Kooky Cabaret> because I started doing theatre with Tommy in 2016 with Young Frankenstein. I really loved his creative process, and I've kind of attached myself to him. He's just so talented, he and Rachel are such a creative team, and I am very blessed to be able to team up with them. BTC used to be Purple Light, they went through a change and rebranded into BTC and they carry a lot of the same values. They do really small shows with big creative ideas. They rode that out when they did Title of Show and also Little Shop. I really love that process. It's a completely different creative process from any other type I've ever been a part of. I really love the idea of small shows done big and creatively and that's what BTC does so I'm all for that. A big show that I wanted to see them do for a long time, which they're doing, is Falsettos, and I'm actually a part of that. It's going to be an all-star cast! I would actually love to see them do a song cycle, like Ordinary Days or Edges, which is a lesser known one. Or even Island Song. Oh! Oh! Oh! And also Xanadu. Please make sure you say Xanadu. I want them to do Xanadu.
Caitlin Grant: I'm singing "I Put a Spell on You" and I'm singing a few songs from Rocky Horror and my first number is actually from Addams Family, I'm doing "Death is Just Around the Corner." Which is funny because I was Grandma Addams when I was in Tommy's production of The Addams Family (produced by Silhouette Stages) but now I'm onto an older part— well an older part for me physically, you don't get older than Grandma Addams. I'm too young to pay Morticia and I'm not a Morticia type, so this is an older role for me. I got involved because Tommy asked me a few months ago when Rachel and him were coming up with the new company name, if I would be a part of this cabaret and I said "absolutely of course." I'm drawn to BTC because of the people. It's definitely the people. It's Tommy and Rachel and the people I know in the company. All of us are really great and talented people and its fun working with them. I think I want to see BTC do a show that Tommy has already done outside of BTC, like Young Frankenstein because we know what a spectacle that could be. I guess I'm also thinking along the creepy kooky route. I know we're doing Falsettos, which is something I really wanted to do. Tommy and I saw that show in New York a few years ago and agreed that was a show that the company would have to do eventually. And now we're doing it!
Heather Moe: I'm singing "Dead Mom" and "Say My Name" from Beetlejuice. I'm singing "Hot Toxic Love" from The Toxic Avenger and I'm singing all the Janet parts in the Rocky Horror portion of the show. I got involved with the cabaret because Rachel was messaging me, asking me if I wanted to be a part of something right now because I just had a baby seven months ago. She asked me if I was interested because I hadn't done anything in a while and I said, "Yes, PLEASE, get me to do something because I'm going stir crazy." And it was great. They let me bring the baby to rehearsal and I've had a blast with it. What I love most about BTC is that they are very easy-going and very laid back in a very professional way. They're not loosy-goosey, they still get work done and they get it done well. But they're casual about it. It doesn't put the pressure on, especially for someone like me because it's been a little while since I've been on stage. I want to see them do Side Show. I think they would have a good view on it.
Rachel Sandler: I am the music director of this cabaret and I'm the managing director of Baltimore Theatre Collective. Tommy and I had this idea to put together a post-Halloween cabaret because people love Halloween and it's only one night, so we kind of wanted to keep that spirit going and it was a great way to get our new season off to its start. Tommy and I saw a need in the community to give some talent the opportunity to do things small with a little bit less of a time commitment but still with very high-performance quality. This cabaret is being put on in a local, small venue, and doesn't take all the theatrics of all the lights and all the tech but you're still going to get a great quality performance. We wanted this company to give people the opportunity to do that type of high-quality stuff on a smaller scale. For the future I'd love to see BTC do Spring Awakening. I love that musical and it's one of those shows that you can make as big or as small as you want. It's got great music, a really fun score, I know musicians would be excited about it.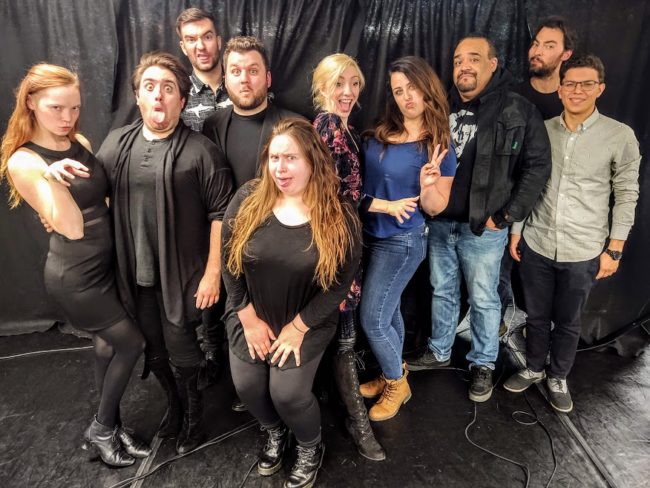 You have two chances to experience all of the highly-skilled professional talent that Baltimore Theatre Collective has gathered together for their Creepy Kooky Cabaret and hear more about their upcoming productions this season. It's a great opportunity to go out and support local theatre and help keep emerging new ideas, in the form of rebranded companies, alive and thriving.
Creepy Kooky Cabaret is a limited two-night engagement on Thursday November 14 and Friday November 15, 2019 produced by Baltimore Theatre Collective now happening at Genesis Arts LLC— 9194 Red Branch Road (Suite J) in Columbia, MD. Tickets are available at the door or in advance online.