In an overzealous, albeit admirable, attempt to commit to producing their previously announced season, The Baltimore Theatre Collective— one of Baltimore's most recent live-theatre incarnations pre-Global-Covid-19-Pandemic— Artistic Director Tommy Malek alongside four talented area actors set their sights on delivering their production of Stephen Karam's Speech and Debate. Directed by Tommy Malek and featuring Seth Fallon, Amanda Matousek, Pamela Northrup, and Max Wolf, this show is the mark of a true effort in the "keeping the faith" movement of theatres all across the world whose stages have been darkened by the Covid-19 Pandemic.

When an area Artistic Director— and full-disclosure, a part-time writer for TheatreBloom as well as friend of the editor and founder— reaches out and says "We're doing a digital 'live-stream' of this play that we were supposed to be producing…" my completely honest and 100% original answer was? NOPE. Not because it isn't impressive (despite the playwright's shortcomings, this particular work is before Karam's success as a Tony-award winner— the actors are very entertaining and intriguing to watch and if nothing else, Malek's screen-editing and 'scene card' animation is really top notch) or because I didn't have anything better to do (and who does, most of us are still largely locked down…) but because the idea of "digital theatre" just stopped me cold. But after much personal reckoning, and remembering that in addition to offering constructive criticisms TheatreBloom's main purpose is to support area artistic endeavors of all shapes and sizes so that they can thrive, I reconsidered and agreed to "view" the performance, with the intent of publishing some words about it.
It wouldn't be right to attempt a formal review, kind and constructive as reviews are when they come from TheatreBloom, because this isn't "theatre" as we know it. The actors— four very talented individuals, three of whom are no stranger to area stages, one of whom is relatively new to the scene in general— were well-rehearsed, well-read, and performed the mediocre script with great enthusiasm and character development, which runs the great risk of being potentially lost in a presentation of this nature. While there are other companies out there doing "Zoom Readings" (and this is by no means to knock them, because it is helping a great many people get their theatrical fix during this questionable time in our living history) this particular production of Speech and Debate is the closest thing we're getting to "live theatre" right now. Director Tommy Malek has done some magical chicanery with his video editing skills— the way he frames up the actors side-by-side (they each recorded/contributed from the socially-distant safety of their own homes and yet it almost looked and almost felt like they were actually in the same shared space) and has them 'sharing props' (obviously the piece of paper one actor hands to another is two separate pieces of paper in their respective homes, but the synchronizing of actions and the splicing of these recorded live clips was done in such a way that you almost believe they're sharing that same piece of paper) to give the overall viewing experience a more authentic verve.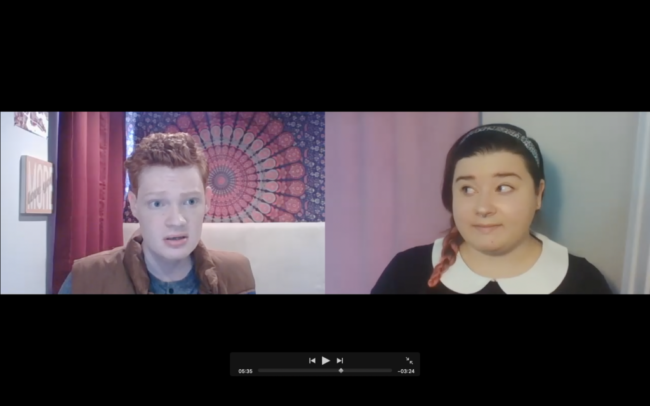 I could rail on for hours about how the playwright's work feels unpolished, unfinished, even dated— it was written in 2007 and regrettably while the issues addressed are definitely still issues, the way in which the playwright has addressed them gives them a feeling of historical irrelevance, which is unfortunate— I don't want to turn you off of the experience. All things considered, it's actually a somewhat cathartic viewing and it does address issues that are still very topical and relevant. There are some triggers— controversial topics, according to the characters— pedophilia, homophobia, sexual misconduct, abortion, are the four that come to the forefront of the show's focus— but they also make the drama worth watching.
The four actors present believable characters; Pamela Northrup who only appears in the production for two scenes, first as a teacher and later as a reporter, has subtle distinctions between both characters, though both share similar body postures, trying to emulate that sense of being an "accomplished adult" (as the other three characters are high-school-aged students.) Northrup is well spoke in her textual delivery and provides the audience with vivid facial expressions, particularly during her scene as the teacher, whose exasperation over "controversial topics" is rather hilarious.
Seth Fallon as Howie and Max Wolf as Solomon are vibrant and vivacious characters, who given the way the playwright has crafted Howie and Solomon could easily run the risk of being stereotypes or caricatures of their personality types. Both Fallon and Wolf do a convincing job of delivering their characters' insecurities and shortcomings, much of which would be established in the physical awkwardness of staging this drama. Fallon and Wolf serve their characters well in this digital dramatization, helping the viewer to invest in their narrative, which is otherwise somewhat undercooked by playwright Stephen Karam.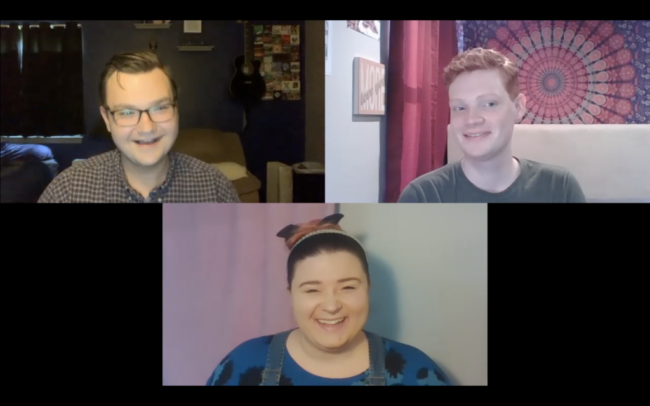 The lovable irritant of Diwata is a summation of all things cringeworthy in high school teenagers these days. Karam does a decent job of penning the notion that teenagers feel so violated when "randos" learn about their "deep dark secrets", which they themselves blasted all over the internet for all and sundry to discover. The role of Diwata could easily be a throw-away, particularly given how ill-at-home it is in Karam's script, but newcomer Amanda Matousek gives her grounding while balancing that realness of a human being in bonanza off-the-wall quirkiness that borders on irritating; think nails on a chalkboard but at least someone's still using a chalkboard! Matousek finds very gravitationally deep moments in her character, which she translates well in this digital display, a surprising feat given the medium of production.
This is not theater— at least, not at as we know it. But it's really close to what we loved and remembered and it's a top-notch effort on The Baltimore Theatre Collective's part to not only "carry on" during this pandemic, but to attempt to engage their actors and their community with the thing we all miss most: human interaction.
Running Time: Roughly 1 hour and 50 minutes with a built-in ten-minute intermission
Speech and Debate is available for viewing starting 8:00pm EST on Saturday June 13, 2020 and will be available until 11:59pm EST on Sunday June 14, 2020. For more information on tickets, click here.
100% of the proceeds from this event will be split between The Bail Project and A Long Walk Home.