This is the moment! This is the time! When their momentum and their moment is in rhyme. Free Range Humans is bringing you a deliciously devious rendering of Jekyll & Hyde, unlike you've ever seen, felt, heard, or experienced it before. Remarkably transcendent into the emotional core of Leslie Bricusse (book & lyrics) and Frank Wildhorn (music)'s staged conceptualization (with Steve Cuden) based on the gothic novella— Strange Case of Dr. Jekyll and Mr. Hyde by Robert Louis Stevenson, this highly immersive production of Jekyll & Hyde explores the essential narrative with an overwhelming emotional through-line while flinging audiences into the throng of the show's heartbeat as it races and explodes from start to finish. Venture with Dr. Jekyll and Mr. Hyde into the depths of madness for the sake of salvation; visit 'The Red Rat' in person, enter Miss Lucy's private room, stand with Henry Jekyll before the board of governors, skulk through the streets of London with Edward Hyde; this theatrically immersive experience is unlike anything being done in the area, particularly when it comes to classical themed musical theatre. Directed by Elizabeth Lucas with Musical Direction by Marci Shegogue, this stunning epic will thrill you to your core.
Exposing the essence of what is often 3+ hours of musical stage traffic and rendering it into 90 minutes of high-intensity theatrical immersion is a daunting task, but one that Director and conceptual visionary Elizabeth Lucas not only succeeds at but does so with marvelous results. It's rather astonishing, as a person who has witnessed multiple productions of Jekyll & Hyde, to feel as if the complete story in its entirety has been experienced when you know full well you're only getting the most critical and essential moments of plot and music. Lucas' edit is not only potent but meticulously crafted to include every detail necessary to fully experience Jekyll & Hyde without drowning in the mire and muck of the show's original excesses. In addition to this perfect rendering, Lucas is clever, in every sense of the word, in her blocking and stage choices as well as her overall use of the space, which in itself is a marvel over which to wonder.
Lucas has hand-picked a stellar cast to deliver her vision of Jekyll & Hyde; the combination of well-placed talent, extraordinary vision, and audience immersion is the perfect recipe for a spectacular theatrical endeavor. Musical Director Marci Shegogue has lent her seasoned expertise to working with the vast, cavernous space of Centennial Memorial, ensuring that sounds carry clearly, harmonies blend soundly, and that performers articulate their words crisply with every number they deliver. Shegogue and Lucas, along with Assistant Stage Manager Chris Polio, work in tandem to achieve a live-stream feed of video and lyrics as the performance is happening for those that are unable to traverse the church's stairways (the performance is mobile theatre, where actors and audience alike explore the space as the play unfolds, which includes ascending and descending stairs) so that no audient feels left behind. There are so many incredible things to be praised in the directions of Lucas, Shegogue, and Polio, but said things run the risk of spoiling the experience, it can be best said that tickets must be procured to fully appreciate the genius that this trio and their extraordinary cast is putting forth.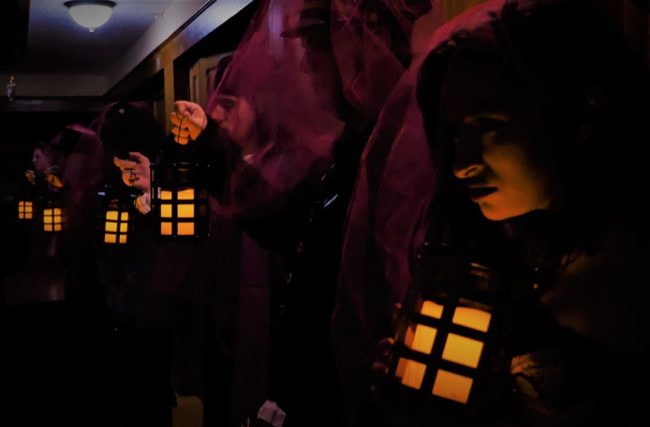 In addition to all of the marvels presented by the director, music director, and stage manager, TJ Lukacsina's Lighting Design and Diana Nugent's (with assistance by Tiffany Freeze) Costume Design fully authenticates the gothic novella experience. Corsets and colors blend like sympathy and tenderness to create a dazzling aesthetic. Lukacsina's lighting design is subtle, understated, delicately balanced to provide just enough moody atmosphere in moments where such illumination augments the experience rather than detracts from it. This is particularly true during the "laboratory" scenes, which are staged at the front of the upstairs chapel space. Nugent and Freeze's costumes echo the sentiments of what one might visually expect when viewing a production of Jekyll & Hyde; they are also exceptionally well fit to each of the individual performers, giving them boosts of confidence to the personalities that they are embodying. One of the most brilliant features from Nugent & Freeze's sartorial selections is the blood veils draped over the victims of Edward Hyde as they continue to 'exist' beyond their expiration.
The cast moves as one, taking turns guiding the audience, taking turns interacting with the audience. They sing, often with one thunderous swell of passionate emotion, during ensemble segments like "Murder Murder" and "Façade." They share the narrative burden of the story, where everyone has their part they play in this fascinating experience. Animated and unforgettable, Camryn Shegogue plays an enthusiastic Newsboy, who really shines during "Murder Murder" with the most excited facial expressions beyond compare. Kenny Rodriguez, who doubles up (as most of the performers do in this expertly cast and crafted production) as Poole and a dancer at the Red Rat. Rodriguez presents a clean diversity between these two named characters, being a calming comfort as Poole, albeit distressed and distraught throughout most of the role, while putting a saucy flare into his dance moves at The Red Rat.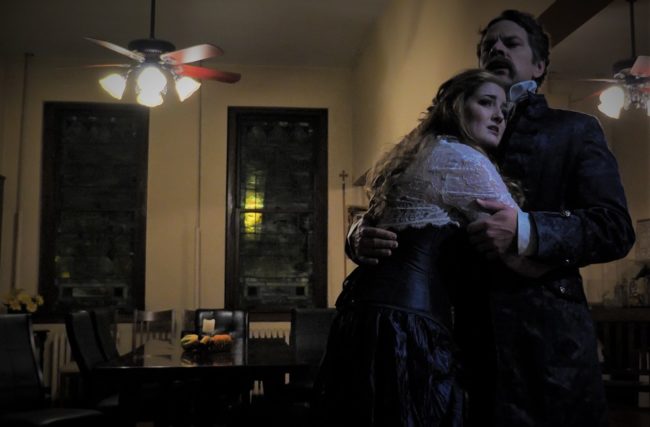 Buttery vocals ooze out of Danvers (Russell Rinker) and although in this rendition, Danvers' songs are truncated somewhat, the audience falls readily in love with Rinker's velvety sound. The paternal protective force that he pushes over both Emma and Henry Jekyll is strong, particularly when it comes to trying to provide a safe haven for both in his own way. Nellie (Surasree Das) is the unintentional comic relief at times. For as deliciously sinful as she is when playing about at the Red Rat, when Edward Hyde encounters Lucy in her room above the bar, it's Das' Nellie that quickly and comically moves the audience along with her pantomime of not wanting the audience to watch such…inappropriate adult behaviors. With a powerful voice that adds an exquisite sound to the ensemble blend, Das is another fine selection for this production.
The Board of Governors are pious, zealous, self-righteous individuals whose superior morality towers (quite literally in the spatial configuration of the staging used in that scene) Henry Jekyll. Zoë Velling as Lady Savage, Benjamin Eisenhour as General Glossop, Danielle Irene as Lady Beaconsfield, and Dylan Toms as the Bishop of Basingstoke, lend their voices to the vocal decrying of Jekyll's supposedly heinous experimentations, each more appalled and diabolically wicked than the one before. Velling, Eisenhour, Irene, and Toms are quite a quartet of force, each meeting a rather…frightful encounter with one of the titular protagonists, mainly Edward Hyde. The rather nasty ringleader, Simon Stride (Matty Montes) is quite the lurker and the creep as he slips through the crowd and lords over the board. Montes, whose vocals are powerful and haunting in their own right, doubles up as Spider, the nefarious pimp of the Red Rat. Quite lascivious, Montes readily makes your skin crawl when you encounter him in this role, don't lean too near or you'll find yourself in his clutches.
There is almost a palpable fraternal bond between Utterson (Michael E. Mason) and Henry Jekyll because of the earnest and open nature that Mason brings to the John Utterson character. With warm, rich, filling vocals, Mason greets the room and those in it with the voice of logic and reason, desperate to try and reach his dear friend before things go too far awry. You get a proper taste of Mason's voice in the divine quartet, "His Work and Nothing More", which features Utterson singing in the laboratory with Jekyll, while Danvers (Rinker) and Emma (Kylie Smith) are staged on the opposite side of the space, elevated on the balcony and singing down to add their sounds to the blend. There is something deeply symbolic about this staging; it also draws Mason's Utterson into the thick of the show's natural drama.
Kylie Smith is a delightful and playful individual, warm and open to the honesty and earnest love that flows between Emma and Henry Jekyll. In her initial encounter with him (as he dashes in frantic lateness into his own engagement party) it is crystal clear how fond of Henry Jekyll her Emma is. And when their voices twine together for "Take Me As I Am" there is sweet, playfulness to the tune that somehow authenticates the sentiment of love between them, rather than giving it that sharp, saccharine feeling with overdone affections. Smith finds herself perched above on the balcony during her duet with Lucy (Laura Whittenberger), "In His Eyes", which is a poignant and symbolic reflection of their respective stations and placements in life.
Whittenberger brings a delightfully unexpected softness to the generally coarse character of Lucy. There is something hopeful and determined in Whittenberger's Lucy, long before she even gets to the solo "A New Life", which in turn makes that number so much stronger because by that point, you're desperately hoping she can escape her tragic circumstances. Just hints of saucy, as if she's forcing herself to play along, Whittenberger brings a vocal power to "Bring On The Men", which entices the audience, but there is an intentional hesitancy, which showcases how very unwillingly the character of Lucy has found herself in her current situation, as lady of the evening, working for Spyder at the Red Rat. When Whittenberger's Lucy encounters Edward Hyde, there is a thrilling danger to both scene and song, and their duet "Dangerous Game" is spine-tingling.
Look behind the façade of the eager young talent blossoming here in the DC-adjacent theatre scene and see Matt Hirsh flawlessly slay a most mercurial performance as Henry Jekyll and Edward Hyde. The stark contrast that he creates with a mere slip of his vocals and slight thrust of his physicality is breathtaking and brilliant. With powerhouse belts, sustains, and top-tenor ranges, Hirsh is an enigmatic vocal potion which must by drunk by the audience. Intoxicating and steeped with determination for numbers like "This is The Moment" and "Pursue The Truth", Hirsh mesmerizes the audience not only with his impeccable vocal prowess but with the deep emotional attachments he has mined from within the character's troubled soul.
Drink the potion, delve into the depths of good and evil; experience Jekyll & Hyde like never before. Audiences everywhere are crying out for the next big thing in theatre; tightly rendered immersive experiences like Free Range Humans' Jekyll & Hyde are it. This is one immersive experience you will not want to miss. Tickets are limited so do not hesitate to procure yours.
Running Time: Approximately 95 minutes no intermission
Jekyll & Hyde: An Immersive Musical Thriller plays through November 3, 2019 with Free Range Humans at Centennial Memorial United Methodist Church— 8 W. 2nd Street in downtown historic Frederick, MD. Tickets are available for purchase at the door* or in advance online.
As seating is extremely limited, due to the immersive nature of the production, advanced reservations for tickets are strongly recommended.