"Who is the colored man? Is he a king or is he a slave?" Profound question contained within Kennan Scott II's Thoughts of a Colored Man, now playing at Baltimore Center Stage in the Pearlstone Theatre. Directed by Steve H. Broadnax III (as a co-production with Syracuse Stage in association with Brian Moreland and Ron Simons), this evocative dramatic theatrical experience presents the inner monologues of men of color to the audience in a series of loosely interconnected vignettes, all of which focus around the commonality of their place in the world. The show is gripping and edgy, albeit at times out of accord with itself, and presents deep insight to living as a man of color.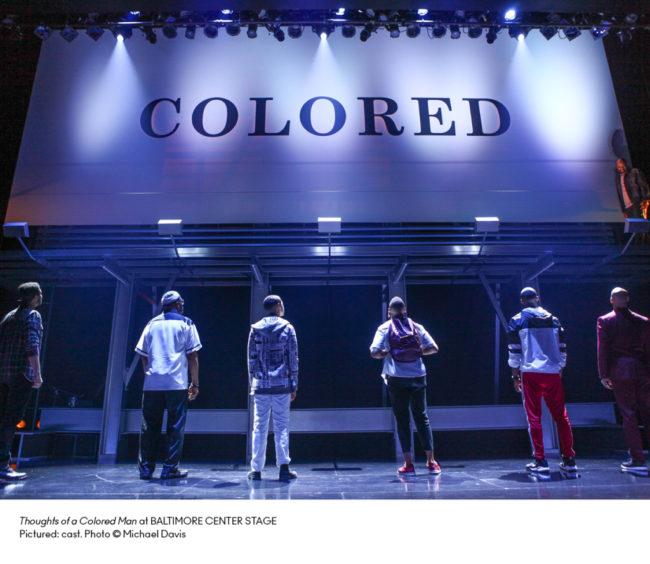 A simplistic yet profound setting is the handywork of Scenic Designer Robert Brill. Scaffolding that rises up to a massive, stage-consuming billboard with the singular word "Colored" printed on it is what the audience gets. But this singular piece of scenery becomes so much more when enhanced with Lighting Designer Ryan J. O'Gara's illuminating tactics. There is a balance of lighting when it comes to O'Gara's lighting plot, not too much or too little colored fusions when emotional lighting comes into play. This is balanced against Mikaal Sulaiman's sound design (featuring the extraordinary original compositions of TéLa and KAMAUU), which is an evocative element on its own, but when coupled against the urbane feel of Brill's set and the equilibrium of warm tones to cool colors in O'Gara's lighting design, it almost becomes its own character.
The work itself is a deeply evocative exploration of what it means to be a man of color and how to exist in society with that identifying quality in mind. Keenan Scott II has rendered the experience into seven essential emotional experiences, setting each of the performers to be one of those emotions: Wisdom, Passion, Depression, Lust, Happiness, Love, and Anger. Though their defining moments as these emotions are clear, it is easy to see how they are not isolated individuals. There are moments all throughout the performance where Depression could be Anger and Love could be Passion and Wisdom could be all of these things in one. Director Steve H. Broadnax III moves these character in and out of each other's lives, pushing them and pulling through these vignettes with ease. There are standalone speeches that delve into the characters' internal existences and feelings, but with Broadnax III's clear interpretation, these moments feel as if they never really sit outside of the circle of the cumulative existence. The show's one downfall is the interpretive dancing featured in certain momentary anecdotes (which features Hollie E. Wright and Ashley Pierre-Louis as the respective dancers. Their dancing is an impressive feat to watch, expect for the fact that it creates a jarring reality that doesn't quite juxtapose with ease into the overall construct of the performance.)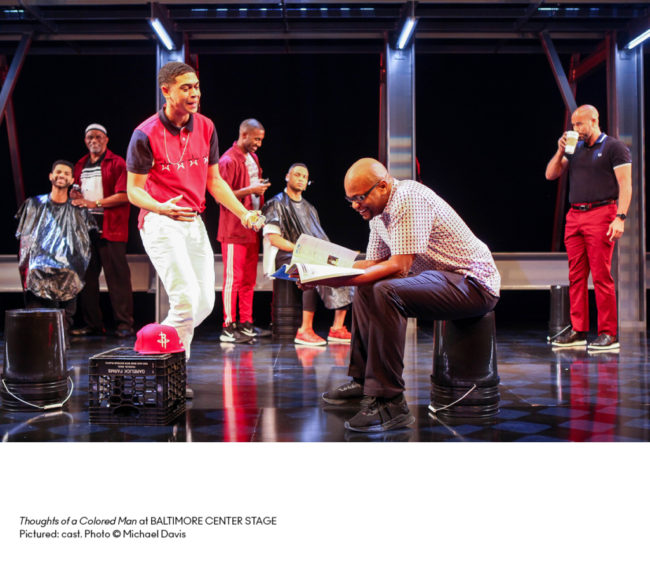 Loaded with potent but painfully true statements, the play addresses a myriad of issues, expressions, and emotions that one could take a life-time attempting to study, analyze, and explore. During a shared-group scene in the barbershop one of the characters puts into the ether the notion that in the neighborhood <…things have changed so much that people look at him like he don't belong but he's been here all his life…> and there are moments like that one that link each of these vignettes together, giving the audience a deep bench of thoughts to ruminate upon at the show's conclusion. The seven performers share the emotional weight of the production, each in their turn, with no one man stealing the show or shouldering the brunt of it.
Lust (Reynaldo Piniella) is one of the more memorably emotional characters featured in the vignettes— not because any one of them is forgettable but rather because Piniella's character is the first to consistently portray a rather negative stereotype when it comes to his role. Hollering inappropriately at "the ladies" and crassly and crudely engaging in behaviors that just bristle the skin, Piniella's character makes the audience somewhat uncomfortable at first, especially once his homophobic tendencies are revealed. But all of that is blasted away from the mind's eye during a segment that can best be described as the "furnace inferno." The Lust character (forget whatever else is happening in that scene) is underlit in a fury of red and orange, with the illusion of steam venting up from beneath him as he rage-vents his own personal trauma of discovery. Without wanting to spoil the context of the character, it can be said that Piniella vigorously attacks this monologue and really eviscerates the words, making the audience experience his pain to a point where forgiving his previous behaviors becomes a readily available option.
Another one of the strikingly profound moments (which earned an audible agreement from the audience) is when Happiness (Jody Reynard) takes a personal aside in direct address to the audience, which culminates in the discovering that he is not in fact "Depression" but supposed to be "Happiness." (Reynard even delivers the line, <…forgot, I'm supposed to be Happiness…>) But the crux of this aside boils down to a harrowing and painfully true notion, revolving around the particularly light shade of his colored skin. He says, <…I'm too black for my white friends, I'm too white for my black friends, so which is it, and why can't I just be myself…> This resonates soundly throughout the audience and defines the arc of his character, which is somewhat humorous in its presentation (and perhaps double-edged since he is a character identifying as homosexual but also dubbed "Happiness.")
Depression (Forest McClendon) is readily mistaken for Anger right from the on set because of the intensity with which he blasts his situation. There is a rhythmic rush to the way McClendon delivers his monologues, particularly when he's in the throes of being furious with his own life and the way it's turned out. He bristles the most with Happiness (and his character isn't even the one who started slinging homophobic slurs about in the barbershop scene.) But it makes sense that Depression would have a volatile chemistry with Happiness, as they are not brothers or even really kin. McClendon has a way of expressing his characters needs and concerns with pure, vibrant energy. He's also the first character encountered in the production.
Easily confused for Passion, Love (Ryan Jamaal Swain) is a smooth character addition to all of the turmoil and chaos that unfolds throughout the performance. There is something truly poetic about the way he delivers many of his lines, which read like passionate spoken word prose. There is a freshness about the way he exists on the stage, vibrant and youthful, which seems different to the others, even though Lust's character has the emotional maturity of the youngest among them.
Anger (Garrett Turner) is an explosion that is both powerful and a force to be reckoned with. Turner, who actually enters the various conversations in a mild and calmed fashion, waits until his recollective scenes to erupt with fury and rage from within. His basketball tricks are pretty impressive as well. But when his spoken word delivery comes flying out during the "waiting in line for Jordans" near the show's conclusion, it's astonishing to hear every word so potently laced with unadulterated emotion while being simultaneously articulated flawlessly. Often times emotions garble our words and sentiment of feeling overtakes the form of language, but Turner masters both impressively. His story is one of the more harrowing ones, particularly as he delves into his own personal slight by society when it comes to being a young colored athlete of talent.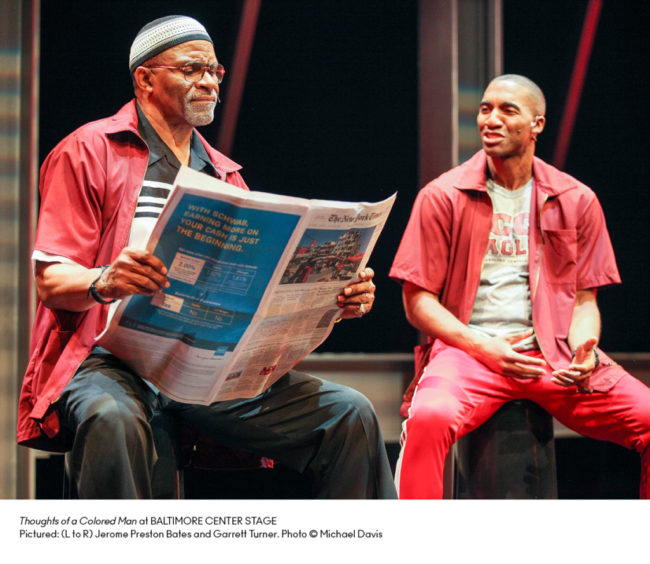 Wisdom (Jerome Preston Bates) rules all emotions, or in an ideal world, that would be the case. Bates, who appears significantly older than the other performers, sounds sagely, even when his emotions are heightened. He dispenses life advice and truth in a way that only someone who has lived through all of those experiences can. But there is humor and balance in Bates' delivery as well. When the finale of the piece comes to the forefront of the stage, forcing the audience to reckon what they've seen with the reality that we live, Bates leads the charge and reminds everyone that we can change the way things are, and that above all, first and foremost men of color are human beings. Why should they have to state that and constantly remind people of that? It is a rapturous experience watching Bates and the cast in this and all of their on-stage moments.
Thoughts of a Colored Man is a visceral but important piece of theatre, well-worth experiencing and only plays at Baltimore Center Stage for a few short weeks. Catch it before it vanishes.
Running Time: Approximately 95 minutes no intermission
Thoughts of a Colored Man plays through November 10, 2019 in the Pearlstone Theatre of Baltimore Center Stage— 700 N. Calvert Street in the Mt. Vernon neighborhood of Baltimore, MD. For tickets call the box office at (410) 332-0033 or purchase them online.