Did the devil make the world while God was sleeping? Do you have a little drop of poison coursing through your veins? Then come, dark denizens of Baltimore and areas surrounding, and delight in this autumnal treat that appears every so often on the stage of Baltimore Theatre Project. What Gorey work am I speaking of, you ask? Why, Happenstance Theatre's Cabaret Macabre, now in its most current rendition. Like a cherished memory, who can say exactly when the company first brought it to town or whether or not this living compilation is closer to its original incarnation or one of its counterparts, but Happenstance Theatre's Cabaret Macabre is a brilliantly loved theatrical gem that sparkles only in the autumnal crepuscule of Halloween's setting suns. A limited two-week engagement this Charm City treasure will glimmer like the spirits that possess its performers and entice you to the dark, the delightful, and the macabre.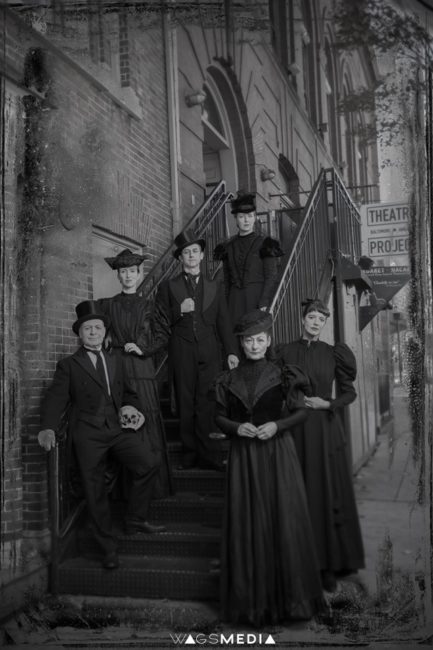 With original music composed by company emeritus Karen Hansen, Happenstance Theatre welcomes guest artist Ellen Cherry to the performance this year. Cherry takes her place at a variety of musical instruments including a cello and a small pedal orang, interacting with the scenes both through dialogue and music. One would never know that she wasn't birthed of the performance originally for the seamless nature of inclusion that she brings to the table. Her spoken patois and delivery nestles nicely with the other Happenstance company members and fits the bill for Cabaret Macabre. Not to mention her musical talents are rather impressive; everyone performing in this year's production possesses finely honed musical skill that blends the show together in a series of darkly intended macabre vignettes.
Many of the darker humors that populate the production live and die upon precision lighting. Tightly focused spotlights, slow fades both in and out, exacting timing in lighting cues are all packaged neatly together for this year's Cabaret Macabre by Lighting Designer Kristin A. Thompson. One of the most audience-beloved features— the ever-changing chalkboard— becomes a permanent fixture around which Thompson's work best revolves, bringing up just enough light to make the stand appear like an old silent-film title card. Sabrina Mandell's costume work of course adds to the show's esthetic aesthetic, ripely priming the audience for a venture to an enigmatic and mysterious time long forgotten but still deeply appreciated. The morose mourning gowns featured during "Lament of Cock Robin" are as dreary as the brightly intended croquet uniforms that are featured during "The Rules of Croquet" are blinding in their cream coloring. Other fantastical pieces are featured throughout, but a bit like a museum of oddities or cabinet of curiosities…you don't want to know everything that's waiting in store…it would spoil the surprises.
Puppet Master Alex Vernon has revisited one of the more haunting effects of the show with his revitalized recreation of "The Dancing Ghost." Following the conclusion of a segment known as "The Spilsby Sisters", Vernon's magical…mannequin… of sorts is one of the most enchanting and intriguingly spooky pieces of the production. The dance that he performs is elegant, graceful with a hint of horror, and the puppetry creation that is featured in this segment will ignite the spark of theatrical belief, if not total astonishment. It's a must-see, and personally, a penultimate favorite in the production. (It's very, very difficult to top out the "Mannequin" sequence, in this reviewer's opinion.)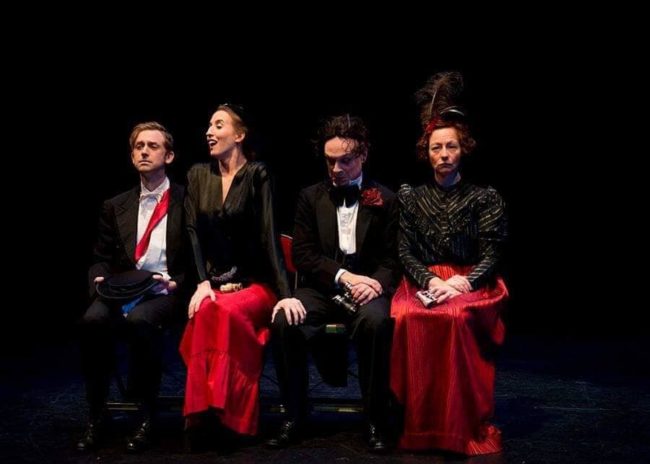 Sabrina Mandell, in addition to supplying superb sartorial selections, is up to her childish antics in this production, skipping about with maddeningly macabre nursery rhymes. Sarah Olmsted Thomas, alongside Mandell and master-Mime Mark Jaster, play along with Alex Vernon in a sequence referred to as "The Late Patron", wherein the vivaciously expressive animated facial features and body languages of this quartet of highly skilled performers is put readily on display. This year's rendition of Cabaret Macabre feels to feature more full-group sketches, where at least half or more of the performers are engaged in the scene. This, however, may be an elusive trick of memory because so many of the bits and bobs of this production feel familiar but drift in the mind's eye just out of reach, making you question whether you remember having experienced it before or if its newly added though still in the vein of the overall feel of the show, or if you're simply being driven mad by all the macabre marvels you're experiencing.
Vernon and Jaster get up to some dark demonstrations…hold onto your heads for these…and Vernon's juggling skills come into play. As mentioned, the personal shining moment in Cabaret Macabre (and a clear audience favorite from their vocal responses) is "Mannequins" a series of micro-vignettes shared between Jaster and Gwen Grastorf, whose bewilderedly and imbittered maid character is darkly hilarious through-line in this and other sketches. The relationship between Jaster and Grastorf in "Mannequins" is what elevates its simplistic humor to something inexplicably hilarious. Grastorf, like the others, lends her songbird voice to musical moments all throughout the performance.
Never on a stage has their been finer slow-motion action than is featured among Grastorf, Jaster, Mandel, Thomas, and Vernon during "The Rules of Croquet." An iconic near-conclusion to the production (which has always, in the historical existence of the Cabaret Macabre canon, been the penultimate scene before the "Danse Macabre", composed by Karen Hansen, which concludes the performance), this sketch, which has evolved in its function and form over the years, is truly a marvel and a wonder. The reactionary responses to being whacked in the face with a croquet mallet in slow motion is spine-tingling delightful. The strength displayed by the performers, swinging those heavy mallets around in slow-motion, occasionally only holding with one arm, is stunning. It's a visual masterpiece, equal parts hilarity and wonder.
While the veil between this world and the next (or the previous) is at its thinnest, one might venture to see Cabaret Macabre for a uniquely remarkable theatrical experience, that bonds with your mind and spirit, and will linger in your memory until next Halloween.
Running Time: Approximately 80 minutes with no intermission
Cabaret Macabre plays through November 3, 2019 with Happenstance Theatre at The Baltimore Theatre Project— 45 W. Preston Street in Baltimore, MD. For tickets call (410) 752-8558 or purchase them online.