"The heavens were all on fire, the earth did tremble."
Shakespeare's tale of the roles and duties of fathers and sons is brought to life with energy and thoughtfulness in director Rosa Joshi's 1 Henry IV at the Folger Theater. The second installment of the Henriad tetralogy, the play deftly balances the personal and political consequences of the deposition of Richard II.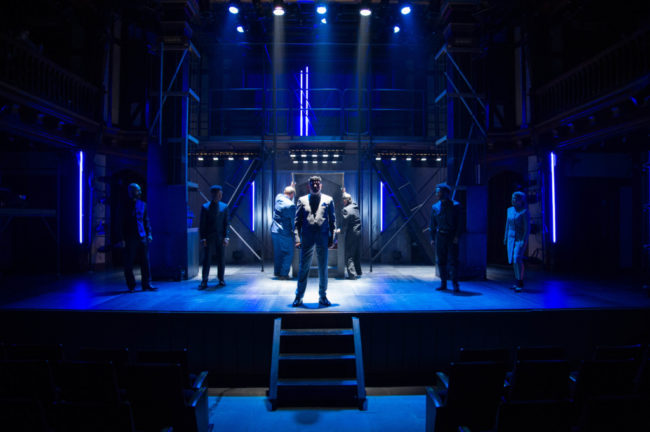 Sara Ryung Clement's industrial set of girders and scaffolding evokes a court undergoing reconstruction, or a an Eastcheap that has never undergone regulation. It combines with Jesse Belsky's lighting design to define a world of sharp columns wrapped in metallic sheaths and angular strips of lights intersecting the space. King Henry's throne, inscribed with a stylized "IV", is a dramatic centerpiece, echoed in lights on the back wall.
The audience is quickly drawn into the world with the king's narration of the recent battles interspersed with thunderous drums and movement director Alice Ghosti's martial choreography.
Peter Crook's eponymous king is a force to be reckoned with from the moment he speaks the opening lines, balancing his Bolingbroke ruthlessness with vulnerability when his thoughts turn to his son. He all too easily intimidates Tyler Fauntleroy's Harry Percy, whose performance has great timing and refreshing subtlety, but not a single moment of temper sufficient to justify the nickname "Hotspur".
Avery Whitted, a newcomer to DC stage and to Shakespeare both, is at his best when sharing the stage with the king. His heartfelt attempt to persuade his father that he is not as feckless as he seems is his strongest work of the night. His chemistry with Falstaff is lacking, perhaps as a consequence of focusing on the calculated choice to appear irresponsible so as to reform dramatically, which he only starts in this part. He does manage some degree of connection with his prankster co-conspirator Poins (Jazmine Stewart), but much of the credit for that goes to Jazmine Stewart's playful energy and exuberant physicality. This play requires power and passion from both young Henrys. Harry Percy brings the power, and Hal the passion, but it would be nice to see both from both.
Holding her own against the king is the cunning Worcester – Naomi Jacobson is slick, stylish, and strong; her fury at the King's varied injustices tangible as her rebellion is plotted and resolved.
Jonathan Toppo, also the fight choreographer, shows his versatility as the slow steady Northumberland somewhat overwhelmed by his temperamental son and sister, as well as the boisterous Glendower who shows no qualms backing up his alleged mythic origins.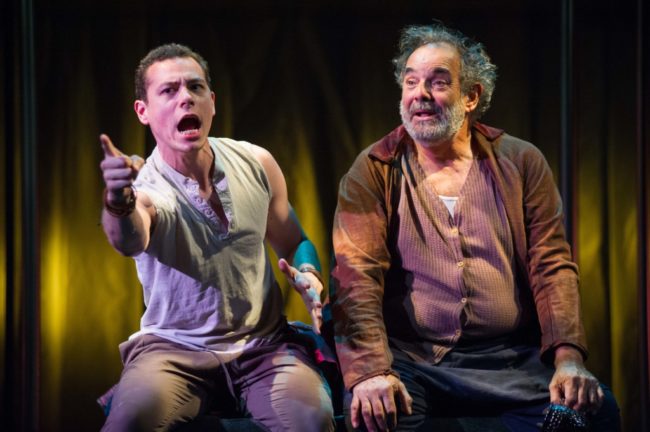 Any Falstaff worth his salt (or sack) should be the focus of his scenes – the cowardly, boastful drunkard is designed to be larger than life, filling every room, drawing every eye. Four-time Helen Hayes Award winner Edward Gero fulfils the requirement effortlessly, but more than that, his Falstaff is poignant and human, his follies relatable, his moments of sincerity more than just empty air.
Scenes often close with an ominous underscoring by Palmer Hefferan, continuing into multi-layered and leveled transitions, particularly into the uproarious cheers of Eastcheap or the final battle at Shrewsbury, that are a spectacle in their own right.
Costumes by Kathleen Geldard bring the court into stark undefined modernity, shades of grey contrasted with sparse dramatic splashes of color; at war the nobles trade the severe mandarin collars for equally monochromatic fatigues accented in red. The rebels are clad in brown-accented earth-tones. The commoners garb spans every style and color, not quite anchored to any era, but all of them ragged, subdued and unsaturated.
The production succeeds in delivering cohesive and comprehensible Shakespeare.
Running Time: 2 hours and 30 minutes with one intermission
1 Henry IV plays through October 13, 2019 at at Folger Theatre in the Folger Shakespeare Library— 201 E. Capitol Street SE in Washington DC. For tickets call the box office at (202) 544-7077 or purchase them online.