A taste for the mystery of numbers is excessively rare, especially among those more theatrically inclined. Creatives and cultivators of art tend to shy away from "the numbers" but don't let that scare you away from seeing Everyman Theatre's 2019/2020 season opener— Proof, by David Auburn. Directed by Paige Hernandez, there is an evocative warmth that dominates this play filled with bughouse logic.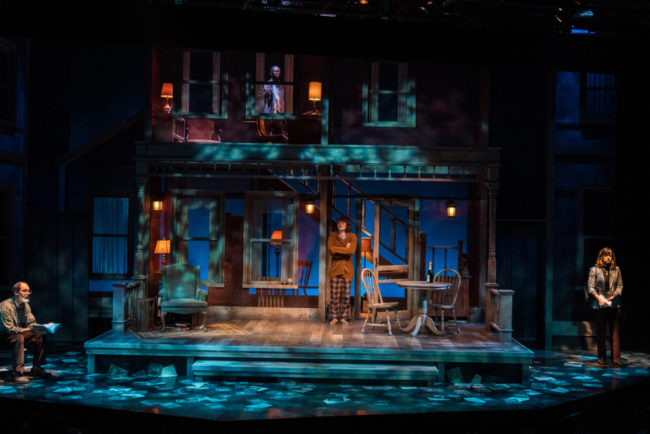 With a spellbinding set that is both enigmatically breathtaking and unsettlingly ordinary, Resident Set Designer Daniel Ettinger has fabricated the back porch of Catherine's home inside the theatre as if it had been there all 25 years of her life. Employing the unique technique of painted scrim paneling, Ettinger creates the illusion of the red siding that coats the exterior of the house, while allowing light to pass through to reveal shadowy glimpses of the house's interior. This works well with Lighting Designer Martha Mountain's use of simple ambient lighting, bringing emotional emphasis to moments where the textured outline of a character can be seen just slightly inside the house when the main action is occurring on the porch. Ettinger has also taken great care to less-than-subtly litter the floor that leads up to the structure of the porch of the front covers of black composition notebooks and their lined pages scribbled upon, all under a glossy laminate coating, thematically cementing the delusion of the 'proof' into the foundation of the setting.
The sonic experience of Proof reflects the mind's internal chaos. Sound Designer Sarah O'Halloran uses a stirring selection of instrumental music just as the show gets underway; it is jarring and erratic without rhyme or reason and yet smacks of thoughtful purpose. Similar sound snippets are used throughout the scene shifts during the production. O'Halloran's use of sound effects is sparse, purposefully maintaining that deafening silence that often penetrates the overworked mind.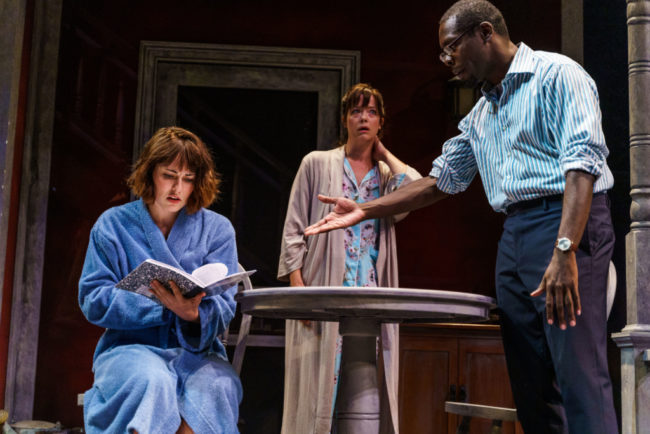 With just four scripted characters, Director Paige Hernandez drives the accelerated action of the plot with practiced ease. There is an underlying sense of urgency as various veins of being bughouse creep out of the characters; everyone in their own right grapples with a little touch of madness in this play and Hernandez uses that as a secondary focus while engaging with the critical plot progress. Despite this urgency, they play's movement is never rushed. There is a frenetic sense of unraveling that is threaded between the four characters. Hernandez wends this feeling of perpetual falling through the cast in an unsettling but fascinating manner, which compels David Auburn's drama forward with vigor.
With a sycophantically soothing voice, Claire (Megan Anderson) is the ever-passive, over-protective sister to Proof's main protagonist, Catherine. Anderson adapts an overly attentive, bordering on obsessive, need to solve her sister's problems, which is translated through the physical closeness, carefully navigated textual delivery, and incessant mothering. The coddling, pacifistic nature that Anderson presents to Claire makes her a great, bristling antagonist in her own right, creeping with saccharine intent under the skin of Catherine. Never breaking from this becalmed behavior, Anderson even takes heightened moments when her character is provoked and neutralizes them with an unnerving niceness that sets one's teeth on edge.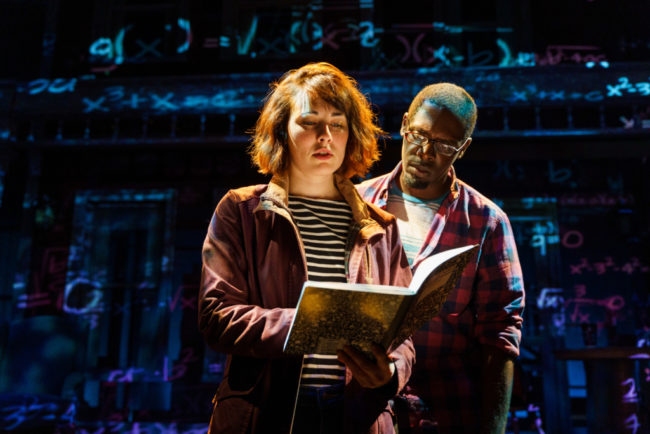 Geek-forward and so dorky its adorable, Hal (Jeremy Keith Hunter) slips into the world of Proof as an innocent outlier, an unpredictable side-factor that serves to complicate the plot whilst pushing it forward. Hunter possesses a natural felicity for dorky charm as well as an earnest existence on the stage. Living in the physicality of someone who is too smart to be socially 'cool', Hunter crafts a beautiful, engaging chemistry with the Catherine character with simple turns of textual delivery. The Hal character's existence is defined by Hunter's interactions with the Catherine character; the tension of all sorts rises rapidly between them, with Hunter delivering passionate emotional expressions in each of their exchanges.
Robert (Bruce Randolph Nelson) does not sit around wondering if he's nuts, as crazy people don't sit around wondering if they're crazy. Nelson delves into the vast complexities of the Robert character, showcasing him as a vivaciously active and mentally acute individual, right up until he isn't. Furious energy is perpetually burning just beneath the surface of Nelson's Robert, ever present in the flicker of his smile or the rapacious delivery of certain chunks of text. Mania seizes Nelson, as if he's been struck by lightning indoors, during a scene late in the second act, which fuels a conflagration of excitable outbursts from the Robert character; the machinery is most definitely working in Nelson's favor. Carrying the harrowing burden of a character who teeters on the brink of mania and madness is a load shouldered with extraordinary justice by Nelson in this production.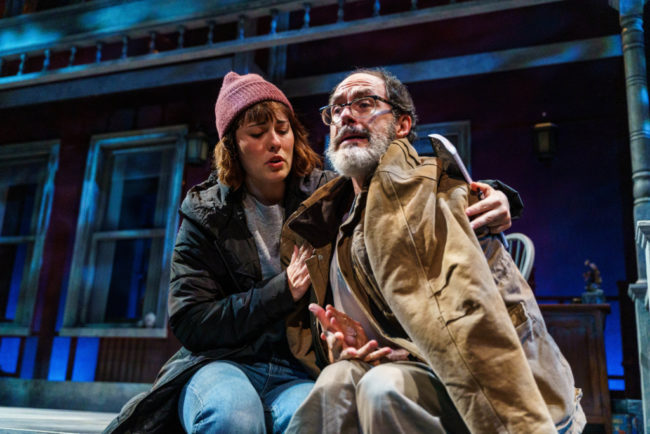 The confrontations that arise, often logical in their bickering nature, between Nelson's Robert and Catherine (Katie Kleiger) are part of the drive that moves Proof forward. Kleiger delivers a stellar performance as the lead protagonist, deftly navigating her way through the tumultuous bouts of turmoil that reside both inside of and outside of Catherine's precariously balanced mental status. Superbly invested in the character's emotional expressions and internalizations, the audience is delighted to a pure roller coaster ride of emotional brilliance when watching Kleiger as Catherine. One of the most profound moments Kleiger delivers on stage is not during any of her verbal exchanges, nor her bombastic rants, but rather in the silent moment of absorption and digestion after reading her father's proof once the machinery has started "re-firing" in his mind. That singular moment, pivotal and potent, is a gut-punch of dramatic tension, delivered in the most simplistic and yet affecting manner by a subtle shift in Kleiger's facial expressions and body posture. A tour de force, with a supporting cast that matches her emotional gravity and energies, Kleiger is a gem on the stage in Proof.
If you find yourself awake late at night, sit yourself down and— rather than do some mathematics— get yourself tickets to see Proof at Everyman for a cathartic and emotionally relevant theatre experience this 2019/2020 season.
Running Time: 2 hours and 15 minutes with one intermission
Proof plays through October 6, 2019 at Everyman Theatre— 315 W. Fayette Street in the Bromo Arts District of Baltimore, MD. For tickets call the box office at (410) 752-2208 or purchase them online.