Recon— they don't speculate. They observe and report. Sort of like theatre critics. We don't speculate— we observe and report. Observing now: Crusade the only full-length production of the Baltimore Playwrights Festival in the 2019 calendar year. Crusade, written by Bruce Bonafede, is a world premiere making its debut in association with the BPF through Rapid Lemon Productions at the Baltimore Theatre Project. (BPF, RLP, BTP, over and out!) Directed by Timoth David Copney, this eviscerating drama comes with a content and trigger warning but is well worth stomaching because of its evocative nature.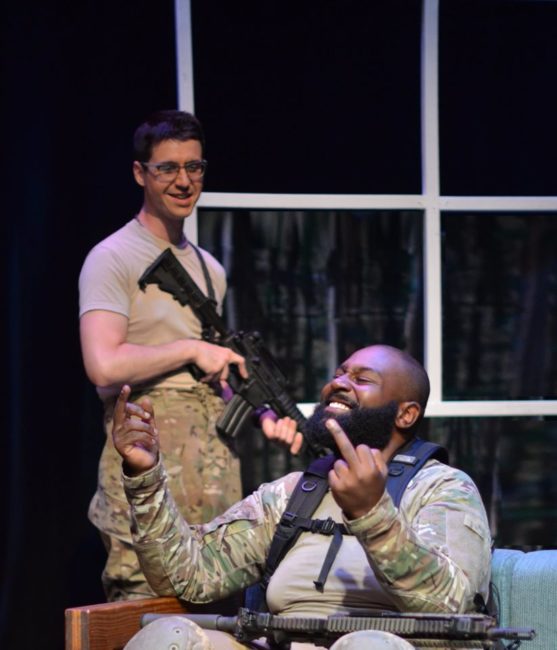 Bruce Bonafede's Crusade is indeed a heavy-subjects plays. Despite its brevity, the play feels fully completed and you leave the theatre feeling the full impact of its drastic conclusion. Note the play's running time is only an hour. Rarely as a Recon-journalist do I find the use of summarizing a play to be of function nor ornament, but in the case of Crusade (especially as it is a brand new work and world premiere) a quick few lines can help prepare audiences for the intense evening that awaits them.
Crusade takes place in dystopian future not too distant from the path in which the country is currently headed; the Christian Fundamentalists have overthrown the government, taking control of the country, wiping out all other religions along with the bill of rights. Civil War has broken out inside the country and the remnants of the United States Army are in revolt. Four Recon Rebels stumble into a cabin mid-war deep in the Rockies and the play takes off from there.
Bonafede has a terrifying concept and a thoroughly articulated plot that is perfectly bound up in a neat 60 minutes on the stage. There is no lingering or waiting for the other half of a potential one-act to drop; it is all neatly set, despite its obliterative nature. Bonafede has some clunky bits of dialogue in his work, though this may be partially the delivery from the cast; it's difficult to tell. Maybe the stiff awkward exchanges between Recon soldiers is an intentional development of their circumstances, or maybe it's just ill-paced timing and delivery between the actors. This defect is spotty and inconsistent throughout the performance and only detracts in a minor sense from the bigger, more intense experience.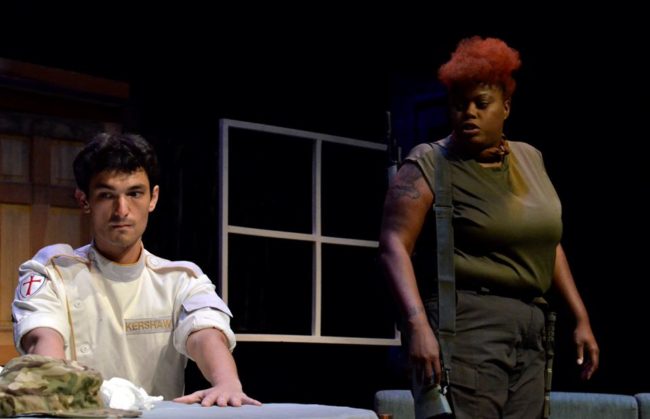 Shedding light on a harrowing reality of "how far is too far", Bonafede's work has a frightening resonance to it; it feels prescient. It feels realistic. What do you stand for? What will you fall for? Brutal questions with mortifying answers all find themselves unpacked in this riveting hour's work. Praises are well deserved of Sound Designer Max Garner, who wins the title of best design element for the production. The initial arrival of the helicopter (or gun-ship chopper) is a fast shock to how the play intensifies. The sound effect zooms in on the audience's ears growing to a deafening roar that's almost unbearable before the actors even set foot on the stage. There are other elements of Garner's sound design that are praiseworthy, but none so intense as this one. Brad J. Rano's lighting design follows suit, furthering the bleak setting and questionable atmosphere of the play.
Director Timoth David Copney has gathered together half a dozen talented performers and pushed them into the script headlong. Changing the Galen character (originally scripted as a male role) to a female, Copney challenges the gender standards of the play. Women can be scientists of merit too. There are a few hiccups in delivery, opening night jitters most likely, and a few moments when emotional explosions and eruptions could have soared to higher peaks, but ultimately the play feels freakishly cathartic, suspenseful, and unsettling.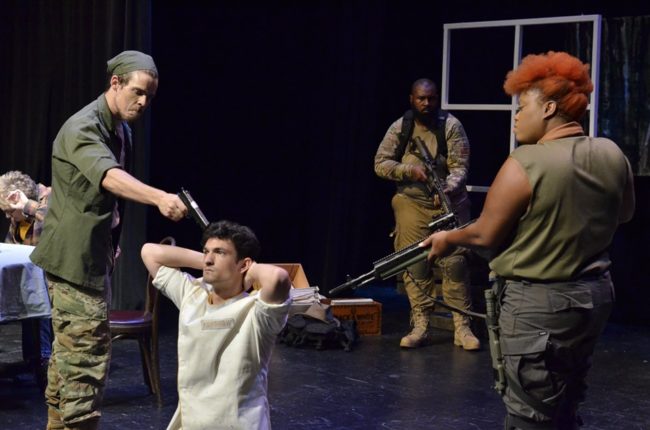 Mild and inoffensive, Josh (Eric Boelsche, who for all intents and purposes looks like a svelte Radar O'Reilly circa M*A*S*H) is the mostly unspoken Recon man, whose sole purpose appears to be acting as a conduit to the outside world via the satellite radio. Boelsche chews more scenery than anything else, particularly with his facial expressions but the program would be incomplete without him. It's hard to describe his necessity without detailing line by line exactly how the play ends.
Flynn Harne, playing Mitch the Platoon leader, is a rather rigid body on stage. Stuffed upright with his leader duties, there is something unyielding and unforgiving about the way he presents Mitch, though at times his character seems uncertain, as if he wants to show compassion or interest but isn't sure that he's allowed. Firmer guidance for this character's overall placement in the grand scheme of things could have clarified Mitch's existence more.
Britt (Lola Reign) and Hector (Noah Silas) appear to go hand in hand though they are clearly their own individual characters. Reign's Britt is on the edge, a proper loose canon just waiting for any little spark to set her off into an explosion. This is what makes her emotional inferno moment so baffling. When Bonafede finally gives the Britt character text to backup all of her rage and fury, explaining what happened to her and exposing her backstory, rather than bombastically explode into all of it, Reign backs down and the moment almost fizzles out. The disastrous emotional explosion comes a beat later in another actor's face and feels off-kilter. Silas, as the ever-protective Hector, is clearly out to keep Britt alive, even though there is no cultivated relationship (romantic, kinship, or plutonic) apparent between them.
Stephen Kime, playing Kershaw, is a near-silent force to be reckoned with, in a vastly different vein than the Josh character. It's hard to say when exactly Kime's character arrives on the scene, because despite dialogue hiccups, the play moves so quickly. (Halfway point? Quarter of the way in? Near the end?) But once Kime's Kershaw enters the action, the play takes a sharp twist that ultimately leads to the gut-wrenching conclusion. Deeply rooted in the genuine convictions of the character's beliefs, Kime delivers a stellar, albeit shocking, performance. There is an unrelenting torrent of pathos that accompany his character, things you feel for him, things you feel because of him, things you feel in spite of him; they all come to a head as the play reaches its conclusion.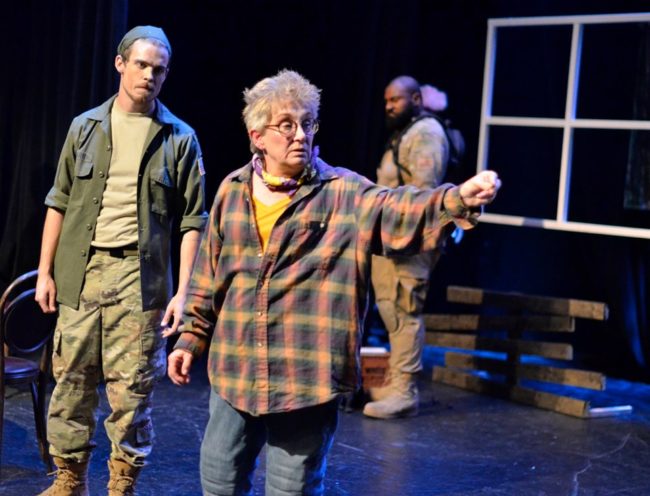 Emma Hawthorn as the gender-flipped Doctor Galen (now Sidney Galen) is an enigma that fits precariously into the puzzle that is this rather ingenious, albeit terrifying, piece of theatre. Hawthorn's character doesn't have many dialogue-driven encounters, but its often what she's not saying that catches the attention. Watch her physicality closely as it is extremely telling of her emotional state and overall mental consciousness. Hawthorn's character acts almost like a morality barometer, and the final scene, which features Hawthorn, is jaw-dropping.
Who's better than who when the country is torn apart and lives are on the line? Is one group really better than the other if all the other group ends up doing is the same thing that the first group is doing but for different reasons? Crusade is a shocking thinker of a show; this world-premiere play is not to be missed this summer.
Running Time: 60 minutes no intermission
Crusade plays with Rapid Lemon Productions in association with the Baltimore Playwrights Festival through August 18, 2019 at Baltimore Theatre Project— 45 W. Preston Street in the Mt. Vernon district of Baltimore City, MD. Tickets can be purchased at the door or in advance online.