Dear Washington DC,
Today is going to be a good day and here's why:
#youwillbefound
Dear Evan Hansen has arrived for a limited-run engagement at The John F. Kennedy Center for The Performing Arts just as summer comes to an end. This Tony Award-Winning musical has stunning emotional impact and will take your breath away with its poignancy and overall relevance to everyone from every walk of life, at every age in their life.
8,832,373— the number of times the show's anthem "You Will Be Found" has been streamed on YouTube.
427,400— the number of #DearEvanHansen mentions on social media
891— the number of arm casts used between Broadway and the North American Tour…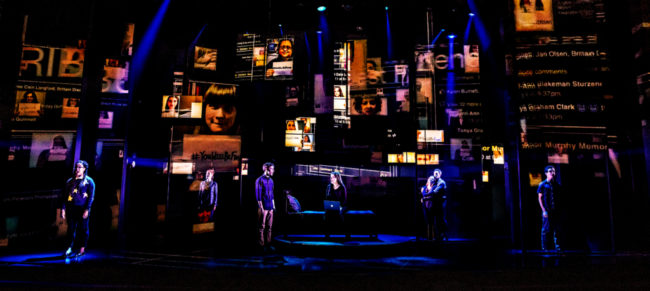 And those numbers are nine months out of date. THINK of what an impact this astonishingly potent musical is having on people everywhere. And it's finally in the nation's capital for all to experience. With Music & Lyrics by Benj Pasek & Justin Paul, Book by Steven Levenson, Dear Evan Hansen is the must-see show of the summer. Directed by Michael Greif with Choreography by Danny Mefford, this visceral and evocative work will grip you by the heartstrings, shake you until the sunshine comes streaming in, and promises that you will be found.
Social media is so pervasive its invasive. That is the daily struggle in both reality and the world of Dear Evan Hansen, which is so much like reality that everyone can relate, whether you're a teenager or an adult. Scenic Designer David Korins, working closely with Lighting Designer Japhy Weideman, Projection Designer Peter Nigrini, and Sound Designer Nevin Steinberg, create a dizzying atmosphere of never-ending social media chaos that infiltrates the lives of the characters on a realistic level. The four elements of set, sound, light, and projection culminate in a digital experience that generally cheapens live musical theatre instances but in this case, heightens all of the emotions that roar through the production.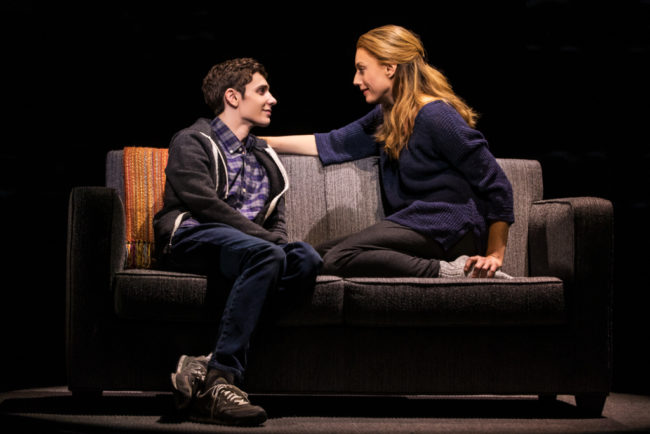 The impact of Pasek & Paul's music and lyrics combined with Levenson's book under Greif's direction is strikingly profound. The show itself becomes an emotional rollercoaster, hurling the audience through the mercurial pathos of teenage life in an all-too-real fashion. Haunting and tragically beautiful, the story, the emotional gravitas, and the music behind Dear Evan Hansen will linger in your mind and your heart long after the final curtain. It is the performances of the entire company— just eight performers appearing on stage throughout the production— that grounds this life-changing, earth-shattering theatrical experience in its own, relatable essence.
Alana Beck (Phoebe Koyabe) and Jared Kleinman (Jared Goldsmith) may feel initially like tertiary figures in the background holding little to no importance to the show's trajectory, it is made inherently clear as the narrative progresses, that like everyone Alana and Jared do matter; their lives and their stories are as potent and relevant as Connor Murphy. Koyabe appears on the scene as Queen of the socially awkward, second only perhaps to Evan Hansen himself. Her chatty personality and hastily delivered quirks readily define the Alana character as someone standing on the outside looking in, urgently needing that sense of inclusion. Goldsmith, on the other hand, develops a poser character who seems socially acceptable, top of the in-crowd, even if it is a limited in-crowd, and allows a rather jerkish and peevish attitude to dominate his dorkiness. It isn't until "Disappear" and "You Will Be Found" that Koyabe and Goldsmith really get a chance to let their singing voices shine, but once they do, its amazing.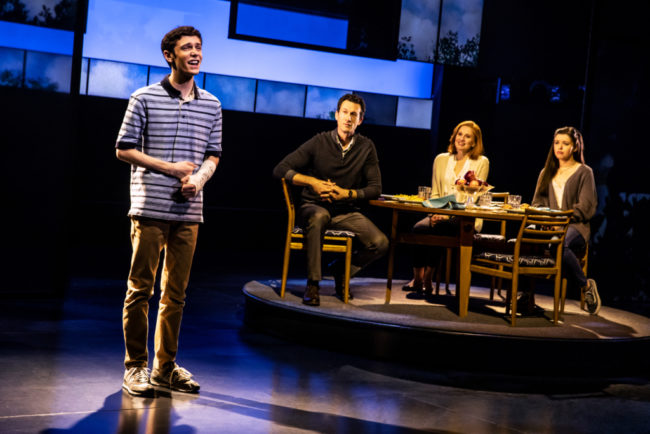 The emotional depth of Dear Evan Hansen is brought headily in a hurry to the forefront of the show. HEREIN LIE BASIC EARLY PLOT SPOILERS: The character of Connor Murphy (Marrick Smith) commits suicide early on the performance; Marrick Smith's character has recurring instances throughout the production and both his vocal capabilities and physical presence are impressive. Smith should be commended in particular for his rapid-fire ability to flip through song lyrics as they change at a madcap pace during "Sincerely, Me." But the result of Connor's suicide is the catalyst that really kicks the production into gear. Aaron Lazar, as Larry Murphy, Connor's father, has a deep-seeded stalwart nature about his presence, keeping a tight-lipped and reserved faced in place for the better part of the production. It isn't until "To Break in a Glove" that the audience is exposed to the raw, undulated underbelly of Larry Murphy's vulnerabilities and the way Lazar transitions these moments is striking, even if his vocal quality is somewhat cracked.
Zoe Murphy (Maggie McKenna) is the epitome of tormented teenager; she just cannot understand everyone's reactions to her brother's suicide, given her encounters with him before the incident. McKenna is a loaded canon when it comes to emotional outcry, particularly when blasting off at her character's mother and father. When she first encounters Evan Hansen (both before the suicide incident and after) there is a curious shift in her persona, almost as if McKenna is allowing the impact of meeting a fresh face to absorb wholly into her being. When she adds her third of "Requiem" (a trio shared with Lazar and Christiane Noll, playing the mother Cynthia Murphy), it is a harrowing and deeply moving sound. When McKenna's voice twines with Evan Hansen's for "Only Us" there is this undeniable feeling of honest connection between them.
Christiane Noll delivers a powerful performance as Cynthia Murphy, mother of Connor. Though her voice is only heard during segments of "Requiem", "Disappear" and her introductory duet with Heidi (Jessica Phillips), "Anybody Have a Map?", Noll is painstakingly present in every moment of her character's tragedy. Jessica Phillips, as the ever-churning tidal wave that is Heidi Hansen, articulates to perfection what it is like to be a single mother, struggling just to pull through the day working a job, going back to school, and trying to raise an emotionally distraught teenage-boy. The brilliance of Phillips' portrayal goes hand in hand with the strength of Steven Levenson's narrative as never once does the focal point become Heidi's problems. But nor are her trials and tribulations downplayed. There is something raw in each of her songs, particularly "Good For You" (a quartet shared with Alana, Jared, and Evan) wherein the full brunt of her vexing confusion erupts into frustrated rage.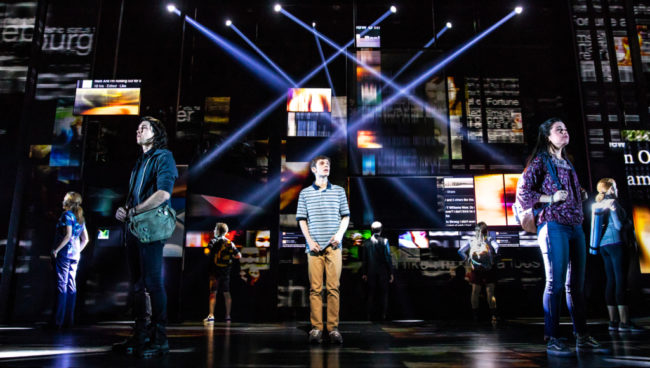 From the moment Evan Hansen (Ben Levi Ross) opens his mouth and the first recklessly urgent stream of verbal diarrhea torrents out of his heart at warp-speed, the audience is hooked into his story. Moment of social awkwardness, social isolation, and robust emotion are a tumultuous downpour from beginning to end when it comes to Ross' portrayal of the titular character. His mercurial performance is both hopeful and terrifying, intensely stirring when it comes to emotional cords deep-seeded in human nature. His first solo number, "For Forever" starts off as this quirky, innocent fib, but blossoms brilliantly into this cathartic heart-bursting number that shakes you through to your core. The emotional journey that Evan Hansen experiences throughout this story is one that Ben Levi Ross ensures the audiences experiences at its most exposed from beginning to end. "Words Fail" will drop like lead through your blood, sink deep into your stomach, and draw forth the tears.
An empowering musical, a must-see this summer, Dear Evan Hansen has a much-needed message of hope in these turbulent times.
Running Time: Approximately 2 hours and 40 minutes with one intermission
Dear Evan Hansen plays through September 8, 2019 in the Eisenhower Theatre at the John F. Kennedy Center for the Performing Arts, 2700 F Street NW, Washington, DC. For tickets call the box office at (202) 467-4600 or purchase them online.