Lynn Nottage's play, Intimate Apparel, tells the story of one woman desperately reaching out for real, unguarded, intimate human connection, and it is fitting that Silver Spring Stage, with its intimate and engaging black box and overall style, should select this piece to conclude its 2018-2019 season. Directed by SSS Board Chair Seth Ghitelman, this emotion-driven production provided an entertaining and thoughtful experience.


The play, modeled after the life of the playwright's own great grandmother, tells the story of a young black woman who makes her way to New York in the early 20th century to begin a life as a seamstress making intimate apparel for society ladies. Writes Director Ghitelman: "When she turns 35 at the start of the play, Esther resolves to fill her emptiness and begins corresponding with a laborer working on the Panama Canal…Outer appearances and a suitor's kind words only go so far. The intimate truth is only revealed once the clothing has been removed, and often that is too late." Esther becomes devoted to her cross-continent suitor, but when he arrives in New York, the truths of Esther's life begin to unravel.
The elegant sound and set design, the work of Jeff Miller and Joy Wyne respectively, are striking even before the play begins. The stage is divided among the bedrooms and private places of its characters: Esther's sewing table and bedroom, Mrs. Van Buren's dressing room, Mayme's room, Mr. Marks' shop, and George's Panama camp site, each separate and belonging so completely to their owners.
It is rare to see a six-person show with no weak link, but this cast delivers. Christine M. Champion plays the lead, Esther, with relentless rawness and vulnerability. Almost never leaving the stage in its three-hour run, Champion is exposed and heart-wrenching as a woman hoping desperately for connection. Her speeches come from a place deep within her soul, leaving the audience inescapably hoping for her happiness, gasping and cooing aloud as she emerges in her wedding dress.
Surrounding her are a cast of characters equally desperate and longing, for better or worse, and played with deft emotional intelligence. Most artfully is DeJeanette Horne as George Armstrong. His monologues in the first half of the show are works of art in and of themselves, worthy of their own production, and Horne delivers them with heart-melting sincerity. This makes it all the more gut-wrenching as we learn more and more of the deception he undertook to save himself from death in the Panama trenches, and the audience is quick to forget its earlier sympathies.
Equally sincere was David Dieudonne's turn as the Jewish fabric shopkeeper, Mr. Marks, whose performance was studded with the tiniest gestures and facial expressions that carried so much weight and affection. His story follows Esther's own search for intimacy, and the audience roots for his success as much as hers.
Hana Clarice plays a contemplative, lonely high-society wife, Mrs. Van Buren – a client of Esther's. As we see her slowly remove layers of clothing around Esther, we see her remove layers of her own emotional protection, until her own truths come to a heart-breaking conclusion. Clarice is understated and protective, bringing nuance to a role that could easily have been written-off. Patrice E. Campbell and Letha Remington play Mayme, Esther's prostitute friend, and Mrs. Dickson, her landlord. Campbell and Remington's genuine chemistry with Champion make their scenes, opposites in tone, equally full of life, and the joy with which Esther and Mayme sing together is infectious.
Playwright Nottage and Director Ghitelman never let the audience forget the realities this play represents. At each half's end, the onstage projections, styled like a turn of the century film reel, revel a flash photo as the actors pose in parallel, showing the real lives that lived stories like these, baring only the label "Unidentified Negro Couple" – lives lost to racism and anonymity.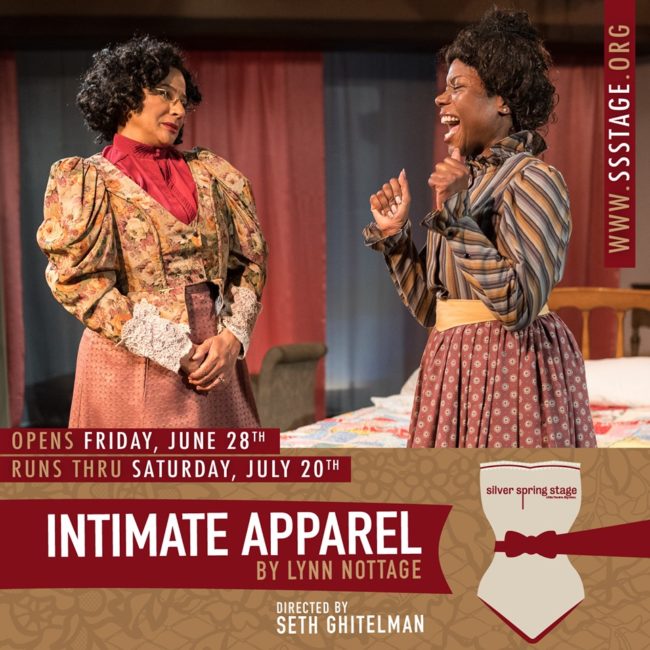 What makes the effect so powerful is the flawless work of Costumer Stacey Thomann Hamilton. In a play about clothing and fabric, the bar is set high, and Hamilton delivers. Character's intricate outfits blend seamlessly from historical photo to scraps of fabric being passed around. The loving care put into a single costume piece, a men's smoking jacket, makes the plot surrounding the garment all the more poignant.
Perhaps not as masterful was the lighting design, which struggled to delineate the separation of spaces on stage, or to adequately light the production's actors of color as well as its white actors, who were often left in shadow. Similarly, there were times when accents were a bit unsteady, but the performances behind them kept them from being a distraction.
Intimate Apparel at the Silver Spring Stage is an emotional ride, taking you at once through the relatable search for genuine human connection, and through the less-observed lives of post-War Black Americans trying to keep their heads above water. It is heart-wrenching at every turn and will leave you yearning for a future for these characters and for yourself.
Running Time: 3 hours with one intermission
Intimate Apparel plays through July 20, 2019 at Silver Spring Stage, located in the Woodmoor Shopping Center— 10145 Colesville Road in Silver Spring, MD. For tickets call the box office at 301-593-6036 or purchase them online.