I wasn't sure what to think about seeing a play I had only ever heard of as an acclaimed movie. Director Fuzz Roark assuaged those fears by allowing us to experience the story in a setting not only made more intimate by being kept in the same room as Alan Zemla's set designs, but also brought to our senses by virtue of Spotlighters Theater being a cozy space. Being so very close to the action made you not an audience member at a play, but another person waiting your turn to be styled, as these old friends prattled on through hysterical gossip, humorous conflict, and heartbreaking tragedy, punctuated by a final joke that acted as a tissue when the audience needed it most.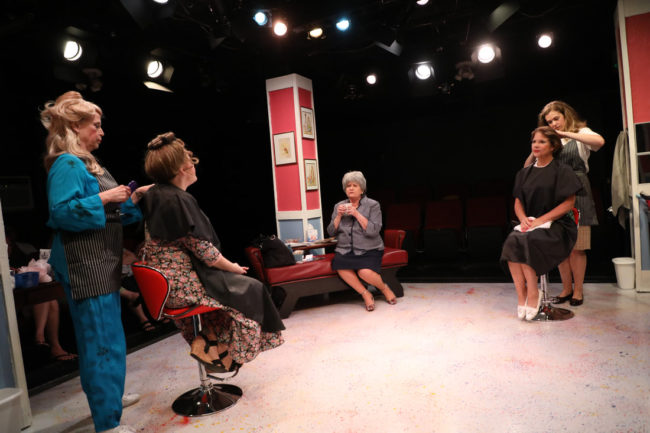 The first character to catch my attention was Truvy Jones, pacing around while hurling gossip as much as she styled hair, with a presence that filled the room with southern charm, and Suzanne Young deserves accolades for keeping it believable. Her mannerisms and vocal inflection gave the entire room personality, setting the tone for the world these characters live in. From the compassion of helping a troubled young girl get her feet on the ground, to the understanding nature of a woman running a business thriving on small talk, the character continued to be an important conduit through which an atmosphere of friendship and empathy arrive as hospitality.
In what seems like a stroke of genius, the author introduces some of the characters through gossip that tells just enough of their backstory to make them interesting, and such is the case with Shelby Eatenton, soon to be Latcherie.  This role required someone who could sell us on an optimistic attitude that would allow us to fall in love with her as she refuses to be dominated by the cards she is dealt, putting her at odds with a mother who is concerned that she is going too far.  We've all been in a situation where we thought we new better, or perhaps didn't care what was better, and charged cavalierly into battle because we knew the life we wanted to lead; we needed that dream to survive our reality!  Karen Starliper embodies that role in a way that leaves us crying at the mention of the color pink.  Her chemistry with her mother was spot on, and it's at this time that I began to appreciate excellent casting.

M'Lynn Eatenton brought back the better side of what I've seen in my own parents doting on me.  Some kids need extra care, and some longer than others, but that strong love of child, so much that you would do anything to save them, up to and including risking your own life, somehow comes through Melanie Bishop's face, as tears run over her makeup.  Shelby doesn't have it easy, and she's never willing to take, "No!", for an answer, but we see where she gets it from as M'Lynn persistently offers unwanted hair advice, and unwanted life advice.  I like to think each of us that discard those words of worry secretly grow stronger in the knowledge that someone was offering them, leaving us with a feeling of being loved.  I think it was a terrific job acting the role of M'Lynn that made it all matter enough for the audience to be crushed when we see life deliver its devastating blow.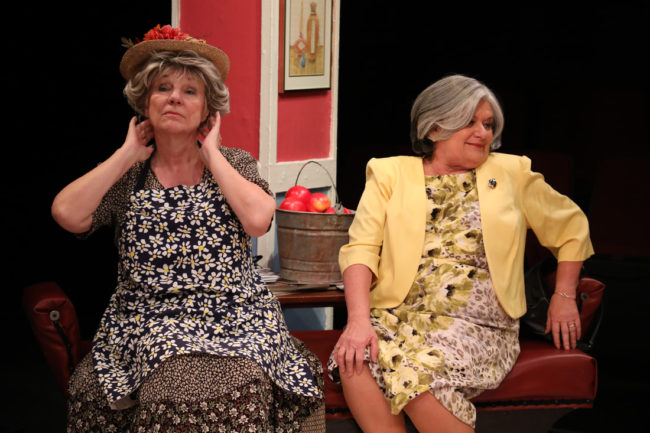 Perhaps the thing I liked most about having seen this show was the stippling of hysterical humor that encompassed the more meaningful aspects of the tale. Valerie Lash's Ouiser threw a lot of energy as she sparred with Hillary Mazer's wit as Clairee Belcher. There was something that rang whatever southern stereotype bell resonates within me with every word out of Belcher's mouth, and as someone raised by several women who I've seen have just such conversations, I was taken back to my childhood by their vivid acting, never overdone and never more than was needed to get full, realistic characters across those few small feet to we, the audience.
I had so much fun laughing at the spectacle that I could have easily not connected with what was serious, if that comedic expertise wasn't balanced by the aforementioned talent. Even at the moments my eyes started to feel watery, when I least expected it, the best comedy skit in this work exploded onto the set and wiped away enough of the misery to let me walk out of the theater feeling alright, but it was this juxtapose of women making one another laugh through the bad times that shone the mettle within these southern ladies, and it was through a wonderful production with very talented cast that I feel I came to enjoy what this play should be.
Running Time: 2 hours and 20 minutes with one intermission
Steel Magnolias plays through July 14, 2019 at The Audrey Herman Spotlighters Theatre— 817 St. Paul Street in the historic Mount Vernon neighborhood of Baltimore City in Maryland. For tickets call the box office at (410) 752-1225 or purchase them online.