*ccchk* Houston? *ccchk* Hello? *ccchk* Is there anybody out there?
Space.
The final frontier.
It is man's destiny to go forth and explore. It is Alex & Olmsted's destiny to go forth and create extraordinary theatre with puppetry and puppets being their cynosure into the next leg of their extraterrestrial and theatrical experience. Marooned! A Space Comedy is the latest offering from the Jim Henson Foundation Grant Winning company. Boldly going where no puppet company has gone before, Alex & Olmsted venture into the farthest reaches of the human imagination and take their darkly comedic adventures in movement, discovery, and play into space.
Sarah Olmsted Thomas and Alex Vernon create a visual atmosphere that draws the audience into their space-born experience. So much of what the lonely, stranded astronaut is experiencing is expressed through Thomas' exquisite physicality that you feel her weightlessness and lack of gravitational pull in each of her languid, purposeful motions. Thomas has a true mastery over her body, when she moves, when she articulately expresses things with limbs and muscles, and when she transcribes a plane of existence outside of earth's orbit through a continual series of gestures, motions, and movements. In a sense, Thomas converts her body into a living puppet, clad in the most impressive makeshift space suit to ever trod the boards of the Baltimore Theatre Project.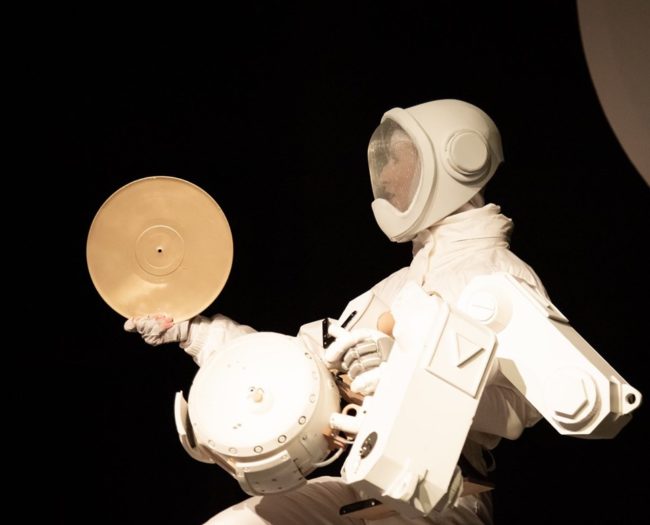 Alex & Olmsted are known not only for their puppetry but their inclusion of a multitude of different artistic facets in their works. Visual projections, which often feature the use of shadow puppets, silhouette puppets, or CGI-based puppet movement, are featured in this production, as well as human-generated sound effects. (Honest to goodness, the audience should be far more distressed about an enormous black hole swallowing a planet but it's utterly impossible not to giggle when you hear the "Ma-nah-mah-nah" style sounds Alex Vernon creates to anthropomorphize said black hole.) The overall experience of Marooned! approaches from various sensual angles and immerses you even though you never leave your seat, which is bound by gravity to the earth.
There is a segment in the production where the marooned astronaut (played in person by Thomas) starts phoning space. The experience of who and what responds is a bit like Omegle (a chat-based website where you can connect with random strangers and have absolutely no idea with whom you are going to connect.) This portion of the show becomes hysterical as space-creature after space creature is encountered (all of whom are voiced and puppeted uniquely and distinctly by Alex Vernon from somewhere unseen) and ultimately gives the audience a sense of hope about the astronaut's situation.
The playfulness of what is happening, despite the severity of the astronaut's situation, is a driving force in the production's overall flow. There is a thriving heart of hope and excitement, charged by Thomas, channeled to and reciprocated back by Vernon; the pair are a divine duo of comedic understanding, physically nuanced exchanges, and crafting extraordinary moments of motion in tandem with one another.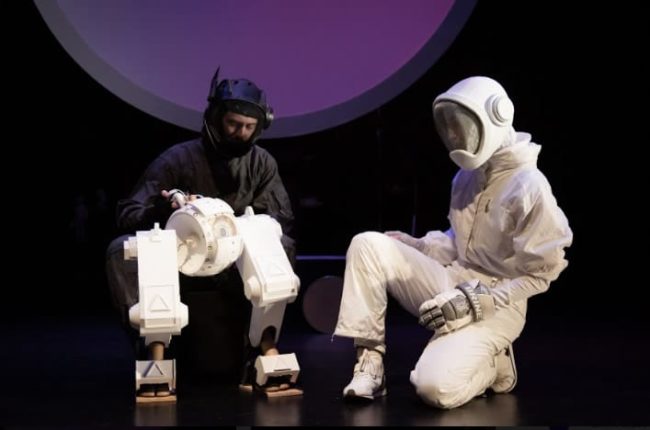 The Apollo11 of Marooned! is easily the construction and awakening of the Automated Task Assistant (ATA), which is a WALL*E-esque spacebot, only way cuter and puppeted/moved/lived-in by Vernon. The interactions between Thomas' astronaut and Vernon's ATA are what essentially become the heart of the show. Human puppetry was never more out of this world than when it comes to ATA in the hands (or feet? both?) of Alex Vernon.
It is a unique, pleasing, and rewarding exploration of all Alex & Olmsted has to offer in the puppetry realm, with their imaginative canvas this time being the fathomless depths of space. Be sure to enjoy Marrooned!­— especially the bit where the audience is directly involved and of course The Great Cosmic Space Peanut (voiced by the precociously adorable Sylvia Vernon.)
Running Time: Approximately 70 minutes with no intermission
Marooned! plays through May 5, 2019 with Alex & Olmsted at Baltimore Theatre Project— 45 W. Preston Street in Baltimore, MD. For tickets call the box office at (410) 752-8558 or purchase them online.