The broken parts of a dead body will never heal. Sticks and stones may break my bones but names— will scar me so deep that I just may never recover. Good grief. When the iconic, albeit off-kilter, happiness of one's childhood, hits puberty and spirals off course with tough life lessons and harrowing high-school truths, you get Bert V. Royal's Dog Sees God. Fitting into the wheelhouse of Wolf Pack Theatre Company productions, Dog Sees God— directed by William Leary— is an unforgiving and unrelenting examination of childhood innocence obliterated by bullying, affluence & excess, and all of the other problems plaguing the adolescent youth of today. Evocative and emotionally eviscerating, this production contains strong content, language, and situations that require trigger warnings and are not suited for all audiences.
Director William Leary may have placed an intermission into Bert V. Royal's one-act script, but ultimately this does not disrupt the flow as one might initially suspect. Leary's pacing of the show is swift, each of the semi-non-sequitur scenes (which are panel-modeled after the Peanuts comic strips, officially unofficial, of course) moves fluidly from one to the next and the dialogue exchange inside of them burbles along at a natural speed— neither too fast nor too slow. Leary's decision to bring the characters down from the stage's apron and into the intimate spacing of the house feels out of sync with the overall verve of the show. Their messages and soliloquy moments are powerful enough on their own— between Royal's writing and the talented cast herein assembled to deliver the text— that this fourth-wall obliteration feels artificial and somewhat superfluous. That aside (and the notable lack of sound design during the blackout scene changes…which is only notable because Technical Director & Designer Stephen Beitzell has such impressive sound cues in other places throughout the performance) the show has little by way of complaints in either production vale or performance deliveries.
Leary's set design is simplistic yet ingenious. Everyone acknowledges that the play is based around Charles M. Schultz Peanuts. Leary has created upright panels that feature the iconic childhood cartoon characters, excellently sketched and painted, flanking the sides of the stage. He's taken the atmospheric experience of the show one step further and filled the lobby/hall area of the new theatre space freshly acquired by Wolfpack Theatre Company with various and sundry Peanuts memorabilia so that the audience is readily able to make the paralells and comparisons from the characters in Royal's script to the originals from Schultz' comics. What makes the paneling on the stage so impressive is the little texturized touches. A few of the characters wear hats— and actual hats have been affixed to their heads in the panel rather than painted on. The leaves on the autumnal trees and the puffy twinkle snow that adorns the seasonal panels add a depth of reality to the scenery.
While the show feels as if should be an ensemble piece by nature, the characters exist in their own bubbles whilst simultaneously impinging upon the bubbles of others. Aliya Gardner and Julia Smouse as Patricia and Marcy respectively, provide an in-depth cross-sectional of the inbred petri dish of high school cliques, particularly the 'Mean Girls.' Both Gardner and Smouse deliver exaggerated stereotypes of the gossipy, clique-y mean-girls that are worshipped in high school culture, whilst simultaneously displaying the harmful effects of affluence and excess in these girls lives. Gardner and Smouse are shrill and shrieking in their vocal delivery of Patricia and Marcy, squealing with ear-splitting giggles that curdle the blood. Gardner in particular has a hilarious handle on her character's drunken party-girl physicality while Smouse masters the dazed and confused look while narcisstically obsessing over whether or not various boys are into her character.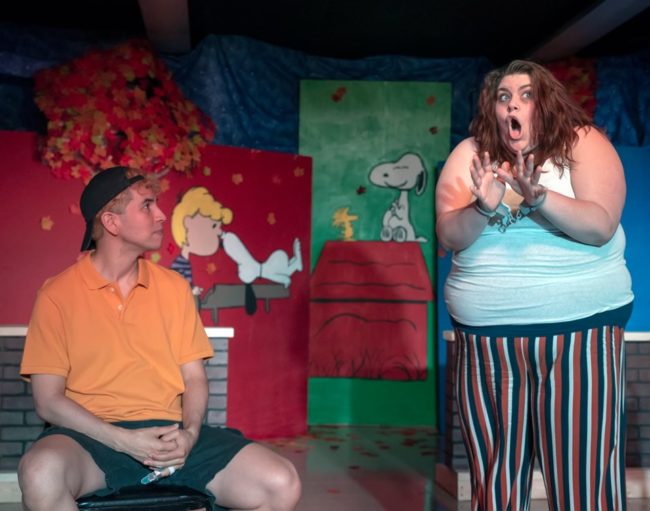 It's a pity that Bert V. Royal's script doesn't allow more on-stage time for the "Van's Sister" character because Katy Chmura is a real bottle rocket in the role. Van's Sister has only one scene— in this production it's the powder-keg jumpstart after the intermission— but she blazes like an inferno all through it and really puts the audience on the edges of their seats. Katy Chmura brings a bombastic energy and stage presence to the role of Van's Sister; she teeters just on the edge of psychosis, toeing herself back and forth between the lines of desperately trying to be healed and sane and fully embracing her mental instability. Frighteningly alive, Chmura gobbles up every word of CB's news from the outside world, consuming it the way rampant wildfire swallows whole forests at a time. Infused with an unsettlingly maniacal cackle and a disturbing look in her eye, Chmura puts her stamp on the only scene in which Van's Sister appears and it is a most unforgettable moment.
Van (Michael Bertone) is the polar opposite of his sister. No longer tethered by his blanket, Bertone's character is the epitome of an esoteric stoner. Drifting away on a cloud of hash and hilarity, Bertone provides a large portion of the awkward comic relief this script offers. Sliding in and out of scenIfes with everyone, except for his own sister, Bertone's Van is notable for his ability to adapt. CB's Sister (Alex Sands) is a bouncy foil to Van; she is bubbly, albeit bitchy, and filled to the brim with the raging confusion that is teenage angst and identity disassociation. There are endearing moments with Sands, mostly near the end when she has direct interactions with CB, that bring us back to her sweet and loveable comic-strip ccounterpart, Sally. Sands also has a rather intense, albeit hilarious, moment during her "Butterfly-Platypus" segment which is outright comically but also deeply thought-provoking.
If you want to be filled with a revulsion that turns the stomach, boils the blood, and angers the soul, simply watch Chris Rios flawlessly deliver the character of Matt. (I know, I know, who the heck is Matt? That's not a Peanuts character…but wait for it, it's very apparent after just a short while exactly which one he is meant to be.) The nastiness, the arrogance, the hatred that consumes the character of Matt is unrelenting and quite frankly beyond disturbing. Rios channels these bouts of temper and fury with great energy and really drives the nails and spikes of bullying hard into his victims. He's grody as Matt and he makes you feel in desperate need of a thorough shower after just listening to him for a moment or two. The way he responds to some of the more confrontational moments warrants a trigger warning for anyone sensitive to such subject matters.
Beethoven (Jake Schwartz) is the epitome of the "every victim" in a bullying situation. Any child, teenager, or young adult who has ever been bullied for being different, who has ever been picked on for being strange, has been made fun of for being "not normal" or "not like the others" can find a pinpoint of relatability in Schwartz' performance. Your heart bleeds for the Beethoven character the moment Schwartz brings him on stage. With a hunched, timid physicality, trembling as if he's terrified to exist, Schwartz immediately pulls the audience into the hell that is Beethoven's life, simply because he's not like everyone else. The zenith of emotional depth that Schwartz crests during the initial confrontation between Beethoven and CB is astonishing; his vocal control and facial expressions are highly affecting. Schwartz' character's predominant interaction are with CB, and much of the way their existence is defined is through these intensely sudden shared moments.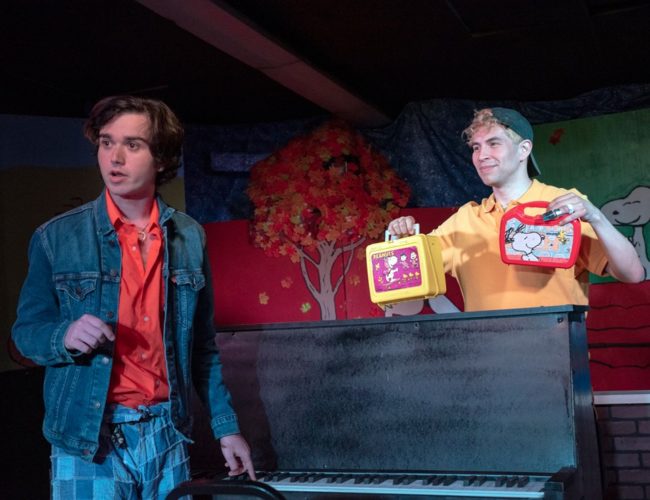 Chris Galindo looks almost exactly the way we might picture a Charlie Brown if he had grown up and suddenly fallen into high school. And was tall and blonde. Playing 'CB', Galindo is awash in a blithe, untainted innocence that is fondly reminiscent of the CB everyone knows and loves from Schultz' comic strips and subsequent incarnations. Whenever Galindo gives a direct address to the audience, there is a burning conviviality to his delivery; the words he speaks comes from a deep but simplistically honest place inside of him. There is something undeniably powerful about his use of openness in these moments. When the ending crashes hard and fast onto the characters, Galindo does a hard switch, showcasing a striking versatility in CB and shocking the audience with how naïve childhood innocence can fester into a canker of rotten, frustrated adolescence in the blink of an eye. Loaded with raw pathos, Galindo lets loose upon the stage in a very different fashion from the way CB has been constructed up until that moment and the difference is jaw-dropping.
Steel your nerves, bring your tissues, and prepare to experience an evocative yet brutally disturbing show that shreds the heartstrings whilst shattering the illusions of childhood innocence this spring at Wolfpack Theatre Company.
Running Time: Approximately 1 hour and 55 minutes with one intermission
Dog Sees God plays through May 18, 2019 with Wolfpack Theatre Company at the new Taylor Street Theater— 3601 Taylor Street in Brentwood, MD. Tickets are available at the door or in advance online.