A new world calls across Charm City! A new world calls across street. A new world whispers through Mt. Vernon— time to see— time to see…it is time to see Songs For a New World at The Audrey Herman Spotlighters Theatre. Co-Directed by Andrea Bush and Michael Tan, and Musical Direction by Michael Tan, four talented voices come together on the stage to sing songs of love and hope. Fitting well into the Season57 theme of 'Strong Voices', Songs For a New World is a Jason Robert Brown musical will truly stunning sounds and sentiments.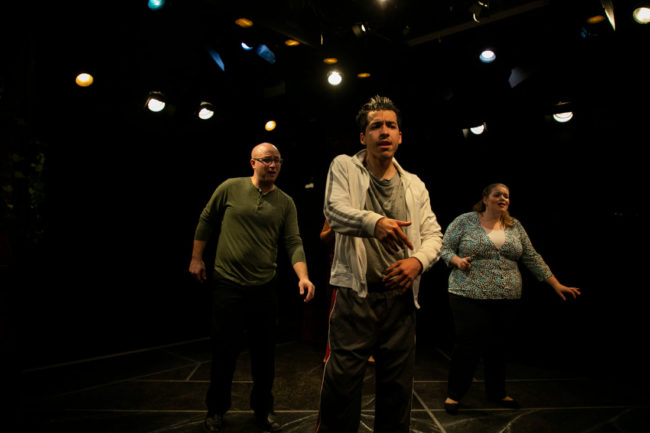 Any vignette style musical is difficult to produce, largely because so many people expect a narrative when coming to see any theatrical engagement, even if it's a jukebox musical, but especially when it's a vignette musical. Audiences eagerly anticipate some divine visionary concept overlaid to a blank tablet of songs, hoping to tie them all together. Co-Directors Andrea Bush and Michael Tan do deserve credit for daring to dream, daring to try, and daring to take a concept and place it over these musical glimpses in an attempt to bind them together with a narrative through-line. The concept itself, however, is not as sturdy or as fully actuated as one might hope and leaves the audience desperately craving more points of connection and further exploration of the notion these two have created.
Tan and Bush choose to set the show in the lobby of a fictitious grand hotel. This works in some moments, extremely well in fact, and not at all in others. The failure of their concept is not the concept itself but rather shying away from it and the way in which it could change the characters created around the various musical numbers (either through costuming, blocking, or placement) but fails to do so. The notion of setting Songs for a New World in a huge hotel lobby leaves so much potential wide open, much of which just isn't taken in this production. Too often the stage is filled emptiness, a single performer belting out a solo number alone. These numbers could have easily fortified their concept of "all walks of life strolling in and out of this hotel" if these solo moments had someone to focus upon, or someone to whom they could sing and direct their song.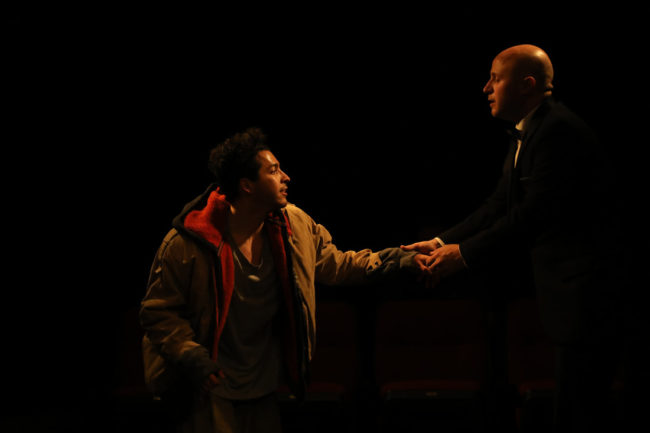 There is a stellar moment when this does happen; arguably this number is the most grounded in the show's concept. "King of the World"— an emotionally loaded and passionate solo performed by Luis Matty Montes— has the actor stumbling into the hotel lobby as a vagrant, a homeless bum (potentially a former veteran if the costuming is any indication) and blasting out this song as if it is his personal crazy mantra. The moment where it soundly connects with the show's thematic concept is when Andrew Worthington enters the scene as the silent, albeit active, Hotel Concierge, trying to get the riff-raff out of the pristine hotel lobby, or at the very least make sure he doesn't collapse on the floor in the way of other guests. This moment is so beautifully connected to Tan and Bush's thematic setting that it desperately cries out for other numbers to follow suit.
With the caliber of vocal talent on the stage it feels like a disservice to have such an unfinished concept around the performance, but this is only a mid-grade distraction because the aforementioned performers are belting their hearts and souls into these songs and letting their passions for Jason Robert Brown's music and lyrics fill the gaps in the show's theme. Fuzz Roark has laid an opulent marble lobby floor to complement the sweeping scenic approach to this grand hotel. Resident Scenic Designer Alan Zemla has produced an elevator in one corner, put the pit in the hotel bar in another, and created the concierge desk in yet another corner, along with adding the mirage of wood-grained columns to capture the essence of a sprawling hotel lobby. And Laura Nicholson's costumes add layers of modernity to the show, letting us know we're situated in the present day of a very grand hotel. With all of these creative structures built into the production values, and the great talent radiating from the performers, it seems a shame to not have the concept set forth by the directors resonate more strongly and connect more fully with the production.
The show's other major issue is the mismatched lighting, created by Lighting Designer Al Ramer. It's unclear if the focus is just off on some of the lighting cues or if Ramer is trying to create inclusive moments where the outward lighting that floods the house is meant to draw the audience into the experience. But regardless of what the intent behind it is, several numbers— including the opening "The New World"— have harsh lights on at least one side of the house, putting the audience in focus, so much so that it was unclear if the house lights had malfunctioned, failing to dim at the start of the performance. (This became clear later when it happened intermittently throughout the performance, but its intention was still muddy and ultimately distracting.)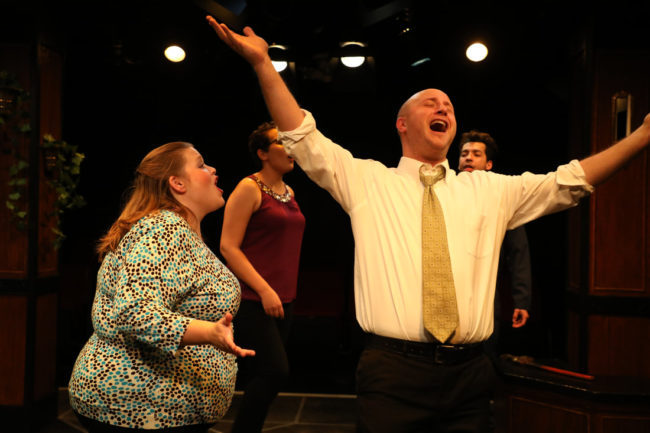 Vocally the show is sound. There are a few blended group harmonies where the cast struggle, but chalk it up to opening night jitters, sick performers, and vocal blowout from such a strenuous demanding show, as each of these performers demonstrates throughout the show with great vigor their true vocal talents. Musical Director Michael Tan (who also leads the pit) keeps the music moving and provides delicate interstitial vamps whenever a costume change and an entrance takes just a sliver longer than it ought to. It was also a questionable choice for Tan and Bush to throw an intermission into the production, though it is understood that the decision may be in hopes of the performers receiving adequate vocal rest between the first act and the second. This, however, was distracting and killed some of the show's natural momentum as well as further separated the performers and their songs from the directorial concept.
The four performers— Erica Irving, Luis Matty Montes, Andrew Worthington, and Kristen Zwobot— do have a strong connection to one another even when their cross-paths make no sense. (There are moments when actors wander through number they are not singing in, supposedly meant to be some other type of character but it is unclear who they are meant to be in that moment.) But when they bring their voices together for the big company numbers like "The River Won't Flow" and "The Steam Train", you can feel their energy pulsating between them, hear their voices crying out with jubilation, and forgive the lack of connected concept, forgetting all about it in that moment in favor of the divine sounds this quartet of seriously talented individuals is producing.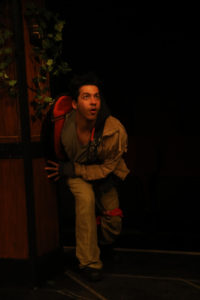 "The Steam Train" is another number that suffers from under-cooked concepts. Luis Matty Montes kicks the number off, with a lot of defiant attitude. Why not make him a young student athlete at the hotel for a conference and those that join him are the teacher, coach, and hotel staff who are trying to quell him into behaving? (All achievable with a simple sign to welcome the hotel guests to said conference and simple costume accoutrements.) But the disconnect aside, Montes lays down a ferocious beat and nails the number anyway. This is also true of his powerhouse performance of "King of the World" where he shakes the house down with not only his vocal talent but his emotional investment and characterization that he brings into the number. Montes is a solid vocal addition to the cast of four and brings a potent personality to the performance.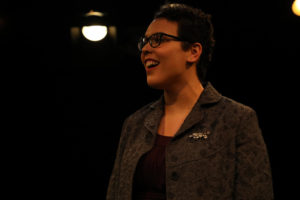 Glossy and glassy, Erica Irving's voice is ripe and real and a particularly strong force for opening the show with "The New World" even though the number eventually becomes an all-encompassing cast song. Though the directed conceptualization may be lacking, Irving has crafted a backstory inside her head for where her mainstream character sits inside this reality and that resonates with divine beauty through her rendition of "I'm Not Afraid of Anything." This number burbles up from a candid and pure place of spirited truth deep inside of Irving, splashing out of her mouth like a refreshing fountain on a hot summer's day. Her rendition of "Christmas Lullaby" is sweet and deeply moving as well.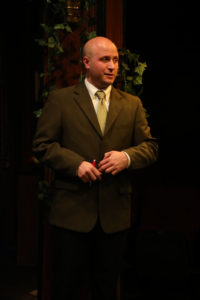 Andrew Worthington's moments as the silent background character are one of the filaments that hold the concept to the music. The aforementioned scene where his concierge character attempts to calm the mood during "King of the World" is highly praiseworthy. But his vocal talents deserve a cry of praise as well. "She Cries" toes the fine line of comedic melancholy, superbly balanced by Worthington as he tackles it, albeit aimlessly, and delivers it with sturdy musical quality. The lack of direction to whom he is singing in this number is problematic throughout (not just for Worthington, but a great many of the solos) but ultimately, Worthington saves the number with his well-composed sound. "Flying Home" is a good and proper tear jerker that really showcases Worthington's ability to ground a song emotionally as well.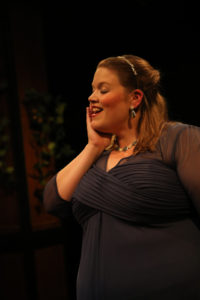 Playing the character woman, Kristen Zwobot has a myriad of personalities she pushes out for various solos. Whether it's "Just One Step" where she's up on a ledge after having a tiff and a spat with her husband, comically threatening to jump or giving jolly Father Christmas the almighty finger in "Surabaya Santa", Zwobot is inexplicably hilarious and really finds the humor in the affected numbers. But Zwobot also delivers a crushing severity to numbers like "The Flagmaker", which will give you the shivers and tears if you focus solely on her in that song. When you have a fulfilling and vocally stellar artist like Zwobot performing "Stars and the Moon", there is no need to shy away from bringing other characters into the scene to further connect the number to the concept, but despite this lack of other individuals, Zwobot sings the song with radiance.
Ultimately the show is a conceptual struggle, but again the co-directors should be commended for their attempt. Go to see the four extremely talented performers and think of it as a sampling of Jason Robert Brown's music, served in four fantastical vessels of singing. Support their efforts, the vocality and performance quality will not disappoint.
Running Time: Approximately 1 hour and 45 minutes with one intermission
Songs For a New World plays through November 25, 2018 at The Audrey Herman Spotlighters Theatre— 817 St. Paul Street in the historic Mount Vernon neighborhood of Baltimore City in Maryland. For tickets call the box office at (410) 752-1225 or purchase them online.