Come look at the freaks! Come gape at the geeks! Come examine Dundalk Community Theatre's aberrations, their malformations— grotesque physiques…only pennies* for peeks…come look at the freaks! Come look inside the John E. Ravekes Theatre and have your curiosity satisfied with this gloriously haunting production of Side Show. Directed by Robert W. Oppel with Musical Direction by Rebecca Rossello, and Choreography by Vincent Musgrave, this breathtaking story is a circus marvel that twists and turns your mind and heart inside out and upside down all along its treacherous trail. Delightfully dark, strikingly sad, and deeply moving, Side Show is an extravaganza of theatrical proportions that simply cannot be missed this fall season.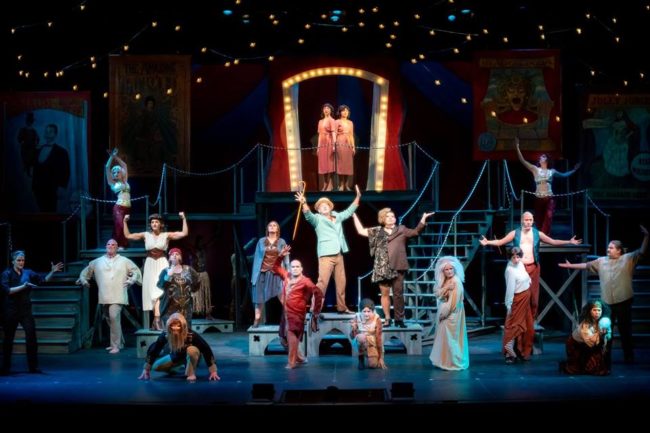 Technical Director Marc W. Smith has fully embraced the challenge of the 1930's Circus atmosphere, amassing a grandiose wooden structure that resembles the interior of a circus tent. The lighting plot Smith constructs around his hypnotic scenic outline is mesmerizing and entices the audience back to a time all but forgot by present day standards. Slick conmen and revolting showmen, all working angles to exploit the oddities of nature in their rawest human form; all of those components of a Side Show come radiating through in Smith's technical work for this production.
But the true visual resplendence comes in the form of Costume Designer Deanna Brill's sartorial selections, particularly in the way she dresses the freaks, and most importantly in the dazzling outfits reserved for Daisy and Violet Hilton, the conjoined twins. Brill provides a myriad of sensational outfits for all of the freaks featured in the opening number. Just the Half Man/Half Woman (Vince Musgrave) character alone is enough to peek one's curiosity and make one smile as the half-suit/half dress— complete with glamorous gams all fastened up in fishnets for at least one leg— is seamlessly spun together. Dog-Face Boy's mask is impressive as well. There are so many to gander at and marvel over, one simply must see the show in person to fully grasp Brill's astonishing work. But her true conquest over costumes is in the decadent and lavish gowns and dresses seen on Daisy and Violet, sometimes so sparkling that they almost outshine the girls themselves. Almost.
The aforementioned Vincent Musgrave, who is indeed featured in the production as well as choreographing the show, puts his seasoned dancer moves to work for the ensemble, giving them sweeping patterns and gestures that speak to the time. This is particularly true once the Hilton Sisters say goodbye to the Side Show and move along to Vaudeville on the Orpheum Circuit. Musgrave exercises his choreographic wisdom knowing when to pull back the dance moves, redacting them from numbers like "The Devil You Know", despite the musical naturally jazzy outcry for choreography. The scene which surrounds it and the lyrics of the number would sit awkwardly if layered into dancing; Musgrave's foresight into the production recognizes this and serves the show well in that regard.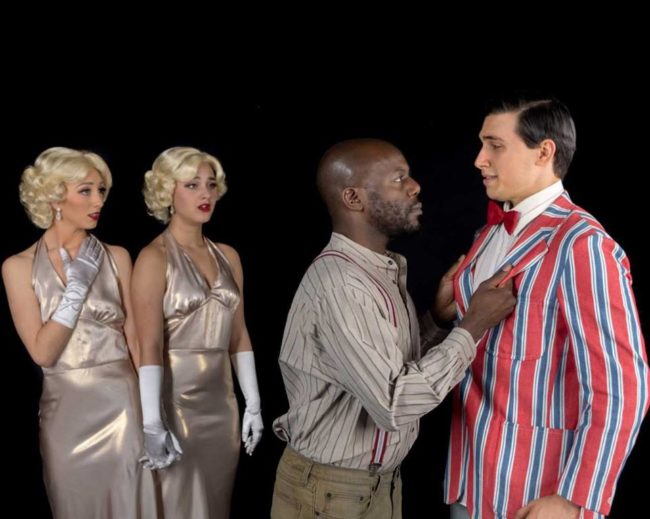 With a talented ensemble full of vivacious individuals, it's difficult to give them all their proper due. Look out for the Littlest Cossack (Temperance Oppel) and the ferociously optimistic and equally vocally talented Fortune Teller (Rowena Winkler.) And while the character of Auntie is heinously unpleasant, Lynn Tallman fills the pernicious role with vitriol and a rather solid English accent that readily evoke pity and empathy toward the Hilton sister's plight as they end themselves in her care and guardianship. Tallman's existence in the script as Auntie is brief, presented only during the run of flashbacks as Violet and Daisy tell their tragic tale (all exceptionally lit by Marc W. Smith's sharp use of snap-quick blackout and tight spot lighting) as to how they ended up in the custody of Sir (Peter N. Crews) performing as freaks in his side show.
Another primed individual to keep an eye on in the ensemble is Jose Reyes Teneza, not as the Sheik from the opening number or at any other point where he appears in the production amid the ensemble but when he assumes the role of Ray in the vaudeville scenes. While Ray has no particular dialogue and is really only featured as the dancing partner at the top of "Stuck With You (Part I)", a number which the Hilton Sister are meant to be learning to perform alongside Ray and Buddy, it's what his facial expressions do when he exists in the background. During the New Year's Eve scene, as Buddy makes a life-changing decision in front of everyone regarding Violet and the future of them all, it's what's playing out all of Teneza's face that truly makes that moment come to life in the cold and harrowing vein of reality.
With passion and panache on his side, Jake (Troy Haines-Hopper) lives up his role as the Hilton Sister's guardian angel. Although they're in the custody of Sir, Haines-Hopper's character keeps an eye out for them and cares for them as their one true friend through it all. With a strong, driving voice, he leads the ensemble through "The Devil You Know" with a wily, invigorating passion that really pushes home the message behind the song's lyrics. Explore the character's vulnerable humanity, Haines-Hopper really puts full heart and spirit on display during his solo feature, "You Should Be Loved." The plight of his character's story is presented with such simple honesty that it easily evokes tears.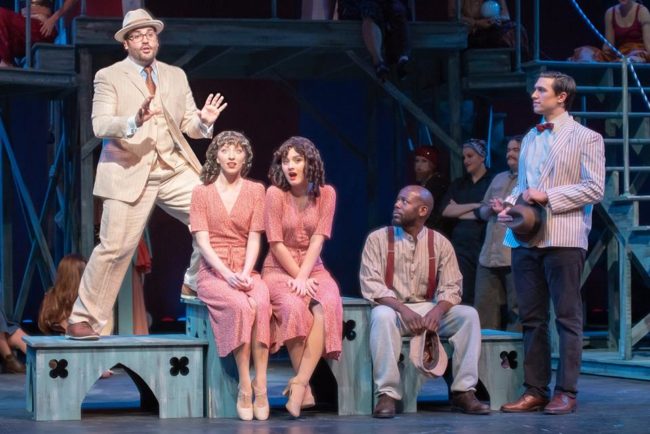 Showmen Buddy (Josh Schoff) and Terry (Ryan Wagner) are just a couple of swells, aren't they? With that natural ease around the 1930's patois and cadence, both Schoff and Wagner melt into the scenes like ice cream on a hot July afternoon. But their shiny showman façade fades quickly once the reality of working Vaudeville sets in, even more so once the shining silver screen begins to dominate all forms of entertainment. Schoff is lighthearted as Buddy, adding delicate harmonies to his duets and creating dramatic tension in an underhanded and subtle fashion. Wagner's Terry is pleasantly oily, there is something charismatic about everything he says and sings, so much so that you're willing to believe there is goodness in him straight through to the very end, even if the evidence to support such in his character grows less and less as the show progresses. Terry's solo-turned-duet, "Private Conversation" is a striking vocal concert giving by Wagner that hypnotizes the audience all over again with his superb vocal sound.
She's Daisy, Lindsey Litka is. She's Violet, Ana Lane, and together they are The Hilton Sisters. While Litka and Lane don't look exactly alike, the wardrobe department makes a convincing case for their conjoined twin-ness. (We can't all be Sarah Paulson from American Horror Story: Freak Show playing opposite ourselves in the role.) But the lyrics and statements of the show are true; no duo is more simpatico, bathed in the bonds of musicality are Litka and Lane. Everything about their duel performance is marvelous. From the way they move together, sing together, speak together, even argue over being together, it's quite the spectacle. They could honestly be conjoined twins as they are so careful about how they glide across the stage or how they sing through a song.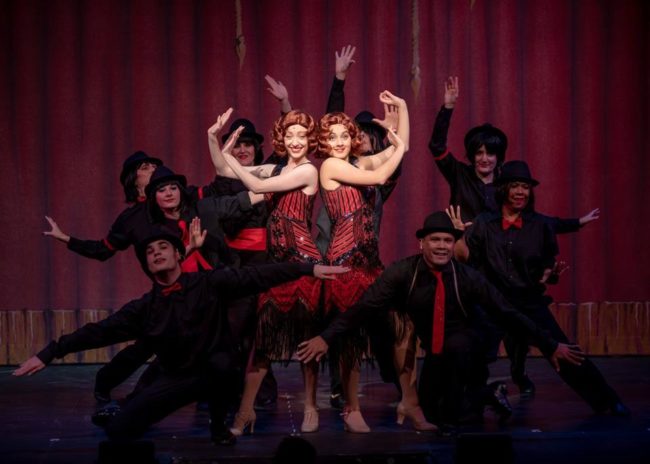 Lane, the more naïve and delicate of the Hilton Sisters, is a performing wonder, filled with that doleful uncertainty that just barely hides her eager desperation for hope. Her vocal quality is exemplary and matches Litka's to perfection. Her duets alongside Litka are sublime. The lone difference in their roles being that Lane's Violet never gets a true solo, whereas Litka has one moment— in Terry's fantasy— where she is separated from her twin and sings alone, albeit quickly joined by Terry. Litka is a powerhouse vocalist and phenomenal actress who traverses an emotional gamut throughout the production, delivering everything under the sun in the fast-moving vein of visceral pathos. "Who Will Love Me As I Am?" showcases both girls' exceptional and superb vocal capabilities, as does "I Will Never Leave You." Stunning in both their performances, Litka and Lane make up for any slight flaw that could be otherwise found with the production.
What are you waiting for? The circus won't stay in town forever. Come look at the freaks. Come pay your pennies* for peeks. See Side Show at Dundalk Community Theatre this autumnal season, and absorb the tragically beautiful glory of twisted darkness that exists insides the hearts and minds of Daisy & Violet Hilton of Side Show.  
Running Time: 2 hours and 20 minutes with one intermission
Side Show plays through November 16, 2018 at CCBC Dundalk in the John E. Ravekes Theatre— 7200 Sollers Point Rd. in Baltimore, MD. For tickets call the box office at (410) 285-9667 or purchase them online.
*performance of Side Show costs slightly more than mere pennies. Please check pricing on the CCBC website for actual prices to view the production.