While the autumn breezes finally rush in, bringing all the productions of Rocky Horror Show and Deathtrap along with them, The Maryland Ensemble Theatre defies the more conventional approach to the spooky season and instead invites a uniquely chilling entity onto its stage for the month of Halloween and beyond. Let the Right One In, a stage adaptation by Jack Thorne from the Swedish novel & film by John Ajvide Lindqvist, is the unsettling tale of young love, otherworldly displacement, and strange things that go bump— or dot-dot-tap— in the night. Directed by Julie Herber, this unusually haunting selection shimmers with a spine-tingling iridescence that flips what you know about supernaturalism on its head and dances its way into your mind while causing your heart to skip a few beats.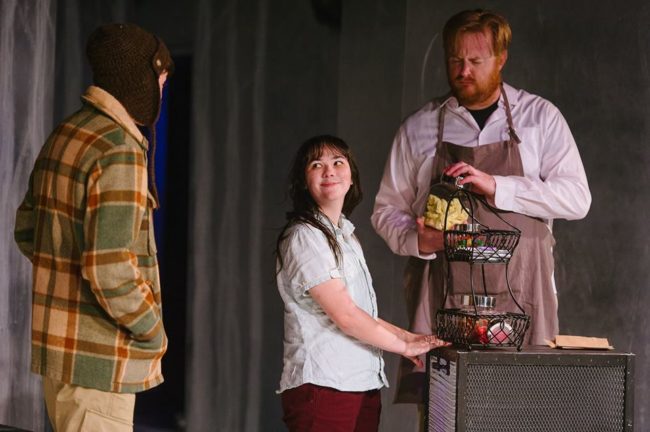 The most striking design element of the performance is the forward and intense aural soundscape crafted by Sound Designer Tom Majarov. Spiritually disassembled, Majarov's soundscape blurs the lines between magical realms of supernatural proportions and the current reality in which we live. If you've ever been to House of Eternal Return at Meow Wolf in Santa Fe, NM, listening to Majarov's collection of music and effects might make you feel like you're about to slide down the dryer into worlds unknown. There are creepy echoes, sounds that aren't quite human, and music that somehow doesn't come from this world all laced together throughout the production. Majarov's work is strange, no question, but functions as a fine floss that flows between this reality and the otherworldly that presents itself in Let the Right One In.
Accompanying Majarov's work is that of Lighting Designer Carey Rausch. With similar echoes of the bizarre and supernatural, Rausch utilizes light and shadow the way Majarov plays with silence and volume; both designers hone in on absence and presence in their design work, using these elements to heighten the surreal experience of what's happening on the stage. This is especially true of Rausch's lighting work during the scenic transitions, which jolt about with a type of frantic dance-like movement.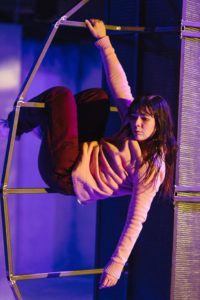 The aforementioned dance-like scenic transitions are a hallmark of Director Julie Herber, whose passionate embrace of choreography infiltrates the work like a pulsating current. Herber masterfully commands the ensemble in this production, moving them about as if they were the inner cogs of an enormous production machine. People become props; they toss scenery about to create pop-up scenes as if the locations were springing forth from the pages of a novel. And everything happens with a frenetic urge, almost like blinking through scenes in a film. Herber's approach to the show's interstitial and background movement is quite cinematic, and creates an expressive and artistic layer to the performance that could easily get lost in the show's swift pacing.
Properties Master Bailey Sterling and Scenic Designer Cecelia Lee work in tandem to create a unique and yet multipurpose experience. Sterling, whose little candy jars transform a simple block into a corner store, has a keen eye for details, while Lee's tabula rasa of a set makes the shifting locations almost infinite in their possibilities. The white streaky scrims that hang from the ceiling creating barriers for shadow, light, and silhouette are off-putting and unnerving to look at, conjuring images of a slaughter house and other unsavory locales. Lee has created a "transformer" style set, where the central column pulls apart and pops out, creating versatility as the script commands. Of the utmost praise is her overly simple and yet strikingly beautiful approach to the swimming pool moment, made with little more than a pane of plexiglass and chains.
If the show has one disappointment, it is the lack of special effects in the blood department. Having witnessed several gory shows in seasons past, and knowing the potential for gory in this production, it feels as if Special Effects Designers Doug Grove and Katie Rattigan have somehow let the show down. Choosing to be bloodless would almost be a stronger choice than some of the effects, which felt lackluster (or potentially misfired entirely at this performance.) Grove and Rattigan, do however make one of the most revolting and impressive effects of the show when it comes to their sound-execution during the hospital scene; much more cannot be said of what and how for fear of spoiling the surprise of that moment. And what they achieve with facial makeup FX for a particular scene is indeed quite gruesome.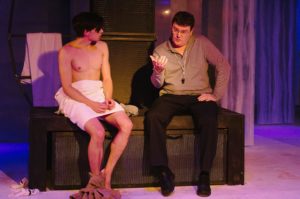 There is an intensity which the ensemble carries among one another as the show progresses. They share the narrative responsibility of this coming-of-age otherworldly love story, even though the show's two protagonists are Oskar and Eli. Those mastering multiple roles— like JD Sivert and Daniel Valentín-Morales— craft subtle differences between their characters, with Sivert's shop-keep character standing out above the rest. Jack Evans' officer Halmburg character couldn't be more dynamically different from his gym-coach Mr. Avila. Evans presents a stoic severity in the Halmburg character that is notably absent in the more compassionate gym-coach, though there is a rigid masculine similarity to both as well.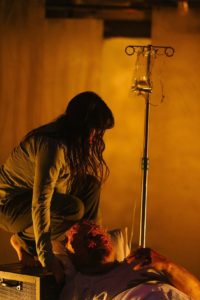 Jonny (Brandon Richards) and Micke (Sean Byrne) are the unyielding bullies who antagonize Oskar throughout the story. Both Richards and Byrne create convincing youth characters, adept at the art of bullying the show's protagonist. They are crude and heavy-handed with their abuses; both Richards and Byrne give all-too realistic performances in these nefarious roles. Robert Leembrugen, whose portrayal of Hakan is a far cry from a bully, has a resilience to him that is not dissimilar from the resolve presented in Jonny and Micke. Devoted and motivated by love and compassion, rather than the darkened anger and hatred which motivates the bullies, Leembrugen's Hakan is a unique force, a bit like a missing piece in a particularly tricky puzzle.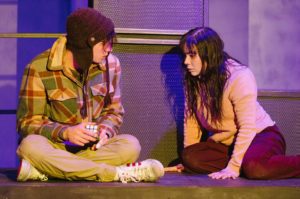 The story's most compelling interactions, and arguably the central force and focus of the plot revolves around Oskar (Jordan Champe) and Eli (Karli Cole.) Oskar, a young, bullied, and introverted teen with little to speak of by way of his home life, meets by chance his strange new neighbor, Eli— a curious and questionably out of sorts individual who seems to have more in common with Oskar than meets the eye. It is difficult to describe their relationship and their individuality without giving away critical surprises that border on spoilers for their characters, however, it must be said that both are convincing, engaging and downright fascinating. Champe's Oskar is that reserved, isolated teen that everyone recognizes and on some level can relate to while Cole's Eli is that bizarre part of all of us that just doesn't quite fit in for one reason or another, whilst attempting to do so without really trying. It's a fascinating dynamic, the relationship that rises between them, the interactions they share, and the overall experience their involvement creates for the show as a whole.
Evil only needs silence; don't be silent when it's your turn to speak up and get tickets to Let the Right One In, there is no place for evil here— only otherworldly experiences.   
Running Time: 2 hours with one intermission
Let the Right One In plays through November 10, 2018 on the Main Stage of the Maryland Ensemble Theatre in the Historic FSK Hotel building— 31 W. Patrick street in downtown historic Frederick, MD. For tickets call the box office at (301) 694-4744 or purchase them online.