Fall is the perfect season for love, magic, and hopeless romantics.  The magical possibilities and enduring love story of Brigadoon at Rockville Musical Theatre under the direction of Laura W. Andruski and musical direction of Joseph Sorge unfortunately left me feeling flat.  In a world that is full of hate, disregard, and conflict there was so much excitement as I drove down 270 to get whisked away to the magical land of Brigadoon, book and lyrics by Alan Jay Lerner and music by Frederick Loewe.  The house was of great number for their opening night performance tonight, but after the curtain fell at intermission I noticed some empty seats when Act II began. You can't please everyone when it comes to theatre and while RMT does have an older subscriber base, I'm not sure Brigadoon was the right choice for their season.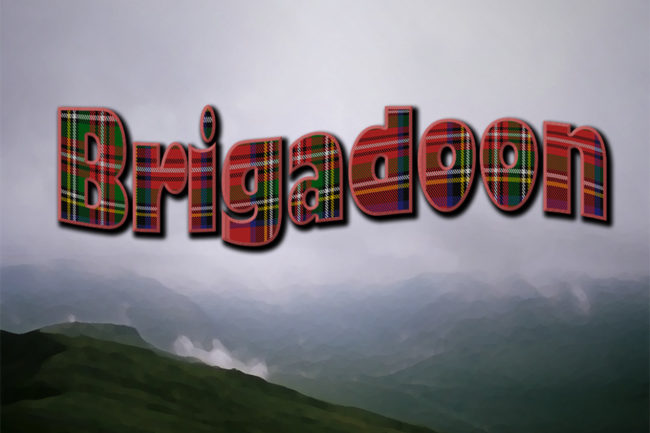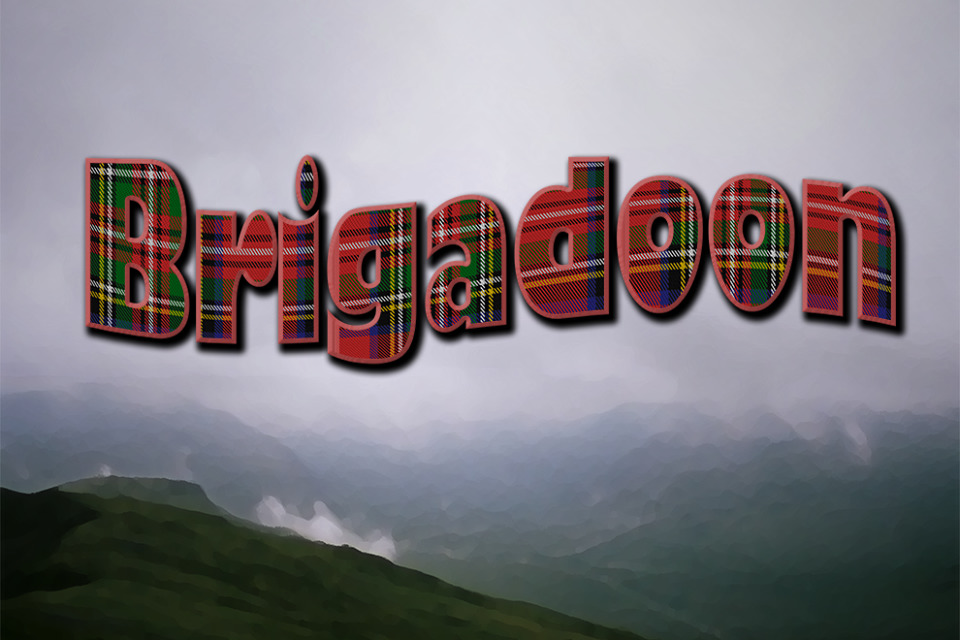 Keely Borland portrayed the beautiful Fiona MacLaren and delivered above and beyond with a voice like a songbird and a range that I personally haven't seen in the DMV for some time.  Borland was a pleasant and welcome surprise from the minute she opened her mouth. Playing opposite Borland was James Myers as Tommy Albright.  Myers has a beautiful voice but his acting chops were less than desirable.  The chemistry between Myers and Borland was sadly not there, most fallibly due to direction. 
My two shinning stars for this production were Amanda Jones as Meg Brockie and Kirk Patton Jr. as Jeff Douglas.  Both Jones and Patton serve as the comedic roles in this show, and they delivered.  Jones commanded the stage every time she was on it and maintained a believable accent throughout.  Patton from the first scene of this show made the audience aware of his presence and did not let it slip until the curtain closed after curtain call.  Another stand out was Noah Calderon as Charlie Diarymple, beautiful voice especially on "I'll Go Home with Bonnie Jean."  Minus the skunk-like wig and ill-fitting attire, Ari Halvorsen as Harry Beaton was also a stand out. I wish everyone in this show could sit down for an hour individually with John Barclay Burns who played Mr. Lundie and pick up his accent.  He was the only person in this production that I understood completely, had impeccable diction, and his accent was on point.  Most of the show was mumbled and very hard to understand what was being said.    
My biggest issue with this production was the lack of direction from Laura W. Andruski.  The fluidity of the show was more bumpy then smooth.  Most of the blocking didn't utilize the amazing stage they have, and seemed robotic.  In most shows I see, I tend to watch the ensemble and I found in this production especially, that they moved to particular spots on the stage because they were told to.  There was no organic movement or sense of understanding what was happening on stage.  Clumps and spacing of entire sections of the show seemed very muddy in my eyes.  There were also so many uncomfortable moments after characters would finish their lines and there would be dead space until they were told to move.  It made the show very difficult to watch.  Valerie Mikles choreography was simple, cute but extremely repetitive and anticlimactic. While there was a very wide age range on stage I was left wanting more. 
My biggest kudos goes to the orchestra under the baton of Joseph Sorge.  There was a 15-piece orchestra and they sounded amazing.  Huge shout out goes to the violin players (unclear of their names because they are just listed as strings in the program).  A major highlight was a bagpipe solo by Marti Dillon!  I can't say enough good things about this orchestra.  Sorge did an incredible job putting together this amazing orchestra.  I do however wish more time would have been spent focusing on diction with the cast as they did not match the level of quality we got from the orchestra.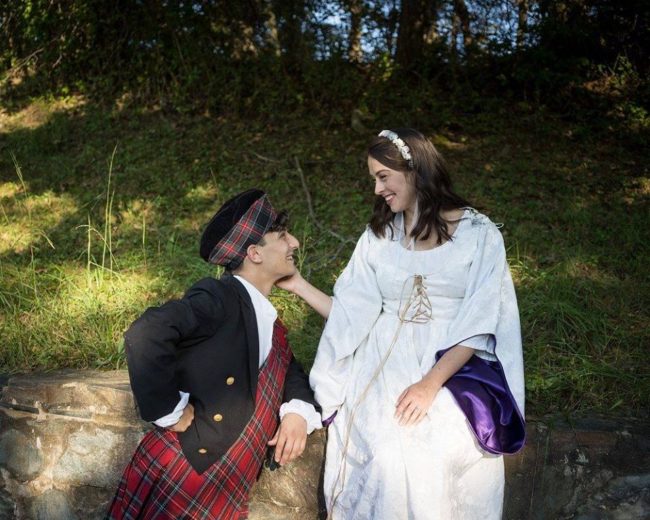 Things seemed to run smoothly on stage under the stage management of Jerry Callistein other than hearing him call out cues through the house.  The set was designed by Maggie Modig, which included use of a projection screen. I found the projection screen to not jive with the rest of the set pieces.  I would have rather seen an actual set for this particular piece especially when the projection was not as visible with Praveen Javehrani's lighting design.  The set pieces that were used added a nice dimension but with a cast this large some levels would have been a great idea.  Costumes were designed by Hillary Glass and with the exception of a few ill-fitting pieces, the costumes were lovely. 
Overall should you see this production?  Yes!  I am huge believer in supporting local theatre especially on a community level.  Any theatre good or bad is a night out supporting what we all love to do as a hobby, weather on stage or in the audience.  This by no means was one of the worst shows on my list and there was a lot of talent on the stage.  Brigadoon is a challenging show and Rockville Musical Theatre did a fine job. 
Running Time:  2 hours and 30 minutes with one intermission
Brigadoon plays through November 11, 2018 with Rockville Musical Theatre at the F. Scott Fitzgerald Theatre at Rockville Civic Center – 603 Edmonston Dr Rockville, MD.  For tickets, call the box office at (240) 314-8690, or purchase them online.