"The history of the world, my love, is those below serving those up above." The daunting lyrics of Stephen Sondheim seem to echo through our world at present, where at the top are seated those privileged few making mock of the vermin in the lower zoo, and what better way to exemplify this than to take one of Sondheim's darker musical classics and spin it on its head in a modern vent? Rep Stage is giving you Sweeney Todd: The Demon Barber of Fleet Street with this concept firmly in mind. Set in modern East London, with a cast of only eight and a pit of just three, this musical thriller— Directed by Joseph W. Ritsch with Musical Direction by Stacey Antoine— showcases the maddening bloodlust for righting the injustices of the world where tyrants rule and the people are victimized. Edgy, politically charged, and full of surprises— everything from the cast size to the lit signs of this fictitious 'modern East London'— Sweeney Todd at Rep Stage is a marvelous chaos that explodes with an unrelenting intimacy and staunchly forward message of agenda.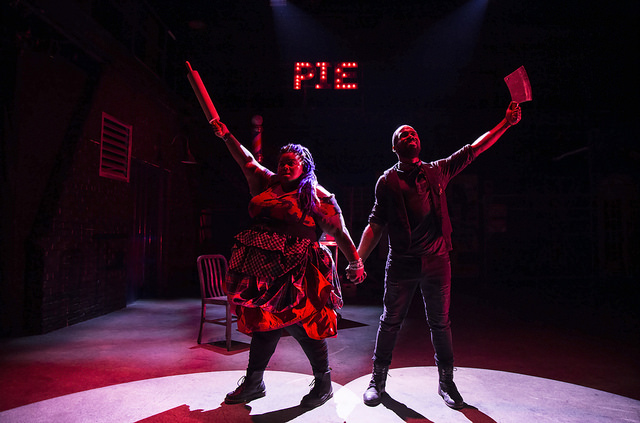 The experience, from the moment you enter the audience inside the Horowitz Visual and Performing Arts Center's Studio Theatre through to the show's conclusion is quite an overwhelming one, that can take time to digest. But ultimately, Sweeney Todd is a dizzying, disquieting production that disturbs the comfortable and comforts the disturbed. Director Joseph W. Ritsch assails the audience from the onset with the enormous "TURPIN: MAKE LONDON GREAT AGAIN" sign; this is the guiding stimuli for how the actions of the show's characters and narratives are meant to compare to the currently controversial and insane political climate of our nation. Ritsch serves as the show's scenic designer, and rightfully so, readily extrapolating his vision to fruition by crafting his own set.
Ritsch makes extraordinary work of the quaint studio space; the grungy and grody decay of an impoverished city permeates the scenery, though tastefully and without excess. It's the attention to detail that makes the staging layout all the more impressive with Guy Fawkes posters and other little mementos of British counterculture sprinkled over the scenery. Ritsch doesn't faff about with an overloaded set, allowing his blocking of the actors to arrive fluidly in time with the music. Ritsch encourages a subtly immersive experience as well, tangentially inviting the audience into the world of Sweeney Todd by having various characters racing about through the audience. This generates a spine-tingling moment of thrills when the Sweeney character is loosed into the house like a rabid dog, all but frothing at the mouth when he attacks the opening of "Epiphany."
Working with just a three-piece live orchestra pit, Musical Director Stacey Antoine (on reeds with Ben Shaver on piano and Raphael Erfe on violin) delves further into the intimate experience of this Sweeney Todd production. While it's not exactly a tightly enclosed space, the studio is hardly a grand sweeping proscenium, and Ritsch's casting of just eight individuals to deliver the show in its entirety sets the tone, which Antoine follows with vim and vigor. Creating clean sounds that are at times intentionally muted, Antoine delivers the core of Sondheim's score without overplaying it. Having the score exist as aural support to the performers is a refreshing change to the more traditional approach that often blares through Sondheim musicals. The aforementioned eight creating riveting vocal performances under Antoine's sublime guidance, never once failing to deliver the fortitude one expects from a show that should demand a cast size far greater than the one presented.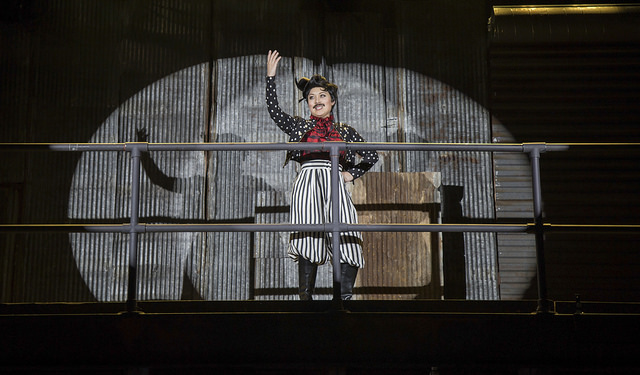 Costume Designer Sarah Cubbage elevates the modernity that Ritsch imbues to his vision of the production, taking it to the next level. While some of the features in Cubbage's design set lean toward the simpler side of things— Anthony's striped sailor top, Joanna's ordinary white dressing style gown— it's the work displayed on Mrs. Lovett and Judge Turpin that stand out the most. The Union Jack high-collared coat is a blatant representation of the totalitarian power of England that Turpin represents while the garish threads tramped out on Mrs. Lovett are more reminiscent of the rebellious London underbelly circa the 1980's. Not to be forgotten in this treasury of togs is the forceful leather look layered over The Beadle, giving him an authoritative feel even when he's only striding through a scene.
Eight voices swell together, swirling through the misty detritus that is Sondheim's almost atonal music, creating sublime sounds and blends, particularly during the varying incarnations of "The Ballad of Sweeney Todd." With such a condensed casting, it's no wonder that at least one of the performers doubles up with multiple characters (and while this is true of several characters, who serve as street people in numbers like "Pirelli's Miracle Elixir" and one actor who attempts to play all of Sweeney's victims during "Johanna". Justine Icy Moral takes on the three roles of Jonas Fogg, Pirelli, and the Beggar Woman. With shimmering showmanship and a splash of panache, Moral punches her way through "The Contest" with an outrageously overdone Italian accent. Her pitiable moaning wails as the Beggar Woman scratch harshly at the heart, especially when she's crying out for alms and later for the Beadle. Moral has an astonishing voice that is well-suited for her primary role as Beggar Woman.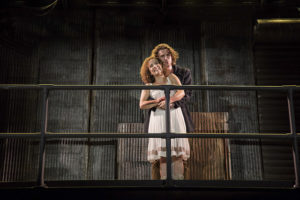 Ingénues Johanna (Suzanne Lane) and Anthony (Noah Israel) are a pair of polished lovebirds right from their meet-cute. Lane's chastely pure soprano sound sweeps with innocence and yet not ignorant naiveté through "Green Finch and Linnet Bird", creating an intriguing depth to the otherwise doe-eyed young character that is Johanna. Lane makes this number her character's plea to the world, desperately yearning to experience more beyond the walls of her captor. Israel possesses a similar depth, which he pours forth into the first rendition of "Johanna" as well as his interpretation of "Ah, Miss." When the pair meld into their duet, "Kiss Me" they drift with ease through all of the complexities that Sondheim has laid into the song whilst remaining true to the curious characters that they have created.
There is a raw ambition which burbles just beneath the surface of the Beadle (Benjamin Lurye), making him all the more dangerous despite his elegant and refined composure. Lurye is a vocal showboat in the back half of the production, seizing "Parlor Songs" as his opportunity to showcase his bravado and just a hint of his exquisite range. Lurye can be heard singing countertenor in several moments throughout the show, once again showcasing what his voice can do. The crispness with which he dispatches the Beadle, especially when it comes to dispensing with miscreants like Anthony, is unnerving.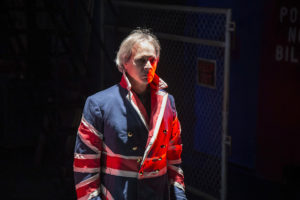 While the darkness of the Judge Turpin (Nigel Reed) at first creeps on with subtlety, the danger of his tyrannical and menacing presence is felt full force once Reed's character falls fully in step with the workings of the plot's progression. With a smooth voice that creates an unsavory film over the character, Reed sets your teeth on edge when he sets his advances toward Johanna. In his rendition of "Johanna (Deliver Me)", Reed delivers a delectably revolting character, seedy and vile, grasping at self-control as he vocally assails the character's demons in this number. Reed's voice does quite the number on "Pretty Women", a duet opposite Sweeney Todd, once again delivering unsettling shivers at how smarmy and secure he sounds in his societal placement.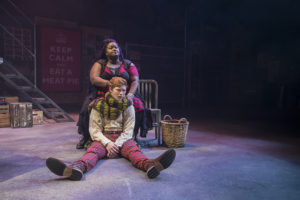 With a quirky bubble about his presence, Tobias (John Taos Foster) is eager to get his feet under him in the world of pie making. Foster has great enthusiasm for the role, sprightly bouncing about the stage and all through the house as songs require his character to do. What's more is Foster's passionate dedication to the songs he sings; when boisterously decrying his way through "God That's Good," he has you salivating, eager and desperate to try one of Mrs. Lovett's meat pies, despite full well knowing what's in them! With pluck and spunk, Foster turns the spirited Tobias on his ear during "Not While I'm Around", putting the character's ready and raging courage and defensive mechanics on display for Mrs. Lovett.
Quite the character, Mrs. Lovett (Jade Jones) presents a unique challenge for anyone tackling the character given the role's originator. But Jones does not let that interfere or even influence her approach, sticking firmly to the vein of modernity in which this production bleeds. Jones has pipes, punch, and personality, all of which make for an excellent construct inside Mrs. Lovett. She is unafraid of the jokes that get wrapped up in the character, particularly during "The Worst Pies in London" and during "A Little Priest." Toeing the balancing line of zany and fierce, Jones delivers equal parts humor and severity in the character, while keeping her modern in look, sound, and feel.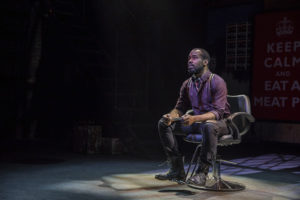 Hell hath no fury like the working class crushed by the privileged few at the top of the heap, and V. Savoy McIlwain demonstrates that soundly when tackling the titular role of Sweeney Todd. Aloof and detached yet vocally resonant, McIlwain is a monstrous master or perhaps a masterful monster when it comes to traversing the darkened path that Sweeney descends. With a hypnotically dangerous sound, the moment he opens his mouth to sing during "No Place Like London" there is a chill that creeps into the room and does not abate until the show's finally. McIlwain's vocal tenacity is second to none in the production and he is not afraid to put his voice out there in numbers like "My Friends" and "Epiphany", both of which elicit very strong, albeit strikingly different, emotional responses from both character and audience. McIlwain creates a compassionate hell demon in Sweeney; you simply can't take your eyes off of him whenever he's on stage.
Do as your told— attend the tale of Sweeney Todd…it's run is short, but I swear to God, it's not a performance that you'll want to miss, so listen close, 'cause I'm telling you this…it's Sweeney…it's Sweeney Todd…now appearing at Rep Stage.     
Running Time: Approximately 3 hours with one intermission
Sweeney Todd: The Demon Barber of Fleet Street plays through September 23, 2108 at Rep Stage in the Studio Theatre of the Horowitz Visual and Performing Arts Center on the campus of Howard Community College— 10901 Little Patuxent Parkway, in Columbia, MD. For tickets call the box office at 443-518-1500 or purchase them online.