Memory is a funny thing; how we remember and what we remember, though oft going hand in hand, are truly two separate details, neither of which can ever accurately portray the past. But is it the event that needs remembering or the way you felt as it was happening? Is it the people who need remembering or the way they smiled through the moment that you remember? Everyman Theatre takes a comfortable stroll down memory lane to open their 2018/2019 season with the Irish classic Dancing at Lughnasa by Brian Friel. Directed by Amber Paige McGinnis, this languid lope down the hazy path of yesteryore is a play in memory, feeling a bit like an Irish hybrid of Death of a Salesman and The Glass Menagerie, with elements of other iconic kitchen sink dramas thrown in for flavor. Heartwarming and ultimately nostalgic, Dancing at Lughnasa has a timeless feel to it, despite the very potent timestamp of August 1936 in County Donegal, Ireland.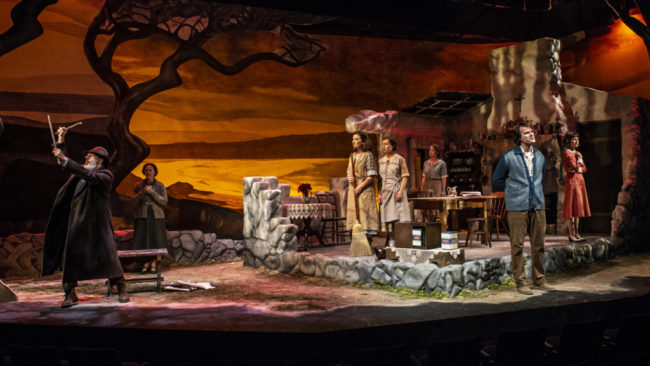 Memory is visual, first and foremost. Set Designer Yu-Hsuan Chen invites the audience into Michael's memory of that end of summer season in 1936 with his stunningly gorgeous set. The carefully hewn stone cottage seated just as the edge of the water is breathtaking in all its beauty. The chimney perpetually smokes, and Lighting Designer Jay Herzog's treatment of illumination across the backdrop creates disarming and picturesque moments of sunset and evening twilights. Chen creates a visual masterpiece for the drama; this aids in the fact that the play drags on in its natural pacing— a fault of its writing and style rather than its acting and direction. Chen's glorious set keeps the audience focused in the moment of time when the pacing drags and provides scenic relief when the play stretches on into what seems like an endless eternity. A nod of well-deserved praise should be placed in the direction of Properties Master Jillian Mathews for the impressive set decorations and the verisimilitude of that front-room cottage kitchen that results from her handiwork.  
The show's predominant problem, as mentioned, is its pacing, though again this has little if anything at all to do with Director Amber Paige McGinnis' approach to the production. Playwright Brian Friel has written a play in memory and there is just something about memory plays that seem to stretch out no matter how you deliver them. That said, McGinnis does a fine job of keeping the actors moving, even when the text and overall flow of piece gets stifled by Friel's literary and theatrical devices. The other issue that bares noting is the inconsistency of accents throughout the performance. Dialect coach Gary Logan misses the mark somewhat when it comes to achieving some of the various sounds, particularly the muddled hybrid of Welch-Irish heard on Gerry and whatever accent it is that the Kate character is attempting. As she is the staunch almost matriarchal figure of the performance, it comes as somewhat of a disappointment that her accent is the subtlest, and the one that falters in and out of existence most frequently.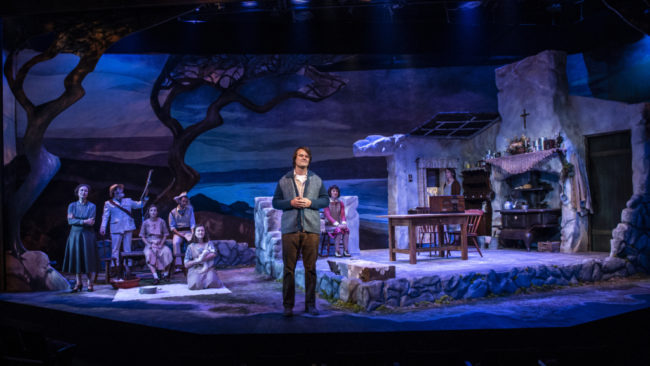 These rough points aside, the play is quite compelling, if you're able to wrap your mind around the fact that is going to slow in places because of the way it is written. Director Amber Paige McGinnis has selected a fine cast, especially resident company member Tim Getman as Michael. Friel has written the play in such a way that the Michael character serves as both narrative conduit and interactive individual, which is a tricky sticking point as Michael the narrator is a fully grown man (much the same as the actor) whilst Michael the interactive individual is but a boy of seven years old. Getman does a sublime job of shifting the intonation of his voice ever so slightly when responding to moments of his childhood as the "interactive individual Michael" creating just a hint of that juvenile orneriness without overwhelming his grown-up presence with petulance or brattyness. Getman is an enchanting narrator, drawing the audience readily back in time on his memory-journey, painting the picture in his mind's eye that his other cast mates then enact in vibrant real time.
As a matter of interest, Gerry (Danny Gavigan) may be but a meandering visitor as far as the plot is concerned, but Gavigan is no cameo feature to this production. As integral to the existence of Michael's memory as the five Mundy sisters, Gavigan's Gerry is a charmer— almost portrayed as if he's living out the description of an unreliable narrator. There is a charisma about him, even if his accent is slightly off. On the other hand, Father Jack (Bruce Randolph Nelson) exists almost in a world entirely apart from the life the five Mundy sisters are living. Nelson's portrayal is solid, endearing, and at times heartbreaking. Capturing the essence of a man whose life has been flipped inside out for reasons out of his comprehension and control, Nelson presents a raw vulnerability and earnest compassion in this man. He also delivers strong strokes of unintentional comedy, which help to elevate some of the play's darker moments.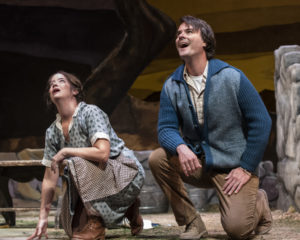 A bit of a riddle who never gives up, Maggie (Megan Anderson) is a proper spitfire character who holds her own against all the various and sundry tensions of the household. Anderson bristles with a lively nature, whether its teasing and taunting with the utmost love at little Michael or riling and ribbing the others as the situation calls for it. The gritty edginess of Anderson's Maggie is a refreshing breeze by comparison to the staunch and stodgy stiffness of Kate (Bari Hochwald.) Set firmly in her obdurate ways, Hochwald's Kate is a voice of unreasonable reason, often desperately grasping at the straws of her own convictions to keep sanity— both in her mind and in the house— flowing as merrily as the music waltzing out of Marconi.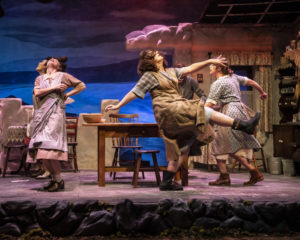 The remaining Mundy sisters— Agnes (Annie Grier), Rose (Labhaoise Magee), and Chris (Katie Kleiger)— fit like puzzle pieces into Michael's memory, with Kleiger's Chris existing as his mum and the other two existing more as observations rather than individuals. Magee's Rose is the peak of naiveté, gushing on about her backwoods lover whilst Grier's Agnes is more a mellowed voice of peace amid the quarrels that breakout between the sisters. Kleiger, whose primary interactions are witnessed with the Gerry character, merely exists in the memory— as all the sisters do— but Michael remembers his mother with less spirit than he does his rowdy Aunt Maggie and his strict Aunt Kate, so Kleiger's Chris exists simply; this serves the production's overview on memory well.
A truly heartwarming, albeit melancholy, experience, there is indeed dancing (big nod to dance captain Megan Anderson0 happening at the harvest festival time of 1936, even if it is all fondly retold from the memory of a young boy fully grown.        
Running Time: 2 hours and 30 minutes with one intermission
Dancing at Lughnasa plays through October 7, 2018 at Everyman Theatre— 315 W. Fayette Street in the Bromo Arts District of Baltimore, MD. For tickets call the box office at (410) 752-2208 or purchase them online.