Old MacDonald had a farm— wait— no…that's not quite right. Oh! I know! The MET Fun Company had a farm— E-I-E-I-O! And on this farm they had some cows! E-I-E-I-O! While there won't be any song quite like that one featured in Click, Clack, Moo: Cows That Type at the MET Fun Company production, rest assured there will be plenty of singing and dancing all throughout the production, which is geared toward younger audiences. Directed by Jeremy Myers, this wild farmhouse adventure, from the book by Doreen Cronin adapted to the stage by James E. Grote, with Music by George Howe and Lyrics by Grote & Howe, is sure to have audiences of all ages cheering along with Farmer Brown's cows as they go on strike to get better barn conditions!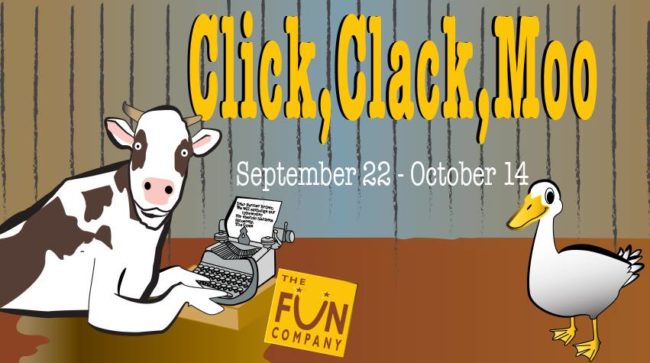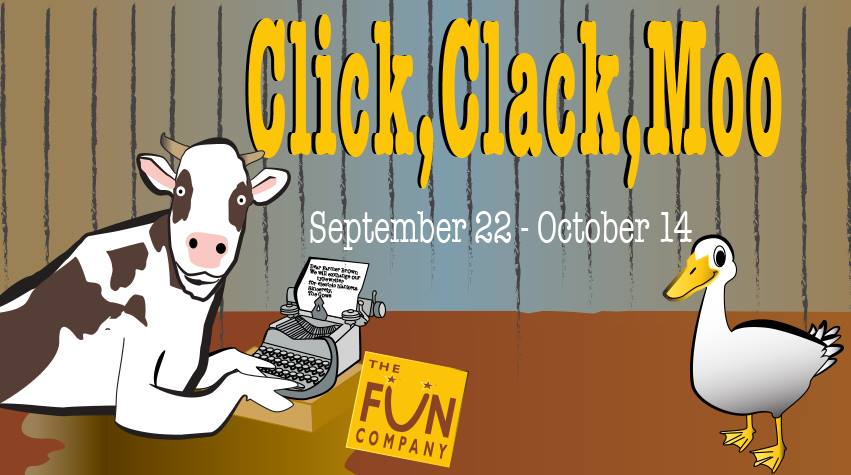 There is a disturbingly delightful reminiscence to George Orwell's Animal Farm in this production (for adults who know the story it's really more of a divine Easter egg of sorts.) But Click, Clack, Moo: Cows That Type is to Animal Farm as Shakespeare's Hamlet is to Disney's The Lion King. Much like the aforementioned Lion King, there is lively animal characters, singing, dancing, and great fun with an important lesson tucked away inside the magic of the tale. Director Jeremy Myers and Musical Director Thom Huenger gathers together a fantastical performance team as well as a marvelous creative team to bring the utmost joy and entertainment to the stage for young audiences of all ages.
Scenic Designer Kevin Cole has created a rustic, bucolic barnyard with that down home country charm to it, but has also put some nifty little Easter eggs into the set for children young at heart. O'er the barn door of Farmer Brown's barn hangs a large stuffed pigs head, a subtle nod to both Animal Farm and a text-line reference about Farmer Brown's farm not having any pigs. Cole's painted scenery has a cartoonish look and feel about it, creating a child-friendly set for the show. Costume Designer Stephanie Hyder supports this imaginative world tenfold with her extraordinary creations for these talking animals. It's hard to say whose costume is best as both cows look spot on, and Hen and Duck are practically birds of a feather. Hyder's innovative approach to making these animals look realistic without looking clownish really helps broaden the horizons of fun for this show.
The singing and dancing (by way of enthusiastically engaging choreographer Bailey Sterling) in the production is just too much for words. Everyone has a solo moment and several group numbers as well, all of which are engaging and compelling scenes and songs for the audience. Whether its Farmer Brown (the expressive Brian Irons) all but yodeling about the sounds of the morning or Hen (Surasree Das) clucking about her chills and her lack of understanding about where her eggs go, everyone's musical moments are quite entertaining. Das, whose scrappy young Hen character is constantly bucking heads with Cow 2 (Madeline Reinhold), really brings out the feisty nature of discontented barnyard animals. Lisa Burl's Cow 1 character serves as the sensible mediating force between Cow 2 and Hen, creating an almost maternal presence in the barn.
But stealing the show with his wiggling hips that you would swear are actually those of a duck as it waddles around and swims through the pond is Najee Banks in the role of Duck. Now Duck isn't just any old Duck but also the narrative figure of the story with a super cool remote control that helps translate what the farm animals are saying, pauses the story, and more. Banks' delivers a classical sounding narrative, a bit like an enthusiastic kiddy version of March of the Penguins. But his in-scene character is spunky and humorous, especially when he takes to singing and dancing.
Ultimately a great show for children, families, and really anyone who needs to be reminded of the simple joys in life, Click, Clack, Moo: Cows That Type has lots of fun for everyone.
Running Time: Approximately 65 minutes with no intermission
Click, Clack, Moo: Cows That Type plays through October 14, 2018 at The Maryland Ensemble Theatre's Fun Company in their Stage2 Performance Space in the Historic FSK Hotel building— 31 W. Patrick street in downtown historic Frederick, MD. For tickets call the box office at (301) 694-4744 or purchase them online.