Phoenix Festival Theatre at Harford Community College closes out their 2018 season with a fan-favorite show that had a short life on Broadway but has quickly become a modern classic staple of community and regional seasons, The Addams Family, directed by Liz Boyer-Hunnicutt and James Hunnicutt.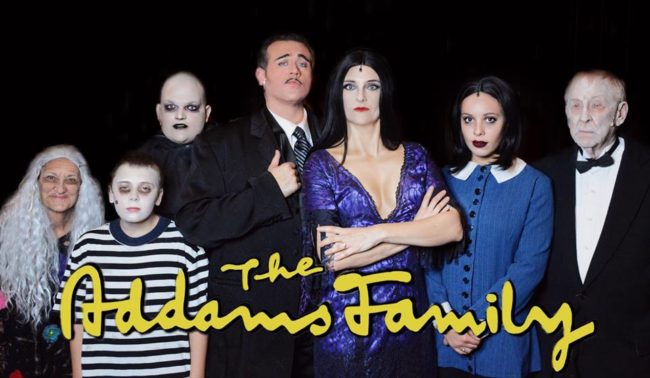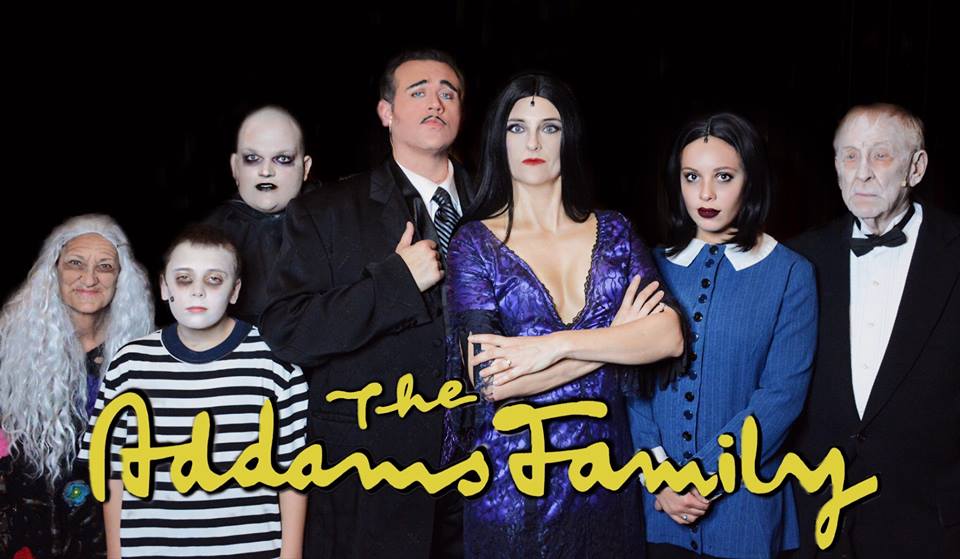 It's easy to see why New York critics reacted so harshly. Marshall Brickman and Rick Elice's book is ultimately unsure of what it wants to be. All over the place from gothic humor to borscht belt shtick to Afterschool Special melodrama, one can almost hear them in a production meeting thinking, "Holy cow, we have the rights to the Addams Family characters and Bebe Neuwirth and Nathan Lane attached to play them…now what?" Charles Addams' beloved franchise originated in 1938 as a satire of modern life, viewed through an unconventional family of characters where the macabre was the norm and the norm dull and mundane. With a rich 80-year history of Addams pop culture to draw upon (the original New Yorker comic panels, the classic 1960's television show, two major motion pictures, and numerous other pop-up appearances), apparently the best story they could come up with was the plot of Guess Who's Coming to Dinner?
In the unimaginative book, Wednesday Addams, now 18 (which also requires breaching the Addams lore wherein she is the youngest child), has fallen in love with— hold onto your seats— a normal Midwestern boy. Scheduling a family dinner to introduce the outlandish Addamses to his straight-laced parents sets up all the hijinks of… a very special episode of every 70's sitcom ever. Andrew Lippa's music and lyrics are serviceable with a few catchy songs scattered throughout, but then again, Brickman and Elice give him nothing either mysterious or spooky to work with. Realizing they fell very short of their aim, they did a massive rewrite for the national tour (the script that is now licensed here) and the result is at least more engaging, even if it is less Addams and more Family.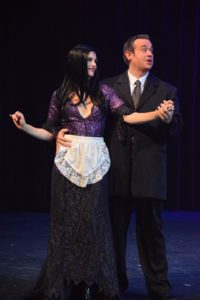 In the end, judging from the reaction of this evening's audience (and all others observed by this critic over numerous venues in eight years), none of that matters. As it turns out, the characters are so firmly rooted in our collective psyche and sensibilities that they carry themselves if the performances are loyal. Fortunately, the Hunnicutts have at their helm two incredibly savvy and capable actors who fully comprehend and embrace their personas with relish and total commitment. Tatiana Dalton and Dickie Mahoney are the quintessential Morticia and Gomez. Dalton is a delight with Morticia's deadpan delivery and slinky stride, and Mahoney a hilarious ham as her devoted husband Gomez. They both shine individually in their solo moments, she in the vaudevillian second act opener "Death is Just Around the Corner", and he in multiple bittersweet soliloquies that this Gomez delivers watching his daughter grow up. But their value multiplies exponentially when they share the stage together. With their perfectly paced banter (he sets her up, she dunks the punchline, like a ghoulish Stiller & Meara, or a preternatural Sonny & Cher) and their chemistry, real and intoxicating, their outstanding performances culminate in their final requisite "Tango de Amor" (one of the real, genuine Addams' touches of the evening). They are the perfect center of any Addams' universe built around them.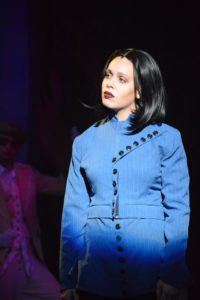 Rylynn Woods understands the comic anti-charm of princess of darkness Wednesday Addams. Most young (and under directed, so some credit must go to the Hunnicutts) actresses today want to only belt and emote histrionics in the role to show off their "range". Woods wisely avoids that trap and stays true to Wednesday's roots that her humor is in the juxtaposition of filtering her teenage emotional drama through her dark, deadpan, emotionless soul. While her words are teenage psyche run amok, her demeanor is paradoxically devoid of all affect. She is also a solid vocalist in her solo numbers, which are some of the better efforts in Lippa's lukewarm score.
Connor Moore as the loveable oddball Uncle Fester scores as de facto narrator and orchestrator in the evening's events, as well as intermittent comic diversion. Wacky yet charming, even when burdened with the absolute silliest moment of the show, a beyond absurd ode to his new love, the Moon (where's black widow Debbie Jellinsky when you need her?), he maintains a bizarre yet genuine and endearing presence. Rounding out the rest of the iconic clan, veteran comic actor Dave Guy elicits laughs along the periphery as zombiefied butler Lurch, Michelle Hosier is a new age hippie Grandma (not Grandmama, as she is billed in every other version of the Family, which makes one question how thoroughly the creators bothered to even dip into the Addams culture), and Kai Olsen mischevous as (now) younger son Puglsey.
Sorely missing from the evening are all the expected colorful fringe characters of the Addams universe, such as Morticia's pet Venus flytrap Cleopatra, beloved if unintelligible Cousin It, and (save for a pre-curtain cameo salute) disembodied hand Thing. In their places are…the Beinekes, Wednesday's beau Lucas (Drake Lupus) and his stereotypically Midwestern parents, overly sunny Alice (LaShelle Bray) and jaded Mal (Roger Schulman). Lupus is winsome as adorkable romantic interest Lucas (and has great hair which he somehow masters to enhance his performance). Whether puppyish in his devotion to Wednesday, stepping into his own light when bucking his parents' small-town views, or cowering under the grilling of his intimidating potential father-in-law, Lupus displays a variety of comic styles and wears them all comfortably and affably.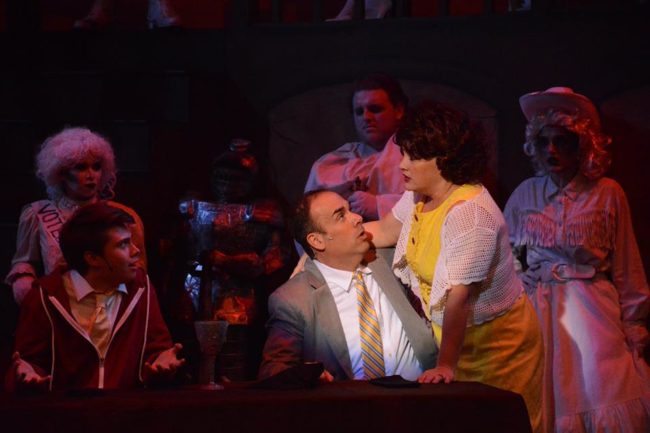 Schulman, an accomplished comic presence, also gets great mileage out of his stock overbearing dad character, yet evokes sympathy for him that is hidden deeply between the written lines. Fairing less well is the weakest written character in the show, mom Alice. Saddled with a dreadful plot device wherein she's so happy that she constantly speaks in rhyme (did that even sound funny on paper?), she is basically a walking yellow greeting card. Bray has very little to work with book-wise, with lines that come off as annoying as— well, a yellow greeting card. She is given one redeeming moment when she accidentally drinks Grandma(ma)'s truth serum and goes full-on Mrs. Johnson at the Harper Valley PTA during the first act finale, "Full Disclosure", the number that works best outside the established Addams confines. Unfortunately, by the time the curtain raises in act two, the potion is worn off and replaced by a hangover of regret and more misguided writing.
The undervalued treasure of the piece is the one inspired touch that the creators added to the musical. Having no other characters in the Addams' home save for Lurch (and the disposed of Thing and Cousin It) and minimal action outside of it, they conceived an ensemble cleverly comprised of the ghosts of Addams' ancestors past who are the most clever aspect of the entire show. The Phoenix ensemble is ever present as they help assist Wednesday in her quest for love (because Fester has locked them out of their graves unless they succeed), and they are impressive as both individuals and as a unit, without ever uttering a sound except in musical backup. A strong ensemble can sometimes walk off with this show, and this particular group is in contention.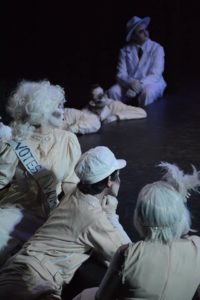 The Directors Hunnicutt coordinate a well-paced evening of one-liners and zingers. Set designer Diane Smith chooses a minimalist approach of a few moveable walls, a mobile staircase, and a few graveyard/park touches outside. But she teams up with strong lighting design by Thomas Gardner, who adds moody shadows and muted colorful touches to fill in her negative space. Employing mostly deep blues and rich violets, he not only adds mood and texture to the dark Addams' costumes and interior architecture, but makes the silent but ever-present ancestors in their ghastly pale finery pop. James Hunnicutt's double duty as choreographer provides pleasant results both in his alluring tango for Morticia and Gomez and his use of the well-cast ensemble of ancestors, and music director Julie Parrish gets great sound out of her strong soloists and solid chorus.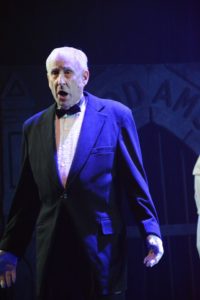 The most successful tech touch (and of course the most mandatory) are Dickie Mahoney's costumes. All the main characters are fleshed out in all their iconic glory, straight out of the black and white comics (with a few well-used touches of navy, indigo, and purple to add to the palette without taking away from it. They're all there— Pugsley's striped jersey and shorts, Fester's black inquisitor's robe, Grandmama's Witch Hazel raggery, Wednesday's teen version of her Turning of the Screw nursery school dress, and, of course, Morticia's critical classic cut-down-to-Hades, how-does-she-move-in-that-thing Vampirella gown. (Part of the success of Morticia's costume must however go to Dalton, who gamely fills the creation with some mystical combination of natural assets, gravity defying infrastructure, and profound confidence.) But he succeeds greatest with the solid choices for the ensemble— a virtual History of the World, Part 1 array from flapper to Native American Indian to French courtesan to conquistador to caveman— all in pale white to off-white contrast to the Addams' darkness, all clever, all in destressed detail, and all enhancing the characters his chorus of mimes elicit through them.
In retrospect, this review is negligible. All the weak points of the evening are inherent in the predictable and unoriginal script. But the Phoenix production is one of those instances where the sum of the parts elevates inferior material to higher ground. With strong comic performances, capable direction, and the powerful connection we all have to these characters, the evening is ultimately, as always, very enjoyable. The only recommendation you need to listen to is contained in the classic theme song: Get a witch's shawl on, a broomstick you can crawl on, and go and pay a call on The Addams Family. Now through September 30 at Harford Community College.
Running Time: Approximately 2 hours and 30 minutes with one intermission.
The Addams Family is a Phoenix Festival Theatre production, plays through September 30, 2018 at the Chesapeake Theatre on the Harford Community College Campus— 401 Thomas Run Road, in Bel Air, MD. For tickets call the box office at (443) 412-2217 or purchase them online.