They're creepy and they're kooky, mysterious and spooky – and in this case, they're altogether entertaining! The Addams Family (created by author Charles Addams,) a somewhat unusual clan who were introduced in a comic strip, segued into television in the 1960's and onto movie screens in the 1990's have now made their way onto the stage in musical form – and they are just as outrageous as ever. With a stellar cast and brilliant direction by Jonathan C. Jackson, the Tantallon Community Players are bringing highly-energized, Broadway-caliber performances of this 2010 comedy to the Harmony Hall Regional Center in Fort Washington, MD – and from the abundance of laughing, whistling, and cheering heard in the house on opening night, audiences aren't going to be able to get enough of the quirky tribe – or this phenomenal production.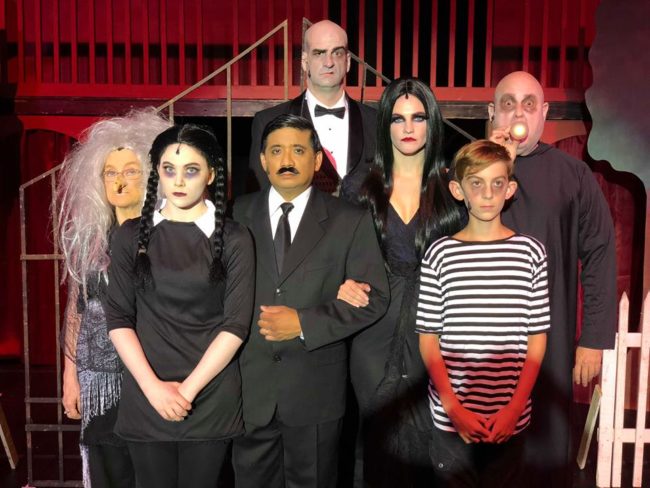 For those not familiar, the Addamses are like any other family… except… not. They prefer the shadier side of life – the more macabre and torturous the better. Smooth-talking Gomez and darkly-sexy Morticia are parents to "goth-before-goth-was-a-thing" daughter Wednesday – and her brother/victim, Pugsley; the odd-but-loveable Uncle Fester – Gomez's brother – also lives with them, as does apothecary Grandma (though no-one remembers if she is actually related to anyone in the house.) Lurch, their butler, is an ominous figure of few words – well, let's be honest, he mostly grunts. Cousin Itt, who resembles a mop wearing a hat and glasses, makes a cameo appearance. Then there's the disembodied hand, called simply, "Thing," who offers himself when needed (see what I did there?) Oh, yeah, there's also a group of ghostly Addams ancestors – visible to some, but not all – who lurk about the place randomly bursting into song and dance. Normally, everyone is perfectly unhappy with the status quo – and that is a good thing. However, on this particular occasion, Wednesday would like her family to be a little less like themselves. She's met a boy – a normal one – and she wants to marry him. But she's afraid that her family's… eccentricities, shall we say… might just scare Lucas and his family off. She wants the Addamses to act like "regular" people for once. The question is, are they really capable of that?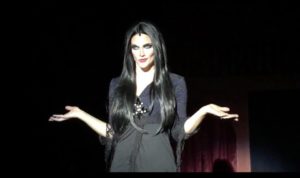 From the very first moment the cast explodes onto the stage singing, "When You're an Addams," it becomes clear you're in for a treat. The unbelievable spirit built up in the theater is palpable as you watch multiple generations of Addamses, both alive and undead, sing and dance to director Jackson's wonderfully fluid and sometimes amusingly familiar choreography (there *may* have been some "Thriller" moves thrown into the mix.) As patriarch Gomez Addams, Kieth Flores takes command of a role most famously played by John Astin in the television show and Raul Julia in the movies and easily makes it his own. It may be partially due to the excellent work of costumer Crystal Soul, multiple-hat-wearing Jackson's wig design, and/or skillful makeup application, but Flores – and truly, each member of the cast – looks like he was born to play his role. Patrick Boyer, in particular, could be the ancestor of Ted Cassidy, who played Lurch in the TV show.
Steve Dasbach is a very sweet and amiable Uncle Fester. When he announces that he's in love with the moon, you really want it to work out – even if she is a quarter of a million miles away (though he doesn't mind; he claims that's a good distance for romance.) Spunky Lani Novak takes on the role of Grandma Addams and makes it larger than life. The youngest member of the cast, Jackson Parlante, as Pugsley Addams, embodies the term, "good things come in small packages." Not only is he a wonderful actor, when he sings his solo, "What If," it will bring you to tears.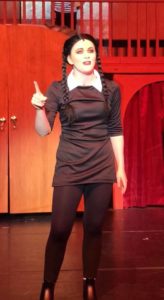 Being on stage with such flamboyant characters can make it difficult for actors with more subdued roles to stand out, but Will Hooper, Libby Dasbach and George Willis as Wednesday's betrothed and his mother and father, respectively, are to be commended for their fine work in that regard. Dasbach, especially, is hilarious when she accidentally drinks one of Grandma's potions and really lets her hair down. The talented Nina Jankowicz plays Morticia Adams to sultry perfection and has one of the best singing voices in the cast. However, the true standout in this production is Jayne Saxon Zirkle as Wednesday Addams. Not only does she give her role a lot of layers (which can be difficult to do with a somewhat one-sided character like Wednesday,) she has a killer singing voice – strong, clear and full of emotion. She honestly blew me away.
Every aspect of this production is well thought-out and brilliantly executed. There are a lot of small touches that make it special. For instance, at the very top of the show a (presumably battery-run) hand (the aforementioned Thing) rapidly and amusingly skitters across the stage, setting a whimsical tone for the rest of the evening. Lighting designer Levante Evans is to be commended for using spotlights as a masking device while sets are being changed in the background – and for making sure that each and every actor finds his or her light, even if the light has to find them.
So… what are you waiting for? Go see The Addams Family. What's the magic word, you ask? NOW.
Running Time: Approximately 2 hours and 30 minutes with one intermission
The Addams Family plays through September 30, 2018 with the Tantallon Community Players at The Harmony Hall Regional Center— 10701 Livingston Road in Fort Washington, MD. Tickets are available at the door or in advance online.