Ed Higgins, as Alan Turing says in one scene, "It's about right and wrong." How Do You Like Me Now Productions (HDYLMNP) understands this and gets it right again with Hugh Whitemore's Breaking the Code.  If there is one thing that we have learned about HDYLMNP throughout the years, it's that they will take an issue, put it in your face, and make you aware of something that you needed to be made aware. And they are right. Breaking the Code, directed by Jen Sizer, is yet another example of HDYLMNP getting it right.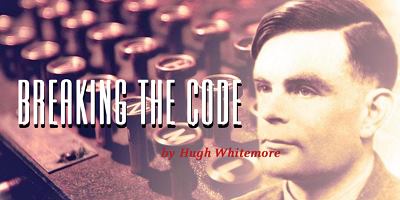 Many people were probably unaware of Alan Turing's existence until 2014 when Graham Moore's The Imitation Game was released on the big screen. The movie was loosely based on Turing's life but focused primarily on his work with the Government Code & Cypher School, where he broke the German Navy's "Enigma" code. Even though he was granted Fellowship of the Royal Society, awarded Most Excellent Order of the British Empire, and called the Father of the Computer, he rarely talked about.
While this production touches on his work, it takes a deeper look at his personal life. Where Producers Grant Myers, Ed Higgins and Director Sizer get it right is their understanding of an even greater accomplishment; Turing's breaking the code of society. They focus on the stigma of his homosexuality, his chemical castration, and the mistreatment by the very people who used him for his brilliant mind. The progress we have made is exciting. HDYLMNP adeptly brings to the stage the fact that in order to fully be excited by progress, we must first look closely into the abyss from which we came. Turing said, "I have had a dream indicating rather clearly that I am on the way to being hetero, though I don't accept it with much enthusiasm either awake or in the dreams."
Set Designer Patti Restivo takes full advantage of the space. Her split-level set adds depth and plays well, especially during the recounting of event between Turing (Higgins) and Detective Mick Ross (Michael Crook). It was clear that Set Dresser/Costumer Grant Myers did his research. Each room was decorated in period to perfection. I especially liked the marble top tables in Sara Turing's home. Aside from one character, the costumes were spot on. From Sara Turing's neutral suit to Pat Green's colors, from John Smith's dapper spook suit right down to Nikos' towel, everything was clever and brilliantly adorn. Pay attention to how momma Turing ages throughout the show. Scenic Painters Westly Bauman, Ann Pallanck and Amy Rudai polished up the set with their eye-popping artistry. Their ability to turn a flat into a home or office, right down to the outside garden seen through a window, is amazing.
The supporting cast of Michael Crook, Joe Arnett (Morcom, Miller, Nikos), Suzanne Young (Sara Turing), Jen Sizer, Todd Cunningham (Dillwyn Knox), and Kristin Miller (Pat Green) all have their moments. They know their roles and each shine when it is their time to shine. More important is their understanding of British theatre. Cunningham's stuffy, dry, self-centered portrayal of Turing's boss is believable. Take note as to how he fidgets and is more concerned with what amuses him during Turing's winded encounters with him. Miller is a breath of fresh air to this production. Aside from the lead, she has the toughest role in the show. Her adaptation of Green balances between an intellectual in a field dominated by men, and a soft feminine woman. She captures both sides of her character with perfection.
Young is everyone's mother, doting, loving, and overbearing. She was a helicopter mom before helicopters. All during the show she is hovering over Alan picking at his every decision, but God help you if you cast dispersions about her boy. I loved her ability to transition from prim and proper to a woman broken by the end of the show. She may have been down but not out. She defends her son to the end. Not to be over looked is the multi-talented Joe Arnett. Arnett is given the rare opportunity to take on three different roles in the same show, and he does it seamless ease. His young, schoolboy Morcom is a contrast to his brazen, Cockney Miller, and his Nikos is in a class by himself. Unless the man is from Ipsos, he should be commended on his Greek.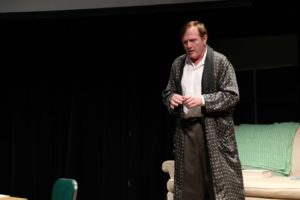 Without a doubt, the star of the show is Ed Higgins. From the moment the lights are brought up Higgins captures the audience and brings them directly into the world of Alan Turing. A world where we see not only the brilliance, but the struggles of the man. He makes you understand that people walk freely in a world today because of what Alan Turing had to endure. Higgins possesses a rare gift in being able to humanize tragedy. The ability to pour his soul into a character so much so that you leave the production a different person than who you were when you entered. I'm sure you've heard the expression "an emotional roller coaster"; Ed Higgins is the guy operating the ride. He will have you laughing, checking your id (as well as your ego and Super ego), examining your conscience, and running a gambit of emotions. Higgins embodies Turing so much so, that you'll be asking yourself, "How could this have happened?"
In Alan Turing's Britain homosexuality was illegal. In the UK today, it can be difficult to imagine a person being criminal convicted for their sexuality and ideas that homosexuality could be 'cured'. In 1952, Alan Turing was arrested for having an affair with a 19-year-old man. Following a conviction for gross indecency Turing lost his job with the secret service and was forced to undergo a chemical castration.
In 1954, Alan Turing took his own life.
In 1967, homosexuality was decriminalized in England and Wales.
In 2013, Alan Turing was granted a posthumous royal pardon for his conviction for gross indecency.
In 2014, same-sex marriage became legal in England and Wales.
In 2016, after decades of campaigning from the LGBT community, including Turing's family, the Government has announced that, in due course, thousands of gay and bisexual men convicted under the gross indecency laws are to be posthumously pardoned. This legislation is known as 'The Alan Turing Law'
Breaking the Code is not everyone's cup of tea. There are some dry patches but this has to do strictly with the writing and not the performance. That being said, it is something that everyone should experience, especially during Pride Month. All too often we look at an injustice and think how could that happen? It happens because we refuse to get involved and educate ourselves and other on the issue.
President Ronal Reagan once said about the Marine Corps, "Some people spend an entire lifetime wondering if they made a difference in the world. But, the Marines don't have that problem." Many theatre companies ask themselves, "Is what we are doing really making a difference?" The folks at HDYLMNP don't have that problem.
"What is needed is the ability to take ideas seriously and follow them through to their logical if upsetting conclusion." – Alan Turing
Running Time: 2 hours and 30 minutes with one intermission
Breaking the Code plays through June 17, 2018 with How Do You Like Me Now? Productions, the production component of Erase Hate Through Art at The Chesapeake Arts Center— 194 Hammonds Lane in Brooklyn Park, MD. Tickets may be purchased at the door or in advance online.