What happens when you combine beauty, love, poetry, song, and satire? You get Patience – an operetta poking fun at the European Aesthetic Movement of the late 19th century – written by the famous composing duo Gilbert and Sullivan. This witty production is now being performed at the F. Scott Fitzgerald Theatre in Rockville, MD by the Victorian Lyric Opera Company, directed by Felicity Ann Brown, with musical direction by Joseph Sorge.

Aestheticism was a fad that prized literature, fine arts, music and poetry above all else – specifically, the artistic value of these undertakings. The focus was always on intrinsic beauty, not on any deeper meaning – "Art for art's sake." The characters in Patience take this concept *very* seriously. When the show opens, a bevy of maidens bemoan that they are lovesick and – despite the fact that an army of eligible soldiers is in town – instead begin chasing after a man named Reginald Bunthorne, following him around like groupies going after a celebrity, simply because he is a poet – and not even a good one. However, we soon discover that Bunthorne isn't a really a poet at all. He is merely posing as an aesthete – for the sole purpose of getting that kind of attention. He is more interested in Patience, a dairy maid who has never known love – and likes it that way. She thinks that all of this love stuff is nonsense and wants no part of it – that is, until she is convinced by a friend that love is important because it is the one truly unselfish pursuit in the world. This leads Patience to start reminiscing about a young boy she once admired as a child. As if by magic, that same boy suddenly reappears in her life – one Archibald Grosvenor – now 15 years older, physically beautiful – and also (sigh) a poet. When they lay eyes upon one another, they instantly fall in love, but Patience soon realizes that since Grosvenor represents aesthetic perfection, loving him is a selfish act and is therefore all wrong. Therefore, she instead reluctantly commits herself to Bunthorne – whom she detests – because it is her duty to love unselfishly. The rest of the maidens happily go after Grosvenor in her place. What follows is a convoluted path to "true love" for Patience, Bunthorne, Grosvenor, and everyone else involved.
The caliber of talent in this production is enormous. The greek-like chorus of maidens harmonizes beautifully with the smooth sound of the orchestra. The choreography of the soldiers' cadences is fun to watch. The moments of humor are plentiful. However, certain cast members need to be called out for special mention. With a strong voice and an appropriately commanding presence, Jim Knost takes charge as Colonel Calverly. The lovely Katelyn Neumann has an angelic voice and simply shines as The Lady Angela. Genevieve Japinga and Rebecca Poyatt as The Lady Ella and The Lady Saphir, respectively, have beautiful voices, and when the two join with Ms. Neumann for their trios, it sends shivers down your spine. As Lady Jane, Denise Young really hits the mark. When she sings "Sad is that woman's lot," the tale of a woman getting older, it nearly breaks your heart. Rick DuPuy, as the foppish "Fleshly Poet," Reginald Bunthorne, brings just the right mix of melodrama and humor to his scenes – whether he is singing or speaking. The so-called curse of the character Archibald Grosvenor, the "Idyllic Poet," is that he is so physically beautiful that all women fall in love with him instantly. As such, Kevin Schellhase is perfectly cast. But besides his obviously stunning looks, Schellhase has an excellent singing voice and a wonderful presence on the stage. His chemistry with Robin Steitz's Patience is palpable. As Patience, Robin Steitz is a superstar. With spunky delivery and a singing voice that is beyond belief, she owns the stage whenever she is on it.
Aestheticism wasn't just about a love for the arts. It was an entire lifestyle that affected many aspects of how people carried themselves, including the way they dressed. Some people took their choice of attire to bizarre extremes. At the time Gilbert was writing the libretto for Patience, another playwright, Oscar Wilde, was trying to make a name for himself as an aesthete. He became strongly identified with the operetta and had a penchant for advocating the donning of knee breeches for men and Grecian costumes for women. This production nods to that history. The set looks like an homage to Greek tragedies, with its marble columns and rounded archways, a footbridge and lots of flowers draped everywhere. The ladies' costumes are flowy and very Grecian in appearance – in a variety of beautiful colors. Each woman wears a wreath of flowers on her head. The aesthetes dress in rich velvet knee breeches. Only Patience herself is dressed rather plainly, which works to differentiate her not only in class, but also in character. She is clearly different than the other maidens. One technical touch worth mentioning is the use of a small screen over the stage to project lyrics when characters are singing. Since Patience was written in the 1800s – and is all about poetry – the language is rich and flowery, which can potentially impede full understanding of what is happening at any given moment. However, with the use of captioning, the story is quite clear and adds a lot of enjoyment to what might otherwise be a confusing turn of events. Kudos for that decision.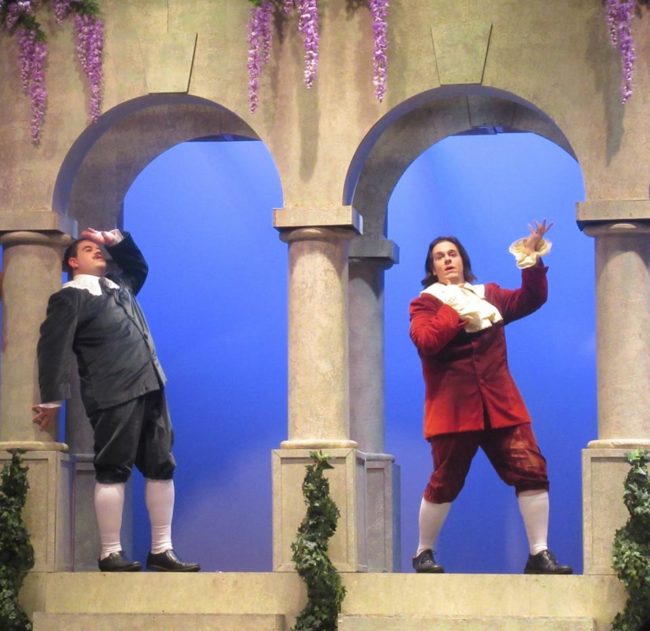 So, are you ready to put on your Grecian gowns and velvet knee breeches and come down to the F. Scott Fitzgerald Theatre? Because whether or not you are a fan of poetry – if you have a pulse, you'll fall in love with Patience. You'll leave with a smile on your face.
Running Time: Approximately 2 hours and 10 minutes with one intermission
Patience plays through June 17. 2018 with the Victorian Lyric Opera Company at the F. Scott Fitzgerald Theatre— 603 Edmonston Drive in Rockville, MD. Tickets can be purchased by calling the box office at 240-314-8690 or by purchasing them online.
Running Time: Approximately 2 hours with one 10-minute intermission. Patience plays through June 17, 2018 at the F Scott Fitzgerald Theatre — 603 Edmonston Drive, Rockville, MD. Ticket prices: $28 Adults, $24 Seniors (65+) $20 Students. Buy Tickets­