Territory folks should stick together! Territory folks should all be pals! The cowboys dance with the farmer's daughters; the farmers dance with the rancher's gals! Now I'd like to say a word 'bout Artistic Synergy…they set up in the church basement and that's fine! They do shows to make us smile, and they're dancing's real in style, and they're doing Oklahoma! by Rogers & Hammerstein! Oh— territory folks should stick together— territory folks should all be friends, Charm City folk go out to the the-ater and see what's playing this weekend!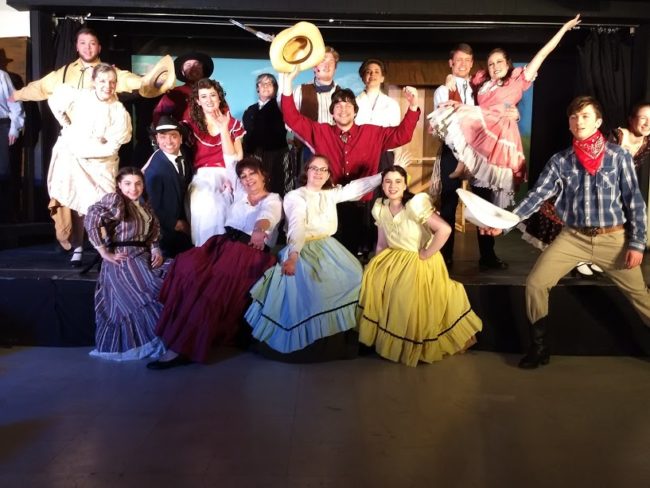 Yeehaw and a yippee-oh-a-yaaay. Artistic Synergy of Baltimore is doing that time-tried classic of Oklahoma! and it's a doozy! Directed by H. Ray Lawson with Musical Direction by Jeff Baker and Choreography by Suzy Zacker, this musical theatre chestnut will have you hoppin' in your surrey with the fringe on the top to hurry on over— not to the box social— but the Prince of Peace Lutheran Church in Rosedale to see what's a happening in the fine territory of Oklahoma!
They've gone about as far as they can go, the Oklahoma! creative team. With Suzanne Zacker on Set Design, Melissa Broy Fortson and Tracy Bittle Bird on Costumes, Daniel DeJong on Lighting and Bill Bisbee doing Sound, this fine flock of five gives all the quaint charm that a little production company could hope for when tackling the big farm steer that is Oklahoma! Zacker focuses on a charming bucolic background, setting Jud Fry's smokehouse off to the side, keeping it rustic and ugly to differentiate from the spring greenery on Laurie and Aunt Eller's farm. Daniel DeJong can't avoid the shadows with the venue's limited lighting ability but does create full washes of blue and red during the Dream Ballet sequence, intoning all of the correct emotions as the dance progresses from dream to nightmare. Bill Bisbee deserves high praise for his authentic tin-pot gunshot effect, which fires almost flawlessly every time a character cocks his pistol.
Tying the show's aesthetic together tighter than one of Will Parker's freshly roped cattle, Costume Designers Melissa Broy Fortson and Tracy Bittle Bird have a hankerin' for turn-of-the-century 1900's Claremore couture. While nothing is precisely period, the look is unified, and colorful, showing the true spirit of all those fine individuals living on the farm and the range in the great territory of Oklahoma. In particular the wedding dress featured at the end of the play— and we won't say on who— is lovely, and although again not period, it fits right into the overall aesthetic that these two women have fabricated. Also of note is Ali Akeem's exotic sapphire suit. Blended with his Stetson, which is accentuated with a glittery hat band, he looks every bit the slippery snake his salesman character is meant to be!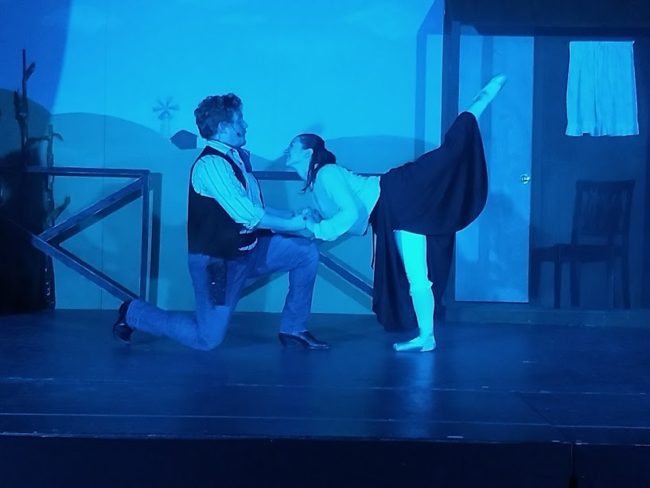 Doubling as the show's Choreographer, Zacker takes an impressive approach to the levity and overall high spirits featured in various dance routines. Rogers & Hammerstein musicals are known for the laborious dance breaks, lengthy dance numbers, and added dance-sections— like the "Dream Ballet" found at the end of the first act. Zacker keeps the choreography moving swiftly; with a smaller ensemble than is traditionally encountered with Oklahoma!, she's able to keep the stage from being too crowded. This ultimately results in a cleaner overall series of dances, particularly during the big box social scene, which is kicked off with "The Farmer and the Cowman." Zacker, who is a featured dancer alongside Joan Firestein and Jennifer Otero, displays her keen dancer's ability as 'Dream Laurie' during the aforementioned ballet. Other impressive boot-scooting numbers include "Kansas City" and the titular number.
Musical Director Jeff Baker has done an exceptional job with the cast to tackle some of the trickier moments in the Rogers & Hammerstein score. This is particularly true of the dual-blended harmonies at the end of "Poor Jud is Daid", featuring Curly and Jud Fry, and is especially clear with the male ensemble (featuring Michael DeNicolis, Mike Firestein, Kyle LaPosta, Bill Pheil, Seth Saunders, and Stanton Zacker) during "It's A Scandal! It's An Outrage!" and "Kansas City." The female harmonies are harder to blend, but Baker manages well enough, and the overall ensemble has a spirited sound and feel during the big group numbers.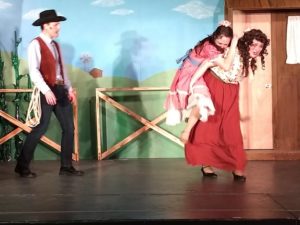 Stand-out performers include Jim Driver as Pa Andrew Carnes and Alex Clasing as Gertie Cummings. Both play caricature-type parts and both have moments that are delightful when it comes to comedic timing and delivery. Driver, whose stalwart shot-gun-barrel protection of his only daughter is edgy and hilarious, has a keen perception of when to push a line for comic effect versus when to let it fall naturally. Cummings, who affects a particularly annoying character laugh, is a great scene stealer when it comes to her flirtations with Curly.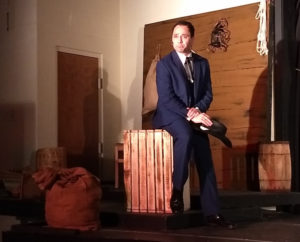 Charming, a little silly, and masterfully delivering the strained foreigner-esque accent, Lou Otero deftly crafts a slippery snake of a peddler man in his portrayal of Ali Akeem. Creating a conman with a sense of charm, Otero has a punchy smile, a plucky sense of comedic timing, and a delightful presence of mind when it comes to moving about the stage. Watch his facial expressions closely as he really gets a lot of the character's consternation vividly displayed front and central. His patter that leads into "It's A Scandal! It's An Outrage" is on point and filled with exasperation, driving and motivating the number soundly. Take note of his cutesy nod and homage to Disney as well, if you can catch it as Otero has hidden it quite subtly.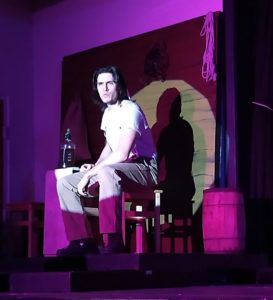 For every love story there's always a bad guy and in this one it happens to be Jud Fry (Josh Schoff.) While not the traditional curmudgeon with a roaring baritone-bass sound, Schoff makes this grotesquely misunderstood individual his own unique creation and the production is better served for it. Finding an emotional balance in his bouts of outburst, Schoff creates depth in Jud Fry, which makes his rendition of "Lonely Room"— sang in his unique tenor voice— particularly potent. His overall unsavory nature puts everyone ill at ease whenever Jud Fry is mentioned, let alone once he's on stage.
And for every bad guy or bad situation there's a voice of reason to help sort things out. In this case it just so happens to be the gun-toting, hard and brass as nails Aunt Eller (Donna Zubrowski.) With a firm handle on both her gun and her accent, Zubrowski is a force to contend with, whether she's auctioneering off all the picnic hampers at the back of the box social or finding out who in tarnation is making all that noise when the gunshots start going off. A real peace-keeper— because of unwavering readiness to draw her own pistol— Zubrowski's Aunt Eller will give 'em what fer, especially poor Cord Elam (Stanton Zacker) who oft times just don't know when to shut up! (Zacker plays the character wonderfully and gives Zubrowski a great deal to work with when she shuts him up towards the show's end.)
The comedic cute duo in Oklahoma! falls to Ado Annie (Kristin Miller) and Will Parker (Joe Weinhoffer.) The pair understand the dynamic rollercoaster nature of the way Ado Annie and Will Parker work. Everything from flirtations to fights and everything in-between just comes naturally to the pair, even if at times they aren't always pitch perfect. What Miller and Weinhoffer lack in pitch control they more than make up for with enthusiasm and a natural ability to maintain their mid-western and semi-southern accents while singing both in their solos and their duets.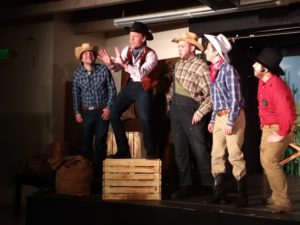 Weinhoffer struggles ever so slightly with some of the higher notes written into the Will Parker range, but that doesn't stop him from pushing full brass through each musical number and scene. With a convivial smile and a conventional cowboy spirit, Weinhoffer really puts an enthusiasm into his singing and dancing, especially once he's hot-footing it during "Kansas City." There is a believability to the way Weinhoffer plays the character that will give you the same big, goofy grin that Will Parker wears throughout most of the show, especially once he starts back-mouthing at Ado Annie during "All Er Nuthin'."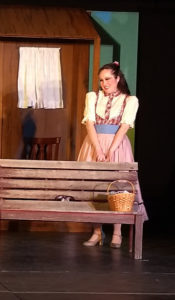 Miller, who struggles less with the character's range and more with pushing her belt into the upper notes, is equally footed against Weinhoffer and really captures the tenacity and panache of Ado Annie. She's flirtatious, fun, and fantastic at feeling out the sentiments of the character. Rolling her way through "I Cain't Say No", Miller sets the overall pacing and verve of both the character and her progressive interactions with not just Will Parker but Ali Akeem as well. She's silly and fun, and all-round impressive to watch.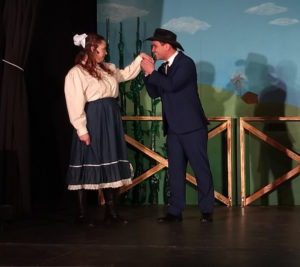 The stubborn gal of Claremore is well situated upon the shoulders of Mea Holloway; her Laurey is just sweeter than a midsummer night's perfume, except for when it comes to dealing with Curly McLain. Holloway is blessed with a superb voice, well accomplished and readily able to tackle the absurd score that Rogers & Hammerstein set forth for numbers like "People Will Say We're in Love" and "Many a New Day." Holloway's anti-flirtations and banter with Curly (Austin Barnes) is in-line with the way the character is traditionally played, feisty but not too fiery, earnest but not too edgy.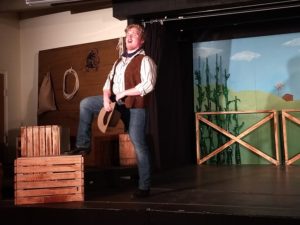 Austin Barnes has a voice as golden as the corn he's wailing away about in "Oh, What a Beautiful Mornin'." Smooth, full of pluck and charisma, but not so much as to be mixed up with that there peddler man, Barnes' Curly is a true diamond in the rough, a gem in the gulch, and a proper opal in the dustbowl of Oklahoma. His rich sound carries through each of his solo, duet, and group numbers, serving as a high benchmark for the quality of the show's talent. With a raw earthiness to his portrayal, Barnes addresses the gritty cowboy nature of Curly while tempering it with comedy and understanding.
It's indeed a beautiful morning to be hoppin' into your surrey with the fringe on the top and takin' it on over to Artistic Synergy of Baltimore to see Oklahoma! But it won't be too long before they make that territory a state and you won't want to miss out, so get on over and get them tickets real quick now!
Running Time: 2 hours and 30 minutes with one intermission
Oklahoma! plays through March 18, 2018 at Artistic Synergy in the basement of the Prince of Peace Lutheran Church— 8212 Philadelphia Road in Rosedale, MD. Tickets can be purchased by calling the box office at (410) 833-5181 or by purchasing them online.