It's a beautiful day for an anti-polio picnic! It's a beautiful day to get a polio shot! And if you're in for all that plus an insanely good production, well then at Silhouette Stage, you've come to the right spot! Watch your a$$ and do take care because there's talent lurking everywhere all throughout Silhouette Stage's production of Cry Baby: The Musical. Directed and Choreographed by Tommy Malek with Musical Direction by John Keister and Nathan Scavilla, this cult-classic movie-turned-musical is the perfect vaccination for the real world moody blues. Sad and miserable because the world is upside down and beyond reproach? The cure is here! In a convenient 2-hour shot of hysterical and exceptionally well-performed musical theatre, there is a cure for all that ails you!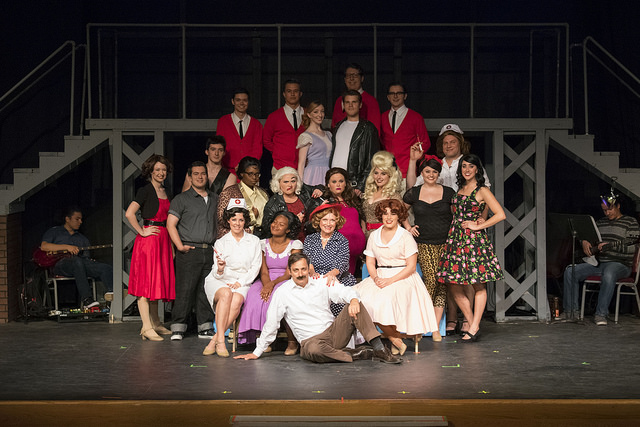 The set is simple, just some scaffolding and some clever placed roll on accessories, but Director Tommy Malek knows better than to hamper down a campy musical with intense set pieces. The ridiculous story and corny nature of the characters and the songs (with brilliant lyrics by Adam Schlesinger and David Javerbaum) lends themselves to simplicity. Allowing other creative design elements— like the Costumes coordinated by Clare Kneebone— to speak for the time stamp and location of the tale, Malek allows the story to be enjoyed, pendulously aligning that fine balance between honest comedy and campy absurdity.
Kneebone finds a snazzy and crisp aesthetic in her sartorial selection for the show, placing it undeniably in 1958 with a firm division between the cool cats and the squares. The dangerous edge of mischief is felt for those rebellious rogues, which Kneebone attires in leather and leopard print, versus the nerdy squares who are seen in proper 50's dresses and dorky red cardigans. Kneebone works with Malek, who in addition to Directing, Choreographing, and Set Designing for the production also pulled together the hair-hopped wigs for the performers, to craft the ultimate 50's look. As the story delivers a fine representation of all the iconic 1950's stock characters, so too does Kneebone's wardrobe choices and accessories.
Following suits of simplicity, though at times quite loudly, Sound Designer Alex Porter authenticates the campy experience for us with Air-Raid siren effects, among half a dozen other curious and questionable noises, all which augment the humorous and bizarre nature of the production. With a light touch, Christopher Fazzari finds a few moments where deep splashes of red illumination are necessary to emphasize an emotional point, but otherwise leaves the lighting to your standard musical theatre production. Bonus points for the cheesier than cheese-whiz moon when Cry Baby and Allison are sitting out on the dock for their insanely melotheatrical number "Girl, Can I Kiss You…?"
Fierce is the word you're going to want to have lying around when it comes to describing the choreograph that Tommy Malek has crafted for this production. Channeling the vibe and the feel of the heavy rock and doo-wop of the 50's. There's plenty of square moves, completely defining the nerdy characteristics of the good kids during "Anti-Polio Picnic" and of course anytime "The Whiffles" take to leaning around their microphone and box stepping through their squeaky-clean barbershop quartet routines, but the real punch and pizzazz comes during the bigger group numbers. "Watch Your Ass" is the first instance of these harder, edgier, and grittier dance moves, but it moves right along to the music with stunning levels of intensity that will knock your sock-hoppin' socks clean off!
This production is chockful of insane talent, everywhere from the ensemble— featuring Derek Anderson as the too cute for words Poster Child for Polio in the 'iron lung' at the top of the "Anti-Polio Picnic" number and Christopher Kabara, who plays a series of memorable bite-sized character men, but none quite so memorably as the outrageous and frighteningly apathetic 'Bazooka Lincoln'— right up to the leading principals. Richard Greenslit even gets to throw his name in the mix for playing the salty and unsavory Father Officer O'Brien, but more notably Judge Stone. Greenslit's character work is on point and absolutely hysterical.
In a show like Cry Baby there are characters aplenty. Dupree W. Dupree (Monique Cheryse Wilson) is just one of many, though Wilson is letting you feel all the heart and soul that she has to channel into the smooth-talking, laid-back, wannabe emcee character. Though the entire show is a mocked-up parody of the rebels versus the squares in 1950's wholesome life, there is something seriously soulful about the way Wilson approaches the music, whether it's "Jukebox Jamboree" or "Jailyard Jubilee." Wilson's character work is just one example of how perfectly Director Tommy Malek toes the line between honing in on the campy nature of the show and playing the show honestly for what feel-good vibrations and feelings that are present. This even spread of keeping the production honest to itself allows the really silly nature of the comedy to play through and entertain the audience without falling too heavily into the zone of farcical mockery.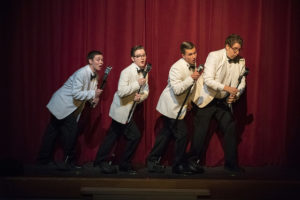 That's not to say there aren't characters totally worth mocking, and in this case that would be The Whiffles (Johnny Dunkerly, Jacob Hale, Jeff Miller) and their ultra-dork leader Baldwin Blandish (Matt Sorak.) This quaint quartet of super squares are so unhip they make narks look cool. With their delightfully obnoxious barbershop quartet style harmonizing for sickeningly sweet numbers like "Squeaky Clean" and "Thanks for the Nifty Country", it's so saccharine that you'll fall into a sugar induced coma while laughing at their hijinks. Fearless leader Matt Sorak, who amps up the annoyance factor of his character to the fault of wanting to punch him straight in the face, is a hysterical hoot, with his cornball ways and ultra-cheesy smile. Whenever he leads one of the Whiffle numbers it's a guaranteed laughing riot, but he really runs into hysterical territory when he falls in step to the duet "All In My Head" the insane number he shares with Lenora.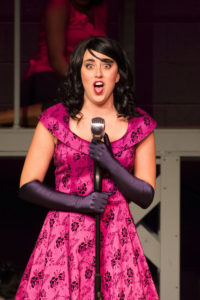 Loopier than the loop-de-loop at the county fair and with enough screws loose to properly shake up the nerves and rattle the brain, Lenora (Bailey Wolf) is a maniacal menace that is just marvelous. Wolf, whose animated facial features— in particular her lively eyeballs— are enough to scare even the bravest and sanest of men, goes to town with the character and really lets loose during "Screw Loose." Watching the moments when Wolf's character is trying intentionally not to blend into the background and masticating magnificently upon the scenery are some of the most uproarious fits of laughter you'll uncover during the evening. She's zany, cracked, slipped, and plain old nuts, with lots of flavorful enhancements to her particular variety of character crazy, in addition to having a great voice for both her solo and duet numbers.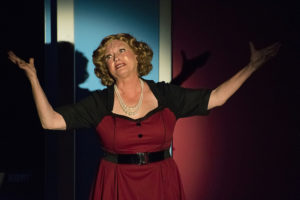 Subtly and tastefully understated until she just has to break out into a solo moment of her own, Mrs. Cordelia Vernon-Williams (Conni Ross) is another scene stealing hoot who masterfully embraces Malek's well-balanced direction and keeps the focus on the honest moments of her character's quirks. Delivering her zippy punchlines with well-seasoned comic timing and precision accuracy, Ross gets every laugh crafted into the character's words to land sublimely. Given a momentary solo, "Misery (Reprise)" we get a sampling of Ross' vocal capabilities, which later soar and shine through "I Did Something Wrong Once" which is delivered with finesse and fine-tuned to flaunt the humorous nature of the number while simultaneously sharing Ross' pristinely preserved singing voice.
Rolling into the homestretch of wicked ridiculous characters are the tawdry trio of tramps Wanda Woodward (Clare Kneebone), Mona "Hatchet-Face" Malnorowski (Parker Bailey Steven), and Pepper Walker (Amy E. Haynes.) Full of spunk, spirit, and all things seedy, this trifecta of triple-threat perfection is a tenacious and all-round perfect capture of talent in the vocal, movement, and character department. With Kneebone wearing one of Malek's iconic "definition of the era" wigs, she gets the most glamourous costume of the bunch identifying her as their little pack leader. Sassy, saucy, sexy, and downright striking when she delivers her solo segments of "Watch Your Ass" and "You Can't Beat The System", you best watch out because Kneebone is on fire like dynamite.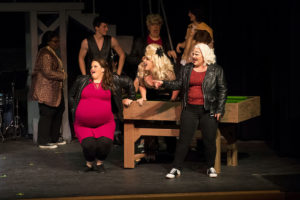 Steven and Haynes, with phenomenally powerful belttress voices and moves that shake the rock-n-roll world, go head to head with one another for who is more outrageous. Both of their characters are bombastically over-crafted stereotypes, which gives both performers the freedom to go off the far deep end with the way they deliver them. Steven, who really works the heinous make-up angle for the character, funnels full force to the notion that her character is ugly on the inside too. Haynes, who is loud and rowdy, really kicks things into high gear when it comes to acknowledging and working around the character's massive baby-bump. The pair, along with Kneebone, really take the hysterical and ridiculous aspects of their character to the next level, especially during "A Whole Lot Worse", doing so with such insane sincerity that you can't help but enjoy them.
There is a yearning and burning breaking out like herpes down at Turkey Point— the redneck Riviera of Bawlmer, hon! And it's blazing and conflagrating through Cry Baby (Michael Nugent) and Allison (Lindsey Litka.) With voices on fire from the moment they set eyes on one another, their voices marry, their spirits intertwine, and there's just no separating them. "Nobody Gets Me", "Girl, Can I Kiss You…?", and even "Misery" are just a small smattering of the numbers where their pristine voices are featured together, blending in bliss and bursting out full and loud to anyone nearby, desperate to express their unruly teenage hormone-driven love for one another.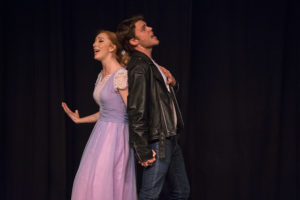 Nugent, who is a twisted and wicked sick amalgamation of Elvis, Danny Zucko, and every misunderstood rocking rebel without a cause from the 50's, has an incredible high-end tenor that just wails away some of those more inconceivable notes and with surprising tonal accuracy. Both his vocal sustain and emotional integrity when it comes to bursting out during these power ballads is stellar. There's a hearty dose of sincerity mixed with several spoons of corny camp into the way he croons his way through "Girl, Can I Kiss You…?". A vocal sensation who has a deep understanding of the ridiculously over-the-top nature of the comedy in his hands, Nugent is Cry Baby, even more so than the iconic Johnny Depp from the film.
Baby she sure does cry out whenever Cry Baby is around. Lindsey Litka has a powerhouse belt that's putting all the modern day divas of Broadway to shame. "I'm Infected" runs the highly feverish risk of being a throwaway silly song but Litka inoculates that nonsense early on but putting her sensational belt and fully-primed emotional cannon of a voice into play for that number as well as its reprise. Honest, earnest, open, and amazing, the way Litka tackles the character is remarkably in line with the balance Malek has created throughout the production, never falling too far into the campy comedy without maintaining a little puff of earnest emotional fortitude. Belting her face off and really nailing those higher notes, Litka owns her verses of "Nothing Bad" and "Baby, Baby Baby."
Malek and the Silhouette Stages team have a smashing success on their hands. Boldly embracing the under-produced cult classic, and elevating it to the next level of talent, the production is raunchy, racy, richly humorous, and all around a fantastic and fabulous night out. What more could you ask for from live entertainment than this perfectly glistening and glorious musical production right in Columbia's own backyard?
Running Time: 2 hours with one intermission
Cry Baby plays through October 29, 2017 at Silhouette Stages in the Slayton House Theater of Wilde Lake Village Center— 10400 Cross Fox Lane in Columbia, MD. For tickets call the box office at (410) 637-5289 or purchase them online.