Phone rings, door chimes, and in comes a charming and comical production of Company, Sondheim's musical comedy, presented by Just-Off Broadway in Baltimore! Company, one of the first successful Broadway musicals written about adult themes and relationships, was the winner of 1971 Tony Awards for Best Book, Best Score, Best Lyrics, and Best Musical. The themes of bachelorhood, marriage, and how to form and maintain relationships are enduringly relevant more than three decades later.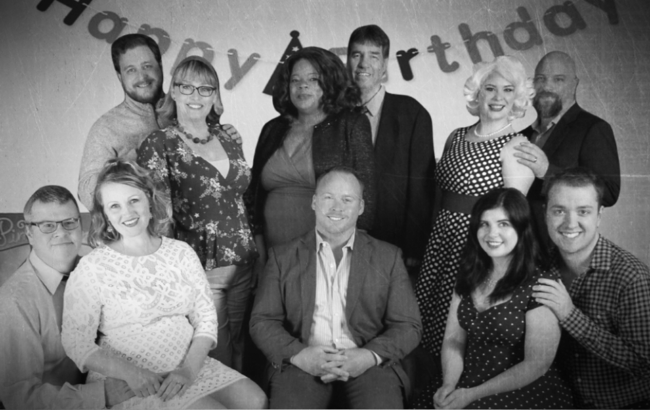 Company is a musical series of vignettes focused around Bobby, the perpetual bachelor in his mid-thirties, and his interactions with his married friends. It starts with Bobby's friends surprising him for his 35th birthday, and throughout the show they try to convince him that being married is the way to go while he shows time and time again that he is unable to commit and maintain a stable relationship. Just-Off Broadway, a smaller company currently located in the Epiphany Lutheran Church, presents a focused production that is filled to the brim with talent.
Director Jason Crawford Samios-Uy should be commended for his casting decisions; the thoughtfulness of his selections for these nuanced characters is evident as almost every actor is able to emphasize both their shortcomings and redeeming qualities at some point in the performance. Patty DeLisle's work as the production's Music Director and Pit Director should be celebrated. The performers, both individually and as an ensemble, sing vibrantly as they bring Sondheim's tricky melodies and complex harmonies alive. Sondheim's harmonies call for a true blend in the ensemble, and everyone does their part to balance the tones and unify their vowels to let them ring. The performers each hold their own vocally when singing solo as well!
The pit orchestra, containing of only piano (Patty Delisle), reeds (Darwin Ray), trombone (Harry Swartz), violin (India Palmer), and percussion (Chip Traub), is small but powerful, and the instrumentalists successfully showcase the different styles in Sondheim's score while sustaining and adding to the energy of the show. Jason Crawford Samios-Uy wears many hats in this production including: director, set designer, and sound designer. His set, while simple, is effective and efficient as it fills the needs of each scene while allowing the opportunity for seamless transitions. His sound design is also effective as the efficient use of carefully placed sound effects sets each new scene for the audience without a lot of visual changes.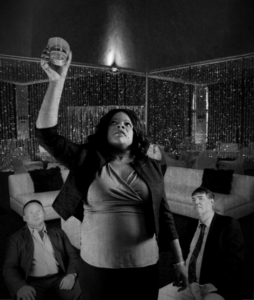 There are many strong individual performances from this talented cast, but Kay-Megan Washington's performance as the vivacious and feisty Joanne must be mentioned off the top for her strong character and powerful vocals from the opening number, "Company," until her show-stopper, "The Ladies Who Lunch." Washington's singing is effortless, and her humor and sass are piercing in every scene she shares with Bobby (Rob Wall) and her husband, Larry (Lee Knox.) The couple of Joanne and Larry is not the only distinct and succinct couple of friends that tries to tell Bobby their reasons for wanting him to get married throughout the show.
Sarah and Harry, played by Elton Knupp and Patrick Jay Golden, are the first married couple that Bobby shares an intimate scene with, and it is here where we start to see the first of many issues that each separate couple is dealing with. As both discuss curbing their vices with Bobby, they engage in a hilarious sparring match while Kay-Megan Washington sings "The Little Things You Do." It is in this song that three more members of the production team, fight choreographer Rob Oppel, and lighting designers Alex Powell and Kera Phillips, prominently display their contributions to this production. The lighting transitions throughout the show clearly delineate each scene, but the design is most-successful during this number where the lights shift multiple times from the sparring match to Joanne. Rob Oppel's fight choreography was effective and hysterical as Harry is flipped through the air with ease. Knupp and Golden are believable in their scenes, and their relationship feels genuine throughout the show. Knupp's vocals are on display during the song "Poor Baby" as she voices her concerns for Bobby, and Golden's tender voice is displayed during the song "Sorry – Grateful."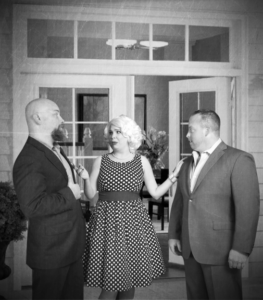 Megan Mostow, as Susan, gives a saucy and comic performance. Her strong acting talents are showcased in her scenes with her significant other, Peter (played by Chip Willett), and her fantastic vocals are on display throughout the performance (specifically in the song "Getting Married Today", where she narrates the wedding that SHOULD be taking place on stage.)  Mostow and Willett both effectively take Bobby and the audience on their emotional rollercoaster throughout the show while the couple grips with happiness both with and without the technicality and strain of their marriage.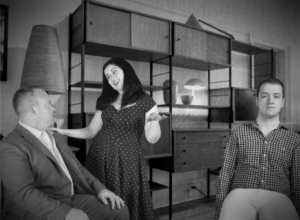 Bobby's friends Jenny and David, played by Kelly Carlson and Harper Craven, are the 'confessed squares' of the group. The scene they share with Bobby, however, shows the experimentation that takes place in a marriage in order to keep things new and fresh. The two continue the trend of expressing the desire for freedom while still inevitably trying to talk Bobby into settling down. The pair does a good job of establishing a sustaining relationship, and Carlson's singing is wonderful throughout the show (especially in the song "Poor Baby.") Tammy Oppel and Joey Hellman round out Bobby's friends as the abundantly-anxious Amy and perfectly-complacent Paul. Oppel is a scene-stealer with her hysterical and awkward mannerisms as Amy questions her lack of decisiveness that lead her to her wedding day with Paul. The juxtaposition of Oppel's hysterics on what is supposed to be the happiest day of her life is a memorable moment in this production.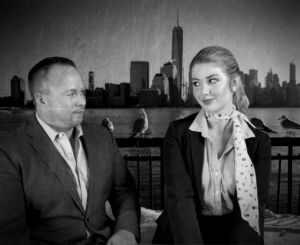 Bobby's three 'girlfriends' in the show, April, Kathy, and Marta offer the audience a view at a different side of our lead bachelor, and each give the audience a different woman to root for throughout the story. All three work well together as a group in songs like "You Could Drive A Person Crazy," and each performer holds their own as a singer and in scenes with Bobby. Grace O'Keefe's performance as April is genuine and powerful as she shares her desires and dreams with Bobby. Her singing is very strong in "Barcelona," where she and Bobby coyly discuss their thoughts on their relationship. Meghan Knight, as Kathy, does not have a singing solo, but her scene with Bobby is moving as she openly expresses strong emotions both for Bobby and her separate dreams. Sarah O'Hara's performance of Marta is strong throughout the show as she has the most unique personality from everyone else in the show. She displays her vocal talents and strong acting during "Another Hundred People" as she offers a contrast in character to her normally abrasive personality while she sings about the city that she has fallen in love with.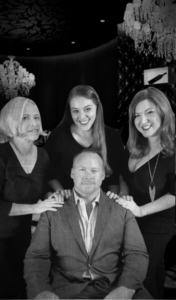 The show's small, but strong ensemble, also known as the "Vocal Minority" is comprised of Kate Forton, Tina James, Sarah Kreiger, and Suzanne Young. The four do a wonderful job when they are featured, and they only add to the vocal brilliance during group numbers as they blend well with the others in the show. Rob Wall, as Bobby, gives a straightforward and vocally effortless performance. Wall's voice is a perfect match for Sondheim's soaring melodies for Bobby, and he does not disappoint in both his performances of the memorable numbers "Marry Me A Little" and "Being Alive." He is actively engaged in each scene with his love-interests and friends, and he does a fine job of showing Bobby's resilience in his ways from start to finish of this show. He matches well with each, separate group of characters he shares the stage with.
Hats off to Jason Crawford Samios-Uy and Just-Off Broadway's focused production of Company for their strong, dramatic, and vocal individual performances!
Running Time: 2 hours with a 10-minute intermission
Company plays through October 22, 2017 with Just-Off Broadway in the Epiphany Lutheran Church— 4301 Raspe Avenue in Baltimore, MD. Show times are 8:00pm on Fridays and Saturdays and 3:00pm matinees on Sundays. You can purchase tickets at the door or in advance online.