Beware of thinking too much; enjoy the little things. Beware of missing your opportunity to see Vanya and Sonia and Masha and Spike; enjoy the little theatre in Silver Spring that's putting it on. Beware of Christopher Durang's deranged approach to Chekhov; enjoy The Highwood Theatre's interpretation of this edgy new dark comedy. Beware critics who spend too long opening their review; enjoy instead the actual production at The Highwood Theatre. Directed by Melissa Robinson, this professional production of Vanya and Sonia and Masha and Spike is well suited to those wishing for an afternoon or evening's intellectual comedy, and even more well suited to those having a fleeting or even an intimate knowledge of Chekhov. Though not required, so much more nuanced will the production seem if you understand or at least are culturally aware of Chekhov and his dreary dismal plays.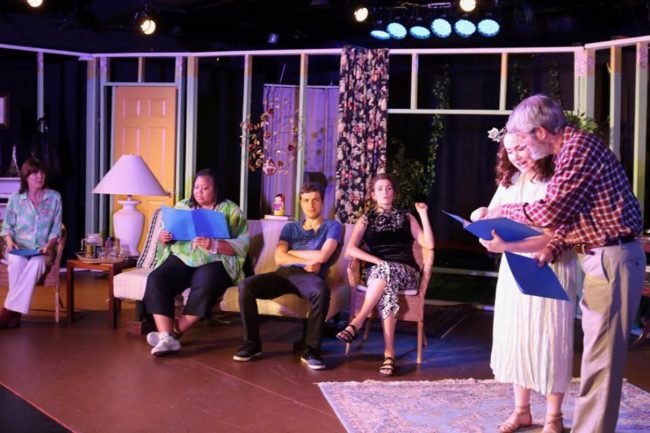 Set and Properties Designers— comprised of a trio of school students— Owen Gibson (9th grade), Fiona Lipczenko (5th grade), Nyahna Johnson (7th grade), put forth a quality effort when it comes to laying out the family home of Vanya, and Sonia, and Masha. The décor is tasteful and laced ever so subtly with Chekhovian references, like framed picture of the playwright himself and the little seagull tchotchke in addition to the Three Sisters Russian nesting dolls. Gibson, Lipczenko, and Johnson also created the quaint effect of having the set look thoroughly lived-in, with a half-finished puzzle on the table, among other carefully nuanced details. The overall layout of the space is a good one for this particular production giving the notion of the side door, the entrance that leads to other areas of the house and large morning room window where the various characters can watch the pond and the heron.
Lighting and Sound Designer Simon Ellerbe (6th grade), is on point with the illuminations and sound effects in this production. The blue light fading into a pre-dawn-ish sunrise light at the opening of the production is the perfect start to the performance. Ellerbe is selective with the sound effects used in the production, creating life-like sounds— like the chirping bird or the gravel-and-tire squeal for car arrivals in the driveway— which authenticate the reality in which these characters live, relating it to our own so that we as audience members can relate to their existence and subsequently their plight.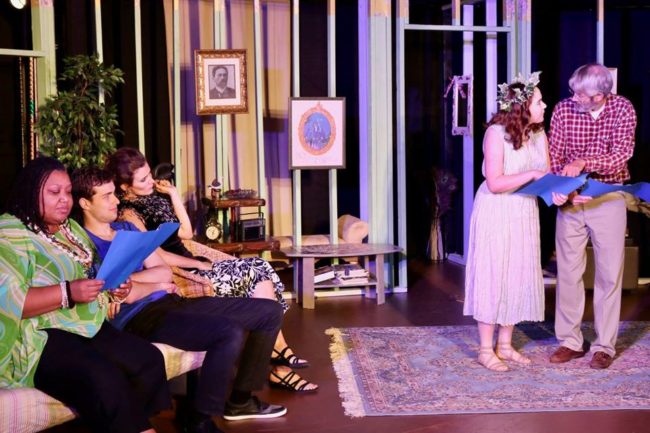 Resident Costume Designer Tip Letsche does an exceptional job of creating looks that best suit each of the character's dominant personalities. At first the drab and dreary clothing on Vanya and Sonia seem well fitted for they abysmally dismal lifestyles. But Letsche doesn't hold back when going for the glamourous aspects of Sonia's costume-party outfit. There's a serious flare of Hollywood and Diva that wafts into the home miles before Masha; this is displayed through a serious of posh couture pieces that are fitted to her prima donna lifestyle and absolutely give her the edginess needed to be a raging queen when it comes to throwing fits and tantrums like a true affluent toddler. Letsche works wonders on Nina's wardrobe as well, giving her the innocent exuberance of youth especially in her princess gown from K-Mart, which makes it especially difficult for elders like Masha to exist around.
The pacing of the show moves efficiently, though at times there are moments when the lines settle into a doldrums of sorts. This is mostly when Sonia and Vanya are in scene alone together, and again during the early start of Vanya's "we licked postage stamps" rant. These minor lulls aside, of which the first bout feels extremely intentional to set the mood and tone for their gray existence, Director Melissa Robinson does an exceptional job of keeping the actors moving through this intensely dark but equally humorous Durang piece. Robinson also encourages the actors to ground their performance in reality rather than play to the potential caricature nature of the characters, ultimately resulting in a strong and dedicated series of performance which tickle the senses and the mind with wit and humor.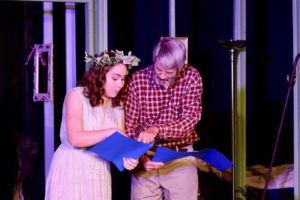 Amber James, as the sweet and innocently youthful or perhaps youthfully innocent Nina, is bright-eyed and exuberant, filled with the perils of star-struck naiveté when it comes to seeing Masha. Bouncy and bubbling with an indefatigably saccharine outlook, her portrayal of the character helps to readily mask that the actress playing Masha isn't really old enough looking for the role. It also makes a vibrant and hopeful contrast to the dreary and miserable Vanya and Sonia.
Paired in polar opposite to the sweetly dispositioned Nina is Kecia Campbell as the bombastic and boisterous Cassandra. Full of a different sort of bubbling energy, Campbell is a hoot (but thankfully not Hootie Pie) and really earns all of her laughs in this production. She's a real scream when she gets carried away doing the "don't throw your loved ones on the trash pile" juju dance. Her comedic timing is sharp and well suited for the role of comedic relief, and once she starts playing around in the second act, it gets even funnier.
Spike is the eye-candy character and Thomas Shuman fits the physical bill for the role. There are moments in his initial arrival as the character where he almost sounds and feels a bit too intelligent to be playing such a boneheaded and ham-juiced part, but he quickly overcomes these moments when he starts in on his "reverse strip-tease" and carries on with his millennial attitudes late in the second act. He serves the role as its meant to, annoying and stringing up Masha, riling up and firing up Vanya, and ultimately serving as a device to push the final throes of the plot forward.
Richard Fiske, as Vanya, plays the part well, save for a few quick fumbles and stumbles of line, which are easily forgivable because of how dedicated and committed he is to the character. Though his "we licked postage stamps" rant gets off to a sluggish start, he more than makes up for it by the time he's midway through and the loaded vent that he ends up unleashing is well worth the dodgy start. There is a conviviality to the way he approaches the character's sexuality, subtly yet in earnest. When he tries to keep the peace between Masha and Sonia, there is something amusing and yet unsettling about the way he manages to do so.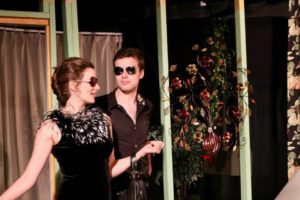 Masha (Rachel Varley) and Sonia (Margaret Condon) go toe to toe in the production for who can garner more attention. Though Varley is a bit young-looking for the role, she holds her own and almost makes her youthful looks a part of the character's desperation to not be entering her dotage. (The character of Masha is meant to be in her 50's and Varley just barely passes for mid-30's which is a brutal contrast against Vanya and Sonia who are meant to be mid 50's or older and have been made to look roughly that age.) Varley's ferocious approach to the self-obsessed attitude of Masha works flawlessly within the confines of the character and her larger than life persona is well-contained within the strictures of reality so as not to border into the absurdly caricature nature that this type of character can lend itself to.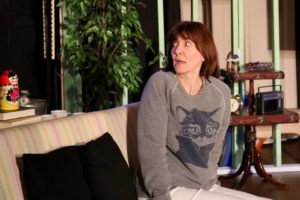 Condon, as the mopey dope Sonia, is stellar in the role. Miserable, full of self-pity, and yet wildly possessed of a willful spirit— even if the character doesn't understand how to access this willfulness— Condon is delightfully aware and uses this to motivate the character forward. Her interaction with everyone— but especially Vanya and Masha— are exceptional. When she puts on her Maggie Smith airs, there is something wildly entertaining about it. But the true shining moment for Condon is the solo phone call she takes in the second act, convincingly portraying an active phone conversation with an unseen character.
It's a true delight to have a company so thoroughly understand the humors of Chekhov and Durang and execute them so well, so beware of missing this rare opportunity and get your tickets before the show closes on the 29th of October.
Running Time: 2 hours and 20 minutes with one intermission
Vanya and Sonia and Masha and Spike plays through October 29, 2017 with The Highwood Theatre— 914 Silver Spring Avenue in Silver Spring, MD. For tickets call the box office at 301-587-0697 or purchase them online.