Does everyone remember a couple of weeks ago when we had that total eclipse of the sun?
Well, I was walking in the wholesale theatre district that day— Da-doo! And I passed by this old place where I sometimes see theatre— Harmony Hall Regional Center-doo! And they sometimes host Tantallon Community Players, good-theatre-doo! And I noticed that they had this strange show happening— good for you! A musical! And something about feeding the plants— nope-de-doo! And I was just about to pop in and see what it was about when there was a—
TOTAL ECLIPSE OF THE SUN!
And when the lights came back on there was this show poster shining at me, show-doo!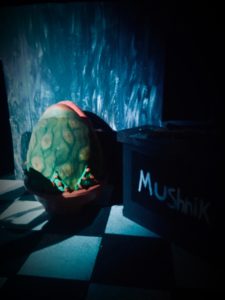 And it said, Little Shop of Horrors now appearing at Tantallon Community Players! Directed and Choreographed by Jonathan Jackson with Musical Direction by Matthew Jacob Dohm and Paul Rossen, da-doo! So I figured, what could be the harm in popping in to see it? Show-da-doo!
With Paul Rossen conducting the live orchestra, there is an extra zesty flavor of music happening on the scene. This is useful for authenticating the feel of the show, though at times, despite Rossen's best efforts (and the pit being completely masked backstage), the underwhelming and glitch-filled sound and microphone system of Harmony Hall Regional Center really gives the cast some auditory issues. There are great moments, mostly when Seymour is busy trying to belt his heart out or address his crisis of conscience, where the faulty mics create a noticeable disparity between vocal sound and orchestral sound, resulting in the live pit drowning out the performance. This is the show's only major flaw, and short of finding another venue with a more fluidly functioning sound and mic system, there's little to be done for it other than acknowledge how it robs the performers of their excellence in critical moments.
Wearing many hats—  including a revolting New York Yankees' ball-cap as Seymour, Director and Choreographer Jonathan Jackson really gets the vibe of the show up and pumping with that 60's doo-wop feeling. This is most evident in his use of shuffle-step and mega-arm-gesture choreography featured on the trio of Urchins, Chiffon (Maecy Richardson), Crystal (Brittany Caldwell) and Ronnette (Andrea Gerald.) Whether it's the opening number, "Little Shop of Horrors", which features the trio shuffling, twisting, and hip-popping with robust pizzazz directly out in front of the graffiti-strewn Skid Row fencing, or "Da-Doo" where a similar aesthetical series of moves is featured, Jackson makes the most of this highly stylized dance era and really connects with the beat and the camp of the music in his dance routines.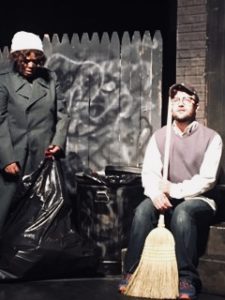 Richardson, Caldwell, and Gerald all have their moments in the limelight, with Gerald as leader of the Urchins Ronnette settling heartily into "Ya Never Know" when the Urchins lead the way through that number. Both Caldwell, as the chipper Crystal and Richardson, as the saucy Chiffon, make their voices heard and felt throughout the piece as well, popping up as stellar vocal harmonists and providing delightful backup during "Dentist!" and "Suddenly, Seymour!" Their combined trio rendition of "The Meek Shall Inherit" is an excellent display of what Musical Director Matthew Jacob Dohm has done to pull the small cast together into a unified sound. And watch closely as the trio performs during "Dentist!"; they imitate the "speak no evil, hear no evil, see no evil" in a blink of a gesture routine but it's priceless.
Richardson, Caldwell, and Gerald provide exceptional backup throughout the performance, always on the periphery, watching what's happening, like during "Mushnik and Son", and other scenes featuring Mushnik (Kenneth Cline.) The grumbly paternal character, portrayed by Cline, owns the derelict floral shop on Skid Row, which is made to look thoroughly neglected by Set Designer Chad Cox, Jonathan Jackson, and Alyssa Rowland. Cox, Jackson, and Rowland do a fine job of filthifying Skid Row, with everything from graffiti on the fences and tin-ally siding to the busted up wooden board posts seen on the truncated stretches of fence. This matches well the simple approach to the show's costumes, designed by Libby Dasbach. Playing up the stereotypes of the era, Dasbach keeps things ordinary, nothing outlandish, and this helps the performers to shine as they are in their roles. A special nod goes out to Wig Designer Jayson Kueberth for the atrociously blonde and ratted nest that perches on top of Audrey's head; it is perfectly suited for the level of camp achieved in the show.
Audrey (Natasja Handy), the little bubbleheaded dip, is as the script extolls her to be. Handy takes the role of the blonde blank-brained bimbo well in hand and does the caricature style portrayal a good justice. With a squeaky nasal New York doll affectation on her voice, Handy plays up the nonsense that goes along with Audrey's character— in opposition with both Orin and Seymour respectively— to simpering perfection. Her "Somewhere That's Green" is lovely, the sweet simple song working well for the sweet, simple character.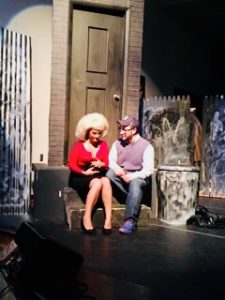 A man of many faces, Mark Allen puts his skills to the test in the back-end the production, playing no fewer than four different "everyman" type characters, each with a slightly different look and feel to them. His high-strung falsetto singing as Mrs. Luce during "The Meek Shall Inherit" is a scream, but not nearly as scream-and-praiseworthy as his portrayal of Orin Scrivello D.D.S.! Maniacal and frightening and just a touch off-kilter, Allen's demented dentist is the stuff nightmares are made of, especially when he struts and shouts his way through "Dentist!" But the most terrifying thing about his cock-of-the-walk performance is the disturbing laughter that cackles its way all through "Now (It's Just the Gas)" going up against poor Seymour (Jonathan Jackson)'s urgent and frantic pattering.
Jackson, in addition to everything else he's done for the production, shoulders the burden of playing Seymour, and achieves success as one of the most adorkable renditions of Seymour crafted in recent history. Not quite so dumb as Audrey, but none too confident like Orin, Jackson finds an honest balance between the two and really gets into the moments where his mind and soul argue and differ. Full of gusto, particularly for "Suddenly, Seymour", Jackson really alights on the production with a contagious energy that is more infectious than the Audrey II.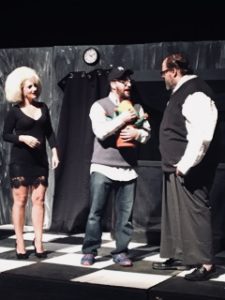 Stealing the show in an unseen combo of performances, Corisa Myers and Jamie Hamilton— the respective voice and physical manipulator of Audrey II— really put that spooky B-grade quality horrifying thrill into the production. Hamilton's movements make the larger-than-life Audrey II look realistic, and quite frightening, especially when it comes to digestion! But it's Myers' voice that really seals the deal. A hearty and smooth sound— most unusual to have a woman in the role— she snacks on songs like she's starving. Myers nails "Get It" as well as "Suppertime" and its reprise with an edgy panache that really send shivers up the spine. Look out! Look Out! LOOK OUT!
If you're not convinced by now, shame-on-you! You've just got to take our word for it, trust-us-too! And go see this production of Little Shop of Horrors, show-for-you! Da-doo! (Don't feed the plants!)
Running Time: 2 hours with one intermission
Little Shop of Horrors plays through October 1, 2017 at Tantallon Community Players in residence at the Harmony Hall Regional Center at 10701 Livingston Road in Fort Washington, MD. For tickets please call (301) 203-6070 or purchase them online.