As foretold by The Argus, in Chapter 9, Section Beta, Paragraph Crimson, Sub-paragraph Python, Verse #69— all denizens of Baltimore will report to the Zion Lutheran Chruch between the dates of NOW and October 8, 2017* to experience The Terrible Secret of Lunastus! Not even the forces that be can stop The Baltimore Rock Opera Society from getting a show up and produced this year! Revitalizing, resurging, and remounting the 2011 production of The Terrible Secret of Lunastus, with Music, Book, and Lyrics collaboratively created by Chuck Green, Erica Patoka, and John de Campos— featuring house band Magnetaur— this rock opera original appears on the stage six years later under the direction of Chuck Green. Can earth be saved? Will the fate of humanity rest squarely on the shoulders of a quartet of lost-in-space travelers and a really hilarious android? The only question that the BROS have ever truly wanted an answer to, though, is— ARE YOU READY TO ROCK???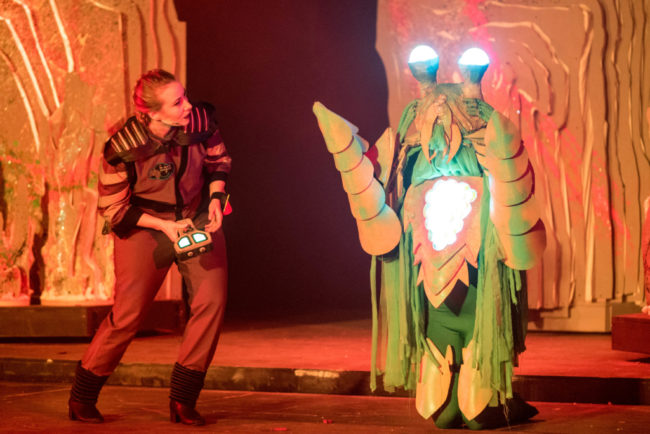 Bringing full BROS' force creation to a head, the assembly and design teams are too numerous to mention by name, but it must be said that the amount of sheer spectacle and creativity showcased with great consistency throughout the production is astonishing and mind-blowing. Some of the wildly ingenious things that are created— puppets, lasers, projections, and alien costumes just to name a few— truly defy the most imaginative descriptions, making The Terrible Secret of Lunastus a truly unique and remarkable experience. Where one even starts when it comes to describing all of the wild and unfathomable excellences that accompany this production, is hard to say, but we'll start in the realm of the practical and go for the aesthetic.
Co-Set Designers Joey "Twoplaids" Martin and Michael Vincent Bull (accompanied by a team of a dozen plus two assistants) really transform the sanctuary hall of Zion Lutheran Church into a Sci-Fi Fantasy Planet. The brilliance of their scenic design is that it's readily mobile; the interior of the spaceship wheels quickly around to double up as the extraterrestrial surface of Lunastus and later as the caves of the Abzug, all of which are augmented by Lighting Dragon Chris Allen's use of UV and black-glow lighting. Martin, Bull, and Allen work to make the sets and lighting effects look authentic— part of the rock cave wall even pulsates in time with the more intense rocker ballads. Eric Church supplements some of the light work with his L.A.S.E.R. design work as well, making it a truly out of this world experience when it comes to how well things are executed, from an aesthetic standpoint.
The aesthetical genius doesn't terminate with scenery and lighting, however. Costume Designers Jacob Dillow and Kat Zotti— taking on the Abzug and human costume designs respectively— work with assistant Heather Goodman and a team of over a dozen costumers to really create an inter-galactic sartorial selection. The pictures don't begin to do it justice when it comes to the zany appearance of these Abzug alien race outfits. These are further enhanced by Wigs, Hair, and Makeup Designer Bambi Galore, their assistant Spencer Hall, and a team of just shy of a dozen other individuals carefully crafting the unique and stunning look for all members of the cast. And let's not forget Android, who has its own unique Costume Designer— Sam Grossman— and a 5-person support team to make the fully functioning metal-moving-light-up-eyeballs robot suit a total and complete reality. Next to Android— excepting those wicked sick Nog Trees (designed by Katelynn Zimmerman) there is nothing quite so insanely awesome in the production when it comes to design work. Well, unless you count the raging and masterfully ferocious Mama Nog (designed by Michael E. Bull with support from Debi Bull.)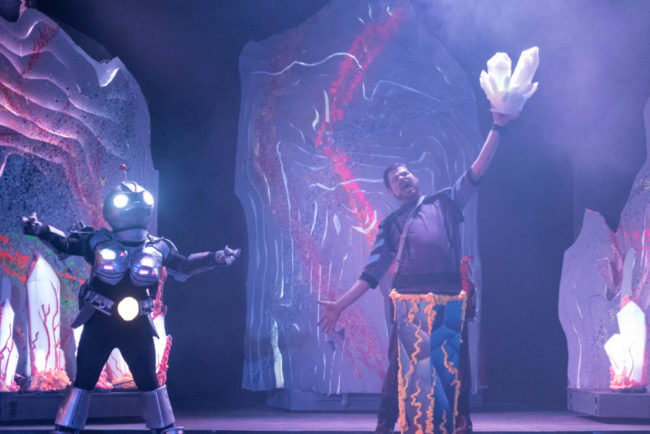 Mama Nog, is a massive show-stopping, show-ending ferocious beast (that looks a lot like Yivo from Futurama…) that really does a number on the show's finale. The Michael E. and Debi Bull have outdone themselves with how intense a creation this creature truly is. Meg Peterson and the Puppets Team— Ted Alsedek, Carly Dean, Kamau Fahie— are extremely tuned into the vibe of the show, especially when it comes to creating those freaky jellypus-octobat-fish-floaty creatures that swoop about all through the Abzug caves. With far too many impressive people to praise— like Properties Mistress Kate Smith-Morse and her assistants and team that go almost 3 dozen people deep, or LIT Designer Alan Schnittman and his support team of a dozen— it's simpler to just say listen to The Argus and go see the rocking show!
It wouldn't be a proper Rock Opera without some dancing, and if you want a dance experience that is ultimately out of this world— you're in for one when it comes to the "Nog Dance", an instrumental piece composed by Erica Patoka & Magnetaur. Choreographer Erin Reid really puts some seriously space-tastic moves on display for the Nog Trees (at this performance Amanda Boutwell, Morgan Moses-Allen, Marvin Roxas, and Sarah Smith) and watching them get their freaky-deaky alien freak on is mesmerizing in a seriously intense and BROdaciuos fashion.
With everything amazing happening throughout the production, there are, unfortunately, just a few minor flaws that create little noticeable hiccups in an otherwise stellar show. Though scenic transitions move very smoothly, because of the quick-change and easy-access rotating set pieces, there are still a few of them that linger in awkward dark silences and feel unsettling. Given the fact that there is a live band (cleverly placed in the choir loft at the back of the sanctuary to aid in sound balancing, though at times there are still issues with the band drowning out the performers despite the microphones), and that all of the music is original composition, the show begs for vamps and underscoring of some variety during these silent transitions if for nothing else but to keep the audience engaged in the score.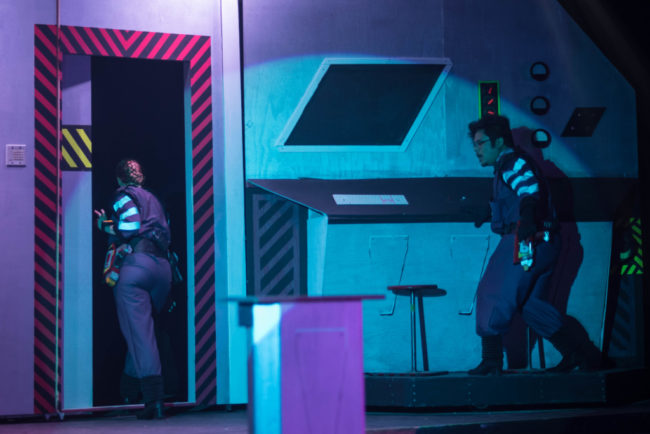 Director Chuck Green keeps the flow of the show moving, and there's nary a moment when it feels as if it's slipping from its intended pacing, though there are moments in the show's overall composition that feel awkwardly arranged. There are long stretches of dialogue and scenic interaction without music and then the rock ballads feel as if they clump together at the beginning and the end of the performance. This odd case of script balancing aside, the show is humorous, profound in its exploration of true human (and alien) nature, and overall well-crafted from a creativity standpoint.
Master Sound Designer and Audio Technician Patrick McMinn creates sound in space; this is totally an acceptable paradox that we're willing to buy into. One of McMinn's finest achievements in the show is the robotic overlay featured on Android (Caitlin Rife.) While McMinn makes fantastically robotic-monotone sound layers for Android, it is ultimately a little disappointing for Rife when she tackles the power-ballad ending number, "I Will Not Obey." The song is written in the right vein for the conclusion of the show, and even perfectly aligns to the character of Android. Rife does an exceptional job with it, but for those that know Rife's astonishing ability to belt-n-carry, hearing the robotic distortion dampen her vocal prowess is ever so slightly disappointing. That said, Rife is hysterical, particularly when it comes to her consistency with physicalizing the limited movements, whilst playing Android; Rife adds a great deal of accidental humor to the character, particularly when exacerbating Paul (Tim Olewnik.)
With a boastful nature, a cocky attitude, and a voice that absolutely owns that attitude and the blazing ballads of rock that his character belts out, Olewnik sears "To Lunastus" and slays his way through "Like a God", the number that receives rip-roaring thunderous applause and ovations. Consistent in his super-antagonistic behaviors, Olewnik turns into the bad-good guy that we love to hate. Sharply and strongly opposed by the three remaining stereotypical archetypes or archetypal stereotypes of his crew, Olewnik really gives us that cocky captain feel with great consistency all throughout the show.
There's Vera (Kerry Brady) with a flawless Eastern European accent that gives her character an extra edge; Brady's character is the logical and reasonable character among the bunch, revered for her opinion. When encountering the first of the Abzug creatures— Shell (Christina Holmes) there is immediate fascination and interest as well a strong sense of bonding that occurs between them. Holmes and Brady work beautifully together during "The Beast in Me." Holmes, who plays the quirky character with glee, sheds a great light into the lives of the Abzug. Directly opposite of Shell is the ever so less-than-stellar-in-the-intelligence-column, Meezer (John Marra.) And while Marra doesn't have an enormous featured vocal solo, per se, there is something wildly engaging about the way he portrays the character, particularly when it comes to his intentional delay of delivery.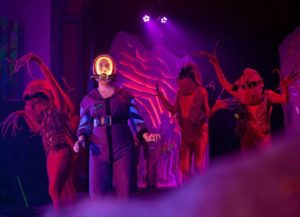 But back to the human-crew! Paul, Vera— and the typical space-slut, Allison (Sarah Gretchen Doccolo.) Matched with the Meezer character in wit and wonderment, Doccolo really puts that brainless blonde stereotype to work when it comes to embodying Allison. Edgy with her up-speak vocal affectation, there is an irritating quality to the way she adds her opinion to everything. This works perfectly for the way the character is penned. Her introductory verse in "To Lunastus" gives the audience of a taste of her vocal capabilities, but it's her duet with Ionos (Corey Hennessey) "Nocturnal Emotions" that really showcases her vocal prowess and range abilities.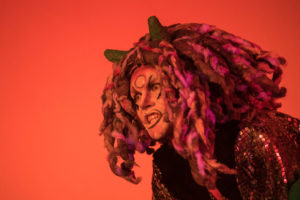 Corey Hennessey, as the spaced-out and completely indescribable Ionos, steals the show. He is so outrageous, so invested in the whackadoodle nature of this character, that you will immediately forgive his wavering pitch when it comes to his higher note sustains. Hennessey has crafted this alien Ionos with an incomparably ferocity. There are nods to Frank-n-furter, Ziggy Stardust, Carmen Ghia, RuPaul, and then some all in this hybrid fantasy creature that Hennessey has concocted. This fierce and fabulous alien has got it all, charisma, sex-appeal, fantastical costumes, and a freaky zen gyring of the arms that seems to never cease. "Ballad of Ionos" and "Nocturnal Emotions" are his moments to shine brighter than an exploding chandelier, and he owns every moment of this bizarre but beautiful character.
Other Abzug specialties include Elder Ozir (Brandon T. Beatty) who is loud, brash, and often grumbling, as well as Elder Mira (Julia Sine) who is the perfectly soft and gentle foil to Ozir. While they both do an exceptional job with their characters, they, like all the other Abzug creatures simply pale in comparison to Hennessey's over-the-top portrayal of his Abzug Ionos. And we nearly forgot poor Jules (Gino Abellanosa), who is the stereotypical nerdy Android technician. Surprisingly, in strict contrast of the character's nature, Abellansoa puts out a stirring emotional belt and sustain during "Fate", with such heart and soul tethering his character to the song that deep springs of feeling bubble up into his lyrical performance.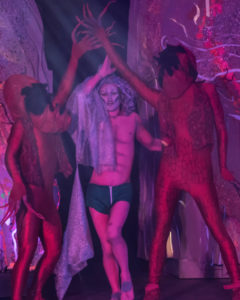 There is so much to marvel at in this production, so much to experience, and a powerful message hiding beneath all of the spectacle, rock, and incredible sounds coming out of Magnetaur (John "Doozer" de Campos on Guitar, Jonathon "Smelly" Smeltzer on Guitar, Tyler "Dirty" Merchant on Bass, Erika "Bagels" Patoka on Keys, Dominic "Fixins" Cerquetti on Keys, Jason "Jay-Son" Farrell on Drums, and Patrick "P-Bone" Staso on Trombone— especially the wicked guitar solo blaring out of "Fate" when they get down to it), that there simply aren't good enough reasons for the citizens of earth here in Baltimore to sit on their duffs, stay at home, and miss out. So get your ticket to see The Secret of Lunastus before it launches off out of this world forever.
Running Time: Approximately 2 hours and 20 minutes with one intermission
The Terrible Secret of Lunastus plays through October 8, 2017 with The Baltimore Rock Opera Society at the Zion Lutheran Church— 400 E. Lexington Street in the heart of Charm City's downtown just north of the Inner Harbor in Baltimore, MD. Tickets are available for purchase at the door and in advance online.
*please check the performance schedule and don't just randomly arrive at Zion Lutheran Church expecting to encounter aliens…