Just when things look bleakest— there is ever hope on the horizon! With a world that's politically upside down, the brightest act of optimism is through the birth of new creative endeavors and what a wonderful new adventure to embark upon in this era than starting a new community theatre boldly daring to do new works, obscure works, and regional premieres of work fresh off Broadway! Harford County is pleased and proud to welcome the Scottfield Theatre Company to the area. In a TheatreBloom exclusive interview, we sit down with Artistic Director and Co-Founder of the new company Becky Titelman to talk about the company and their inaugural production: Tuck Everlasting.
Thanks for chatting with us, Becky! We appreciate getting to see what's happening with this brand new company! A special shout-out to area performer Lisa Rigsby for putting us in touch and letting us know about this exciting new venture! Can you tell us who you are and a little bit about Scottfield Theatre Company?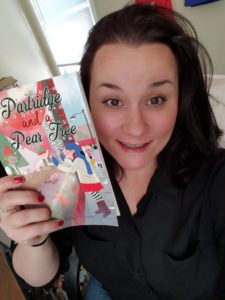 Becky Titelman: Well I'm Becky. I started performing when I was six years old in Harford County. I've always been involved with theatre. And I've been dancing since I was three. I did a lot of shows at Harford Community College, Essex Community College, and then I went on to do shows at The John Carroll School while I was there. Then I went to Elon. I was a music theatre major there. In my summers I did a lot of Summerstock, a lot of professional theatre all over the east coast. I performed at Hershey Park one summer, really just a bunch of different places. I've always felt connected to home, though. When I was 17, right before I went away to college, I started my own children's theatre company and we did The Sound of Music. I choreographed that show, was Maria, and directed it. I was all over the place. So I was doing it all, but that was the problem with me going away to college. Nobody continued it once I went away because I'd been the person doing it all.
So my dad and I did theatre together. A lot of the shows I did he did with me. And he was actually on the board of a local theatre company that folded back in the 90's and ever since then he's been saying to me, "you really should do some more local theatre. You love to choreograph. You should try to do something locally. You should consider starting something locally." And he's right. This community— this area— has such a need for that. To see shows outside of the colleges, you've got to go all the way up to Havre de Grace for Tidewater Players or you've got to go into the city. There's just not a lot of different options around in Harford County at the community level to serve that need. So with that in mind, I decided I was going to form my own theatre company.
That's fantastic! Can you tell us a little bit about the theatre company?
Becky: I didn't come into alone. I started the company alongside a previous director of mine, Al Herlinger (Director of Tuck Everlasting Allan Herlinger) and he's actually directed a lot of shows at Harford Community College. It's me and Al and this guy named Chuck Bowden, who runs the theatre company over at Bel Air High School. He's a scenic designer and also he helps with directing, but mainly I think he's on the technical side of things. The three of us came together and that's where we got going.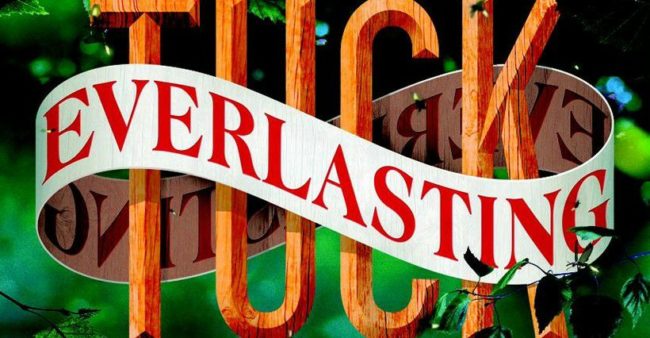 Got it. So how did you come across Tuck Everlasting as your first show?
Becky: Well, I knew I wanted to do something really big for our first show. I wanted it to be something new and exciting, something that was not done a lot. A little backtracking here. Last May, a whole bunch of people that I went to Elon with— this big bunch of people that hadn't seen each other in about 15 years— we got together and went up to New York and saw the musical Tuck Everlasting on Broadway. My friend Chris Miller, who I went to college with, is the composer for that show. I was actually in the show he composed at Elon, The Prodigal Son. It was a beautifully written show, more like a concert version of a show, it was like his senior thesis project. I'm pretty sure after that he went on to NYU's musical theatre composition and pursued his master's in musical theatre composition. But me coming up to see Tuck was the first time we'd seen each other since college. It was sort of like a reunion but so amazing and cool to see one of our friends' work on Broadway.
So when I heard a couple weeks later that the show was closing, I was floored. I think it had a lot to do with Hamilton sweeping at the Tony's, but that's another story. I mean it's just one of the most beautiful shows I've ever encountered and I've been doing theatre since I was six. It's so beautifully written, it made me go back and read the book. It's a beautiful story about life and I just knew it was the show for our first production. I mean the movie was filmed here in Fallston, right in our backyard so to speak. Though the movie is very different from the musical show because the movie actually has the character of Winnie Foster at age 14 or 15 and in both the book and the musical she's only 11. In the movie there's more of this romance going on with Jesse whereas in the book and in the musical, she becomes friends with him instead. He says, "eventually you can drink the water and we can get married lter in life" but obviously he's not talking about right now. I became— and I don't want to say obsessed— but I became fixated on this being the show that we need to start off with. This is the one.  
So you decided. And then you did it.
Becky: Not quite so simple.  I decided to call Samuel French, because they hold the rights to the show. They said, "It's not available to non-professional theatres." To which I said, "I actually know Chris Miller, the composer." And as soon as I said that their whole demeanor changed. Suddenly all I had to do was tell Chris to call them and that would be that. When I found out that all I had to do was get Chris to contact them in order to get the license, I brought a little girl— her name is Sofia Bordner— and she's done a lot of theatre in the area. She played Jane Banks in Mary Poppins at Phoenix Festival last year. I had her come to my house, in a costume— she actually borrowed one of her Mary Poppins costumes— and I videotaped her performing two numbers from Tuck Everlasting. Just from me sending that video to Chris, he said, "She's amazing, I am going to help you get this license." Sofia Bordner basically helped us secure this show.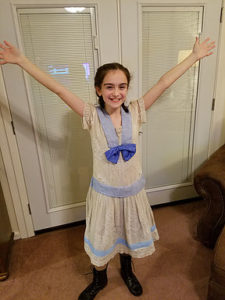 Then Chris contacted Samuel French saying that he was okay with us producing the show; he didn't mind that we were a non-professional theatre. But when it comes to a situation like that, the book writer as well as the lyricist and the composer have to be on board. Everybody has to agree. Chris had to call in some favors or work some magic, but basically— the shorter version of this story is that thanks to Sofia's amazing performance getting Chris on board with this, and Chris getting the others one board, Scottfield Theatre Company ended up being able to do the show with a special license as the only non-professional theatre able to do the show before 2018. We're the first community theatre in the nation getting to do it. It's kind of a great thing to be able to say for the first show with this brand new company.
Why is Tuck Everlasting so important to you as the first show at Scottfield?
Becky: This is like my baby. I fought so hard to get this show. I mean not just getting the license, but everything that went into that and thinking we had one venue in Bel Air and that not working out, thinking we had one sets of dates in August, and them falling through. And then learning that in all of Harford County public school buildings, there are only two theatres where you can rent out the space and still charge for tickets. So you can do a talent show, a presentation for parents at any school, you can rent all of the facilities at any school, but there are only two in which you can hold your event and charge admission for tickets. The only two where this is an option is the Amoss Center at Harford Technical High School and Bel Air High School. The even bigger problem with those two venues, in addition to their scheduling restrictions, is that they are huge-seat houses, like we're talking 900 seat houses. I know professional theatres that would struggle to sell-out 900 seat houses. So actually, we're really happy to have happened into the perfect location with the Opera House in Havre de Grace.
The Opera House in Havre de Grace? How very exciting! Tell us more!
Becky: I'm not sure if I mentioned this earlier but— during the five months of waiting from January to May for our special license from Samuel French, one of the things that was holding it up was the performance venue. I am a music theatre teacher at E-Street Dance Academy, and we're rehearsing both there and Music Land in Bel Air. After losing the space at Bel Air High School, we were on a hunt for a new space and got very lucky. As I said, we're performing at the new Opera House in Havre de Grace. They're renting out that space now as a Cultural Arts Center and it's going to be this home for the arts in Havre de Grace. It's really cool because we're the second show there? Tidewater Players has the first show there in September, The Marvelous Wonderettes, and then we go up in October. It's a brand new state-of-the-art theatre, all new mics, all new lights, all new everything.
It's beautiful. It's 200 seats of awesome. They added huge dressing rooms, huge new bathrooms, and they put monitors upstairs since the dressing rooms are downstairs. They added an elevator to make it more accessible for everyone in the audience. The renovations they've done to that building are amazing. It is just a wonderful, beautiful facility. It's comfortable and it's pretty while still having a lot of the charm of the original building. Some of the original exterior brick walls are now enclosed inside the building now.  
The space sounds beautiful. You mentioned there are 200 seats… How many people are on your stage?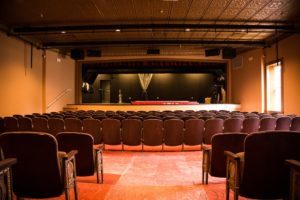 Becky: We have a 20 person cast. It's not a huge cast to begin with, this musical. So we didn't see any reason to try and make it enormous. It's ten speaking roles? And then ensemble. I think we were shooting for 13 for the ensemble but we ended up with ten, and that's working out well. Our youngest cast member is eight— he might actually be seven, Gabriel Bordner. He plays the littlest boy in the show. The next youngest is probably his sister, Sofia. And actually, their dad is playing the evil character! It's crazy, because the Bordner family used to live in Ohio, their dad was in the military so they traveled a lot. But in Ohio, he used to get lead roles all the time. But since coming to Maryland, he hasn't yet had that chance. I'm excited that Scottfield is giving him that chance.
We've got another kid who's pretty new to theatre, but let me tell you, he has this beautiful tenor voice, one of the most beautiful that I've ever heard. He's playing the goofy character and having a lot of fun with it. And then we've got Chuck Hamrick, who has done tons of local theatre but he's never had a leading role and now he does. There are so many talented people in this community— I am just so excited that I get to do this amazing show that my friend wrote with this incredible cast.
You must be very excited. What else makes this show so special for you?
Becky: I can't say it enough. This cast is insanely talented. Just sitting around in the dance studio singing the music— they are so amazing. We have some of the best singers in all of Harford County, it's just so amazing. And I'm not just talking about Sofia and Josh and their dad or Chuck. The whole entire rest of the cast is just stunning. You know how every cast has that one person? We don't have that one person. Everyone is stellar. Also there's just a whole lot of Maryland connection with this show. In addition to the movie being filmed here, Chris is actually from Silver Spring. It's got Maryland roots!
And Scottfield Theatre Company will be performing it here in Maryland, at the Opera House in Havre de Grace. But the founders sound like they're based loosely around Harford County. So where did the name Scottfield Theatre Company come from?
Becky: There is an actual reason behind it, I swear it's not just from somewhere out in left field. Bel Air, before it was named Bel Air, was actually called "Scott's Old Field." When we were first forming the company, we were originally going to be based out of Bel Air High School. And the three of us are mostly based in and around the Bel Air area. So we were taking the name, "Scott's Old Field"— which I guess was owned by some man with the last name of Scott— and we took that name, put it together and came up with Scottfield Theatre, because we're from Bel Air, even though now we're performing in Havre de Grace. But by the time our location had changed, we'd already established the name, so we decided to keep it and it kind of works. And please note— we've spelled theatre the correct way. With the –re at the end.
—re is the craft, —er is the building. Always exciting to see a company that recognizes that. Now, you had mentioned that Sofia Bordner is in fact going to be playing your Winnie in the show?
Becky: She is. But I want to make it very clear that although we ended up basically pre-casting Sofia and the young boy playing Jesse (Josh Robinson— who does a lot of stuff at The John Carroll School— who was also videotaped and I sent that along to Chris as well), because she is essentially what sold the level of talent that we have here in Harford County to Chris, that going forward with future productions, Scottfield Theatre is not going to be a theatre that pre-casts roles. We had open auditions for everything else and when we did that we made sure that we had made multiple announcements— at auditions, on the website, everywhere— that this is not going to be the norm, it was just what had to be done in order to get the license for this one specific show. People seem to be very understanding of that. I just don't want people thinking that is going to be the normal practice for Scottfield, because it's not.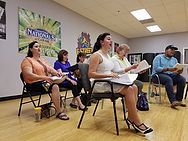 We're trying to look at what we're doing in the future, for the spring and fall of 2018 and we want to have everything be wide open as far as casting goes. There are just so many talented actors right here in Hereford County, and Scottfield is really looking to give those people who don't get cast as leads a chance to be cast in those roles. And believe me, they're not being cast as leads not because they're not good enough— they are— these people find themselves not being cast because of the unfortunate nature of how politics all too often plays into theatre. I have a really big problem with that.
I have a really big problem with a lot of the stuff that's being done in community theatre because it's not the community theatre I grew up with. I grew up here where if you came to an audition, you had a shot. That's been the biggest disappointment in moving back to Maryland and seeing that that is what's prevailing in the theatre scene. I lived in New York for six and a half years. After moving back here, I've noticed that it's just this big downward spiral of politics, friends, and pre-casts. There are some directors where people just don't even go audition for their shows anymore because they know that particular director has already pre-cast certain people. And then they don't tell you that. They say all roles are "open" but they're really not. And it may be like that everywhere down here? But it's not like that in New York. They have may have big star names for the leads, or the leads have been pre-cast, but they announce that, so that when you walk into an audition, you know exactly what you're going in for and exactly what you have a legitimate shot at getting called back for. And that's the culture that we're trying to generate here, which is why pre-casting our two young leads was really difficult because we look like hypocrites in doing that. But at the same time, that was essentially how we secured the special license to do the show, so it's a tricky situation and we're being as transparent as we can possibly be about it so that going forward, we can be known as the company that does provide open and equal casting opportunities to everyone.
That's an excellent statement and an excellent way to handle it. You mentioned something in there a while back about shows for the future. You're looking at doing two shows a year?
Becky: That's the hope! One in the fall and one in the spring. We actually already have the dates booked at The Opera House for the show in the spring of 2018 but ino rights have been paid yet. We're really trying to see how Tuck is going to go. We're hoping to do one show a year that's come fresh off of Broadway. And then do one show that nobody ever does. It was actually really funny because right after we secured the special license for Tuck, Al said, "ooh— we could do THIS right after it comes off of Broadway." And I had say, "Al, I know ONE composer. I don't know them all." Now, regardless of who we know and who we don't know, we are keeping a very close watch on things, and we are hoping to jump on some things especially for our 2018 season…in the fall.  
Is Chris Miller going to get to come and see the show?
Becky: I do know that Chris is going to come down from New York during tech week to meet the cast and to see it. He's actually sending a lot of his family up from Silver Spring to come and see it as well. He's not going to be in the state or even in New York for the month of October. He's going to be in Nashville composing with some undisclosed famous people that he's not allowed to mention. But we're very excited to have him come down, talk with the cast before we open, and for him to get to see what we're doing with his beautiful, beautiful show.
Are you planning anything special for this particular production since it's the first show for Scottfield Theatre Company as a brand new company?
Becky: We're definitely hoping to have an opening night gala. We're still working out all the details for that but as soon as we have them we'll be putting them up on the site and on the Facebook page!
That's super awesome. Tell us a little bit more about the production team involved with Tuck Everlasting, I know you said you're choreographing.
Becky: Yes, I'm choreographing. I'm also sort of there all the time in a producer-ish capacity, just representing Scottfield as well. Al's directing. Chuck Bowden is our set designer. We have Rick Hauf and Niki Tart doing our musical direction.  
It sounds like you've got an excellent first production well underway and an excellent company getting started here. You're very excited about it. Why should we be excited about Scottfield Theatre Company?
Becky: I feel like Scottfield is going to bring new things to the area. We're aiming to do shows that people don't do all the time. We're not going to do Shrek and we're not going to do The Little Mermaid. We're going to do things like Tuck Everlasting. We're doing things that are going to get people excited. New musicals, obscure musicals, it's all going to be musicals. Musicals are my forte, but that doesn't necessarily mean they're always going to be dance-musicals. There are going to be shows where it's way more focused on the singing, and I'll just get to stage some things. We're looking to bring in different choreographers too. There are shows that I might want to audition for. There might be some shows where I just want to sit back and be a producer. We want to have other directors, other designers, other actors; we want to spread the wealth and provide that opportunity to lots of people. They are so many talented theatre people in this county and we want to open the doors to all of those people.
You believe this is going to be a good production that people should come and see?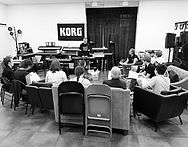 Becky: From a professional standpoint, I have very high standards for my cast. These people are amazing and they are living up to these very high standards and nothing could make me happier. And I cannot wait to have people come out and see it. See this incredible show, see this incredibly amazing and talented cast and crew. See what Scottfield is doing in the community, see what we're all about, and get as excited as I am about this show, this company, and everyone who's getting involved with it!
Tuck Everlasting plays October 6, 2017 through October 15, 2017 with Scottfield Theatre Company at the Havre de Grace Opera House— 121 N. Union Avenue in Havre de Grace, MD. Tickets are available for purchase by calling the Opera House box office at (443) 502-2005 or by purchasing them online.