Ayup! Hullo there, Bawlmer! Ayup! There's a secret waitin' fer ya o'er in Bolton Hill, but ya need th' key ta get in. Jus' remember, when a thing is wick it has a will to grow— and grow is what Memorial Players is doing with their current production of The Secret Garden. Directed by Bill Kamberger with Musical Direction by Gregory Merle Satorie-Robinson and Musical Conduction by Tim Viets, this astonishing musical masterpiece is a Charm City lullaby that will enchant you off to dreamland before you can say, "come to my garden."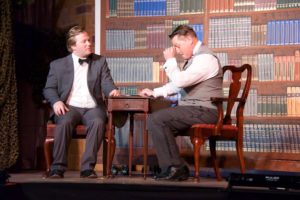 Ther marvels of perfection await to be seen inside the walls of the Memorial Episcopal Church. A true community effort resulting in professional quality performance is what is growing inside Baltimore's best kept community theatre secret. Nurtured and tended by an entire flock of theatrical gardening experts, this production of The Secret Garden holds its own against any recent professional production in the Baltimore-Washington metropolitan area while still feeling every bit the community effort and involvement project that the show is meant to be. Complete with a children's chorus (Eden Deininger, Stuart Deininger, Arden Fisher, Sonia Korn, Aliona Penniston, Aster Rial, Lily Viets, Nathaniel Wells), there is enchantment and wonder to be had 'round every corner of this thrilling musical maze.
Working as a part of an integral team, the designers— Charles Danforth III on lights, John Seely on set and puppet (with assistants Mark Edmonston, Larissa Solway, and John Webb), and Rosslyn D. Kooser and assistant Beth Ratrie on costumes, come together to cultivate a remarkable aesthetic for the show. Seely's set is quite versatile, transforming with little effort from the interior and exterior of Misselthwaite, by way of Danforth's lighting shifts. Deploying particularly impressive silhouette projections to showcase locational shift— like Bombay and Paris— Danforth's shining glory is not only these but the tree-branch gobos in use every time a scene in the garden takes place. Danforth also floods the set with red every time the pandemic of death sweeps the stage. Seely's garden reveal, which as the title suggests will be kept secret, is worth the wonder and the wait once it's finally seen. The most impressive piece of Seely's set design is the fluid mobility of elements like the garden shed; how quickly this piece of scenery can be spun and transformed into the Craven library, or how readily the maze archways swirl about the set is theatrical magic at its finest.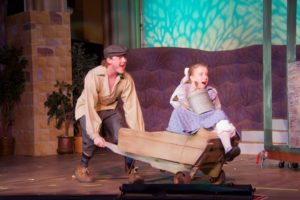 Kooser and Ratrie work in shades of ghostly white for the majority of the costumes featured in the show. As a great many of the characters are spirits lingering in the house upon the hill, or ghosts of memory and in flashback, their use of white— largely lacey— is most fitting for these characters. Kooser and Ratrie take the opportunity to fill in color where they can. Navy blues are featured for both children of Misselthwaite towards the show's end, and drearier browns and drab grays feature in the servants' sartorial selections. Pops of color are featured in Ayah's sari wrap and Fakir's costume, augmenting their exoticism, as well as in the Children's Chorus' costumes— representing the lively colorful world from which Mary Lennox has been excluded.
Though The Secret Garden does not lend itself to be a dancing musical the way Marsha Norman and Lucy Simon have penned it, Choreographer Neeta Shah Gandhi has found little moments to liven and awaken with dancing motion. This happens most notably during "Come Spirit, Come Charm" which features the majority of the players in the cast dancing to call forth the spirits of spring and the charms of good health. Leading the dances here, Fakir (Tyler White) and Ayah (Cheryl J. Campo) put their most enthusiastic foot forward, showcasing their bright spirits in this number. Both White and Campo have delectable voices that are welcome additions to the cast on the vocal whole, but their graceful movements— White's in particular as he never appears to walk but rather float across the stage— are well worth noting.
Musically the production is a beast. Vocal Director Gregory Merle Satorie-Robinson achieves greatness from the cast, particularly with the minor-chord harmonies that are often haunting and harrowing. Navigating the spirit ensemble through "Storm I" and other such numbers, Satorie-Robinson draws forth a harrowing wuthering from these lost ghosts, their harmonizing sounding just like the agonies of the winds tearing across the moors. Musical Conductor Tim Viets champions the orchestra to solidarity, keeping them impeccably balanced— no small task given the open-air area of their setup and high-vaulted ceilings— ensuring that they are heard with all their vim and gusto without overblowing and drowning the singers. A special nod of praise is thrown in Viets' direction for the epitome of perfect timing for the music box in Colin's room, cued by the pit and performed with flawless precision.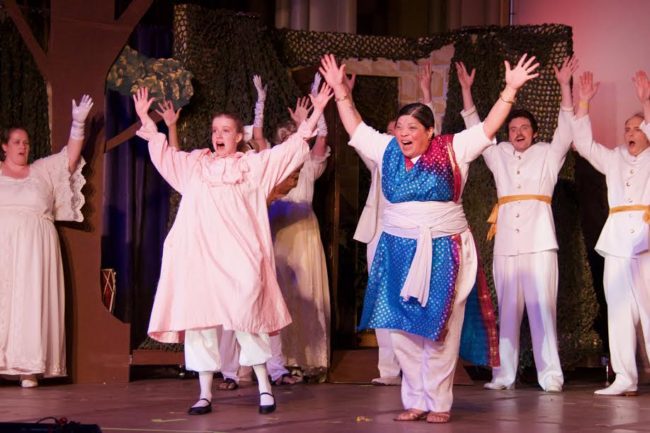 Director Bill Kamberger has a vision that translates flawlessly from his mind to the stage. Capturing moments of memory, recall, recollection, and nightmare all in one graceful flow that wends itself seamlessly in and out of the live time action of the show is what sets Kamberger's production apart from other productions. Though the ghosts/dreamers are scripted, his use of them, in addition to little moments carefully tended and with great consistency throughout the production is astonishing. When "Lily's Eyes" is performed, though she's present in the portrait frame, her eyes never leave Archibald's; the way the ghosts almost but never quite touch the living all throughout the performance, all of these nuances are what make the production truly impressive, in addition to the talent that Kamberger has rallied into place. In addition to that, Kamberger's outstanding ability to coach the varying dialects of the show— with great success and even greater consistency— is radiant. The Yorkshire sound, which might as well be a separate language, is strongest with Martha and Dickon as it ought to be, but even Colin and Mary have exceptionally consistent and clear British sounds from the opening of the show through to its finale.
Old curmudgeons come in two flavors in the production. There's Mrs. Medlock (Nancy Kelso), the bitter and stalwart force to be feared and Ben Weatherstaff (John Seely), the kindly, albeit quirky, character as ripe as the soil of the garden. Both Kelso and Seely play their parts beautifully, with the latter falling into a tender conviviality as the show's end arrives. Though neither are much featured in the musical numbers, when Seely's Ben Weatherstaff does get to kicking up a bit of dust vocally for "It's a Maze" he falls square into the rhythm and rides the number through with gusto.
Though the ghosts be many there are few as significant as Capt. Albert Lennox (Jamie Griffith) and wife Rose Lennox (Ginny Samford Hornbeck.) The haunting visages of Mary' deceased parents, Griffith and Hornbeck take up their roles reverently and add dulcet tones to each segment of song to which they are assigned. Often they stroll between scenes, during scenic shift, in little musical interludes (not listed in the program) singing a strain of melody with eerie yet soothing words, their voices melding together in a bittersweet sound of memory. They come together with Lily (Jennifer Viets) for "A Bit of Earth Reprise" in a serene and otherworldly sound that is both haunting and peaceful.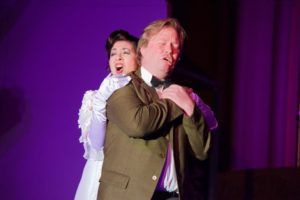 Viets, as the lost love Lily, is exceptional in the role. Her voice is truly that of a spirit, heavenly and distant, joyous yet sad. Viets presents Lily in the fairest of lights, gentle movements, sweeping footfalls, delicate smiles, and graceful touches that almost but never quite land on the arms or shoulders of those she has loved and left behind. "Cluster of Crocus" at the top of the show is as stirring as "Come to My Garden Reprise" is when she sings it for the show's finale. Her voice is striking and stunning in the "Quartet", shared with Hornbeck, as well as Archibald and Neville Craven. One of the most daunting and emotionally evocative pieces in the performance is her duet shared with Archi, "How Could I Ever Know?"
On the lighter side of the spectrum, there's dowdy Martha (Lauren Lowell) with her robust personality and larger than life vocal capabilities. With a surprisingly impressive belt and equally noteworthy sustainability when it comes to carrying notes, "Hold On" becomes a thoroughly enjoyable number featured deep in the second act. Lowell's handle on her Yorkshire accent is impressive as well, even more so as she carries it from her speaking voice and threads it securely into her singing voice. "A Fine White Horse", the comedic relief song of the first act, is well worthy of praise as Lowell goes to town with it trying to cheer and entertain young Mistress Mary all with just a few words and some wild gestures.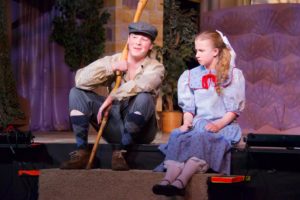 The epitome of spring incarnate, Dickon (Charlie Roberts) fully embodies the notion of new life, rebirth, growth, and all things wick. Spry on his feet and robust of voice— both in accent and song— Roberts is the perfect fit for the role of Dickon. Bounding about the gardens with his dowsing rod, he all but sprouts wings and flies off when first presented with young Mary. "Winter's on the Wing" presents Roberts as the harbinger of spring, the current of new life pulsating through his entire body and carrying out as an extension through his voice. But it's "Wick" where he steals the show's thunder, belting and sustaining away with pristine pitch control and an honest emotional connection to the energy the song provides.
While no villain per se, Dr. Neville Craven (E. Lee Nicol) certainly serves well enough as the show's primary antagonist, at least as far as human antagonists go. Nicol is disturbingly human and exposed in his emotional expressions early on, which makes it difficult to despise his character, though all the more powerful when he loses his mind on young Mary in the library scene. Nicol blasts forth into "Disappear" with such a forceful affront of rage that when he triggers a vulnerability to his character late in the number, it's emotionally blindsiding. Strong of voice and stage presence, Nicol does great justice to his quarter of the "Quartet" as well as his half of the duet "Lily's Eyes." There are many moments wherein his reactive listening and silent responses are well worth observing.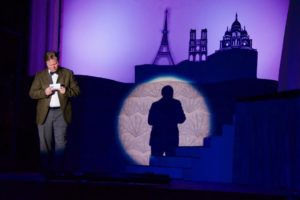 Tortured and tormented, distorted from the outside in, Archibald Craven (Stephen M. Deininger) is the true ghost that stalks the halls of the house upon the hill. Deininger is mired deeply in the emotional bog of Archi's plight, sinking persistently lower until all that remains is the hollow shell of his memories. Physically committed to the character's deformity, Deininger draws attention to Archi's hunchbacked figure and allows it to further distort his emotional anguish. Impossible to describe with any hope for justice is the way that Deininger emotes this torrential downpour of feelings during songs like "Where in the World" and "A Bit of Earth." Constantly burning at the height of his emotional capacity, experiencing and expressing too many different emotional sensations to note, Deininger captures the hellacious torture of the grief that swells unyieldingly inside Archie's soul. His voice is phenomenal, making each note a pulse point for a different emotion. When singing "Race You to the Top of the Morning" at Colin's (Gabe Viets) bedside, there is an entire show within a show happening just inside the little boy's bedroom, all being performed by Deininger.
Viets, as young Master Colin, is quite a pip of personality and goes toe to toe with Ruby Webb, playing Mary Lennox. Both childish, petulant, and prone to tantrums, Viets and Webb get on perfectly as these characters and are quite the pair when they combine their attitudes and voices for "Come to My Garden/Lift Me Up." Webb, who is sensational at balancing the character's attitude against her grief and natural curiosity, has a strong sound as well, taking numbers like "I Heard Someone Crying", "The Girl I Mean to Be" and her portion of "Show Me the Key" and "The Letter"— duets shared with Dickon and Martha respectively, and making them truly her own.
Come to their garden. There are six chances to take a magical journey to their very Secret Garden, this is one musical that you simply will not want to miss.
Running Time: Approximately 2 hours and 40 minutes with one intermission
The Secret Garden plays through May 14, 2017 at Memorial Players in the Memorial Episcopal Church— 1407 Bolton Street in the Bolton Hill neighborhood of Baltimore, MD. As a part of their mission, all performances at Memorial Players are free to anyone who wishes to attend, patrons are seated on a first come, first serve basis.