When you're a CPM Kid— you're the top cat in town! You're the gold metal kid, with the heavyweight crown! When you're a CPM Kid— you're the swingin'est thing! Little boy, you're a man! Little man, you're a king! You're never alone, you're never disconnected! You're home with your own, when you're company's expected— you're well protected! Then you are set, with a capital 'C', which you'll never forget til they cart you away, 'cause when you're a CPM Kid you staaaaay— a CPM Kid! Snappin' your fingers yet? You know the beat? It's West Side Story of course, closing out the 2016/2017 season at The Children's Playhouse of Maryland and boy, oh boy is it a doozy!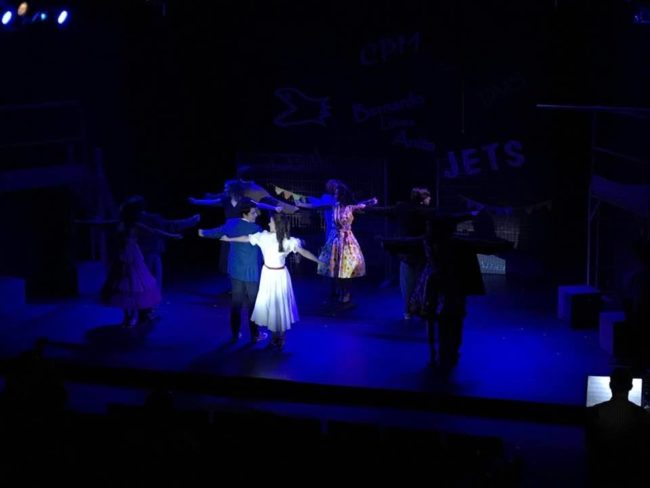 CPM Artistic Director Diane M. Smith, who serves as the show's Set and Lighting Designer as well as the Technical Director, outdoes herself with the mood lighting, particularly when it comes to blue lights for the Jets, right lights for the Sharks, and a hybrid blend of purple lights (and occasionally the innocence of white light) for whenever Tony and Maria are together. Utilizing the Scenic Artistry of Laura Miller, the brick wall is covered with tasteful New City gang-tag graffiti, including a few subtle nods to the house production staff— like "LBH, DMS, and CPM" all marked in the wall respectively. Smith uses scaffolding to accomplish the iconic "balcony" scene as well as Tony's breakout number above Doc's shop.
Costume Coordinator Sharon Byrd gets the Jets looking snazzy and the Sharks looking sharp in their respective blue and red letterman style jackets. Blue shoes and red shoes match each gang member as well, and there's even some color coordination going on in their shirts. Byrd does an exceptional job of getting flashy skirts together for the "America" number, which features the Shark Girls (Olivia Aubele, Angela Boeren, Karah Campbell, Ava Correlli, Anderson Gray, Olivia Winter) in addition to Anita and Rosalia. The dresses and charismatic suits featured on all the students for the big dance scene are appropriately placed in the mid 50's fashion line.
Choreographer Amanda Dickson really outdoes herself with some of the fancy footwork and wild stunt-style fighting that occurs between the gangs throughout the production. In addition to the knock-down, drag-out rumbling that happens through the opening of the "Prologue", Dickson choreographs some realistic looking fight scenes between these two brawling band of brothers. But it's the proper dancing that really catches the eye in this production. Whether it's the slick slides of the Jets through both "Jet Song" and "Cool" or the sassy and saucy footwork featured in "America", Dickson showcases not only her versatility but her ability to translate complex routines and movements to young performers of varying skill levels. "The Dance at the Gym" involves almost the entire ensemble and Dickson handles the choreography of this massive bunch with practiced finesse.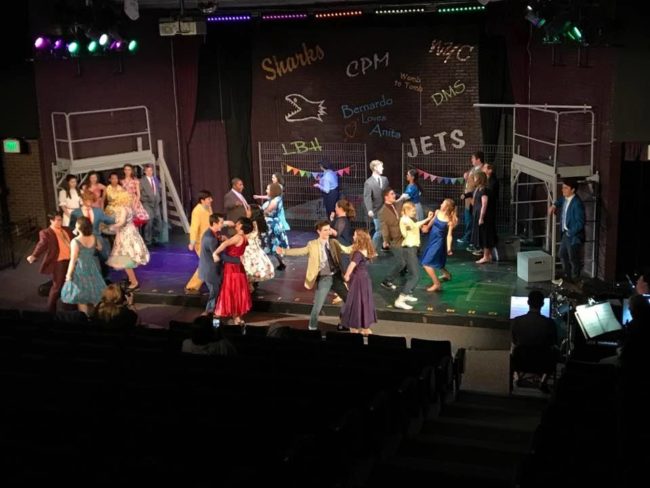 Director Liz Boyer Hunnicutt makes the smart decision to throw an actual adult into the role of Doc. (May 5 & 6, James Hunnicutt, and for the remainder, Gary Dieter.) Hunnicutt's decision draws home the reality of the generational gap and makes the lines that Doc delivers that much more poignant, particularly when it comes to the end of the show. As with all her CPM work, her pacing is smooth and consistent, keeping the plot moving forward amid Musical Director Charlotte Evans' rigorous efforts with the company as they sing their way through complex Sondheim & Bernstein songs. The level of understanding of conflict, and deep emotional character connection is quite prevalent from all of the principal characters and the transitional arcs which many of them achieve under Hunnicutt's direction is astonishing for young performers.
Standout performers among the ensemble of talented and enthusiastically eager young actors include Alex Dewald as Lt. Shrank, Allison Naglieri as the spunky Anybodys, and Athena Claudio as Rosalia. Dewald has a masterful handle on the crooked cop attitude as well as on the way he approaches his 1950's New York City accent. Naglieri, as the girl who wishes she were a boy in the gang, is full of moxie and gumption, jumpin' and jonesin' for a chance to do right by the Jets. And Claudio, as the sassy Rosalia, holds her own toe to toe with Anita (Rachel Miller) in "America." With a fiery attitude, a strong singing voice, and heated dance moves that keep pace with Dance Captain Rachel Miller, Claudio is a surefire fit for the role of Rosalia.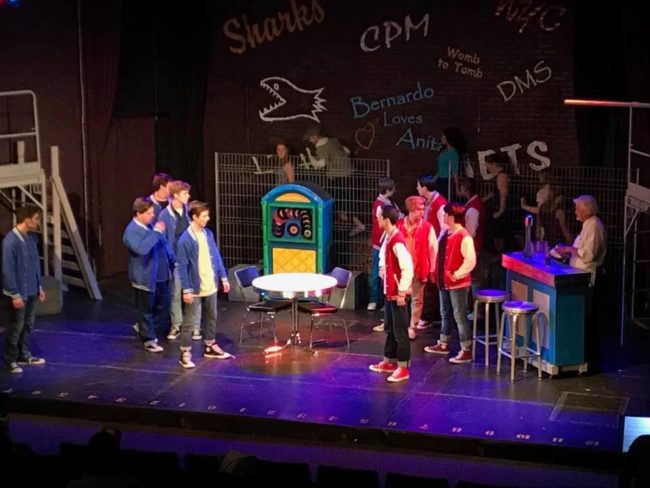 When it comes to the Jets (Matt Bird, Stanley Evans, Charlie Niccolini, Dorian Smith, Matthew Trulli) they're quite the well-bonded group. Though Dorian Smith isn't their leader, his performance as Action is top notch and explosive. Loud and uproarious and bombastically engaged, he really gives everyone listening an earful. The whole aforementioned Jet crew does a fine job of joking and pranking their way through "Gee, Officer Krupkee", especially when it comes to Charlie Niccolini alternating between falsetto and a deep basement range during the number. "Cool" and "Jet Song", both of which are led by Riff (Josh Robinson) are two further examples of how slick, mellow, and unified these fellas are in their performance. Robinson, who is smoother than glass, cooler than a cucumber, and slicker than oil, is the perfect fit for Riff, mastering his charismatic singing voice as well as his New York City street accent when speaking. The way he takes full unabashed leadership of the Jets, and furthers such interactions with his best buddy Tony, is deeply rooted in strong, albeit guarded emotions.
Bernardo (Kevin Franiak) isn't given the same chance to showcase his vocal prowess as Robinson— Sondheim and Bernstein simply didn't write a fairly leveled series of songs for the Sharks— but holds his own as leader of the Sharks. Franiak, along with second-in-command Jared David, playing Chino— stalk through their gang with leadership qualities leading their energies. Franiak does have a moment to display his voice during the Act I final "Tonight Quintet" and puts a staunch attitude into this, as well as the war council exchange.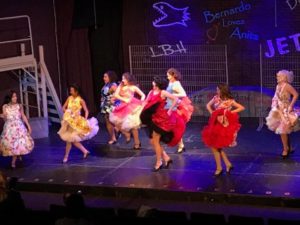 Rachel Miller as Anita is a blazing sensation. Filled to the brim with passion, at first seductive and later furious, she takes the role by the horns and sings it into submission. Facing off and leading the Shark Girls during "America", Miller gets to showcase her dance captain skills as well as her vocal abilities in this number. But it's "A Boy Like That/I Have A Love", a duet shared with Maria (Ilyssa Rubin) where Miller's emotional connection to the music resonates strongly and sincerely as she sings. Miller should also be commended on her ability to consistently hold a convincing Puerto Rican accent throughout the entirety of the performance.
Ilyssa Rubin has a dulcet voice that is well suited for the role of Maria. Dulcet, however, should not be mistaken for meek. Putting quite an intensity and a full range of volume into "I Feel Pretty", another song backed by the Shark Girls, Rubin lets her full vocal radiance shine in this number. Much like Miller, the consistency with her accent is superior and strikingly impressive. The emotional explosion which she displays in the finale is harrowing; this serves as a sharp contrast to the rest of the production where she is bubbly and fully enamored with Tony (Emilio Bayarena.) The pair have instantaneous Romeo & Juliet style chemistry, appropriate as West Side Story follows quite closely the plot and character structure of the aforementioned Shakespearean tragedy.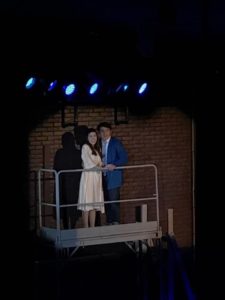 Bayarena and Rubin share duets; "Tonight", and "One Hand, One Heart", are delicate and delightful moments of love spiraling between the pair, filling the stage with gorgeous voices that are bursting with emotional depth. Bayarena, as the peacekeeper Tony, has an indescribable honesty and vulnerability to his portrayal that gives Tony a greater depth than is often seen with the character. His solo, "Something's Coming" is a remarkable expression of his hopes and dreams for the future. Watching him alight with jubilation of Maria from the moment he sees her at the dance, Bayarena captures the heart of both the young ingénue and the audience with his simplistic honesty.
Tonight! Tonight! You must see it tonight! Well, not *tonight* perhaps (check the website for official run time and date) but this is a performance that tugs hard at the heartstrings with exceptional young talent just waiting for the audience to be filled and hear their tale.
Running Time: 2 hours and 35 minutes with one intermission
West Side Story plays through May 21, 2017 at the Children's Playhouse of Maryland in the Lecture Hall of the Administration Building at the Community College of Baltimore County Essex Campus— 7201 Rossville Boulevard in Baltimore, MD. For tickets call the box office at (443) 840-2426 or purchase them online.