And in their third year— they rose again! Twisted Knickers Burlesque came back to town in time for some Easter Services this past holiday weekend. This marks their third annual Easter-themed burlesque show: Res-Erection. Returning to Church & Company just off the Avenue in Hampden, troupe producer Tapitha Kix and the girls of the Easter show had services hopping all the way down the bunny trail! With Deacon Hot Todd Lincoln at the hosting helm, Church Organist Reverend Robin Byrd providing spiritual music, and the good Reverend Joy Ryde bringing her own robust sound to the show, it was a service most unforgettable!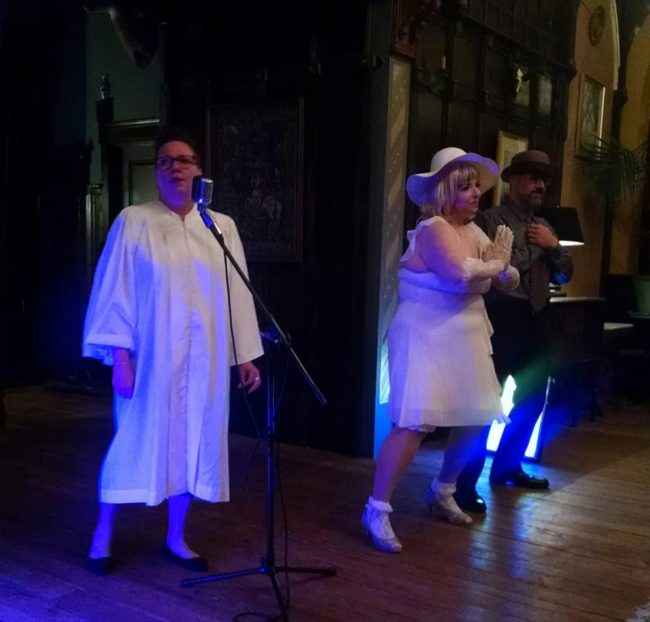 Getting the show underway, Reverend Robin Byrd has the congregation tapping, clapping, and singing along to a very festive rendition of "When the Saints go Marching In." Reverend Byrd later accompanied both Reverend Joy Ryde for her rendition of "Day by Day" featuring Tapitha Kix and Brother Lord Covington, who brought new meaning to the iconic lyrics of the song by getting themselves closer to the Lord in their own teasing fashion. Brother Covington graced the congregation, again with Reverend Byrd's assistance, in a stellar vocal rendition of "Jesus is Just Alright With Me." In addition to all the musical splendor provided by the aforementioned, witty banter and exchanges made their way into the service every time Deacon Hot Todd Lincoln found himself at the microphone. Deacon Lincoln, who affected his southern Baptist revival voice for the evening, treated the audience to a new side show stunt as well, involving threading razor blades onto string while in his mouth.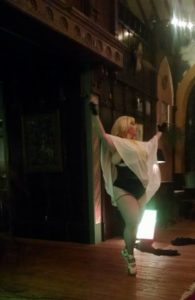 The Troupe's producer opened the show with a liturgical dance. Being a trained ballerina, Tapitha Kix put her skills on point— literally— and showed off just how impressive a set of gams she's got, especially when it comes to tap dancing up on pointe. Starting her routine with a slower number and then shifting rapidly into a more up-tempo affair (compliments of Sound Ops Master Justin Sabe, who kept all the non-organist-accompanied music rolling right along!) Gracefully gliding through the slower opening segment and really kicking it into high gear, Tapitha Kix put a ferociously fierce spirit into her routine that really amped up the crowd and was a great opening burlesque number.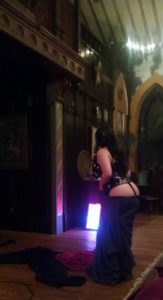 Following on the heels of Tapitha Kix, Adora Butch took to the stage in a vein most fitting for the Easter season. Butch's routine focused around all of those witches that the Puritans were never able to light up at the stake. Starting completely cloaked, Adora Butch transformed throughout the strip tease, revealing horns and hooves in a delightful and deliciously sinful surprise. Adding the element of rope play, Adora Butch slinked out of the ropes of the robe, spellbinding the audience as hooves, horns, and tail were revealed in this naughty and tastefully teasing routine. Adora Butch returned in the second act as Stripper Jesus, bouncing booty up and down the aisle, offering up communing and doing a provocatively pleasing strip tease out of Jesus' traditional garb.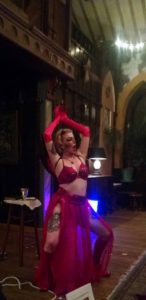 If you were ready to find yourself in an interesting position, presuming the previous act hadn't gotten your goat, Caza Blanca was next to the stage, performing to "Missionary Man" because isn't it said that God's best work is accomplished in missionary? (Or should that be by missionary?) Also cloaked up, much like a cloistered Monk, Caza Blanca hit the stage with fiery intention, revealing her sassy red ensemble, demon wings, and overall spirited nature with this routine. Unafraid to strut about setting the audience on fire with her saucy moves and her surprise blood-inclusion toward the end of her routine, Caza Blanca even flashed some super scintillating demon-faced pasties to complete her performance with a glittering bang.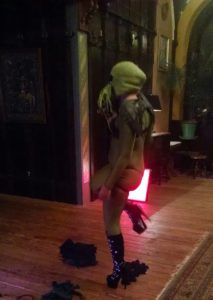 Otherworldly, from the celestial bodies up above, Lori Glimmer followed the wings of Caza Blanca in her own unique way. Welcoming the diverse, Lori Glimmer presented a fantastical creation— Cthulhu as a burlesque performer! It was wickedly wild and titillating to watch. With a sweater-knit Cthulhu head-dress, and sexy black stiletto boots that could wipe out the human race, Lori Glimmer put an intensity into her routine like no other. Involving the facial tentacles of her costume piece as an extension of her attitude, Lori Glimmer was not afraid to play with those watching, getting dangerously close to creating a close encounter of the third kind.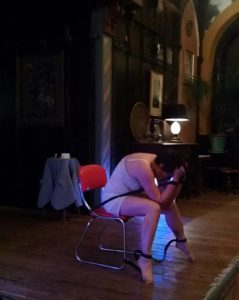 Rounding out the first half of the evening, Cherie Nuit took to the stage with one of her classic routines: this time it was Born to Run, featuring the most iconic Easter symbol of all— the egg. Hatching from within her shell in true animated fashion, which Cherie Nuit has made a proper hallmark of when it comes to her routine, she burst from the egg costume piece making sexy silly and silly sexy all in one go. With glittery sunny-side up butt-pasties in addition to those pasties where they belong, Cherie Nuit went to town in the spirit of eggs at Easter time and fried everyone's mind into a golden delight. Returning later in the second act, Nuit debuted a newer routine, featuring the themes of rebirth and breaking free. Restrained to a chair in nothing but a simple negligée, she made her escape from bondage seductive, sensual, and evocative.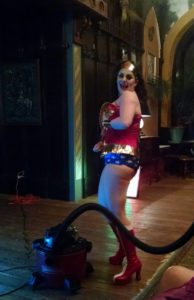 Misty Wilde was bringing the show down the homestretch with her miraculous Wonder Woman routine. Everyone needs a little spring cleaning; when better than Easter to get things started? Tricked out to look like the iconic comic book heroine, Misty Wilde got to playing with a vacuum cleaner and it can be assured that her routine did not suck. Really working the vacuum hose as an integral prop to the routine, Misty Wilde made sure everyone was enjoying getting cleansed and cleaned just as much as she was doing the cleansing and the cleaning.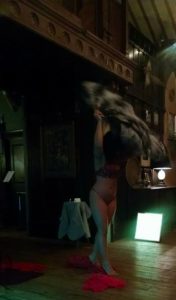 Live from New York Miss Poison Ivory, crowned Miss Exotic World: Queen of Burlesque at the 2016 Burlesque Hall of Fame, showed up to put her personal spin on the Easter services. Performing her rendition of Mary Magdalene to "Body is a Cage", Miss Poison Ivory thickly laid on the sultry, seductive, and sinful ways of this holy lady in red. Her fan work, which defies description in the most astonishing and professional manner possible, was astonishing and had the audience hypnotized and mesmerized as she worked them into the final throws of the routine.
A splendid time was had by the congregation and it can only be hoped that Twisted Knickers Res-Erection will rise again next Easter. Hallelujah!  
Res-Erection played its one-night annual engagement at Church & Company on Saturday April 15, 2017.
Up next for Twisted Knickers Burlesque:
Twisted Knickers Burlesque Brunch with Tongue In Cheek on Sunday May 7, 2017 at Germano's Piattini located in the heart of Baltimore's Little Italy— 300 S. High Street, Baltimore, MD. Tickets will be available soon for purchase!
Click here to follow Tapitha Kix!
Click here to follow Cherie Nuit!
Click here to follow Adora Butch!
Click here to follow Misty Wilde!
Click here to follow Lori Glimmer!
Click here to follow Miss Poison Ivory!