Not throwing away their shot— no! Not throwing away their shot— whoa! The John F. Kennedy Center for Performing Arts announced what the world of Washington DC theatergoers has been waiting to hear for months now: their official schedule for the upcoming 2017/2018 season, which of course includes the ever-coveted, infamous Broadway touring production of Lin-Manuel Miranda's Hamilton. Storming Broadway, the nation, and the world with its wonders, the incomparable musical sensation of the 2010's will be making an extended 14-week stay in the Opera House theatre during the summer of 2018—  all but concluding the 2017/2018 theatre season for The Kennedy Center. But one show does not a season make and The Kennedy Center made that clear with its astonishing announcements of upcoming opportunities, which were announced this morning in a live press conference held on the Opera House Stage.
Hamilton was announced as just one of six major Broadway musicals to be included with the 2017/2018 season. Back by popular demand, the Tony Award-winning hit The Book of Mormon will be ringing the doorbell of the Opera House theatre starting on October 24, 2017 and playing a four-week engagement through November 19, 2017. Just in time for the Christmas holidays and practically directly from Broadway, An American in Paris will take up residence in the Opera House starting December 12, 2017, running performances through January 7, 2018 of the new year. Quickly taking its place in the Opera House queue, On Your Feet! (the musical featuring the story of Gloria and Emilio Estefan) will start playing to audiences on January 9, 2018 and run through January 28, 2018. And following the 14-week stay of Hamilton (June 12, 2018 through September 16, 2018) the Tony Award-winning revival The Color Purple will arrive in The Eisenhower Theater starting on July 31, 2018 and play through August 26, 2018. A sixth Broadway musical will be announced in the coming months to accompany the stellar line-up already announced this morning.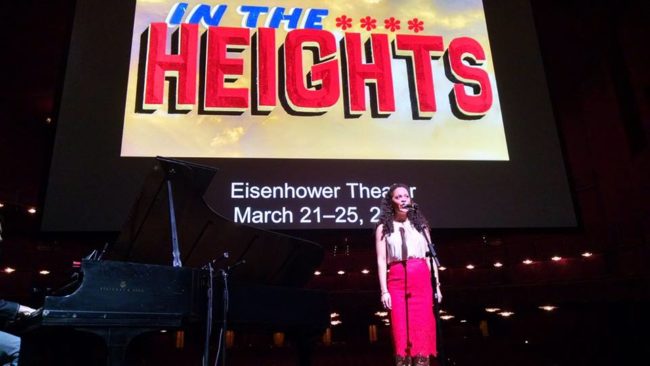 In addition to the six major musicals, The Kennedy Center took great pride in announcing its newest theatrical initiative: "Broadway Center Stage." This series will include three productions of Broadway musicals in semi-staged concert format with talent direct from Broadway as well as here in the nation's capital. These artists will often include artists with a unique connection to the original production. The initiative will kick-off in the spring of 2018 with Chess playing February 14 through February 18, 2018, followed by Lin-Manuel Miranda's Tony Award-winning In the Heights playing March 21 through March 25, 2018, followed by the ever-popular How to Succeed in Business Without Really Trying playing June 6 through June 10, 2018. All of this season's Broadway Center Stage productions will take place in The Eisenhower Theater. More information on Broadway Center Stage will be available on the Kennedy Center website.
Dove-tailing on the success of The Gabriels Trilogy, the 2017/2018 season will also include the current production of Stephen Karam's The Humans. Having won the 2016 Tony Award for Best Play, The Humans is and uproarious and hopeful yet heartbreaking play that takes place over family Thanksgiving dinner. It will run a month-long engagement in The Eisenhower starting on January 9, 2018 and run through January 28, 2018. The Eisenhower will also host the return of The Illusionists, playing December 27, 2017 through January 7, 2018, and prior to that— hopping from across the pond in the UK— Gobsmacked, featuring the legendary world-champion beat-boxer Ball-Zee. The show weaves stories through all sorts of a cappella musical numbers and will play The Eisenhower from November 24, 2017 through November 26, 2017.
After it's roaring success in 2016, The Second City is proud to return to The Kennedy Center's Theater Lab over the Christmas season with their hysterical send-up to A Christmas Carol with their maniacally magical production Twist Your Dickens. Running December 5 through the 31, 2017, it will bring you Charles Dickens' holiday classic like you've never seen it before. And as August of 2017 approaches, Shear Madness— an on-going interactive theatrical experience— will enter it's 30th year of performances. Launched on August 12, 1987 as a 12-week engagement, the show has been running continuously and intermittently nearly full-year runs at a time for the last three decades.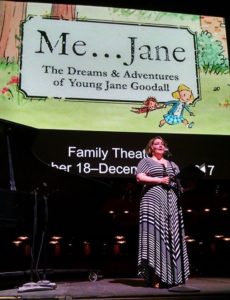 The most impressive announcement of the morning, however, was not that Hamilton was coming, nor was it the incredible direct-from-Broadway talents singing song selections from upcoming productions, but rather the three world-premiere musicals announced as a part of The Kennedy Center's Performances for Young Audiences series. Night Train 57, a sensory-friendly folk opera, which features Grammy Award-winner Dan Zanes and vocalist Claudia Eliaza, will take audience members of all ages on a far-out train ride to the galaxies and back. It will run performances October 6 – 8, 2017. Me…Jane: The Dreams & Adventures of Young Jane Goodall, will play the Family Theater starting November 18, 2017 and run through December 10, 2017. Featuring the world renowned inspiring story of a young Jane Goodall and her special toy chimpanzee, Jubilee, this autobiographical musical adaptation is made accessible to the young and young at heart. Digging Up Dessa, playing from February 3 – 18, 2018 will be presented as a part of the Women's Voices Theatre Festival and features the lost story of paleontologist Mary Anning. There are a great many other performance opportunities happening with the Performances for Young Audiences series, all of which can be learned about here.
With all the whirlwind and excitement about what's upcoming— and far too many things to list— it is important to know that current season subscribers to the Kennedy Center are able to renew their subscriptions now and new subscriptions, if they are available, will be released for purchase this summer.  Season subscriptions are the most assured way to procure a ticket to Hamilton, though the Kennedy Center would like to assure all of its future potential visitors that a large portion of tickets have been set aside for both subscribers and the general public and that 40 tickets for each performance will be set aside as $10 "day of show" tickets. More information on how to procure these tickets will be coming soon. Kennedy Center members will be able to purchase single tickets to Hamilton starting in February of 2018 and the general public will be able to purchase them starting in March of 2018.
For more information on the upcoming 2017/2018 theatrical season at The John F. Kennedy Center for Performing Arts, please visit their website.