And though scary is exciting— nice is different than good! Isn't it nice to know a lot? The student performers of Storytellers: A Theater Arts Academy's current production of Stephen Sondheim's Into the Woods now definitely know a lot more about theatre than when they walked through the door! Directed by Terry Sweet Bouma, this fairytale adventure sets the bar high for the academy's first production, but Bouma and the staff deliver, giving these student performers an exceptional chance to experience a real musical theatre production from every angle. Incorporating students into the tech crew in addition to having them perform on stage, the one-weekend run appears to be a smashing success.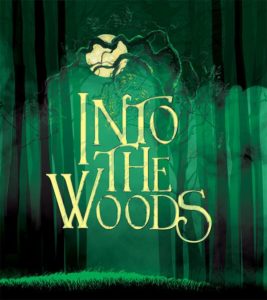 With Anne and Greg Foley heading up the Scenic Design and Construction team, the Foley family lends more than a hand in giving the students a professional atmosphere in which to work. The scenic design work is stunning and possesses a true whimsically enchanting quality— in particular the large storybook backdrop. Foley and Foley get creative when it comes to things like the baker's cart, Rapunzel's Tower, and the way in which they incorporate Cinderella's birds. Working with Director Terry Sweet Bouma to create a memorable and educational experience for these young performers, the creative team pushes the perimeters of creativity when it comes to staging the Giant (Emma Robinson, who doubles as the tweeting and adorably ornery birds.) Using light and shadow play, Bouma and the creative team create an unimaginable sight when it comes to the havoc-wrecking creature.
When teaching musical theatre an important component is of course the music. Storytellers' Into the Woods features a live pit orchestra, carefully concealed off to one side of the playing space, and conducted by Irma Cripe. With nine different instrumentalists, including Anne Foley on the piano and keys, the students are able to grasp the intention of a fully orchestrated production and this valuable opportunity gives them a chance to learn to sing along with live music. Add to the mix Choreographer Jenna Bouma's unique approach to the piece— as Into the Woods is rarely thought of as a "dance-heavy" piece— and the students have more than received a well-rounded experience with the production.
In addition to the students performing what is arguably a challenging piece of musical theatre— even many adult companies find Into the Woods to be tricky (and Storytellers did not shy away by opting for the "Jr." version!)— two of the company's founders serve as teaching mentors taking on roles in the production. Alexander Foley takes up the comic, albeit enigmatic, role of The Mysterious Man while Alyssa Bouma steps into the impossibly challenging role of the witch. Together Foley and Bouma set examples for the students when it comes to vocal performance as well as character development. Both Bouma and Foley do exceptional jobs performing these roles, adding nuance and finesse to the time-tested characters, and lending their voices to musical numbers throughout the performance.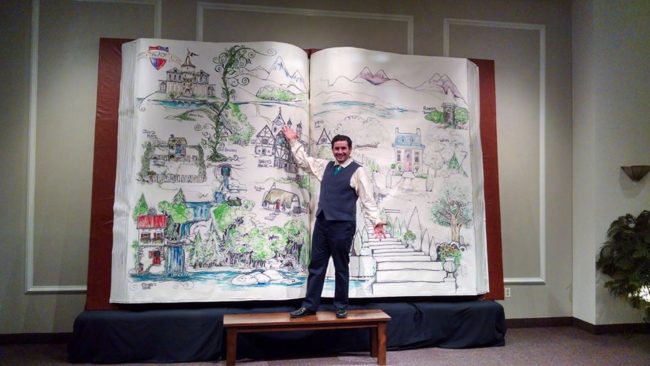 The cast is chock full of dedicated and eager young performers, some of whom are taking to the stage for the very first time. Making a splendid and memorable creature out of Milky White, the cow, Dorothy Boswell is a highly entertaining performer, especially when it comes to her vivid facial reactions to everything that's happening around her. Most of Boswell's scenes are shared with the spry and enthusiastic Jack (Lilly Foley) who has quite the set of pipes on her personage. Lilly Foley leaps about and really puts gumption and moxie into "Giants in the Sky" as well as her quarter of "Your Fault."
Jack's Mother (Ruthie Cooley) doesn't have much to sing about, but does deliver a few of the darkly humored lines with perfection. Ruthie Cooley, who doubles as Lucinda, gets a chance to show off her snarky side alongside Broinnin Cummins, playing the Stepmother, and Alysa Fitch, who plays not only Florinda but also Cinderella's Mother and Rapunzel. Fitch has a delightful voice that is well suited for all three of these roles and you would swear she could be actually related to Lauren Foley, playing Cinderella. Lauren Foley, with a dulcet voice that matches the young actress playing her character's mother, is both expressive of voice and of face, deeply connecting to various songs' emotional capacities, particularly in the second act when she comes into quartet harmonies for "No One Is Alone."
Spunky and enthusiastic, Juliana Schueckler takes on the role of Little Red Riding Hood and showcases a natural flare for the dramatic when it comes to sniping brattyness. Divinely quirky with his deadpan handling of the Narrator's lines, and quite versatile when putting a forcible anger behind the Stewart's few quips, Dillon McCarrick is a fantastic addition to the cast. McCarrick's keen sense of timing makes a great many of his line deliveries laced sharply with sarcastic humor, creating a darker edge to some of the funnier moments that would otherwise go unnoticed in the show.
It's not agony at all to watch Thomas Schueckler and Jeremy Crawford leap and bound about the stage with their heightened sense of theatricality in playing Rapunzel's Prince and Cinderella's Prince respectively. Both Schueckler and Crawford have strong voices that are well suited for "Agony" and its reprise and both young gentlemen bring a sprightly levity to the characters, especially when they get to their secret handshake or the hysterical facial expressions they pull during the number. Crawford, who doubles as the Wolf, goes hog wild for "Hello, Little Girl", busting loose into a swanky jazz and belt style number that really puts his character on the prowl.
They're hunting four, they're one couple, they make two— the Baker (Benjamin Cooley) and his Wife (Audrey Kawecki.) Both Cooley and Kawecki demonstrate a polished understanding of the characters and their journeys. The pair possess strong vocal skills between them, making duets like "It Takes Two" both fun and pleasing to the ear. Cooley and Kawecki share a deep emotional attachment to their characters and to each other's characters, which makes the back half of the show— when everything goes pear-shaped— that much more meaningful. "Moments in the Woods" is Kawecki's solo moment to shine while Cooley takes his in duet with the Mysterious Man during "No More", arguably the most emotional number delivered in the production.
Opportunity is not a lengthy visitor, much like Storytellers' production of Into the Woods. You won't want to miss your opportunity to see it this weekend. And be sure to follow Storytellers on Facebook to see what glimmers of hope they have arising in the future.
Running Time: Approximately 2 hours and 45 minutes with one intermission
Into the Woods plays through April 29, 2017 at Storytellers: A Theater Arts Academy currently in the Reformed Presbyterian Church of Bowie— 2807 Church Road in Bowie, MD. Tickets are available for purchase at the door or in advance online.