To have faith is to have wings. Have faith that you'll absolutely love what's happening on the Maryland Ensemble Theatre's main stage this spring and you'll find yourself sprouting wings that will fly you right into downtown historic Frederick for their outstanding production of Peter and The Star Catcher. Based on the novel by Dave Barry and Ridley Pearson, written by Rick Elice with Music by Wayne Barker, this marvelously mesmerizing tale is the official beginning of how the boy who wouldn't grow up, better known as Peter Pan, came to be. Directed by Julie Herber, there is glowing, flying, ringing, and that can only mean one thing! Magic and star stuff is about!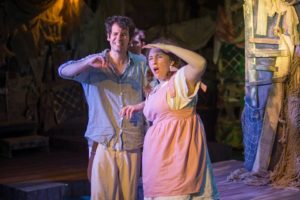 Defying description and the wonders of the imagination, Set Designer Cecelia Lee has turned her own imaginative powers loose onto the uniquely intimate, albeit challenging, space of the MET main stage and wondrous things are the result of such fabrications. Fully enveloping the play space in the nautical notions of a ship, with seaworthy planks that cover the walls from ceiling to floor, and little details hidden therein, Lee has transformed an ordinary stage into an extraordinarily captivating masterpiece. It hides the band (RayLee Peterson, Jonas Dawson, Micki Dawson) in plain view, incorporating them into the galley of two ships with its intricate patterning of wood-plank overlay. Working in tandem with Properties Mistress Katie Rattigan, Lee designs a visually stunning playground which is perfectly suited for this production, creating an indescribably palpable magic that crackles through the air from the moment you enter the theatre.
The nature of Peter and The Star Catcher makes it the epitome of what The Maryland Ensemble Theatre does as an ensemble performance company. This makes duplicate and triplicate casting tricky, but it's no storm that Costume Designer Stephanie Hyder can't navigate, and a might bit successfully might it be noted, aye. Pirates be the primary selection of the sartorial, with some filthy rotten distressed threads of those dirty little orphans, an admiral or two of Her Royal Majesty's command— God Save Her!— and of course the shimmering, glimmering, gossamer mermaids at the top of Act II. Hyder delves deep into the trunk of imagination and comes up with all sorts of aesthetically pleasing ideas, particularly when it comes to the translucent fan-tails of the mermaids (not to mention their unusually treasure-esque junk bikini tops) and outdoes herself entirely when it comes to the Natives, getting every sort of pasta imaginable worked into these threads in one way or another. Hyder deserves top praises for her vast creativity and ease of transition as the actors often have to flip in and out of characters quickly and a simple thing like a bandana or vest enables them to do so fluidly.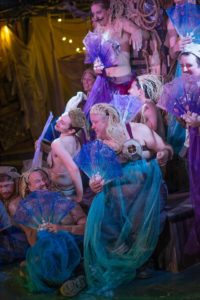 Rounding out the vivacious aesthetic of the production, Lighting Designer Paul Shillinger bathes large swathes of the stage in various nautical colors to enhance the mood when the moment calls for it. Morphing memory into reality, particularly whenever 'Boy (Peter)' has moments of nostalgic recollection, Shillinger manipulates the illumination of the production with finesse, creating an ocean of light and shadow that ebbs and flows much like the tides pushing and pulling The Wasp and The Neverland along throughout the entire first act. Perfectly timed with the sound effects resonating from the pit band and the ensemble, Shillinger's light work is a sublime factor in creating an enchanted reality, allowing the audience to fully suspend their disbelief for the fantastical moments— like when ensemble members become hinged doors in the below-decks of The Neverland.
Musical Directors Thom Huenger and Jonas Dawson lace lines of lovely tune, as composed by Wayne Barker, into the piece, making it a play with music. When the cast comes together in song, both at the end of the first act and the top of the second act, it becomes an enticing and almost hypnotic moment of magic that pulls all eyes watching fully onto the deck of this nautical fantastical adventurous reality. Working alongside Director Julie Herber, both Huenger and Dawson make the show's music an integral part of this well-oiled imagination machine. Herber, who fully understands the ensemble nature of both the piece and her cast, works every player flawlessly into their niches, creating an astonishing and awe-inspiring motion of the production from start to finish. With humorous meta-elements balanced into the play's natural flow, Herber heightens the humors carefully penned into the script while simultaneously constructing a believable and authentic reality. All of this occurs with perfect synchronization, moving the plot like an animalistic character all its own.
Herber proves herself to be master of motion in this production as well. The ensemble becomes wind and wave, tossing about in a maelstrom as the ships find themselves on course for collision; Herber's choreography of these moments makes the ships come alive, as if the floors were moving and violently tossing the performers about. There are other brilliantly composed nuances when it comes to her movement direction, like the way she has Thomas Scholtes appearing in the mirror as the reflection of Black Stache (seriously, watch for this moment and you'll bust your gut laughing) and the way she chooses to tackle the illusion of Molly in flight. It's utterly breathtaking, the way Herber sets the piece in motion, almost like a lucid dream occurring and unfolding in real time before the audiences' eyes.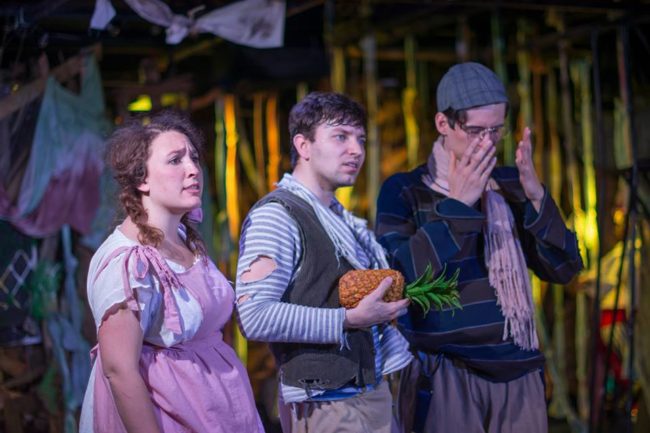 Other supporting cogs in this theatrical machine of brilliance include Dialect Coach Kiersten Trump, who lands some of the heartier English accents quite soundly on the ear, and most definitely encourages a robust pirate sound when and where it's called for— like with characters Bill Slank, Smee, and of course Black Stache. Fight Choreographer Sarah Shulman also deserves a praiseworthy nod for the absurdly entertaining round of blows between Black Stache and Peter. With heaps of swash, swash, buckle, buckle, bang, bang, and then some, Shulman earns her wings as it were when it comes to putting this knockout moment of hilarity into play.
Where one even begins to describe the incredible performances given by the ensemble in a show as exceptionally well performed, directed, and created as this is difficult to say. It seems even the strongest words of praise hardly do the theatrical magic that the MET company performers of Peter and The Star Catcher is creating any sort of justice. Every performer becomes a face-shifting character of the broadest strokes and also grounds ferociously into their assigned personas, like Jeremy Myers who plays Captain Robert Falcon Scott, stuffy and proper to the British standard of such a captain. Then there's the growling low-life Bill Slank (Matthew Crawford) who stalks about with his thick pirate brogue proceeding him into a scene and making him readily feared by the orphans and those faint of heart in the audience.
Fighting Prawn (Ron Ward) is a powerful entity, just like all of the fantastical characters that arrive in the production, particularly when it comes to his unexpected interactions with Miss Bumbrake (Thomas Scholtes.) All but stealing the show with his antics, Scholtes, who later takes up as 'Teacher' (and let's just say that's a whale of a tale to describe and you'll simply have to see it to enjoy it properly), is a scream as the stodgy and prim nanny. Playing coy and sassy with Alf (Matt Harris), who holds his own in those comical encounters with the outrageously over-the-top melodramatic maiden of a certain age, Scholtes gets layers of laughter rising up from the audience like a proper oceanic wave. Vividly animated of face and of body, much like Harris who really gets into the gait and hunch of his character's movement, Scholtes slams his portrayal of Miss Bumbrake clean out of the theatre.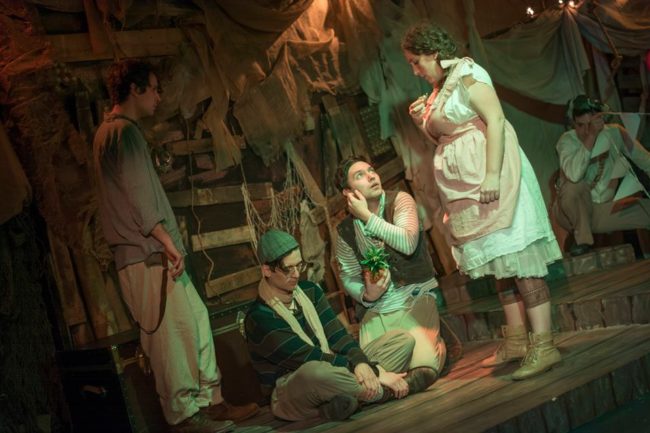 Lord Leonard Aster (Reiner Prochaska) is equally reserved when playing his role as a man in the service of Her Majesty— God Save Her!— though don't be fooled as Prochaska brings a delightful silly side to his character, particularly when he starts trying to speak Dodo with his daughter, Molly (Caitlyn Joy.) Appearing as the only female in the show, Joy brings a vivacious vibrancy to the stage as Molly, growing up quite quickly when the moments call for it. There are tender and striking moments of earnest emotion delivered in her portrayal that massage the wonder of childhood friendships into excellent condition for this production. Sharp, smart, sassy, and overall just impressive, Joy is the perfect selection for the role of Miss Molly Aster.
Prentiss (Daniel Valentin-Morales) and Ted (Taylor Rieland) are the comedic front-runners when it comes to orphans in this production. With Rieland's character obsessed with food, and often embodying the archetypal hungry servant physique, and Valentin-Morales' character being whiny and insistent on being in-charge, their interactive dynamic is often outrageously hilarious. Add a girl into the mix— poor Molly— and their dynamic shifts drastically, further exacerbating these highly humorous characteristics and qualities which they bring to the performance. Both Rieland and Valentin-Morales embody their characters whole-heartedly, fading into the background as other ensemble characters, even set furnishings when necessary.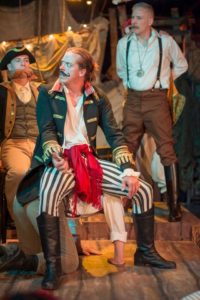 What good is a piratical meanie, a voluminous villain, an antagonizing anti-hero without his right hand man? Mr. Smee (Robert Leembruggen) is exactly that when it comes to the flamingly flamboyant Black Stache (Joe Jalette.) Leembruggen, who understands the exacting science of comedic timing and how to correctly frame a leading player with precision responses, adapts a great vocal affectation that works well for the character. Jalette, as the leading antagonist of the performance with his legendary cookie duster, presents scads of panache hoisted high like the Jolly Roger amid his flamingly flamboyant embodiment of Black Stache. Physically invested, with an outrageous vocal affectation that colorfully punctuates the ridiculousness of his character, Jalette really hooks the audience into his performance, making him loathably loveable and loveably loathable all with one fell swoop of his hand.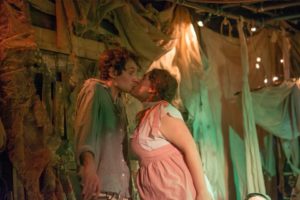 Boy starts life without a name, and though he ends up Peter Pan, everyone will know from the moment they see him that it is resident company member Matt Lee. Wildly expressive when it comes to navigating the mood swings of the character, Lee is thoroughly invested in sharing the emotional experience that Boy (Peter) undergoes from start to finish. Disenchanted with the fact that grown-ups lie, Lee presents a striking versatility in his portrayal of this character, going from a grumpy extreme to an enlivened one once his adventure gets underway. When fleeing through the jungle, Lee is possessed with a burning spirit of liveliness so intense that it becomes a palpable energy crackling out at us as he races in place, ducking and diving his way to the next breath of his adventure. Lee embraces Peter Pan as he becomes Peter Pan, a remarkable feat in and of itself, executed exceptionally in his skilled hands.
The thing that they did— The Maryland Ensemble Theatre— against impossible odds…take an audience into a world of pure fantasy, honest storytelling, and epic adventure, all while maintaining true to the ensemble nature of the piece and of their company. Remarkably impressive, Peter and The Star Catcher is a must-see at MET this spring.
Running Time: Approximately 2 hours and 15 minutes with one intermission
Peter and The Star Catcher plays through May 7, 2017 on the Main Stage of the Maryland Ensemble Theatre in the Historic FSK Hotel building— 31 W. Patrick street in downtown historic Frederick, MD. For tickets call the box office at (301) 694-4744 or purchase them online.